Phil Ecology Systems Corp.(PhilEco) is a major player in the design, construction and operation of integrated sanitary solid waste management and disposal facilities in the Philippines. A Triple A (AAA) General Engineering and Building Contractor licensed by the Philippine Contractors Accreditation Board (PCAB). Phileco is also engaged in other allied businesses such as design, construction and operation of waste-water treatment facilities, construction of buildings, roads and other land development projects. An ISO 9001:2015 certified company. Phileco is the only waste management firm in the country that accepts Municipal Solid Waste (MSW) directly into barge at the marine loading station in Vitas, Tondo, Manila.
Industry Leader
One of the pioneer and biggest players in the design, construction and operation of sanitary landfill for 20 years.
Technical Expert
Phileco is headed by technical experts in this highly-specialist industry and are complemented by a team of qualified and experienced licensed Civil Electrical and Sanitary Engineers to form a pool of environmental and philippine waste management specialist.
First Rate Consultant
Phileco has direct access and consistent partnership with-renowned experts and consultant in the waste management industry having strong involvement in global landfill, transfer station and material recovery facility projects.
Heavy and Light Equipment
To firm up its commitments and track and record of efficiency, Phileco adheres to international standard in technical augmentation and invests on cutting edge equipment that fully complement its construction and operation capability.
Services
Design, Construction and Operation of Sanitary Landfill
Phileco is engaged in General Construction specializing in the design, construction and operation of engineered sanitary landfill that complies with the specifications stated in the implementing rules and regulations of RA9003.

Construction and Operation of Leachate and Wastewater Treatment Facilities
In a community where a high density of people live in an area, a sewage and septage treatment facility is needed to contain and treat the wastewater and septic wastes produced from each household and/or institution. This is to protect the rivers and groundwater, our source of clean water, from being polluted.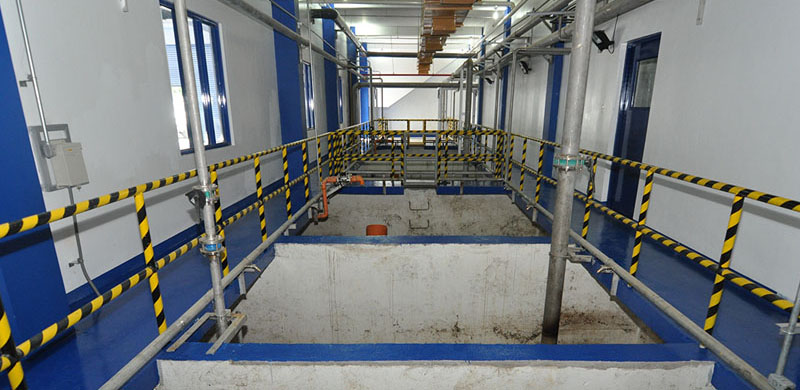 Closure and Rehabilitation of Open and Controlled Dumpsite
Since the launching of RA9003, all open and controlled dumpsites are mandated for closure. Closure includes the compaction, sloping and final covering of wastes dumped in the facility. These steps are included in the guidelines set by the National Solid Waste Management Commission.

Management and Operation of Marine Transfer Station
The company owns and maintains a fleet of landing craft transport (LCT) barges and a complete line of heavy and light equipment for sanitary landfill operations, general construction, dike maintenance, etc.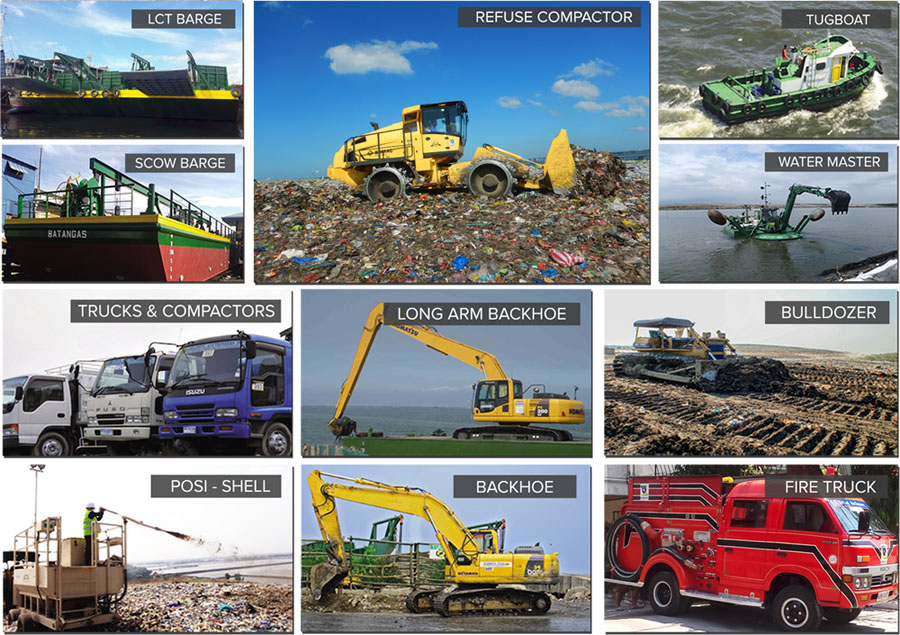 Hauling and Disposal
Phileco also provide waste disposal solutions for its clients. through several trucks and manpower, Phileco allows establishment to avail of our Hauling and Disposal Services where they can get rid of their garbage and send it to our engineered sanitary landfill.
Recycling and Composting
The diversion of recyclable and compostable materials can add more years to landfill's life. Recyclable materials like plastic bottles, cartons, etc. are usually delivered to recycling plants, compostable materials like market wastes can be turned into a high value compost and residuals can be converted into fuel – pellet or petroleum.
Projects
Navotas City
The Navotas Controlled Disposal Facility (NCDF) located in Barangay Tanza, Navotas City, is also one of the remarkable projects of PhiIEco as it is the first of its kind Facility operated in the country. The ten-hectare Facility started its operations in September 2002 but was stopped in March 2006, in compliance to Republic Act 9003 or the Philippine Ecological Solid Waste Management Act of 2000. The Closure Program implemented by PhilEco for the NCDF was adopted by the National Solid Waste and Management Commission (NSWMC) in implementing the closure of all open dumpsites and controlled disposal facilities in the country.

Quezon City
The P266-Million World Bank-financed project is the first joint sewage and septage treatment plant constructed in the country. This state-of-the-art facility is designed to accommodate 2,400 cmd of sewage and 240 cmd of septage. This is also an upgrade of the existing imhoff tank with 1,300 cu.m. capacity serving to 45.60 hectares area in Quezon City.

Olongapo City
The Olongapo City sanitary landfill facility is provided with weighbridge, concrete access road, wheelwash bay and leachate treatment facility with standby generator set. This P268 Million landfill development and construction contract also calls for the rehabilitation and resloping of existing dumpsite that has accumulated 60 meters high pile of garbage since 1980s.

National Capital Region
The 40-hectare sanitary landfill facility is the first engineered sanitary landfill in Metro Manila. Accommodating 1,500 tpd of municipal solid wastes from various cities of the National Capital Region, the Navotas Sanitary Landfill adheres to strict standards and specifications of RA 9003.
Similar to other popular bay area landfill of San Francisco, Tokyo, Hongkong and Singapore, landing craft transport (LCT) barges are used to transport waste from the transfer station to the sanitary landfill.

City of General Santos
Design, Build and Operate a Sanitary Solid Waste Management and Disposal Facility at Barangay Sinawal, City of General Santos Capacity: 300 tpd of Municipal Solid Waste (MSW) Project Cost: Php220 Million

Boracay, Aklan
The P38 Million sanitary landfill for the island of Boracay, Malay, Aklan is designed to accept 10 tpd of municipal solid waste.

Contact Us
Phil Ecology Systems Corporation
Address: 136 Malakas Street, 2nd Floor RII Building, Diliman, Quezon City
Telephone: (02) 426-4267 / (02) 501-2486
Email: businessdev@philecology.com
sponsored links
back to business directory home page