Panpisco Technologies is a safety, tactical+defense, eSecurity, environment, and apps company with a 55-year legacy. Our exclusive market-leading portfolio of specialized brands are recognized for their innovation and leadership.
Exclusive Philippine Partnerships
Sales & Distribution
Consultancy
Technology Partners
Authorized Service Centers
We are the exclusive brand managers and sales force in the Philippines for our international partners. We provide professional expertise, deliver fulfillment, and transfer knowledge as authorized reps, technology partners, and qualified training experts.
Panpisco Tech also serves as an Authorized Service Center composed of highly skilled tech teams and factory-trained specialists. We install, configure, deploy, maintain, troubleshoot, and repair. Essentially, we provide END-TO-END solutions for the brands we represent.
Industries Served
Safety • Defense • Tactical • Utilities • Public Works • Exploration • Infrastructure • Semiconductors • Mining • Petrochemical • Construction • Wireless • Oil & Gas • Military • Police • Firefighting • Industrial Equipment • Telecommunications • Water Distribution • Manufacturing • Hotel & Restaurant • Pharmaceutical • Real Estate • Property Development • Power Generation • Gas Exploration • Automotive • Port & Terminals Operations • Aviation • Business Process Outsourcing • Logistics • Retail • Distribution • Food Processing • Government Procurement • Power Distribution • Cement • Security • Outsourcing Centers • Geothermal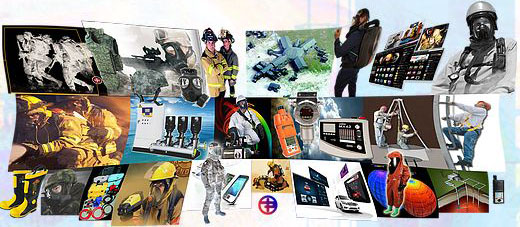 Products & Services
Safety Channel
Our SafetyChannel™ concentrates on the preventive measures and controls related to occupational safety. From PPE as the last-line-of defense against hazards; to fall protection; to fire PPE and safety systems; to sophisticated instrumentation for gas monitoring; and more. Each brand is a system in itself and we provide not only the equipment but also the expertise in deploying, training and after-sales technical support. If it's about occupational safety and health, we are experts.
Tactical & Defense Technologies
Tactical Safety PPE, Force Protection Equipment, Defense Systems, and Custom Eqpt for the Police, Military, and Homeland Security.
Environment | Greentech
Our Environment line is diverse as it is focused. We provide unique solutions that greenify our world. From bioremediation, greentech, energy saving & energy efficient technology for conveyors, belting, air handling units, constant pressure systems, variable-speed motors, and other Earth-friendly technologies.
eSecurity
We manage the exclusive rights to patented technology providing prodigious IT integration at an enterprise level. Furthermore, we also manage patented eSecurity for the Cloud, eBanking, eCommerce, and for Online & Mobile ecosystems -- thus making these platforms safer and secure. Our integrated solutions have been deployed in major institutions, telecoms, and corporations.
Apps
Our "Applications" are all about integration. We merge the best of our specializations in systems, safety, eSecurity, environment, and other technologies to create ultra functional and unique solutions. Our Apps are custom-built to the specific requirements of the industry and needs of the end-users.
Our "Apps" suitcase include Project Management, Training & Implementation, Installation & Deployment, Technology Partnership, Consulting & Coaching, Integrated Solutions, Safety Systems (Specs+Eqpt+HR), Managed Services, Specialized Tech, Scalable Systems, and Enterprise Technology.
View products & services details
Contact Us
Panpisco Technologies, Inc.
Address: 701 Richmonde Plaza, 21 San Miguel Avenue, Ortigas Center, Pasig City 1600
Phone: +63 2 636 1528 / 637 5696
Mobile: +63 917 892 3772
Fax: +63 2 635 6560
E-mail: solutions@panpisco-tech.com
Find us on Google Maps
sponsored links
SIMILAR COMPANIES/PRODUCTS/SERVICES
Terms of Use/Privacy Policy Advertise Buy me coffee
Panpisco Technologies, Inc.