Oxychem Corporation was established in 2002 to provide cleaning chemicals solution for small and medium industries such as laundry, restaurant, water stations, etc. Throughout the years, we expanded by offering sanitation and preventive maintenance products to serve bigger markets which include Institutional and industrial sector through our brand name: Powerclean, Oxypro and Paragon.
In 2014, because of our unwavering efforts to deliver our commitment to our customers, Oxychem Corporation has expanded its business. From being a Manufacturer of high quality and eco-friendly cleaning chemicals, it added a complete selection of commercial grade cleaning supplies and equipment that caters to practically all of customer's cleaning and sanitation requirements
This we believed, strengthens our position as one of the leading providers of total cleaning solutions in the country. Because of this, we change our tagline to "Oxychem-Total Cleaning Solutions Provider."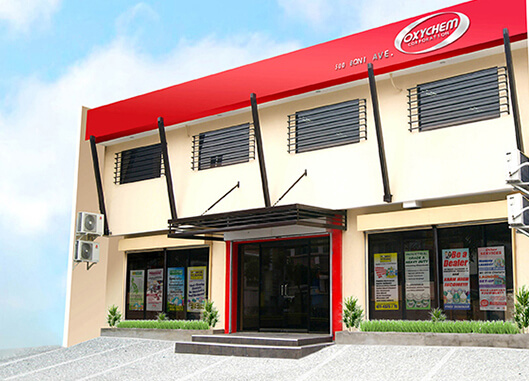 Powerclean

Known as "Panlinis na Mura at Dekalidad Pa" is one of the fastest rising brands in the cleaning chemicals industry today. This is the banner brand of Oxychem Corporation, the maker of Powerclean Chemicals, for cleaning solutions used in the laundry shops, restaurants, janitorial companies, car wash, spa, and industrial establishments.
Basic Cleaning Chemicals for
Laundry
Housekeeping
Car Care
Massage Oil
Oxypro

Oxypro Cleaning System is one of the fast rising brands of Specialty Cleaning Chemicals in the country today. It offers a complete line of high quality and environmental- friendly Specialty Cleaning Chemicals for laundry, kitchen care, housekeeping, food manufacturing, and industrial use.
Specialty Cleaning Chemicals for
Commercial Laundry
Restaurants
Janitorial
Food Manufacturing
Paragon

PARAGON Preventive and Maintenance Chemicals is your partner in equipment care. We offer high quality cleaning, degreasing and protecting solutions that remove and reduce the toughest soil such as scale deposit, rust, carbon, acid rain, heavy crude and resin. We work closely with our clients in order to find the optimum solutions we can offer to keep their facilities looking their best and their equipment performing at maximum efficiency at improved cost structure.
Preventive Maintenance Chemicals for
Industrial Cleaners
Industrial Aerosol Spray and Rust Preventives
Contact Us
Oxychem Corporation
Address: #500 Boni Ave. Brgy. Plainview, Mandaluyong City
Phone: (02) 534-7601
E-mail: info@oxychemcorporation.com.ph
Find us on Google Maps
sponsored links
back to business directory home page