We provide dedicated remote staff and offshore staffing services. We specialise in providing staff of the highest quality who will continue to exceed your expectations ongoing. We spare no expense to ensure your remote staff are comfortable and able to perform their work effectively and efficiently. Our spacious open plan offices are supported by advanced network infrastructure, fast internet, follow best IT practices, and your staff are provided with the best technology and equipment. Our support team organises monthly events and bonding experiences to ensure staff wellness and happiness and to assist with our high staff retention rate.
Support team
The Outsourced Support Team consists of Operations and Client Services, Payroll and Finance, IT Management, Recruitment, Human Resource Management, Legal and Office Administration.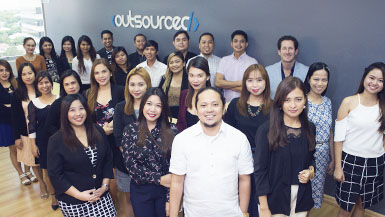 The Support Team are there to ensure your staff are working efficiently and delivering to your performance expectations and our ISO certified quality standards.
Staff retention
Outsourced is committed to providing you with exceptional staff of the highest quality and to ensuring they stay for the long term. As well as providing staff with a fantastic working environment, equitable salaries and health cards (among other incentives) we also organise regular team events to ensure they are happy and feel rewarded for their hard work.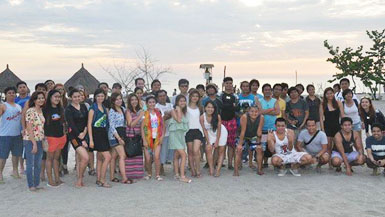 Employee happiness, retention and productivity increases when we prioritise mental health and well being by mixing work and play.
Pay it forward
The Outsourced "Pay it Forward" program aims to "Share, Equip and Inspire" the community through various charity outreach activities. The company and employees donate time and resources to those less fortunate. The Outsourced Outreach program has included widening the library of Bagumbayan Elementary School and giving Christmas hampers to the children. The program has also provided equipment and activities at Tahanang Walang Hagdan, a rehabilitation and workshop centre with the aim of uplifting the lives of orthopedically handicapped people.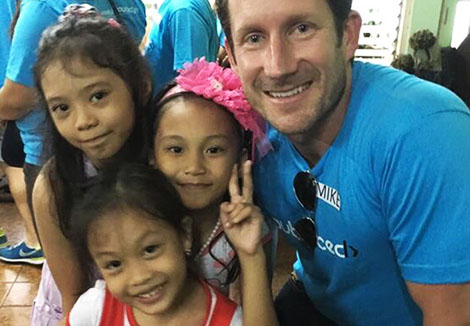 ISO certified
Outsourced has demonstrated that it meets the international regulatory quality requirements and applies the Quality Management systems effectively to be of real benefit to our clients. By ensuring compliance with these standards, Outsourced has regular process audits and management review meetings along with other requirements regarding customer satisfaction surveys, staff trainings, supplier evaluations and staff assessments.

The key benefit to our clients is we have an established management system that follows international standards so we can exceed customer expectations through high quality processes.
Some of our clients

How it works
With outsourced you can scale your organisation quickly, easily and cost effectively with dedicated remote staff.
You provide us with a job description
We recruit talented professionals
Your dedicated staff report to you daily
We manage the office operations
Full time dedicated staff
With Outsourced you can scale your organisation quickly, easily and cost effectively with dedicated remote staff. Your full time offshore staff report directly to you every business day from our offices in Manila.
They work during your business hours and are effectively an extension of your local team (just located remotely). You have direct access to your staff (phone/skype/email) and you define the standards by which they work and the systems and processes they should follow.
To get started our "offshore staff leasing" process is simple. You simply provide us with a job description and we either provide available staff from our existing talented team or we start the recruitment process based on your requirements.
"You have direct access to your staff"
We panel access, test the verify the quality of staff before placement with any client. We handle all the employment paperwork and provide all the best equipment and facilities. We provide ongoing HR and ensure staff retention and quality assurance.
All Outsourced staff work daily from our fully serviced offices in Manila surrounded by like-minded industry best professionals, so they all have an internal network of talent to speak with to ensure efficiency and quality on delivery.
Outsourced has become a hub of the most talented professionals in the country. You now have the exciting opportunity to hire them full time to work directly for your business.
Benefits of Outsourced Philippines
Outsourced Philippines delivers exceptional offshore staffing solutions such as outsourced it services and provides you with staff of the highest standards.
Higher profit margin for you
Distribute Risk
Reduce internal overhead
Improved efficiency
Greater Quality Assurance
Scale quickly and easily
Watch our video
Why the Philippines
Our goal is to create the leading Business Process Outsourcing BPO solutions company in the country by finding and placing exceptional staff that will stay with you for years to come and who will constantly exceed your expectations.
Philippines outsourcing – award winning
The Philippines was named three times as the `Offshoring Destination of the Year` by UK body National Outsourcing Association.
English speaking
English is a national language (3rd largest English-speaking nation in the world with 93% literacy rate). English is the primary language for business and education in the country.
Service oriented
The Filipino Service-oriented culture produces extremely polite employees with world-class customer service.
Western culture
The Philippines has a culture that is very compatible with Western society due largely to over 500 years of Spanish and American colonization. Over 80% of the population is Christian.
Hard worker
Filipino professionals are, by nature hard workers. They take great pride in their work and focus on quality assurance.
Time zone
The time difference between Australia and the Philippines is only 2-3 hours (dependant on daylight saving).
Proven success
Demand for Philippines outsourcing services is growing at over 30% per year (faster than India).
Cost saving
Salaries in the country are a fraction of those in the Western world, with the daily minimum wage set around $8 per day.
Educated
An advanced western university system. The Philippines graduates over 37,000 IT graduates annually from internationally recognised Universities.
Our staffing disciplines
Our Philippines offshore staffing services cover eight key sectors including; Information Technology (I.T), Contact Center, Professional Services, Creative, Administration, Marketing, Education and Finance.
Information technology (I.T)
Web Development
Software Development
Programming
Mobile Application Development
Game Development
Tech Support Engineer
Data Visualization
Design Engineer
QA Testing
Technical Consulting
Security Analysis
Network Engineering
Webmaster
System/Network Admin
Artificial Intelligence (AI) Developer
Virtual Reality (VR) Developer
Augmented Reality (AR) Developers
Contact center
Customer Service
Live Chat Support
Telemarketing
Technical Support
Upsell & Cross-sell
Collections
Data Cleansing & Validation
Lead Generation
Customer Acquisition
Customer Retention
Account Management
Telesales
Call Center Services
Customer Care
Help Desk
E-Commerce Support
Professional services
Project Management
Healthcare
Medical Encoding
Legal
Clinical Abstracting
Recruitment
Performance Management
Consulting
Knowledge Process Outsourcing (KPO)
Business Process Analysis
Medical Billing
Underwriting
Architecture
Logistics Support
Human Resources (HR)
Electrical Engineering
Creative
Web Design
Graphic Design
Creative Writing
Proofreading
Game Moderation
Photo Editing
Industrial Design
UX Design
3D Modeling
Animation
Engineering
AutoCAD
Storyboard Art
Marketing
Digital Marketing
Search Engine Optimization (SEO)
Search Engine Marketing (SEM)
Social Media Marketing
Content Moderation
Media Planning and Buying
Marketing Analytics
Data Analysis
Content Marketing
Email Marketing
Visual Merchandising
Administration
Data Entry
Data Processing
Virtual Assistance
Transcription
Website Support
Procurement
Secretarial
Personal Assistance
Administrative Support
Community Moderation
Real Estate Support
E-Commerce Admin
Financial services
Accounting
Bookkeeping
Financial Advice
Accounts Payable
Accounts Receivable
Payroll Processing
Education
Educational Technologist
Academic Markers
Contact Us
Outsourced
Address: Level 19 CyberOne Building, Eastwood City Cyberpark, Bagumbayan, Quezon City 1110, Metro Manila
Phone:
(International) +61 (2) 8484 0400

(Australia) 1300 784 768

(USA) 415 347 8581

(UK) 208 077 0964
E-mail: contact@outsourced.ph
Find us on Google Maps
sponsored links
SIMILAR COMPANIES/PRODUCTS/SERVICES
Terms of Use/Privacy Policy Advertise Buy me coffee