We are a premiere ICT Systems Integrator. In 2014, NETMARKS, Inc. merged with UNIADEX Ltd. to be the most complete systems integrator and leader in infrastructure services.
UNIADEX is a wholly-owned subsidiary of the Nihon Unisys Group, one of Japan's leading and largest ICT organizations.
Since its establishment in 2001, NMP has focused on providing Japanese Quality IT Service to major Japanese companies operating in the country. It is also a strong channel partner-reseller of leading solutions in network infrastructure, data storage and security, internet, structured cabling, fiber optics, electronic access controls, warehousing and SCM solutions.
As a member of the Netmarks Overseas Business Group -- a network of seven overseas-affiliated companies in Southeast Asia -- NMP has capabilities to support clients in all major cities, the industrial estates, and even remote locations in the country as well as to provide 24/7 IT Help Desk Support to wide range of customers domestic and abroad.
Certifications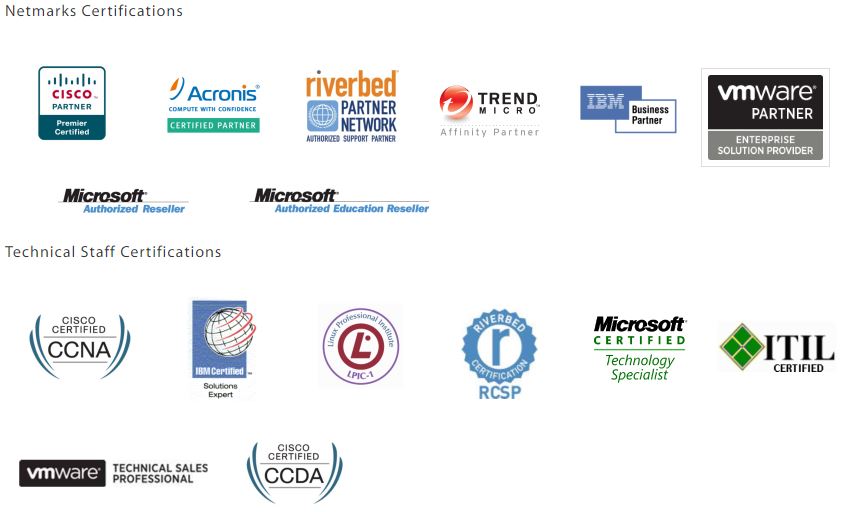 Products & Services
Netmarks keeps abreast with technological trends in order to help clients cope with the rapid evolution of network technologies. Netmarks provides high-value multi-vendor solutions following a world-class standard of in-house technology testing to evaluation and verification processes up to project execution and full documentation.
Server / Storage / Virtualization

Server Implementation (AD, Mail, File Sharing, Backup, Web and Application)
Server Virtualization
Data Replication Services
Data Storage Consolidation
Storage Management Services
Data Center Migration
Blade Server Solutions
Server Availability and Performance Monitoring
Backup to Disk-to-Disk-to-Tape Solutions
Disk Storage (SAN/NAS) Implementation (SAS, iSCSI and FC Interface)
Server and Storage Replication
Server Rack Solutions

Network / Security

Wide Area Network (WAN) Solutions

Site to Site VPN
Multi-Site VPN
GRE Tunneling

Local Area Network (LAN) Solutions

Virtual LAN (VLAN)
Layer 2-3 Switching
Edge Security Switching

Firewall Solutions

SSL VPN
Load Balancing / Failover Design

Security Solution

Proxy Server
Content Filtering
Access Control

Bandwidth Manager Solution

Bandwidth Quality of Service (QoS)
Application/Content Based QoS

Email Security
Communication Solutions

Hybrid Telephone System
Voice Over IP Support
GSM Gateway
Mobility Solution

Network Thread Discovery Solutions

Threat Discovery
Threat Mitigation

Network Performance Solution

WAN Optimization

Improve application performance to five to fifty times faster
Reduce the use of WAN bandwidth by 65-95%

Network Visibility

Faster problem identification and resolution
Drill down inspection from network to the data packets

Applications Delivery

Local and global load balancing
Secure applications from the latest application attacks

*Netmarks is the partner of Globe Telecom for WAN Optimization Managed Services products

Wireless and Internet Gateway

Wireless Access Points

Stand Alone
Mesh-type with Controller
Outdoor Point-to-Point with NTC Radio Permit

Guest Access

Hotspot Guest Controller
Time-based
Volume-based
Account Printers
Billing Integration

Cabling / CCTV / Physical Access Security and Control

Network design & installation of cables and wires, security cameras (CCTV)
Proximity door access
Procurement of materials
Testing and documentation
Dismantling
Access Controls

Card Reader
Biometrics
Locks
Turnstile
Intrusion Detection System
People Counting System

Video Monitoring

IP Cameras
Analog Cameras
Enterprise class recording servers
Digital Video Recorders
Video Analytics

End User

Computer Management

PC/Workstation Maintenance
Hardware Installation (LAN Card, Video Card, RAM, DVD ROM, HDD, etc.)
PC Setup

Printer Maintenance
Software Installation

Microsoft OC Installation
Microsoft Office Installation
Other Software Installation

Net911

Maintenance Contracts - includes maintenance support service, scheduled visits, checking, repair, recommendation and enhancement of IT Infrastructure, Auditing and Testing service which help identify and isolate network problems
Engineering Services on Demand - include On Site Support, Helpdesk Support, Preventive Maintenance
Outsourcing IT Staff Augmentation - service of deploying IT professions which aims to reduce client's costs associated with organizing, recruiting and maintaining permanent IT staff
License Renewal - 3rd Party Warranty/Service Assistance of hardware and software brands

IT Technical Services

Hardware and software procurement
Annual service maintenance
Onsite deployment of technical service personnel
Preventive maintenance and diagnostics services
Technical helpdesk services
Technical support outsourcing services

VMware

VMware, a global leader in cloud infrastructure and digital workspace technology, accelerates digital transformation by enabling unprecedented freedom and flexibility in how our customers build and evolve IT environments.

Telco Cloud

Create and scale virtual network functions based on real-time demand with a software-defined network infrastructure.

Hyperconverged Infrastructure

Combine compute, storage, and networking into a single system with hyperconverged infrastructure (HCI). This simplified solution uses software and x86 servers to replace purpose-built hardware so that you can simplify operations, reduce TCO, and rapidly scale.
Contact Us
Address: 6/F Electra House Building 115-117 Esteban cor. Rufino Sts., Legaspi Vill., Makati City 1229, Metro Manila
Phone: +632-812-7977
Helpdesk hotline: +63917-815-7194
Fax: +632-840-4459
E-mail: info@netmarks.com.ph | helpdesk@netmarks.com.ph
Find us on Google Maps
sponsored links
SIMILAR COMPANIES/PRODUCTS/SERVICES
Terms of Use/Privacy Policy Advertise Buy me coffee
Netmarks Phils, Inc.