We are MMG, one of the largest freight logistics companies in the country. For over 30 years we have been engaged in everything from customs brokerage to container yard services, trucking and warehousing. Some of the country's biggest companies, like Pepsi Cola Philippines Inc., Trust International Paper Corporation, Mitsubishi Motors, James Hardie, Energy Development Corporation and others, are just some of our loyal clients.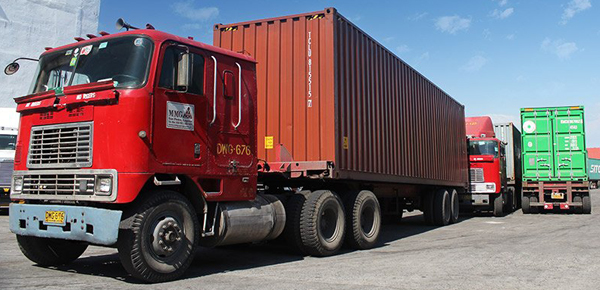 The advantage with MMG is that we offer integrated solutions for your business. We'll take care of everything from the time it leaves the ship all the way to your doorstep. Plus we offer flexibility and customized service that is unmatched in the industry.
Other logistics companies also claim they offer complete services but in reality outsource most of the work to others. With MMG our staff and our equipment handle your precious cargo every step of the way.
MMG is a family-owned business where people are always number one. Whether it's in dealing with our 800 employees or taking care of our clients, we strive to infuse our work with the human touch.
Some of our clients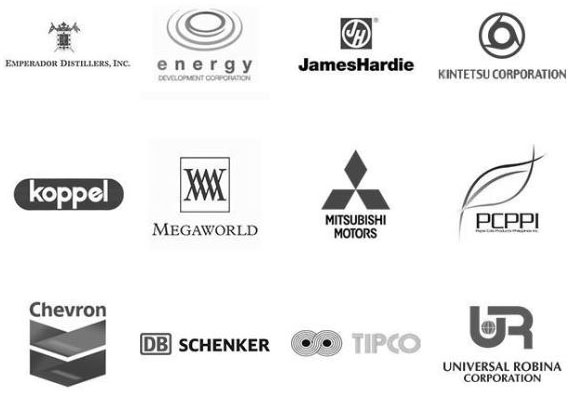 Services
Trucking Services
At MMG Corporation, we focus on providing safe, efficient, and reliable logistic services. We pride ourselves on providing an unmatched quality of service for over 30 years, through a wide array of modern services such as container yard services, warehousing, customs brokerage, equipment sales and rental, freight forwarding, and more.
One of the key aspects at the core of our company is our trucking unit, which has earned a stellar reputation in the industry for its reliability.
A world-class delivery system with a world-class team of drivers
MMG Corporation's trucking unit consists of more than 150 qualified drivers, many of whom have more than ten years of experience working with us. Working with them is a dedicated team of 30 mechanics who are on call 24/7 and in charge of maintaining our fleet of over a hundred heavy-duty trucks.
Each member of the team is experienced and highly trained – all of our drivers are required to complete 200 hours of driving before taking the wheel for MMG. In addition, the staff makes use of state-of-the-art facilities and top-quality equipment to ensure safe and dependable handling of cargo as well as deliveries.
List of vehicles and equipment
MMG Corporation offers a wide range of transportation tailor-made for any type of requirement. Our trucking unit is equipped with the skill and experience to haul your freight to any destination.
Trucking and Heavy Hauling
Tractor heads – 100 units
40' chassis – 300 units
20' chassis – 100 units
Low bed trailers – 10 units
40' container vans – 50 units
20' container vans – 40 unit
Why choose MMG for trucking and heavy hauling?
Heavy haul trucking service is different compared to regular trucking services. When your business requires the transportation of heavy equipment or oversized loads, you cannot simply mistake one for the other.
Transporting oversized loads or heavy equipment from one destination to another requires proper equipment, tons of experience, and very specific knowledge and techniques. Today, there are many hauling companies that disregard proper methods and safety regulations when it comes to transporting heavy load – many make the mistake of thinking that sub-contracting additional machinery is enough to get the job done.
Heavy haul comes in a variety of shapes and forms, requiring keen attention to even the smallest details. To insure a problem-free delivery, the company you're hiring needs to be well-versed on the right methods and many intricacies involved with transporting heavy equipment from one point to another.
MMG Corporation sees heavy hauling as a specialized process. Backed by more than 30 years of experience, our company is fully capable of handling your valuable cargo or equipment.
Domestic Freight Forwarding
MMG Corporation's solid reputation has been built over more than 30 years of providing an unmatched level of service. As one of the country's most experienced and reliable logistics companies, we offer numerous services such as customs brokerage, trucking and warehousing, container yard services, and many more.
MMG Corporation continues to work with a diverse clientele, including some of the country's biggest companies. Backed by more than 30 years of experience, our company has built solid professional relationships with many top-agent partners in numerous domestic ports located throughout the country.
Domestic freight forwarding you can depend on
Our company's domestic freight forwarding division is known throughout the industry for its client-centric service and reliability. We have the experience and expertise needed to manage your company's domestic freight from concept all the way to completion.
With our years of experience in the business, we are able to offer the most ideal ways to transport shipments of any size to and from anywhere in the country. Our domestic freight forwarding service is designed to match the best shipping solutions to your specific requirements.
As one of the country's top logistics companies, we seek to provide efficient, time-sensitive solutions to all of our clients. We work with one of the country's largest network of transportation providers. This allows us to utilize delivery time, the best equipment, and top-notch services for any shipment regardless of requirements, shipment size, or time constraints.
We are able to handle neatly every type of load, from oversized cargo or any type of cargo which may require special attention or handling methods.
Why choose MMG for domestic freight forwarding?
Our company is one of the best in the business when it comes to making importing and exporting simple and hassle-free. Our professional relationships from top agent-partners in major ports mean your company gets an unparalleled level of service at competitive rates. When you depend on us for domestic freight forwarding, our integrated service and excellent financial standing means you get to enjoy the quickest cargo releasing and pickups possible.
Below are a few of the benefits your company can get when working with MMG Corporation:
A wide range of transit-time options that offer delivery flexibility
Improved control through proactive notifications, proof of delivery, and shipment monitoring
Coverage throughout the country including major ports such as Cebu, Cagayan de Oro and Davao
State-of-the-art technology that allows seamless routing, reporting, tracking, and consolidation
Some of the freight forwarding services we offer includes:
International freight forwarding
NVOCC
Air and sea, international and domestic
Inbound / outbound cargo consolidation
Trucking and hauling
Project cargo handling
Customs clearing
Door to door handling
Total transport logistic
With MMG Corporation, you get to enjoy more flexibility by combining our integrated service with our domestic freight forwarding service.
International Freight Forwarding
For over 30 years, MMG Corporation has been committed to providing an unmatched level of service known throughout the industry. Our dedication to offering seamless integrated solutions has made us one of the top freight logistics companies in the country, giving us the opportunity to work with some of the country's most prestigious companies.
We are proud to be one of the nation's largest freight forwarders, a reputation we have earned through more than 30 years of logistics experience. With our international freight forwarding service, importing and exporting goods is a simple, seamless, and hassle-free experience.
As an international freight forwarder, you can depend on MMG to have the experience and tools necessary to support your business on a global scale. We assist clients in navigating the various aspects and complexities of international trade by combining reliability, better control and visibility, and international reach. In addition, our customer service and accounts staff is always ready to assist clients when it comes to their international transportation needs.
Unmatched international freight forwarding at competitive rates
The foundation of MMG's international freight forwarding service is built on solid professional relationships with dozens of top agent-partners based in all major international ports. This translates to an unparalleled quality of integrated service, allowing us to help all our clients through fast cargo releasing and pickups at competitive rates.
In addition to our international freight forwarding service, MMG also offers:
NVOCC
Air and sea, international and domestic
Inbound / outbound cargo consolidation
Trucking and hauling
Project cargo handling
Customs clearing
Door to door handling
Total transport logistic
Why choose MMG for international freight forwarding?
One the best reasons why many businesses choose MMG for international freight forwarding is our ability to offer flexibility. Compared to other traditional freight forwarding services, we offer more efficient and flexible options, which we make possible through better control and shipment visibility.
We focus on providing the best service, which we are able to offer through our experience and expertise in the industry. When you're looking for the best international freight forwarder to handle your shipments, you need a company highly experienced with handling the various complexities of international import and export requirements.
MMG is a company which has decades of experience with coordinating every aspect of the shipment process, including country-specific documentation and rules and regulations compliance.
We completely understand the need for an efficient and reliable international freight forwarder that will be able to handle your business requirements. We know that for your operations to move successfully, you need an experienced company that will be in charge of making the shipping process smooth, easy, and stress-free. That is why at MMG Corporation, we strive to offer increased flexibility and a wide range of options ideal for any type of requirement.
Customs Brokerage
Licensed customs brokers. Quality personalized service.
MMG Corporation has a veteran team of licensed customs brokers in charge of ensuring smooth, efficient, and hassle-free clearing of cargo. Our team of customs brokers sees to it that they stay ahead of the curve and up-to-date with the ever-changing customs procedures and practices.
If you need a reliable company to facilitate your shipment and delivery of goods, you can count on our company's pristine reputation, which we have built over several decades of integrity, honesty, and transparency in the field of customs brokerage.
Our customs brokerage services is enhanced and supported by our efficient outsourcing department, which is tasked to handle every step of the shipping process, from purchase order to dealing with third party suppliers, all the way to delivery and payments.
Customs Brokerage Services
air and sea customs clearing
import and export customs clearing
peza clearing
tariff consultation
import permit processing
Why choose MMG for Customs Brokerage?
Hiring a customs broker allows an importer to save plenty of time, which is one of the main benefits you can get with our service. A customs broker is in charge of dealing with government regulations and communicating with various officials such as the Philippine Bureau of Customs in order to facilitate required documentation for the release of cargo.
Every country has its own rules and regulations when it comes to transferring goods arriving or leaving their borders. Customs laws and regulations imposed upon importing and exporting goods are constantly changing throughout the globe.
MMG Corporation's team of dedicated licensed customs brokers is responsible for making sure all rules and regulations are covered, which helps streamline the process for transferring goods for our clients. Our customs brokerage service is one of the finest in the country, as we focus on providing flexibility along with an unmatched quality of service.
Our veteran team of customs brokers eliminates the stress of having to deal with customs officials, and the time and effort it will take to be familiar with shipping rules and regulations so our clients can spend more time focusing on managing their core business.
Our top-of-the-line technology for Customs Brokerage
Throughout the globe, technology is changing the way many people do business. When it comes to shipments and customs clearance procedures, many transactions are now being processed online.
For us to remain on top of the industry, MMG Corporation makes sure to constantly research and develop our infrastructure to cope with all of the changing requirements so every procedure is handled smoothly.
Our company sees to it that our customs brokers are have access to the most current technology, so they are well-equipped to handle the constant developments in the dynamic industry, allowing us to provide excellent quality of service to each and every one of our clients.
Other Logistics Services
Warehouse Rental and Management
MMG offers you over 80,000 square meters of warehouse space, mostly in the Southern Luzon area. These warehouses can be customized for your requirements and are located near major highways. Our space features reliable communication, power and security amenities as well.
Our warehouses were designed and built by our very own in-house construction department which has over 30 years of experience in warehouse design and fabrication. This is just another symbol of our commitment to supervise every aspect of the logistics process.
Warehouse For Rent
SVP compound – 31,000 sqm
HHI compound – 15,000 sqm
PCI compound – 12,000 sqm
FOJAS compound – 3,000 sqm
Various standalone warehouses – 20,000 sqm
Container Yard Services
Your cargo gets the VIP treatment in our Container Yards. We feature cranes for different tonnages, a fleet of forklifts and other material handling equipment at both our Harbour Center location and our facility in Laguna. Our yards can swallow up to 2,000 containers a day, and more importantly process them quick thanks to our experienced staff.
With the convenience of our container yard, you can enjoy unparalleled flexibility in your logistics process and supply chain to give your business an extra advantage.
Container Yards and Cargo Services in Manila and Laguna
Lift on / Lift off
Interchange and documentation
Empty and full container storage
Chassis parking
Container repair and washing
Equipment Sales and Rental
MMG Corporation offers easy, affordable, and highly customizable options for leasing and buying equipment. Our wide range of top-quality equipment is available for lease for both short-term and long-term projects. We also offer several rental purchase options, providing plenty of flexibility for all your construction and equipment needs.
In addition, we also sell quality imported trucks which have been reconditioned by our world-class mechanics – every truck we have available for sale has passed strenuous quality checks, and is of the same quality and condition as the trucks we use ourselves. For added flexibility, we also offer customization for trailers and chassis according to your specifications, and also to comply with ever-changing government regulations.
Heavy equipment sales and rental
Some of the rental equipment and services we offer include:
Trailer and chassis sales and fabrication
Shipping container sales
Forklift rental
Crane rental
Tractor head sales
MMG Corporation's heavy equipment sales and rental service
For more than 30 years, logistics companies from all over the country have depended on MMG for renting and purchasing high quality logistics and handling equipment. Whether you're a freight forwarder, an industrial company, a project cargo firm, or a warehouse operator, you know how to seek quality and value.
From forklifts to tractors, cranes to shipping containers, to trailer and chassis fabrication and customization, you're bound to find whatever you need in order to increase efficiency and productivity in your next jobsite.
At MMG Corporation, we're committed to helping you get the job done. For several decades, we have provided an extensive selection of top-quality materials and equipment needed for construction, which is why our company has earned a solid reputation as the Philippines' most reliable source for heavy equipment sales, rentals, and service.
Heavy equipment from industry-leading brands
We are able to guarantee the quality of every available piece of equipment we have for sale or rent, as well as the comfort of whoever operates the vehicle. No matter what type of location your next jobsite will be, we are dedicated to providing you with a qualified team of mechanics to ensure quality maintenance and repair for every type of equipment you can get from us.
Records Management
Managing company records can be a headache, but not with Primo Archives Management (a division of MMG Corporation). We offer a range of services to make archiving all your data and documents a breeze.
Primo Archives Management Services
Off-site documents storage
Digitization
General Cargo
Retrieval and Delivery
Shredding and destruction
Private room storage for optical media, CDs, etc.
Business Financing Services
We're here to give your business a helping hand with Hercules Financing (a division of MMG Corporation). We specialize in real estate loans, business loans and employee loans. You'll appreciate our friendly rates and efficient processing, plus high appraisals and quick release of loan funds. Our seasoned staff, with years of experience in banking and finance, is ready to serve you.
Business Loans For Philippine Companies
Real estate loans
Construction loans
Machinery / equipment loans
Check-rediscounting
Loan re-financing
Bridge financing
Contact Us
MMG Corporation
MMG Building, Magsaysay Road, Brgy. San Antonio, San Pedro, Laguna
Fax: +63 (2) 847-5090
Trucking | Container Yard Services | Equipment Sales and Rental
+63 (2) 868-7817
Warehouse Management: Lease and Rental
+63 (2) 868-0229
Financing
+63 (2) 869-4575
MAKATI OFFICE
MMG Business Center, Renaissance Condominium, 215 Salcedo St., Makati City
Customs Brokerage
+63 (2) 880-0714
Freight Forwarding
+63 (2) 840-3362; 880-0407; 894-1610
Archive Management
+63 (2) 880-0400
HARBOUR CENTER OFFICE
Lot 9 & 14, Block 4, Manila Harbour Center, Road 10, Vitas, Tondo, Manila
Trucking | Container Yard Services | Equipment Sales and Rental
+63 (2) 381-0096
PRIMO ARCHIVES MANAGEMENT
Warehouse IV, MMG-II Industrial Compound, Magsaysay Road, Brgy. San Antonio, San Pedro, Laguna
Archive Management
+63 (2) 519-9271
Find us on Google Maps (Makati Office)
sponsored links
SIMILAR COMPANIES/PRODUCTS/SERVICES
Terms of Use/Privacy Policy Advertise Buy me coffee