For over 30 years, our stores have been serving customers with delicious and affordable products. Since 2003, Minute Burger has been a recognizable, stable and profitable franchise business for many of our franchisees. Our greatest strengths as a franchise are our Brand, our System and our Franchisor Support.
Our Brand
Minute Burger as a brand is more than just the logo. For the last 30 years, we've stood by our belief of always providing our customers with affordable and quality products, which are served in clean and well-made stores. Our innovation is spearheaded by our product development teams and engineering teams who make sure that our products and our stores are always updated and ahead of the curve.
Our Products
At Minute Burger, we take quality very seriously. It is not easy to produce quality products at affordable prices but we work hard to make it happen. We manufacture all our products ourselves in state-of-the-art commissaries and we ensure that all the ingredients used in our products are NMIS-certified and BFAD-approved.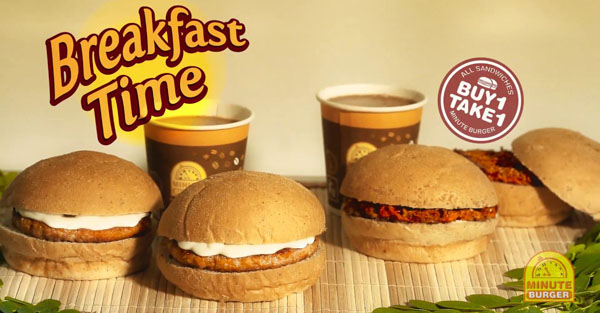 Our products have been a hit for many years but we don't stop there. As a brand, and as an organization, we are committed to constant product development and improvement.
Our Stores
Since 1982, we have changed our standard store to adapt to the market's current trends. Today, our updated standards for the storefront look reflects our commitment to stay relevant and ahead in today's constantly changing, competitive environment. A dedicated team of experts visits each of our Franchisee's stores almost weekly, to enforce and maintain our standards throughout our network.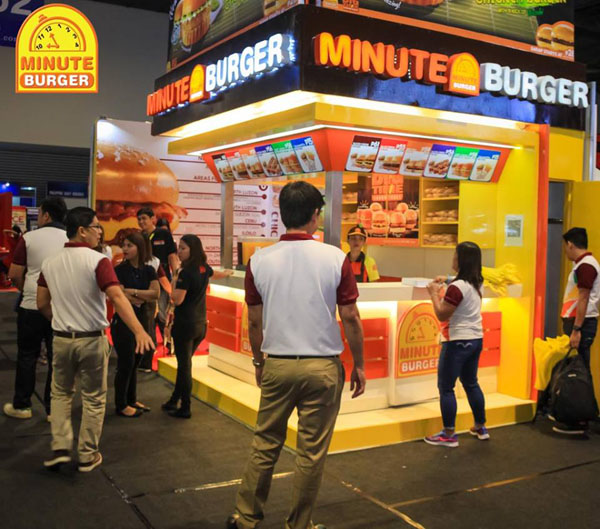 Our System
We built simplicity and efficiency into our ordering and delivery system. We have a dedicated team of highly qualified manufacturing, quality and logistics personnel who take care of producing and delivering our products to your store so that you don't have to. Our nationwide delivery system has commissaries and warehouses strategically located across the country. It allows us to deliver patties and freshly baked bread to our stores three times a week. Near-daily deliveries to our franchisee's stores allows them to carry only the freshest products to serve to our customers.
We're firm believers in technology and automation and we've integrated this into every step of the process. It's this effective mix of team and technology that allows us to deliver stocks to our network within 12 to 16 hours of placing the orders (if the order is placed within the ordering window).
Our Support
We take pride in the support we provide our Franchisees. We recognize that our franchisees need good support to be able to grow with us. Over the years, Franchisee Support has become one of our franchise system's strongest points. Our network of over 180 Franchisees is supported by regional teams who are available to support our franchisees in person and online.
Online Support

Our online support system allows for franchisees to reach out to our support organization from the comforts of their own stores, on the road, or from their own home. Our Franchise Care Helpdesk is our online venue for questions to be answered by topic experts.

We also regularly publish white papers, informative articles, and monthly newsletters as part of our commitment to helping our franchisees improve their business.

Offline Support

As business partners in a multi-unit franchise system, our franchisees manage the operations of their stores. Our Area Managers are there to provide guidance in growing our franchisees' store network. Our teams are also dedicated to providing as much mentoring as they can, so that our franchisees are able to make the important business decisions they need to improve their stores' performances.

Our Offline Support includes:

Site Evaluation
Crew Training
Standards Experts
Logistics & Delivery
Our Franchise Package
We are a multi-store franchise. The profitability of our system has been designed to work the best with at least three (2) stores. When you become a Minute Burger franchisee, our top priority is to work with you to open your first store within two (2) months and your second store within six (6) months of your first store's grand opening.
Total Estimated Investment
P 700,000
This franchise package covers the initial investment for one store.
This fee is inclusive of:
Franchise Fee*
Refundable Bond
Reservation & Site Processing Fee
Store Design & Construction
Store Equipment & Selling Paraphernalia
Use of Minute Burger Name, Logo and Trademark
Use of Business System
Pre-Opening Assistance
Basic Franchise & Crew Training
Reservation & Processing Fees
Initial Working Capital
Franchise Fees
Initial franchise terms: 4 years
Other fees to be discussed:
Royalty Fees
Marketing & Maintenance Fund
*The franchise fee included in this package is good for two stores. It will apply to the second store that you open with us.
Steps
Four Steps to Owning a Minute Burger Franchise
Attend MB101 and MB102
Submission & Processing of Documents
Series of Interviews
Payment of Fees & Funds
Frequently Asked Questions
I'm interested in a Minute Burger franchise. Where do I start?
We're happy to hear that! The first step in the process to franchising is to attend a business orientation to get an in-depth overview of our franchise.
What will the business orientation tell me about your franchise?
We hold orientations for anyone who wants to know more about our franchise systems, history, and package. The orientation expounds on the summary of information provided for you here on our website. It is comprehensive and is conducted by our Recruitment Specialist Officers, who are our experts on our application process and Franchisee Care. And best of all, it's all commitment-free!
I'm scheduled to attend the Franchise Presentations. Do I need to bring anything?
Yes, please bring 2 photo IDs of yourself and a valid ID.
I have questions before I attend the business orientation. How do I find or get in touch with you?
Please visit the Contact Us section to contact us through email, phone or SMS. Our franchise specialists will be happy to assist you.
I want to franchise. How do I know which areas are still available?
We have stores in most major cities around the country and are we're still expanding! We open new areas for franchising every year. Contact us for more information.
Contact Us
Minute Burger
Minute Burger is a division of Leslie Corporation
Address: 4 Dama de Noche St. UPS 4, Paranaque City
Phone: +632 776 7740
Mobile: (0917) 527 5975 | (0998) 862 6749
E-mail: info@minuteburger.com
Find us on Google Maps
sponsored links
SIMILAR COMPANIES/PRODUCTS/SERVICES
Terms of Use/Privacy Policy Advertise Buy me coffee