We aim to provide the most quality roofing materials and products at a much affordable price. We would like to help every family build their dream homes and transform their house to a much better and much safer place.
Mindaroof is the leading roofing contractor in Socksargen and provider of roofing products in Gensan. We pride ourselves with quality materials, durability, and a trust-worthy partners working hand in hand to deliver you the best products.
WHY CHOOSE MINDAROOF – We've Got You Covered!
We offer the best products for your roofing needs with the high quality materials and installation services. We are known as the Top Roofing Factory in Gensan City and Socksargen areas.
SYSTEM DURABILITY

MindaROOF is a roofing solutions which renowned for our durability and premium qualifications. We provide solutions for construction and housing which we gained a lot of experience. Our numerous reference projects are evidence of our successful track record.

EXPERT ADVICE

All our customers – property owners, building owners, architects, engineers, consultants and contractors – will receive expert advice from our highly competent team. We have the experience and knowledge built on a foundation of trust to provide recommendations and long-lasting solutions for any project you have, no matter how large or small.

SUSTAINABILITY IS OUR PRIORITY

Sustainability is one of the main drivers of MindaROOF Inc. We focuses on system longevity, efficiency, durability with minimal maintenance requirements. When getting a new roof, you're not just replacing it but you need a complete roofing system for a perfect combination of beauty and protection.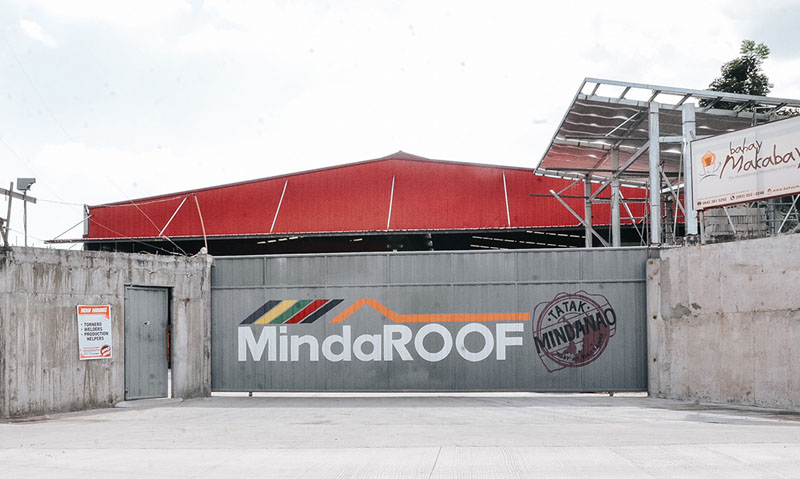 Products
Minda-Tile
It is without any doubt that tiled roofs are durable and beautiful. Despite them being expensive and heavy, they are the best option if you want your roof to last for one hundred years. Traditional materials used in making roofing tiles are clays or slate; and, more modern types use concrete. Thanks to continuous progress in roofing options, roofing tiles now come in different shapes of flat, curved, interlocking, and fluted. Tile roofs are very common in areas with hotter weather or near beaches where the roof is easily exposed to salt air.
Tile Roofing Pros

Among the advantages of tile roofing no matter the materials used are the following:

Tile roofing installed in a correct climate can last up to 100 years. Concrete and clay tiles are famously known to survive high winds, hail, and fires. It is also very common that once you install a tile roofing you will never have to install another roofing again. If that notion is highly ambitious or not very believable, always remember that manufacturers always have a 50-year warranty for tile roofs.
Various choices. From medieval to contemporary European, tile roofing comes in various styles, colors, and materials.
Free from rotting and damages caused by insects. Tile roofs are never decaying.
Eco-friendly. Tile roofs are made from recyclable materials.
Energy-saving. One of the characteristics of tile roof is that its thermal mass actively helps regulates the temperatures indoor.
Low to no maintenance. The only way a tile roof will be damaged is due to heavy impact. When properly installed, leaks and maintenance repairs can be unheard of.

MindaRoof offers only the tile roofs which are durable and energy-efficient. MindaRoof not only provides great selection of color and styles but it only offers the best quality tile roof.

MindaRoof boasts its design on the beauty and curb appeal which is exclusive to its products. Aside from the longevity and performance of the tile roof, MindaRoof ensures the aesthetic quality of the finished product. Also, it is fairly common that a concrete tile roof adds value to the house when put into market.

The durability of the tile roof is unparalleled when properly installed as it is very well-known to survive any climate.

The affordability of the tile roof should not be a concern when the cost will only be once a lifetime. Nevertheless the concrete tile roof is more affordable compared to clay or copper tile roof. But with tile roof, one thing is for sure: they can last a lifetime. If you are looking for top roofing in Gensan that can provide you quality service, then visit MindaRoof in our factory at Purok Upper Matin-oa Polomolok, South Cotabato for great deals.

Product specifications:

Base Material: Hot Dipped PPGI
Zinc Coating: 45g/m2 (Zinc)
Paint Coating: Normal Polyester Coating
Normal Width: 1050mm
Effective Width: 1080mm
Normal Thickness: 0.30 – 0.50mm
Length: Transportable length up to 20 Meters
Minda-Rib
The metal roofing system of RIB-ROOF prides itself for its safety and higher functionality. RIB-ROOF Evolution generates its ideas based on experience and develops its designs with respect to time, cost, and functionality. A visually and functionally satisfying design is grounded by these principles.
Zambelli's time-efficient and simple technique of installation is adapted by RIB-ROOF Evolution. By focusing on stable sheet connection and sliding ability, the longevity and the safety of the roof cover is always guaranteed. One of the goals of RIB-ROOF is to show that a good-looking product by a sophisticated technique needs not to be complicated.

Minda-Rib is designed particularly for agricultural buildings to withstand rain, snow, wind, and hail. This has allowed Minda-Rib to be well-adjusted as metal roofing having modern accents and prominent sliding.

This roofing can be residential roofing when finished with a sleek-looking trim. Horizontal installation of the panel as a wainscot gives it a modern industrial accent. Minda-Rib takes pride of its panels as they are very sure to protect you and your family from the elements of nature.

The selection of your roofing in Gensan should always start with calling multiple suppliers about roofing supplies. Phone inquiry may be the best primary step in finding out everything you possible can regarding suppliers and their products in your surrounding area.

If you are talking to the right roofing supplier or manufacturer, you will be able to gather relevant information that you really need. Also, always ask about customizable options that will help you save money, time, and resources. Most of the times, these options are not mentioned unless you specifically ask for them.

Product specifications:

Base Material: Hot Dipped PPGI
Zinc Coating: 45g/m2 (Zinc)
Paint Coating: Normal Polyester Coating
Normal Width: 1135mm
Effective Width: 1060mm
Normal Thickness: 0.30 – 0.50mm
Length: Transportable length up to 20 Meters

(Onsite Roll-forming for longer panels, subject to terms and conditions)
Corrugated Roofing
Corrugated Roofing refers to the roofing sheets which are installed across roof purlins. The rigidity brought by the corrugation stops the sheet from sagging. Actually, a lot of other materials may be corrugated and made them work as roofing sheets.
Some of the roofing sheets which are corrugated to suit the purpose include: galvanized steel roofing, hoarding sheet, PVC roofing sheets, glass reinforced plastic, fiberglass sheet, cladding sheets, plastic coated steel roofing, Onduvilla tiles, and Onduline bitumen sheets.

Nowadays, roll forming is used to corrugate materials. This automated process has modernized corrugation of roofing materials while increasing productivity and lowering costs. The corrugation process involves feeding the sheets into rolling dies to form the corrugated surface; then, the sheets are cut in the desired length. The traditional shape of corrugated sheets is round wavy styles but various dies have been developed. Trapezoidal sheet metals are commonly used in industrial buildings.

Various materials are subjected into corrugation process. Alloys are the most common example followed by the stainless steel. Aluminum and copper are also common choices. The most available and cost-efficient are the regular ferrous alloys. Various sizes of these materials are also produced.

Fiberglass and plastics are also given the corrugated texture. These products are used with metal sheets primarily for lights to pass through.

Product specifications:

Thickness: Gauge 26 and 31
Length: 8′10′and 12′
Materials: Galvanized Iron (GI)
Cee-Purlins
Product specifications:

Thickness: 0.80mm, 1.0mm, 1.2mm, 1.4mm, and 1.6mm
Width: 2x3 x 6.0m, 2x4 x 6.0m, and 2x6 x 6.0m
Length: Up to transportable length
Material: Black Iron (BI)
Gallery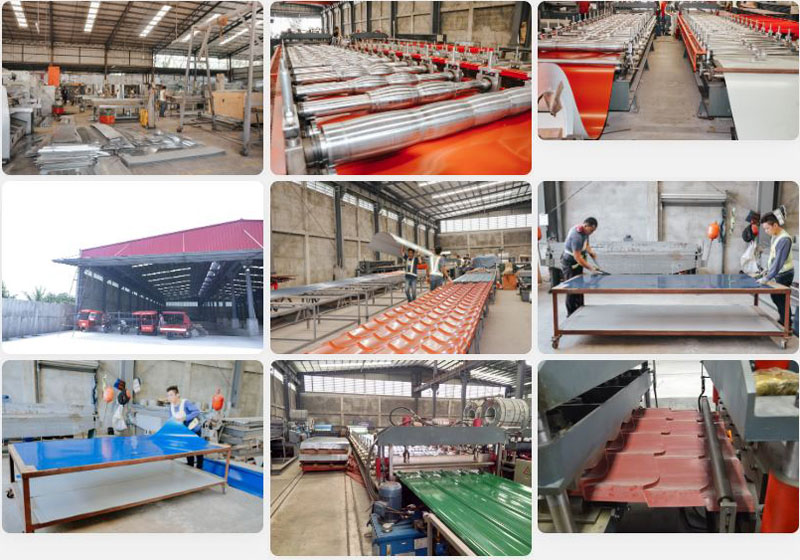 Contact Us
Mindaroof
Address: Purok Makisama, Brgy. Silway-8, Polomolok, South Cotabato
Phone: (083) 225 2997
Mobile: Sun 0925 706 6283 | Globe 0915 285 0270
E-mail: sales@mindaroof.com
Find us on Google Maps
sponsored links
SIMILAR COMPANIES/PRODUCTS/SERVICES
Terms of Use/Privacy Policy Advertise Buy me coffee