1. About Us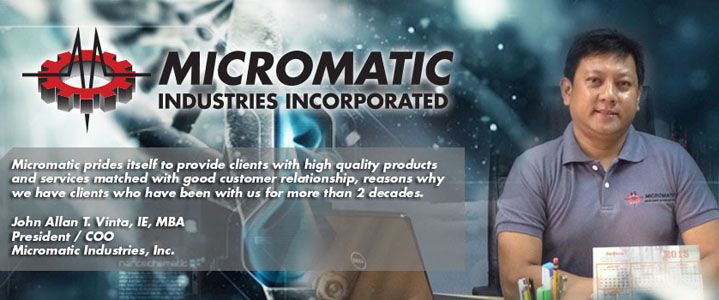 Established in 1978 by our Chairman, Eugenio J. Vinta – Micromatic Industries was in the business of assembly and sale of various electrical products and services. In 1989 we ventured into manufacturing and started fabricating metal enclosures, cable trays, wire ways and other allied products. 1994 opened new doors, as we started offering electrical installation on a selective basis while enjoying continued customer trust and loyalty. Also during the same year the company was registered with the Securities and Exchange Commission under its current corporate name – Micromatic Industries, Incorporated. In January 2003 our affiliate Team Options Mercantile, Incorporated was created to handle the retail and trading operations, while Micromatic concentrates on its core business – manufacturing and electrical installation. In 2007 Micromatic started importing raw materials to lower production cost and use new products not readily available in our market. To further expand our installation business the company applied and was granted license by the Philippine Contractor's Accreditation Board in 2008. In 2013 the company was granted ISO 9001:2008 Certification by QAS International for its quality management systems, standards and guidelines.
Our main product lines are but not limited to the following: Power Distribution (Low, Medium and High Voltage Switchgears, Main Distribution Panels & Panel boards), Motor Control Centers, Loose Controls, Emergency Back-up Systems and Electrical Installation.
It's not just "experience." Our employees have field experience in the related field where they now serve as estimator, sales engineer or project engineer. This professional expertise helps us provide customers with advice and design support. Consequently, manpower is never an issue. Our customers know we can deliver — whatever it takes to get the job done.
"Diversified" Product Lines. Our product lines complement each other – since we can design, manufacture and install your electrical requirements.
"Do it right the first time." To soar above our competition, we work hand-in-hand to continuously improve our products and services by maintaining a high level of quality and customer satisfaction through constant training, product development and expansion of operations. To prove the quality of our products, samples of our metal enclosures were type tested by TUV SUD PSB Singapore.
Size doesn't matter. Micromatic Industries, Inc. provides the same high quality products and services regardless of project size. All our clients experience the same customer satisfaction and we are proud to say that, it's that what keeps them from leaving.
Our Customers (partial listing by industry)
Contractors / Engineering Services
Aboitiz Energy Solutions, Inc.
Advanced Control and Systems, Inc. (Taiwan)
Ampgard Incorporated
Beta Electricl Corporation
Edward Keller (Philippines), Inc.
Flux Power Corporation
Fransman Power Corporation
GCH International Mercantile, Inc.
GNQ Industrial and Contracting Corporation
J&C Trade and Contracting Works
Megahertz Electric Corporation
MG Exeo Network, Inc.
Mobilect Power Corporation
Phil Nippon Kyoei Corporation
Philippine Sundt Construction and Development Corporation
Poly-tech Construction and Development Corporation
Power System Engineering
RALGO Industries, Inc.
Sankyu Philippines, Inc.
Sumisetsu Philippines, Inc.
Starking, Inc.
Strickland Construction Corporation
Electrical Distributors / Importers / Retailers
Anglinco Sons Marketing Corporation
Dynatron Industrial Supply, Inc.
Eastman Industrial Supply, Inc.
Ejode Enterprises
Eurotec Industrial Technologies, Inc.
FEPCOR Electrical Corporation
GDA Power Resources, Inc.
Spandex Marketing Corporation
Stelsen Corporation
Yokoyama Merchandising
Manufacturing Companies
Absolut Distillers, Inc.
Aichi Forging Company of Asia, Inc.
Aseagas Corporation
BISCOM, Inc.
Central Azucarera Don Pedro
Central Azucarera dela Carlota
Central Azucarera de Tarlac (thru Brightline Enterprises)
Consolidated Distillers of the Far East
Foodsphere, Inc. (CDO)
General Chemicals & Resins Consortium, Inc.
Glacier North Refrigeration Services Corp.
Integrated Microelectronics, Inc.
R&B Ice Plant
Roxol Bioenergy Corporation
Sanden Airconditioning Philippines, Inc.
Tanduay Distillers, Inc.
United Laboratories, Inc.
Victorias Milling Co., Inc.
Yokohama Tire Philippines, Inc.
Zest-O Corporation
Other Institutional Clients
Bell Telecommunications (thru various contractors)
De Guzman Development Corporation
Digitel Mobile Philippines, Inc. (thru Ejode)
Far Eastern University / East Asia College
Globe Telecom, Inc. (thru Flux Power)
PGA Cars Incorporated
Pioneer Insurance and Surety Corporation
Skyfreight Brokerage, Inc.
Smart Communications, Inc. (thru Ejode)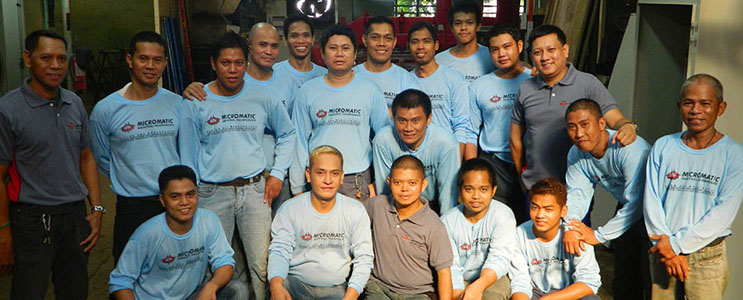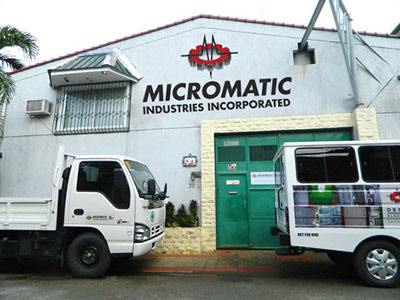 sponsored links
back to business directory home page