Metro Construction Inc., Geotechnical Group (MCI-GG), has been providing geotechnical services for over 40 years in the country. We specialize in identifying and evaluating geotechnical and seismic hazards and providing recommendations for foundation systems and design parameters for the safe and efficient implementation of the design/construction of the project.
Geotechnical Consultants
The background of the Principals of MCI are in foundations and geotechnical engineering. Dr. John Lai obtained his Ph.D. in Foundation Engineering from the University of Illinois at Urbana-Champaign, USA. His son, Dr. Timothy Lai, obtained his Ph.D. in Geomechanics from Stanford University, USA. Supported by numerous geotechnical, structural, and civil engineers and geologists, the company provides a wide range of services from subsurface investigations, comprehensive soil evaluations, soil remediation, all the way to efficient and cost effective design, excavation, soil protection and construction.
Pile Driving by MCI
Services
FIELD TESTING/DRILLING
MCI-GG maintains its own drilling crews/rigs to provide immediate, reliable, and comprehensive field testing/drilling services for its clients. Careful and standardized (ASTM) drilling/sampling procedures are followed and quality control of process/equipment is maintained to obtain high quality data to base our evaluations on.
Because of MCI-GG's over 40 years of experience, and extensive database of various sites has been developed that covers Metro Manila and the rest of the country to provide a good foundation/basis to develop soil exploration plans and provide data gap fill-inns if needed.
COMPREHENSIVE PRESENTATION OF FIELD & LABORATORY TEST RESULTS
Sufficient laboratory testing of soils and rocks using ASTM guidelines are performed at MCI-GG laboratory to characterize site conditions as well as provide parameters for geotechnical and seismic evaluations and structure design.
Details of laboratory test results are compiled and presented as an appendix to the report. The results of both the field work and laboratory testing are summarized in the developed soil/rock profiles and final boring logs.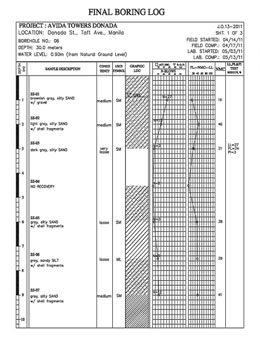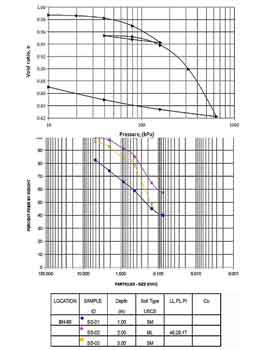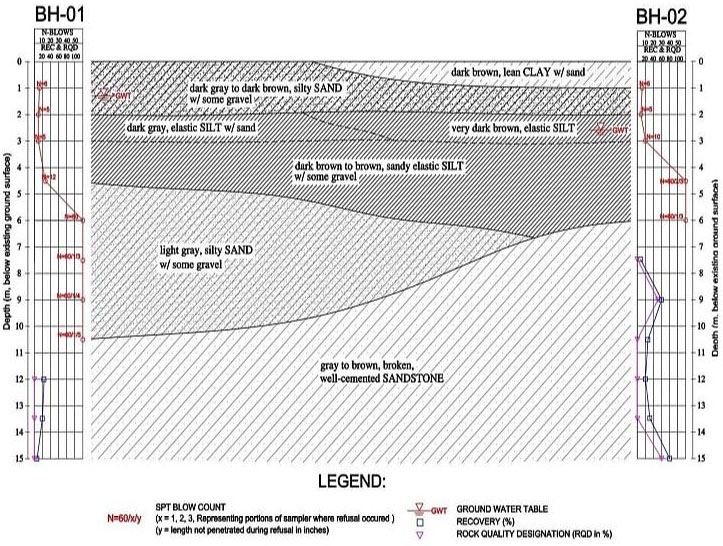 DEVELOPED SOIL/ROCK PROFILE
SEISMIC EVALUATION
Metro Manila and most parts of the country are located in a highly seismic region. While the National Structural Code of the Philippines provides guidelines and parameters to use for design, a site's specific location (to a fault) and underlying soil deposits can render code recommendations as unconservative or overly conservative. Soft soil conditions and near-fault effects can significantly amplify site response. On the other hand, cases may arise that a detailed evaluation may justify a lower loading assessment resulting in a more cost-effective structural design.
Extensive research is conducted on literature from the Philippine Institute of Volcanology and Seismology (PHIVOLCS) and Mines and Geosciences Bureau (MGB) database as well as other current publications to provide up to date fault information as well as any recent fault activity (for determining whether a fault is active or not).
GEOLOGIC, FAULT AND SEISMIC ACTIVITY MAPS
In addition to standard soil classifications and baseline code-based evaluations, MCI-GG provides a more comprehensive site specific seismic evaluation that includes:
Determination of peak ground accelaration (PGA) in rock using state of practice and the most current attenuation equations.
Estimate of surface PGA using SHAKE program.
Development of response spectra to compare with (NSCP) code-based spectra.
Ground rupture study.
Liquefaction assessment
Lateral spreading evaluation

DEVELOPED LIQUEFACTION HAZARD CHART AND ASSOCIATED FINES CONTENT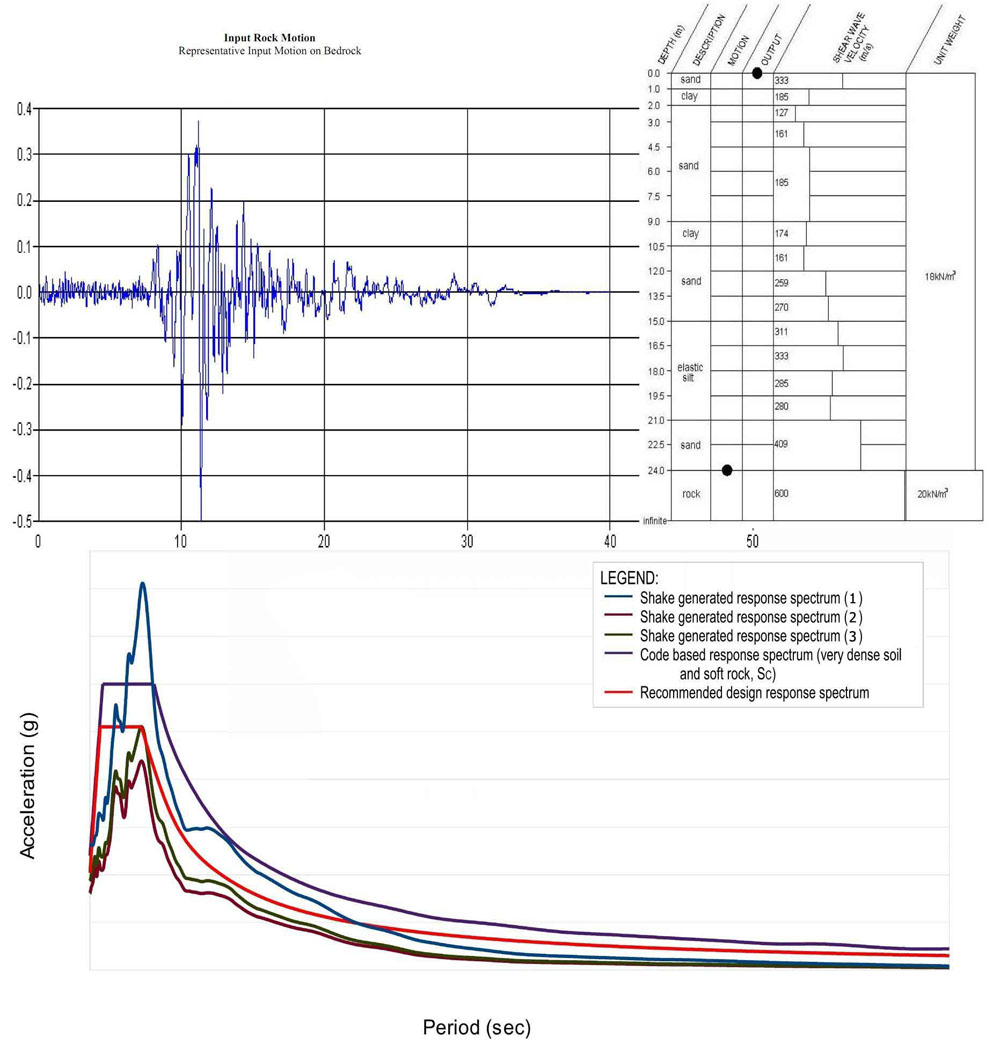 SITE SPECIFIC GROUND MOTION EVALUATION- DESIGN RESPONSE SPECTRA DEVELOPMENT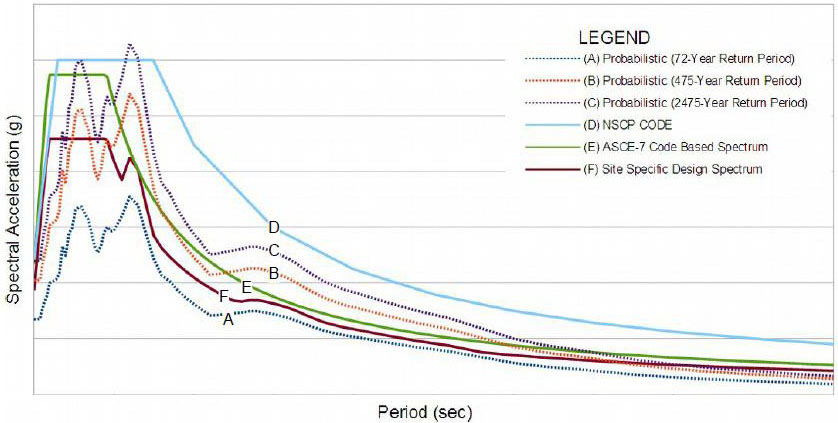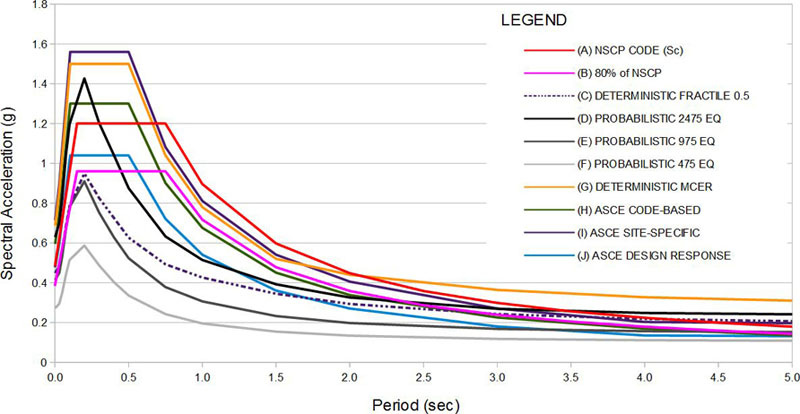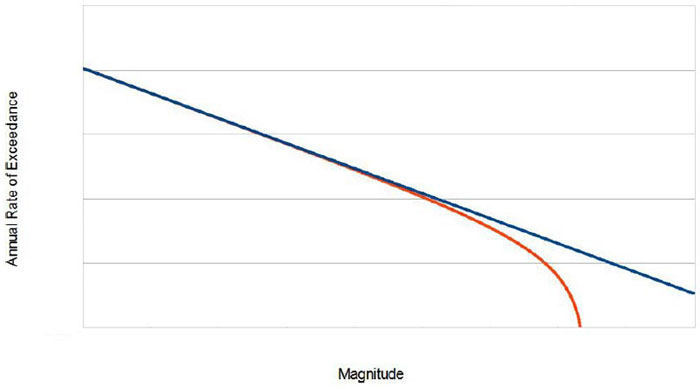 ENHANCED SEISMIC EVALUATION
SLOPE STABILITY ANALYSIS
Using the SLOPE/W software developed by Geostudio®, stability of slopes or embankments are investigated under static and dynamic conditions. Slope model and tabulations of Factor of Safety (FS) are presented and methodologies to stabilize slopes are presented in the evaluation.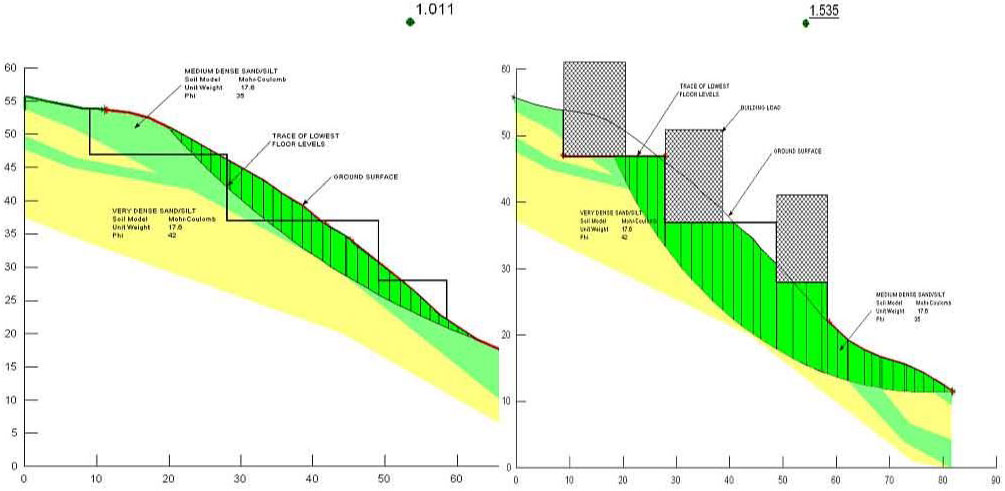 SLOPE STABILITY MODELING USING SLOPE/W
FOUNDATION RECOMMENDATIONS AND SEISMIC DESIGN GUIDELINES
MCI-GG will evaluate identified geotechnical/seismic hazards and provide recommendations regarding the most efficient foundation system from shallow foundations (footings and mats) to various types of deep foundations (piles). Site bearing capacity as well as pile capacities will be provided as applicable. In addition, the following will be provided (as needed):
Evaluation of expansive potential of soil
Soil spring/stiffness constant
Slab on grade recommendations
Estimate of short and long term settlement
Lateral soil pressures for soil protection, retaining wall design
Compaction recommendations
Suggested soil improvements
ADDITIONAL SERVICES OFFERED
Excavation Plans (Review or Certification)
Chemical Sampling (Sample Acquisition, Laboratory Testing, and Write-up)
Engineering Geologic and Geohazard Assessment Report (EGGAR)
Soil Protection (Full Design)
Retaining Walls (Design/Construction)
Field Laboratory Density Tests
Concrete Coring
Cone Penetration Testing (CPT)
Offshore Drilling
Finite Element (FE) Deformation Analysis
Finite Element (FE) Dynamic Analysis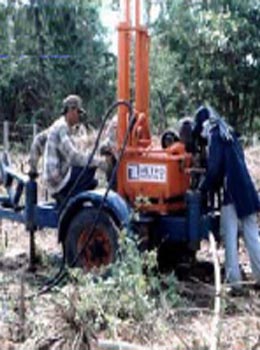 CONE PENETRATION TESTING (CPT)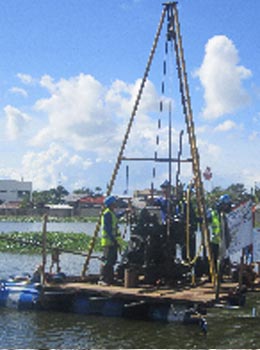 OFFSHORE DRILLING

FINITE ELEMENT DEFORMATION ANALYSIS WITH DISPLACEMENT, STRESS, AND STRAIN CONTOURS
FINITE ELEMENT DYNAMIC ANALYSIS
Contact Us
Metro Construction Inc.
Address: 747 Aurora Blvd, Cubao, Quezon City, 1112 Metro Manila
Phone: (02) 721-2736 to 37 | 727-9490 to 91
Mobile: 0999-886-3386 | 0922-842-1017
E-mail: mcigg@yahoo.com
Find us on Google Maps
sponsored links
SIMILAR COMPANIES/PRODUCTS/SERVICES
Terms of Use/Privacy Policy Advertise Buy me coffee
Metro Construction Inc.