Promoting and maintaining environmentally responsible practices is beneficial for everyone – our customers, consumers, employees and the communities in which we operate. At Metro Clark Waste Management Corporation, we take seriously our commitment to the environment. We conduct our business in ways that protect the environment and demonstrate good stewardship of our world's natural resources. We work closely and cooperatively with local communities, suppliers and contractors, government agencies, and other organizations engaged in improving the environment. And we continually seek new ways to address the environmental cost and impact of our activities, products and services.
MCWMC is dedicated to developing sustainable solutions for minimizing the environmental impact of urban development and energy production projects. Our team works both in Europe and Middle East to develop Clean Development Mechanism projects and reduce greenhouse gas emissions and saving energy.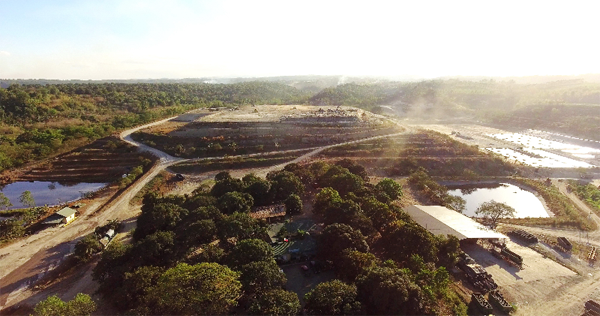 Basic Information
The Clark Special Economic Zone (CSEZ), located some 80 kilometers north of Metro Manila, Philippines is comprised of a 4,400-hectare Main Zone and a 29,213-hectare Sub-Zone. Currently, it is being developed into a model metropolis built around the Diosdado Macapagal International Airport. Its master plan has provided Clark's reconstruction as a residential neighborhood, mixed-use business district, recreational and entertainment center, support and aviation-related facility, parkway and rail link, industrial estate and the site of a world-class international airport. The Clark Development Corporation (CDC), a government agency tasked to manage the Zone, solicited proposals from various waste management companies for the handling of the solid waste generated by its locators companies. The bidding was won by a German Consortium composed of Birkhahn + Nolte GmbH and Heers & Brockstedt Umwelttechnik GmbH. The German Consortium later formed the company "Metro Clark Waste Management Corporation" (MCWM) wherein 30% is owned by the Germans and the remaining 70% is owned by various Filipino investors. The contract basically calls for the establishment of an integrated waste management facility, to be operated for twenty-five (25) years, with focus on landfilling for final disposal. The CDC gave a total land area of 100 hectares, to be used for the following:
Landfill facility 70 has.
Recycling facilities 10 has.
Infrastructure 5 has.
Environmental buffer zone 15 has.
It has a designed maximum capacity 20,000,000 tons with an operational capacity 1,000 – 3,000 tons daily.

Some highlights of the integrated waste management center are the following:
Entrance station with weighbridge
All-weather roads inside the Center
Disposal site in accordance to European standards
Leachate storage and treatment ponds
Runoff water collection system
Retention basins
Recycling and waste treatment facilities
Environmental buffer zones / re-greening zones
Administrative buildings
Materials recovery facility
Workshop
The disposal site itself will be built in phases/cells depending on the amount of waste collected. We have already completed the construction fo the 4th cell (3 hectares), which is now operational. Subsequent cells to be constructed will be anywhere from 3 to 10 hectares each, depending on the demand.
MCWM is the main waste management service provider in Central Luzon. We serve today about 90 Cities and Municipalities and serveral hundred private companies in the area.
MCWM facilities are certified under ISO 9001:15; ISO 14000:xx and ISO 18000:xx and is UFCCC certified.
Technical Information
The SANITARY LANDFILL (SLF) in Sub Zone D, Clark Special Economic Zone, Sitio Kalangitan, is build based on international accepted standards, which exceed the standards as stipulated in RA 9003 substantially.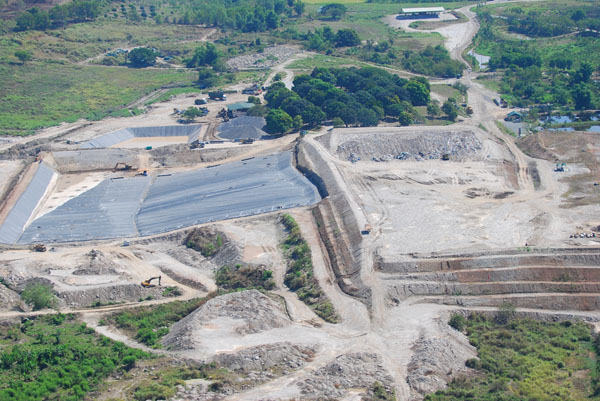 The protection layer which insures that no liquids (leachate) from the landfill could harm the soil or the groundwater is basically based on a redundant liner system out of natural and artificial materials with extreme low permeability. Further the local geology with very dense clay material protect the groundwater, which can be found in the area of the landfill about 60m below the surface.
The technical protection layers are built out of a 0.75 m thick clay liner (implemented highly compacted) and a 2.5 mm HDPE (high density polyethylene) plastic liner. MCWM opted to use German technology manufacturing and installation of the HDPE liners.
The drainage system for the leachate is built out of a HDPE pipe system (which can sustain more than 80m waste load) and a areal gravel filter, which would insure that all incoming leachate could be forwarded to the Leachate Treatment Plant.
The Leachate Treatment Plant for the facility is build as aration ponds with the additional utilization of a specialized 'reed bed' treatment plant.Built in phases, the first phase with about 3 hectares area was implemented in 2002 whereas in 2018 the total utilized landfill area is about 20 hectares.
Who Can Use The Facility
Every private or legal person is allowed to deliver recycling residuals, processing or treatment residuals and Municipal Solid Waste (MSW) to our facility assuming they follow all legal procedurals as required in RA 9003 and accept MCWM's terms and conditions for the disposal of waste.
Our disposal facility at Sitio Kalangitan, Clark Special Economic Zone, is a Sanitary Landfill as stated under the "Ecological Solid Waste Management Act", RA 9003 and is permitted through the DENR by ECC 0012-704-213.
Our ECC states specifically that we are allowed to dispose all kind of waste except "liquid, hazardous and medical waste".
The ECC and also several governmental resolutions show that we are allowed to accept waste from all over the Philippines.
Companies which would like to deliver Industrial Waste have to follow MCWM's standard procedural for the verification that the delivered materials are not declared as hazardous under RA 6969.
Further, we are an authorized facility for the disposal of "Non Friable Asbestos containing Material (ACM)" as required in DAO 2000-02, Section IX and to accept treated hazardous waste as stated in the TDS.
Types of Waste Accepted
Domestic/Household/Residual Wastes
Municipal Solid Wastes
Domestic Wastes and Residual Wastes from MRF
Biodegradable Wastes
Food and Kitchen Wastes, Green Wastes
Recyclable Materials
Bottles, Plastics, Paper, etc.
Composite Materials
Waste Clothing, TETRA Packs, Plastics, Bulky Wastes
Inert Wastes
Construction, Mining, Demolition Wastes, Rocks, Debris, etc.
Animal by-products, mortalities
Slaughterhouse wastes
Commercial Food Production Wastes
Expired Foods and Dairy Products
Sewage Wastes
Other Industrial and Commercial Non Hazardous Waste
Ashes
Light Materials
Styrofoam, Insulation, etc.
Commercial & Industrial Wastes with Non Hazardous Materials and Components
Non-hazardous Sludge, Filter cake, etc.
Treated Miscellaneous Wastes
M501 Miscellaneous Wastes (Pathogenic or Infectious Wastes) - Pathological Wastes
M502 Friable Asbestos Waste - Wastes containing friable asbestos
M503 Pharmaceuticals and Drugs Expired Pharmaceuticals and drugs stocked at producers and retailers' facilities
Putrescible/Organic Wastes
H801 Animal / Abattoir Waste - All Wastes from Animal feed lots; All wastes from commercial slaughterhouses; All wastes from poultry farms
H802 Grease Trap wastes from Industrial or Commercial Premises
Immobilized Wastes
K301 Solidified Wastes and Polymerized Wastes - Wastes whose hazardous substances are physically immobilized by consolidation to reduce the surface area of the wastes in order to meet the waste acceptance criteria.
K302 Chemically fixed Waste -Waste whose hazardous substances chemically immobilized through chemical bonds to an immobile matrix or chemical conversion to meet the waste acceptance criteria.
K303 Encapsulated Waste - Waste whose hazardous substances are physically immobilized by enveloping the waste in a porous, impermeable material in order to store hazardous wastes until such time that a proper disposal facility is available.
Industrial Waste Handling
Industrial Waste is an industrial generated residual, which is not classified as hazardous waste or treated waste residuals as described under RA 6969 (Hazardous Waste Act).
The waste would be mostly industrial residuals (sludge, ashes, Non-Friable Asbestos, manufacturing residuals etc.), which would be delivered as non-mixed fraction and might need special preparation for unloading and disposal at the landfill area. Standard requirement for sludge, ashes etc. (out of industrial processing) is the TCLP analysis (US EPD Standard); it has to be within the described TCLP limits and so far as necessary DENR confirmation as "non-hazardous". Asbestos has to be certified as NON-FRIABLE.
The waste generator has to provide MCWM with test results before finalization of the disposal contract.
MCWM will conduct "backup" analytics on site for each delivered charge. If a charge fails the limits or shows total different consistency of the delivered materials, MCWM will have the right to reject the charge.
The analyses will be charged to the client.
Furthermore, MCWM has the right to require additional tests (if necessary) to insure that no hazardous materials are disposed in their facility.
If MCWM has to assist the unloading of materials, extra charges occur.
MCWM has the right to reject charges due to operational reasons.
MCWM will provide the Generator / Hauler with a "Certificate of Final Disposal" / "Letter of Destruction" in accordance to RA 9003.
Transportation might be contracted to MCWM; charges will be additional to the described disposal fees.
Contact Us
Metro Clark Waste Management Corporation
Address: 1F-3A Business Center 11, Cedar Drive, Philexcel Business Park, M.A. Roxas Highway, Clark Freeport Zone, Clark Field, Philippines
Phone: +63 45 599 6317 to 18
E-mail: v.gaetos@mcwm.net | r.arceo@mcwm.net
Find us on Google Maps
sponsored links
back to business directory home page