Men In Blue was established in 2003 by a number of managers and officers who had retired from Fort Bonifacio Development Corporation, then the largest real estate firm in the country with several subsidiaries involved in estate management, security and maintenance. Using tenets developed in Bonifacio Global City, they established Men In Blue with much higher standards of recruitment and training, as well as work attitudes and performance monitoring of field personnel.
These managers have created a professionally managed security agency that will become a leader in the industry, in spite of its generic nature and the low regard the public has for security guards in general. Men In Blue now calls it field personnel "Public Safety Officers."
Operating Licenses
Securities and Exchange Commission (SEC)
Date of Issue: 30 June 2003
SEC Registration Number: CS200314375
Department of Trade and Industry (DTI)
Date of Issue: 11 July 2003
Business Name Registration Number: 01141835
PNP License to Operate
LTO Number: PSA-R-14-16580-1175
Employees' Code of Conduct
MIBSSI has published since 2006 a code of conduct (COC) which specifies the rules by which a PSO must behave while on duty, and sets out in detail the penalties and sanctions to be meted out to violators of the Code. The most recent version of this COC was dated 01 May 2014. All PSOs and their field supervisors are required to possess on their persons a copy of the current COC, and inspections are regularly but randomly done by the Company's Sector Commanders or night inspectors to ensure that each PSO always has his personal copy of the COC handy.
ISO Certified Quality System
MEN IN BLUE SECURITY SERVICES, INC. implements a Quality Management System, certified by Société Générale de Surveillance according to ISO 9001: 2015 Standards acquired on 13 July 2017.
This Certificate of Compliance acknowledges that the policies, practices, and procedures of MIBSSI ensure the delivery of consistent quality in the services it provides to its clients.
With this award recognition, our clients can be confident that MIBSSI remains dedicated in maintaining the highest levels of efficiency, professionalism, and timeliness in the pursuit of its ultimate goal, i.e., exceeding clients' satisfaction.
Quality Policy
MEN IN BLUE SECURITY SERVICES, INC. recognizes that the disciplines of quality, health & safety and environmental management are an integral part of its management function. The organization views these as a primary responsibility and to be the key to good business in adopting appropriate quality standards.
The organization quality policy calls for continuous improvement in its quality management activities and business will be conducted according to the following principles:
We will:
Comply with all applicable laws and regulations
Follow a concept of continuous improvement and make best use of our management resources in all matters
Measure our quality objectives and performance against these objectives throughout the company and to interested parties
Take due care to ensure that activities are safe for employees, associates and subcontractors and others who come into contact with our work
Work closely with our customers and suppliers to establish the highest quality standards
Adopt a forward-looking view on future business decisions which may have an impact on Quality
Train our staff in the needs and responsibilities of quality management
It is also our aim that, with the total involvement and understanding of all staff through the implementation of a documented quality management and information system meeting the ISO 9001:2008 Standard, we will exceed the expectations of our customers and staff.
Services
Public Safety Officers
Public Safety Officers are deployed for field or premises security work to secure buildings, compounds and open areas. Elsewhere, they would be called "security guards" but at Men in Blue, PSOs are an improved and upgraded breed of guards in terms of reliability, discipline, and multiple skills.
The Company regularly sends field personnel to basic and special security and leadership seminars conducted by security training centers accredited by PNP, PADPAO, and TESDA. The Company also uses professional trainers from the MMDA, PNP PNRC and private consulting firms to ensure that its PSOs receive professional coaching in security risks, report-writing, customer service, and other subjects that clients are most sensitive about.
Emergency Response Nurse
The Emergency Response Nurse-Safety & Security Officer ("ERN-SSO") is a new position intended to augment the existing security manpower strength primarily to focus on Safety that requires immediate response in cases of emergency. The distinctive duty of ERN-SSO is to act as first responder who will provide immediate, life-saving medical care before the arrival of more extensive, professional medical help.
The management and staff of security-conscious clients are obliged to implement and maintain safe working practices through the observance of simple safety procedures, guidelines and directions for rapid response during actual or imminent on-site emergencies. Such incidents include but are not limited to explosions; natural disasters (e.g., severe typhoons, earthquakes); engineering failures (e.g., burst water mains, loss of electrical power, gas leaks, air conditioning failures), impacts on buildings or grounds; incidents in the immediate surroundings of client facilities (e.g., chemical spills, with noxious vapors affecting people); Illegal occupancy and information and communication failures.
The internal emergencies that are most likely to occur in client facilities will be of short duration and low intensity. Staff in the affected area will manage such emergencies, with provision for coordination by the most senior staff member on site at the time of the incident. Some emergencies will escalate to a serious nature, and others will have a long time frame. In these situations, the ERN-SSO, a registered nurse with some hospital experience, will be available on site to manage the immediate emergency activities and liaise with external Emergency Services.
These incidents may require the systematic evacuation of patients and others from all or part of the clients' premises. ERN-SSOs are trained to respond to emergencies, which will include, without limitation, the following:
Removing people from danger as quickly as possible.
Preventing other people inadvertently coming into a danger area.
Minimizing the damage to the physical structure of the clients' premises.
Maintaining an emergency medical station and help re-establish services.
Placing unconscious casualties into recovery positions.
Performing Cardiopulmonary Resuscitation (CPR).
Stopping bleeding using pressure and elevation
Keeping a fractured limb immobile.
The ERN-SSOs whom we have hired are Certified Security Officers who have undergone Security Officer's training, as mandated by PNP-SOSIA, given by our own MIB Security Training Center. They are also Certified Safety Officers who have undergone the 40-hour training as stipulated by the Department of Labor and Employment for Basic Occupational Safety and Health. We have, therefore, given them the designation of Emergency Registered Nurses – Safety & Security Officers ("ERN-SSO").
Marshals
An elite group of carefully-selected and well-trained officers who provide motorized traffic enforcement and security patrol services. They are composed of men aged 25 to 45 years, who have collegiate educational background (at least 72 units in college) and confident in communicating in English. Marshals stand at least 5'9", have undergone extensive training in the use of firearms, motorcycle riding, 4-wheel driving, traffic management, martial arts and customer service.
Protective Agents
These personnel provide close-in security to local and foreign VlPs. They are drawn from the corps of Public Safety Officers and Marshals trained to provide traffic management services and; therefore, have had experience dealing with difficult violators in the streets. However, VIP security requires additional training in the handling of very important individuals whose schedules, normal routine and other personal habits do not lend themselves well to regimentation. Therefore, Protective Agents or "PAs," must undergo additional training from accredited security institutes, including the Company's own training institute, Men In Blue Security Training Center.
Event Security
Men in Blue provides traffic management and crowd control services for indoor and outdoor events. This skill was developed from several major events at the Bonifacio Global City, such as concerts of foreign artists which included Mariah Carey, Boys II Men, the MTV Summit and several events sponsored by Smart Communications, Inc. Men In Blue can deploy event security personnel whose primary objective is to secure event participants, artists, organizers and the general audience. Our men are armed with appropriate training in crowd control, firearm proficiency, non-lethal weapons and the use of communication equipment.
K9 Services
Men In Blue created partnerships with specialist agencies or private companies with canine security units with the objective of offering these supplemental services to its potential clients. Such K9 units are properly vetted by the Company before they are referred to the Company's clients, and are managed by our own detachment commanders as integral parts of our detachment organization. Inspection protocols are adjusted for clients who need K9 units as extra precautions against possible improvised explosive devices, illegal drugs and other contraband, to which canines are far more sensitive than regular PSOs. Men In Blue always works with its K9 units to minimize the potential inconvenience that such extra precautions might inflict on a client's residents or tenants.
Some of our clients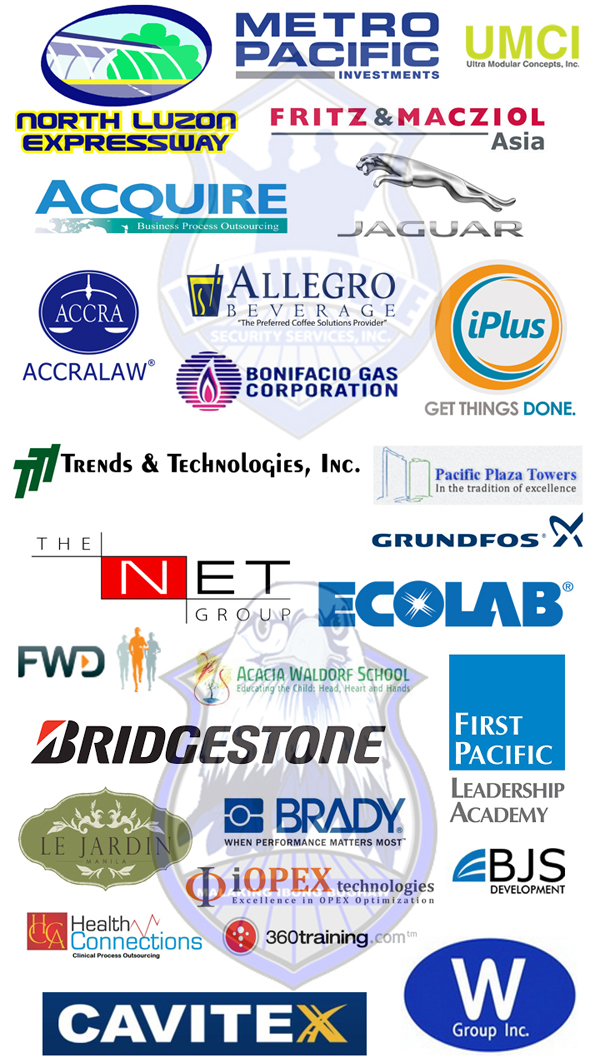 Training
MEN IN BLUE SECURITY TRAINING CENTER INC.
Incorporation
In January 2011 the Company established Men In Blue Security Training Center, Inc. ("MIBSTC"), receiving its SEC registration certificate on 05 January 2011. MIBSTC was incorporated with an authorized capital of P2,000,000. Men In Blue created this training institute in response to the growing need for better and more focused training required by large clients with specialized needs. The Company also uses MIBSTC as a guarantee that all of its PSOs and Security Officers (a supervisory level of security guards) go through real training, rather than just purchasing licenses through unscrupulous and poorly-regulated security training centers without actually showing up for the six- or twelve-day training periods.
Accreditation by TESDA and PNP-SOSIA
Men In Blue put three of its own Operations Officers through TESDA's 4-weekend lecturers' training program in order to secure TESDA's accreditation certificates for its lecturers. The TESDA accreditation was received on 29 June 2011 for the training center, and for its lecturers a month later. The company also received its PNP-SOSIA accreditation on 08 July 2011.
MIBSTC`s accredited lecturers include the following:
P/C Supt. Danilo U. Gaoiran - Former Chief of PNP-SOSIA, retired in 2010, is Chairman of the Board of MIBTC.
Gener P. Zulueta - Assistant Manager of MIBSSI and Sector Commander for NCR-Central.
All security guards recruited by Men In Blue are required to undergo retraining at MIBSTC, regardless of whether they hold current security licenses, due to the extensive practice in the training industry of including "no-shows" in their roster of trainees for license renewal purposes. Men In Blue does not take a chance with the training of its own Public Safety Officers.
Training Courses Offered
MIBSTC offers the standard two-week Pre-Licensing Training Course ("PLTC"), accredited with TESDA as NC-I, for all aspiring security guards, and the tri-annual renewal of security licenses which requires a one-week retraining course ("RTC"), designated by TESDA as NC-II.
MIBSTC also offers the Basic Occupational Safety and Health Training, including the Construction Safety Training conducted by Safety Organization of the Philippines, Inc. ("SOPI"). MIBTC will exploit fast developing trends in the commercial office and retailing industries that stress competence in safety procedures in the workplace. Before buildings are ready for occupancy, there occurs massive fitting out activities, requiring the presence of guards trained specifically in construction safety. Those PSOs trained by SOPI will receive a SOPI certificate indicating that he/she has taken the intensive safety and security course.
MIBSTC is also developing the capability to train Protective Agents ("PAs"), otherwise known as VIP Security Officers. MIBSTC is arranging to secure a special permit from PNP-SOSIA to offer this specialized course. Currently, MIBSSI currently maintains five (5) teams of PAs engaged in PLDT, South Luzon Tollways and other corporate entities. These PAs need to undergo refresher training periodically.
Contact Us
Men In Blue Security Services, Inc.
Address: 2nd Floor Sample Shop Building, AFP-RSBS Industrial Park, KM. 12 SLEX East Service Road, Western Bicutan,, Taguig, 1632 Metro Manila
Phone: (02) 837-6686 | (02) 838-7115 | (02) 837-6301
Fax: (02) 837-8484
Mr. Jerry Fernandez (CSP), Operations and Marketing Manager
CP No (Smart): 0920-951-8581 | (Globe): 0977-171-2657

Email: jafernandez@mibsec.com.ph

Landline: (02) 949-6004, 949-6005
E-mail:
Chief Finance Officer: mrquirante@mibsec.com.ph

Compliance Manager: jeadarlo@mibsec.com.ph

Admin & Logistics: elsantos@mibsec.com.ph

Human Resources: emrodrigo@mibsec.com.ph

Information Technology: elsantos@mibsec.com.ph
Find us on Google Maps
sponsored links
back to business directory home page
Men In Blue Security Services, Inc.