The Pioneer in Siomai Foodcart in the Philippines
Since its founding as a food cart franchising business in 2007, MC Master Siomai Hut, Inc. has become the country's leading manufacturer and distributor of siomai products. Contributing to the company's phenomenal success is its use of state-of-the-art innovative equipment which allows for a faster, safer and more voluminous production. Having 800+ outlets all over the Philippines, Master Siomai has amplified its reach to different types of market.
Owing its success to its valued customers, the company commits itself to achieving its vision to provide excellent quality and safe meat products for the general consuming public. This is why Master Siomai is now GMP (Good Manufacturing Practices) certified, Triple "AAA" accredited and HACCP Certified previously by the NMIS or National Meat Inspection Service and now by the FDA or Food and Drug Administration of Philippines.
To ensure our continuous success and longevity, we have constant exposure through TV Sponsorships, Billboards and Trade Events participations. We are also a member of PFA or the Philippine Franchise Association and AFFI or Association of Filipino Franchisers, Inc. and participate in their events to further develop the industry.
Franchise Package
Start your business with us with our complete franchise package on the go
Complete Franchise Package
Php 280,000
VAT exclusive
Location, permit and manpower are not included. We do not consider reservations.
This package includes the following:
1 Unit - Japanese Inspired Food Cart
1 Unit - 5 cu. ft. Chest Freezer
1 Unit - Acrylic Plastic Juicer
1 Unit - Food Steamer
1 Unit - Complete Food cart Kitchen wares and plastic wares.
1 Unit - Initial Food and Paper Products ( approximately P 7,000 )
Complete Set of Crew Uniforms
Cleaning Supplies
Marketing Collaterals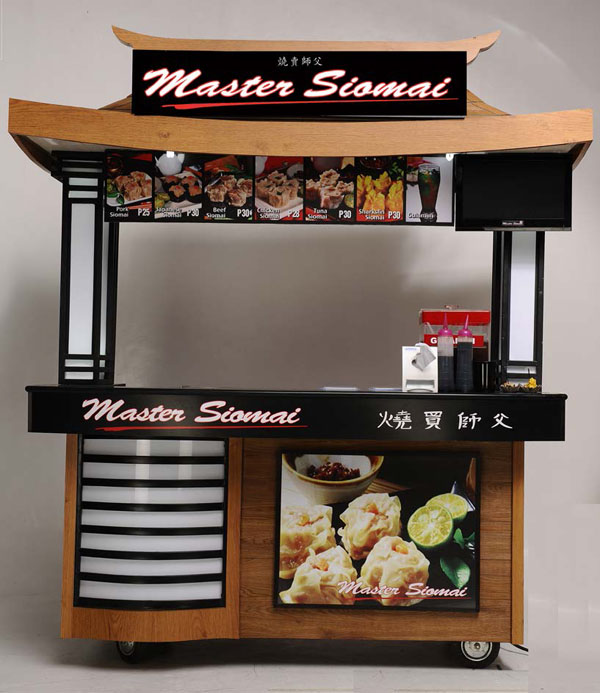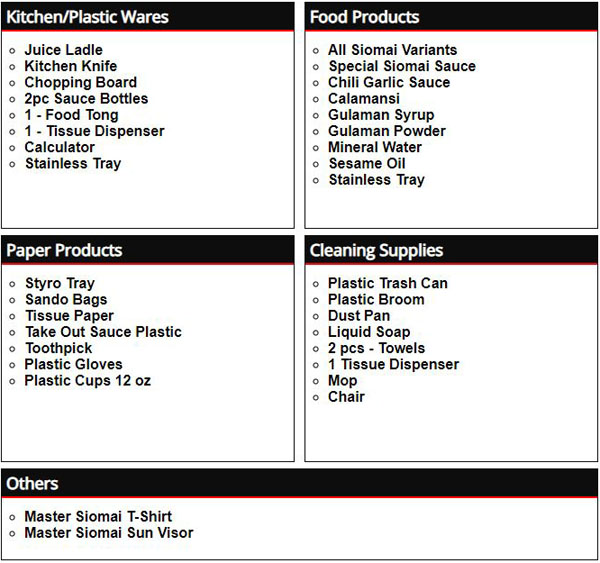 Franchise Procedure
How to Franchise? Follow these easy steps!
You must look for your own location.

A. If the location is within the mall we require an award notice or lease proposal before our site evaluation.

B. If the location is in a busy street, terminal, school or campus, you must have a written agreement with the lessor that the location will be leased by you before our site evaluation.

Call our office for the schedule of site evaluation.

(02)-281-3635 | 0923-441-9957 | 0923-441-9958

A 50% deposit of the total package price is required before the foodcart construction.
Owner will attend Business Operation meetings.
Selected crews will attend orientation and training.
Signing of Franchise Agreement.
Full Payment upon delivery of the foodcart.
Requirements
Please complete the following requirements before sending:
Franchise application form
Lease offer or written agreement from your lessor
Pictures of your proposed location
At least 2 valid IDs
Any proof of billing under your name
Download the Franchise Application Form
Contact Us
MC Master Siomai Hut, Inc.
Address: 88 C. Arellano St., Brgy. Ibaba, Malabon City, Metro Manila
Phone: 709-5288 | 709-0901
E-mail: inquiry@mastersiomai.ph
Find us on Google Maps
sponsored links
SIMILAR COMPANIES/PRODUCTS/SERVICES
Terms of Use/Privacy Policy Advertise Buy me coffee