MATEC has served as a gateway for western technologies in the Philippines for more than 3 decades with a largely diversified operation, particularly in the fields of power generation, transmission, distribution and application, and of industrial manufacturing, transportation and communication. In this time MATEC, as an agent, has successfully helped several of its principals establish their own presence in the Philippines. Through many solar photovoltaic installations over the past 2 decades, Machinen & Technik, Inc. has had extensive participation in the rural electrification of the country.
Why You Choose Us?
Through many solar photovoltaic installations over the past 2 decades, Machinen & Technik, Inc. has had extensive participation in the rural electrification of the country. This, and the world's change in energy sourcing towards renewable energy and sustainable sources, together with our company's tradition of transferring state-of-the-art technologies from Germany to the Philippines, has influenced MATEC to fully engage in the renewable energy program of the country.
Our Services
Large solar parks - electrical and civil engineers for owner's engineer services, feasibility studies, project concepts procurement assistance, evaluation, installation and quality control

Owner's Engineer and Consultancy Services

Grid-tied and Off-grid rooftop PV systems for residential, commercial and industrial installations

PV Diesel hybrid generation

Mini grids

Solar street and park lights

Battery storage systems

Solar desalination solutions

Home solar systems
Grid-tied and off-grid rooftop PV systems for residential, commercial and industrial installations
What is grid-tied pv solar system?
Grid-tied Solar Rooftop is systems that energized by photovoltaic panels which connected to the utility grid.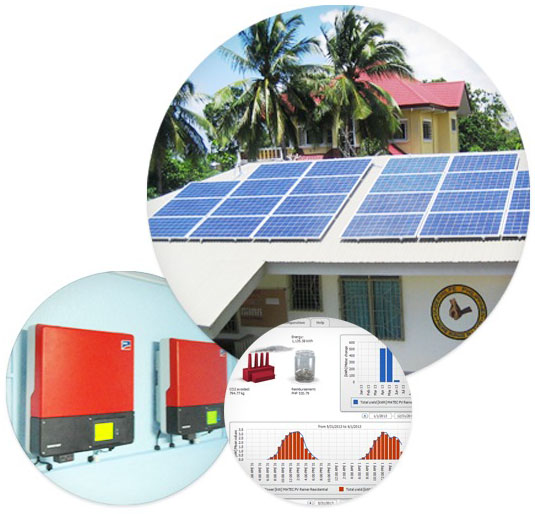 What is Net Metering?
Net-metering allows customers of Distribution Utilities (DU) to install an on-site Renewable Energy(RE) facility not exceeding 100kilowatts (kW) in capacity so they can generate electricity for their own use. Any electricity generated that is not counsumed by the customer is automatically exported to the DU's distribution system. The DU then gives a peso credit for the excess electricity received equivalent to the DU's blended generation cost, excluding other generation adjustments, and deducts the credits earned to the customer's electric bill.
How Grid-tied PV System works?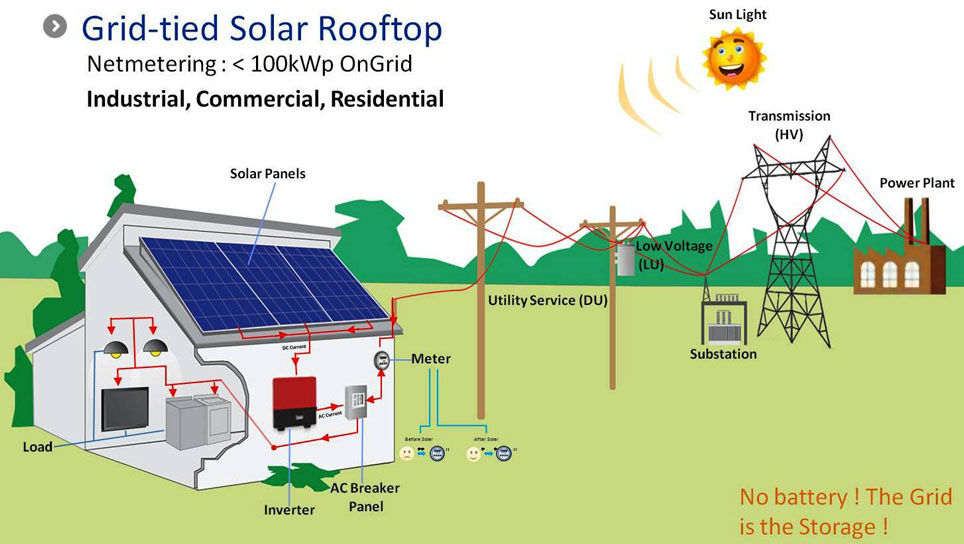 Off-Grid System Solar Diesel Solution
PV Diesel Solution are convincing alternative in Rural areas especially off-grid areas to reduce dependents on fossil fuels.
With high logistic cost of the fuel in this areas the fuel saving effect leads of cases in the fastest return of PV Solar Investments for 3 to 4 years. The cost of solar generated power is often only 50% of the cost of the diesel genset kWh.
Intelligent control units act as interface between diesel and PV array and power load and they are:
Hybridization without storage technology (AC coupled photovoltaic)
Hybridzation with storage technology (DC coupled or AC coupled photovoltaic)
MATEC installed 3kWp Off-Grid Solar in a small island somewhere in Palawan.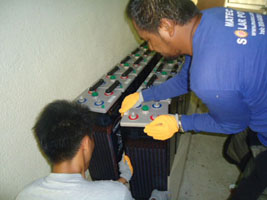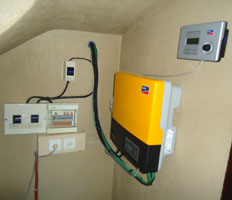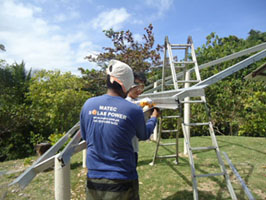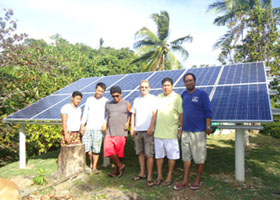 Solar Street and Park Lights
Streetlights are a vital necessities for security and safety in a community as well as a means to provide a sense of well-being and progress. As streetlights consume so much energy that consume a large portion of the budget of the community, there is a growing demand for the usage of energy-efficient lamps that harness solar energy to power themselves. Energy efficiency, illumination, power consumption are all important factors to consider when installing a system that meets optical safety standards for motorists (on roadways) and pedestrians (on walkways and in parks).
High-Pressure Gas Discharge (HPGD) lamps, utilizing mixed gases as their medium, are now economically feasible and can provide the required brightness for operation and safety. The lumen efficiency of the new HPGD lamp can reach an amazing 97.43 lumens per watt (Lm/W) with high color rendition index (CRI). (Tests are by the Taiwan Research and Testing Center, the most authoritative non-profit organization for streetlight testing and certification in Taiwan.).
Considering the vaunted long lifespan and low power consumption of LED lamps for various lighting applications, much research is being done to use LED lamps for streetlights. However, similar to the incandescent lamp, energy conversion of the LED lamp is 15% light and 85% heat. For high light intensities required for street lighting, heat dissipation poses a problem which may affect the LED lifespan. With a luminous efficiency of less than 60 Lm/W, present LED lamps cannot adequately illuminate a wide road surface from a tall post.
These are all excellent alternatives to mercury and sodium lamps, which are still widely used for street lamps, which a have a low CRI and luminous efficiencies, use more energy to run, and pose an environmental threat during their disposal.
Comparison Chart

As shown in the comparison chart, the HPGD lamp has a very high luminous efficiency of 97.43 Lm/W, high CRI, long lifespan, low heat generation, and is environment friendly. Aside from its outstanding features, the HPGD lamp consumes much less power. Compared to sodium/mercury lamps, some models can achieve up to 70% energy consumption MASCHINEN & TECHNIK.INC.reduction (e.g. a 35W HPGD can replace a 150W mercury or a 150W HPGD for 450W mercury). Presently, it costs comparably with sodium/mercury lamps but is expected to become cheaper in a few years due to economy of scale.
Specs of Various Models ~ High Pressure Gas Discharge Lamps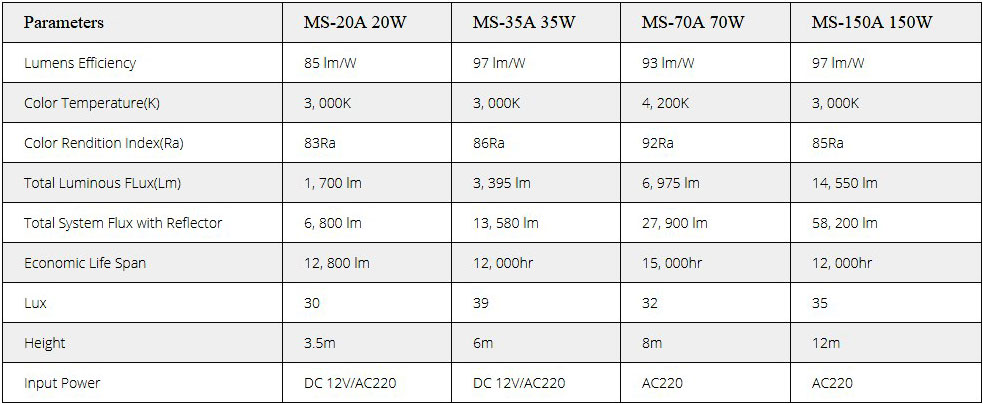 For further power cost savings, the HPGD streetlights can be provided with solar power supply with commercial power as standby in case of prolonged sunless days. One controller with solar array and battery bank can handle up to 18 streetlights. Standards for street lighting, particularly for roadways, should be carefully studied and imposed. Poor roadway lighting such as usage of fluorescent lamps with low-frequency ballasts poses optical and safety hazards. Some countries are changing yellow (to white) lighting for tunnels to minimize the abrupt change in light intensity from bright sunlight in going into and out of a tunnel.
Projects

Contact Us
Maschinen & Technik, Inc.
Address: Tech Center, Buencamino St., Alabang, Muntinlupa City 1770
Phone: +632 850 6450 to 52
Fax: +632 850 3631
E-mail: inquiries@solar-philippines.com
Find us on Google Maps
sponsored links
SIMILAR COMPANIES/PRODUCTS/SERVICES
Terms of Use/Privacy Policy Advertise Buy me coffee
Maschinen & Technik, Inc.