MANSION MAINTENANCE CO., INC. is a spin off of Mansion Maintenance Products that started in 1984, in the business of Trading and Marketing of Janitorial Supplies, Equipment and Cleaning Products, conceptualizes the idea of producing cleaning products which are good quality, economical and effective. In the light of this, a marketing strategy was made and training seminars on products application, proper handling and maintenance use, were conducted for free, to our costumers such as: resellers, end users, including Janitorial Services Companies.
As customers' demands keep rising the idea of welding said products with one-time contracts services, such as, Carpet and Upholstery Cleaning, Marble Crystallization, Office and House Cleaning, Post Construction Cleaning, Warehouse Cleaning, Façade and Building Cleaning, Vinyl Installation, Cleaning and Waxing, Wax Less Flooring System become an addition to our line of business.
It is with this expertise and resources that in 2001 Mansion Maintenance Co., Inc. was organized, and envisioned to be a total maintenance company, conceptualizing the addition of Janitorial Services and Manpower Services Contracting, using our own cleaning products.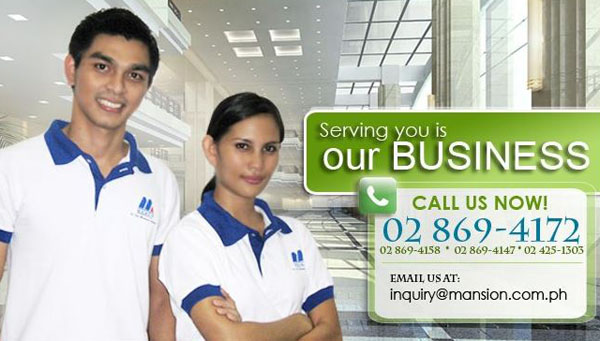 Services
JANITORIAL/HOUSEKEEPING SERVICES
Ground and Building Maintenance
Facilities Maintenance
ONE-TIME SPECIALIZED CLEANING SERVICES
High Rise Exterior Glass/Cladding Cleaning
Exterior wall cleaning & Painting
Post Construction/General Cleaning

Building, Houses, Condo Units, Offices

Deep Cleaning Shampooing of

Carpet, rugs divider, couch and chairs

Vinyl Installation, cleaning & sealing
Marble treatment and crystallization
Wood parque repair and sealing
Specialized Industrial Floor treatment/application with High speed buffing
Swimming Pool cleaning
Facade and Sign board cleaning
CLEANING SUPPLIES, TOOLS AND PRODUCTS
Waxes, Cleaners, Hygiene Products and Janitorial tools, supplies and Equipment
GENERAL PEST CONTROL
Pest Control for crawling & flying insects, Rodents, Termite and stray animals
GENERAL MANPOWER SERVICES
Messenger, Merchandizer/Promodizer, Lead Generator, Bagger, Office Staffing, Mall/Cinema Staffing, Elevator Operator, Factory Worker, Packer, Production Operator, Machinist, Driver, Warehouse Helper, Food Court Attendant, Mess/Busboy, Dishwasher
Building Maintenance Staff

Electrician, Plumber, Pump Tender, Generator/Boiler Tender, Mason, Painter, Aircon Technician, Carpenter
Company Profile
Business Name: Mansion Maintenance Company, Inc.
SEC Reg. No.: A200118321
Date of Incorporation: December 6, 2001
DOLE: NCR-MUNTA-72600-0410-031R
SSS: 03-9066946-5
Philhealth: 001000005821
BIR Registration: 9RC0000301390
HDMF: 03-9066946-5
Business Permit: LCN-11-005023
Philgeps: 2006-33259
Contact Us
Mansion Maintenance Company, Inc.
Address: Block 19 lot 1 & 2 E.P. Village Phase 2, Western Bicutan, Taguig City
Phone: 02 869 4172 | 02 869 4158 | 02 869 4147 | 02 425 1303
Fax: 02 869 4147
E-mail: inquiry@mansion.com.ph
Find us on Google Maps
sponsored links
SIMILAR COMPANIES/PRODUCTS/SERVICES
Terms of Use/Privacy Policy Advertise Buy me coffee
Mansion Maintenance Company, Inc.