Manila International Aero-Marine Safety Systems, Inc., known in the industry as "Manila Safety" is a subsidiary of well managed New Gervacio Enterprises, a pioneer in domestic marine supplies, importer and distributor of advanced high quality marine products since 1968.
MANILA SAFETY, established in 1999, is owned and managed by professional, experienced and highly trained personnel in the aero-marine safety system industry. It caters to both international and domestic clients.
The company employs qualified sales and service personnel who attend regular refresher training courses to enhanced and be abreast of the changes in regulations and services systems technology. Our process employs transparency with our customers.
We are proud to be The company that is a Det Norske Veritas (DNV) and a Nippon Kaiji Kyokai (ClassNK) classified firm and likewise accredited by the Philippine Coast Guard (PCG) and the Maritime Industry Authority (MARINA) of the Philippines.
The company also carries products that are SOLAS and International Class type approved.
Products



Services
The Quality and Performance of your equipment is maintained by regular and thorough inspection and maintenance. Let our factory certified technicians arrange your service of your Life-Saving Equipment to provide you with peace of mind. Servicing requirements for maritime life-saving equipment vary according to the various industry and international regulations as and where applicable. Most commercial vessels and installations are subject to governing body regulations that stipulate regular servicing of life-saving equipment.
LIFE SAVING EQUIPMENTS
Annual servicing, testing and repair of
Immersion Suits
Inflatable Boats
Inflatable Liferafts
Inflatable Lifejackets
Marine Evacuation Systems (MES)
FIRE-FIGHTING EQUIPMENTS
Annual servicing, testing, hydrotest and refilling of
Airline Breathing Apparatus
Self-Contained Breathing Apparatus (SCBA)
Emergency Escape Breathing Apparatus (EEBD)
CO2 Systems
Portable Fire Extinguishers
Water Mist Systems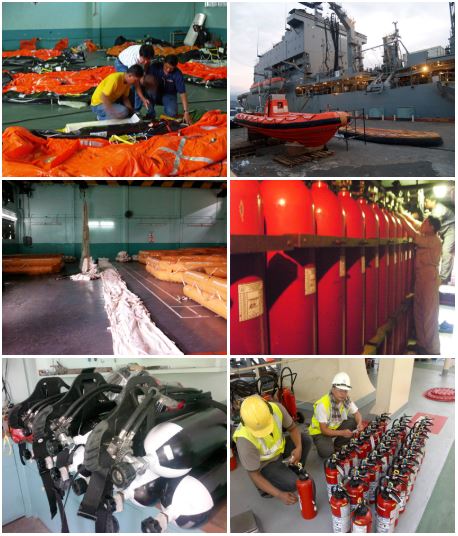 Contact Us
Manila International Aero-Marine Safety Systems, Inc.
Address: 97 Industry Road 2, Araneta Village, Potrero, Malabon City, Philippines 1475
Phone: (632) 365-9234 to 35
Fax: (632) 365-9178
E-mail: inquiry@manilasafety.com
Find us on Google Maps
sponsored links
SIMILAR COMPANIES/PRODUCTS/SERVICES
Terms of Use/Privacy Policy Advertise Buy me coffee
Manila International Aero-Marine Safety Systems, Inc.