ISS Group was founded in Copenhagen, Denmark in 1901 and has grown to become one of the world's leading facility services companies with revenues in 2016 amounting to DKK 79.2 billion. The secret to our success lies in how we tailor our solutions to client needs, how we manage risk, and how our engaged team of approximately 490,000 employees with points of operation in more than 50 countries around the world.
Integrated Facility Services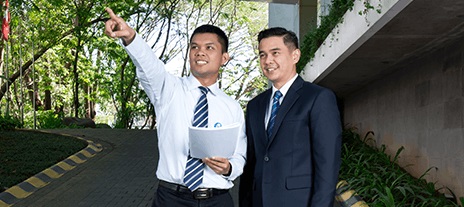 ISS offers a wide range of service solutions, from single services to fully Integrated Facility Services (IFS) that combine all of the customer's service and support functions into one single solution.
We offer in-depth knowledge and expertise, many years of experience in developing new methods and techniques, and a high level of service management and employee takeover skills.
ISS creates synergies based on our management expertise and service delivery experience. And through synergies we aim to maximise resource-optimisation and cost-efficiency. Synergies can be obtained through the combination of management and service delivery from one supplier: ISS.
Integrated Facility Services is a partnership that helps our customers reduce costs and focus on their core business. The partnership evolves from ISS' ability to combine people, methods and management.
We believe that each customer has a unique combination of needs. Therefore, the best service solution derives from a pool of values and know-how which are combined to match each individual customer's needs and requirements.
Cleaning Services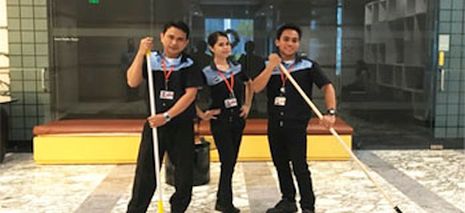 Clean surroundings and a healthy working environment are not only prerequisites for a functional environment, but also the basis for well-being and employee productivity.
Most people enjoy and appreciate clean and fresh surroundings.
For more than 70 years ISS has set new standards within cleaning services throughout the World by offering efficient and flexible cleaning solutions. All of our solutions are based on each individual customer's needs and wishes. We are constantly developing new methods, tools and materials, which help improve the cleaning as well as the working conditions of our employees while minimising any negative effects on the environment.
Our skilled and motivated employees are an essential part of our success, because it is our employees' attitude, service-level and efforts that ensure living up to our customers' expectations.
Therefore we put a lot of effort into recruitment, employee development and people management. Only by offering attractive working conditions can we hire the qualified people we need to deliver high quality service to our customers.
With outset in our customer's needs we provide a customised cleaning solution where scope, level and the combination of services are carefully adjusted to each customer. Ongoing quality control ensure that we constantly live up to the expectations.
Daily Office Cleaning
Permanently employed full-time staff
Employees trained in cleaning methods, physiology and service
Stable daily office cleaning with back-up security
Periodical Cleaning
Thorough cleaning
Craftsman cleaning
Curtain, carpet and upholstery cleaning
Specialised cleaning solutions for
Hospitals
Cleanrooms
Food processing plants
The automotive industry
Within cleaning, additional services can be provided, depending on specific needs. Some examples may be:
IT Cleaning
Telephone and computer equipment cleaning and disinfection
Special cleaning of server and printer rooms
Cleaning of copying machines and other hardware
Window Cleaning
Window polishing
Inspection and damage detection
Window maintenance
Dust Control
Entrance mats and carpets
Mat service and cleaning
Customised mats
Washroom Services
Dispensers and washroom articles
Supply, installation, maintenance and service of washroom environments
Property Services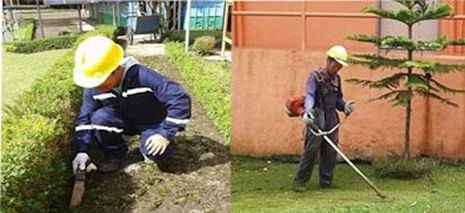 Running and managing a property from A to Z requires time, overview and control. Often, time and resources are wasted because tasks are delegated to a range of different suppliers and partners, who rarely have the complete overview nor think in terms of coordination and rationalisation of tasks.
ISS Property Services can provide of a long list of services that contribute to optimising the value of a company's property service budget.
We offer anything from staircase cleaning and lawn mowing to technical- or craftsman services.
Our services can be combined in innumerous ways, as selected services or as a complete solution focused on resource optimisation, efficiency and systematic planning.
As a matter of fact, we can handle all tasks related to the physical environment in and around the premises. With a diverse pool of highly skilled employees within a variety of service areas, as well as an extensive network of sub-contractors, we are able to develop, manage and deliver any type of Property Service solution the customer needs.
Our objective is to contribute to the existing property investment by servicing the facilities optimally.
ISS Property Services is the single solution provider covering all property service needs.
Systematic Maintenance
Building inspection
Maintenance tasks
Craftsmen
Technical installations
Daily ad-hoc tasks
Rebuilding
Building Maintenance
Elevator Cleaning
Facility and Repairs
Landscaping
Construction and maintenance of green areas
Pest Control
Extermination
Pest control systems and surveillance
Risk analysis
HVAC
Ventilation system cleaning and maintenance
Air pollution prevention
Catering Services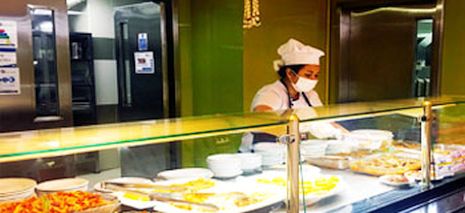 ISS Catering is for companies that believe that great food is a parameter in obtaining happy and energetic employees.
To us, catering is about creating the right environment for the company lunch and not just a question of feeding people. We do this by providing a balanced and tasty diet, served in a comfortable and inviting environment.
ISS has a long list of customers with catering solutions ranging from employee restaurants to public canteens. Our solutions are as diverse as our customers, but they are all based on the same values and know-how, which are matched in collaboration with the customer to accommodate the specific needs within every solution.
This way we ensure that each catering solution meets the specific customer needs, not only in terms of food, but also in terms of environment, employees and service.
Company Restaurant
Dedicated chef de cuisine
A la carte menu
High service level
Interior adapted to the architecture and company atmosphere
Canteen Services
Professional employees
Fresh ingredients
Hot meals
Salad
Proven canteen concept
Coffee & Beverage Service
Vending
Conference Room Services
Support Services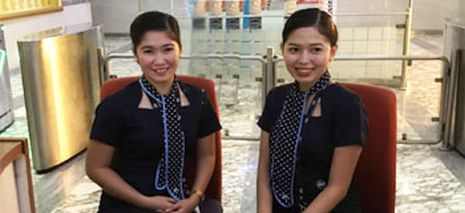 Few companies know how much time and how many resources are used daily to accommodate office related service- and support needs. On the other hand, most people agree that in the constantly changing and increasingly competitive world there is no room to waste either time or resources.
Even though only few companies consider services and support functions as vital for their core business, the impact of a well-functioning service solution is substantial on business conduct, employee wellness and even customer loyalty.
ISS Office Support has office related services and support solutions as core business. We deliver everything from call centers and mailroom services to reception and planning of internal moves. The many tasks vary and can be combined in numerous ways depending on the specific needs of the individual customer.
Customer Services
Reception
Conference facilities
Switchboard
Call Centre
Back Office
Employee Services
Helpdesk
Secretary services
Internal Services and Logistics
Mail handling
Copying and printing
Office supplies
Access control
Space Management
Internal moves
Contact Us
ISS Facility Services Philippines, Inc.
Address: 1040 EDSA corner Magallanes Village, Makati City
Phone: +632 754 7600
Fax: +632 754 7627
Find us on Google Maps
sponsored links
SIMILAR COMPANIES/PRODUCTS/SERVICES
Terms of Use/Privacy Policy Advertise Buy me coffee
ISS Facility Services Philippines, Inc.