Imaginet International Inc. is the premier provider of IT Network & Security solutions and Managed Network, Hosting & Content Management Services in the country.
We have been designing, supplying, implementing & managing data, messaging and voice networks across the Philippines and ASEAN countries since 1998.
Imaginet is a trusted partner of many International companies and brands, providing IT based infrastructure solutions.
Imaginet has always partnered with only the most reliable and trusted brands in the IT business, to ensure client's network security, availability, and continuous performance. Imaginet is the only T-Systems Delivery Partner in the country, and works with the best-of-breed I.T. vendors and brands to provide the Philippine market and the rest of South East Asia with the best I.T. infrastructure and services.
As the country's leading provider of managed network, hosting, and content management services to local, regional, and multinational organizations, we are partnered with the most reliable and trusted brands in the IT business, ensuring your network security, availability, and continuous performance.
We deliver 24x7 on site and on call Support backed by our Help Desk and Network Monitoring support services.
Products / Partners
APC Power Protection, Rack and Environmental Monitoring
Bluecat Networks Adonis and Proteus Advanced Partner
Cisco Systems - Routers, Switches, Security Appliances and Network Products
EMC - Networked Storage, Data Recovery, Information Management
IBM - System Storage, Blades, Rack and Tower Servers
Lenovo Laptops, Notebooks, Desktop Products and Workstations
Microsoft Office Operating System, Windows 7 Software, Exchange Server, SQL Server & Windows Server
Polycom Voice Conferencing, Voice and Telepresence IP Phones
Symantec Antivirus, Antispyware and Backup and Recovery Solutions
WatchGuard Technologies XTM Firewall Internet Security & XCS Email Security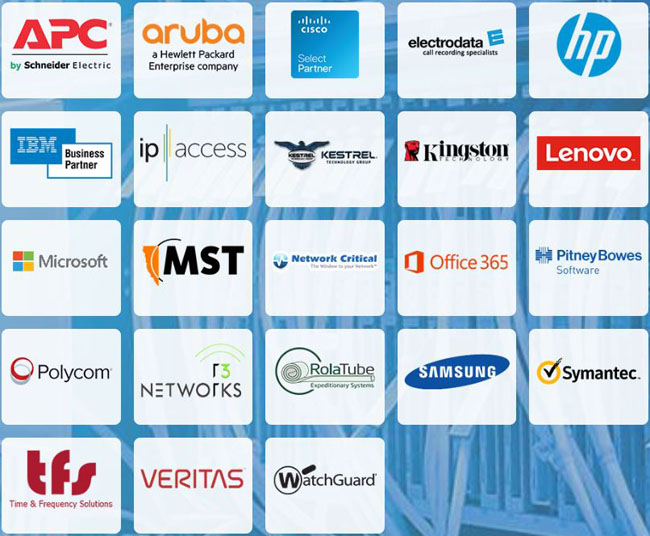 Services
Network Design Services
Network Implementation Services
Network Monitoring Services
Managed Network Services
Vulnerability Assessment and Penetration Testing Services
Network Audit
Business Continuity and Disaster Recovery Planning (BC/DRP)
Website Design Services
Website Development Services
Website Content Maintenance Service
Online Marketing Support Services
Email Hosting Services
Exchange Hosting Services
Hosted Sharepoint Services
Website and FTP Hosting Services
Industries We Serve
Airports and Terminals
Imaginet International Inc was selected as the subcontractor for the 'Network Rehabilitation' at the 3rd terminal of Manila's Ninoy Aquino International Airport (NAIA) by lead contractor, Japan's Takenaka Group. The requested works were extended from the refurbishment of the fiber optic network and upgrading of the Core and Edge switches, to include implementation of a High Availability Firewall solution, a Network Management system, replacement of four 30K UPS's and the installation and commissioning of the passenger flight information display screens (FIDS).
Banks and Finance
Imaginet understands the critical nature of security in the Banking & Insurance industry. Valuable customer data and details must always be secure and private. With leaders in Ethical Hacking and Network Security as partners, Imaginet works to internationally recognized processes to meet industry compliance standards and requirements. We ensure your IT security so that you can focus on your bottom line.
Call Center and BPO's
Imaginet provides a proactive approach when it comes to monitoring the performance of a computer network for the BPO industry from bare concrete fit-outs, to supply, configuration and support of PCs, Racks, Servers, Switches, Routers and Uninterruptible Power Supplies.
Construction
As construction companies build power stations, highways, bridges, piers, mining camps, process plants, etc, Imaginet ensures communications and data services are continuously available for remote and onsite locations from design, build through to operate and transfer to the client as partners of the prime Contractors.
Gaming and Entertainment
Imaginet supplies market leading IT products and services for networks of online sportsbooks, online gaming services, streaming video gaming, live poker tours, land-based table and slot operations. Imaginet also monitors networks for vulnerability assessment and penetration testing with (BC/DRP) support.
Humanitarian Assistance / Disaster Recovery (HA/DR)
Imaginet's HA/DR solutions cover Mobile 2G & 3G communications systems from SiRRAN and Field gathering/data management & Response solutions from Kestrel Technologies.
NGO Support
Imaginet partners with International corporations as their local Delivery or Warranty / Technical Support Partners ( WTSS) for the logistics, implementation and ongoing support for Internationally funded Aid projects.

We have supported Schools Construction projects of over 1,000 locations on behalf of CARDNO for the Department of Education across Luzon & Mindanao.

We have provided logistics, installation, and WTSS for CANCOM Online Gmbh, and Planson International for UNDP & the Department of Education in 1,300 schools nationwide.

We have assisted USAID and AusAID partners in logistics and delivery nationwide on Networking, Security and provided ongoing managed services.
Mining and Mineral Exploration
When it comes to the Mining Industry, companies face challenges ranging from Internet access, secure network for multiple sites and remote locations, VOIP (Voice Over Internet Protocol), to messaging and email hosting. Imaginet is the leading IT systems integrator and managed network, hosting and content security provider for the Mining and Exploration sector. Imaginet works closely with clients from groundbreaking, onsite support to daily operations collaboration, and understands the challenging environment and the demanding business process of the Mining industry.
Power Generation and Distribution
Imaginet has worked with Hydro, Run of River and Geothermal producers from exploration to production providing advanced communications, voice & data systems in remote locations. We combine Solar and Wind systems to manage remote communications relays, through to laying armored submarine fiber in high-pressure tunnels.
Contact Us
Imaginet International Inc.
Address: 101 Zodiac Street, Palm Village, Guadalupe Viejo, Makati City
Phone: +632 8895 9755
Mobile: +63 918 885 8099
E-mail: sales@imaginet.com.ph
Find us on Google Maps
Imaginet - General Santos
Address: Venus Building, National Highway, General Santos City 9500, South Cotabato
Phone: (083) 301 1519
Find us on Google Maps
sponsored links
SIMILAR COMPANIES/PRODUCTS/SERVICES
Terms of Use/Privacy Policy Advertise Buy me coffee
Imaginet International Inc.