HiAdvance Phils., Inc., was conceptualized to serve the emerging awareness and concern of the country to the environment. As a foundation for critical environmental decisions, HiAdvance Phils., Inc., provides data that are defensible and of internationally recognized quality.
Our laboratories are designed for efficient sample management and productivity, while focusing on analytical method compliance and data quality. All network laboratories utilize the same sophisticated Laboratory Information Management System (LIMS) and all laboratories are networked via secure internet connections. We remain current with environmental industry standards, regulations and analytical procedures to ensure that we can meet the diverse and changing needs of our clients.
Recently, HiAdvance Phils., Inc. and Pace Analytical, one of the largest Environmental laboratory in the U.S. have formed a strategic global alliance to support emerging markets in Asia and in the Middle East. This new alliance provides our multi-national clients with seamless laboratory testing services at a uniform level of quality across North America, Asia and Middle East. Drawing from more than twenty five years of experience in environmental testing in Asia, HiAdvance has forged a unified network of four laboratories in Asia, plus one location in Middle East, with plans to expand its network to include laboratories and service centers in more cities and countries.
Together, the HiAdvance and Pace analytical Laboratory alliance will provide comprehensive analytical support to meet rigorous quality objective and regulatory requirements for inorganics, organics and radiochemistry capabilities- specializing in the analysis of trace level contaminants in air, water, wastewater, soil, biota and waste. Using harmonized quality assurance systems and testing procedure, the Pace / HiAdvance alliance network provides a unique support solution for multi-national consultants, industrials, and petroleum companies who require consistent and defensible environmental monitoring data across the globe.
HiAdvance operates a dedicated technical support center located in Bangkok, Thailand, with a staff of highly experienced English speaking specialists who are available to consult with clients to provide individualized solutions for environmental testing requirements and "one stop" assistance in locating appropriate analytical resources within the Pace / HiAdvance team. With project experience in more than a dozen countries, our technical support team can assist with method selection and design of monitoring programs that will satisfy corporate data quality objectives and local regulatory requirements, while ensuring compliance with local USEPA and ISO protocols.
Why Choose Us
Technical Expertise | Experience | Skills | Ability | Competitive Prices
HiAdvance Philippines Incorporated offers a number of advantages to our clients. HiAdvance' technical expertise and experience working with a variety of environmental samples, combined with our ability to supply services on time and at competitive prices, are just a few of the factors responsible for our success.
Additionally, our network evaluates our turnaround performance on a weekly basis. We respond to turnaround time challenges in a variety of ways. For example, we may add or redistribute staff and instruments. We also may respond by conducting further staff training sessions. In short, we make whatever adjustments are necessary in order to meet the demands of each individual project. Due to our financial stability and independence from parent organizations, this redistribution of resources can take place very quickly, without the burden of gaining approval from outside investors or a board of directors. In summary, we provide:
Duplicity of instrumentation offering vast backup capabilities.
Multiple locations providing sample custody, integrity, and safety.
Multiple locations providing complimentary and timely delivery of sample kits.
Full analytical support from a wealth experienced technical staff.
Fixed laboratory capabilities throughout the United States and Asia Pacific.
On-site mobile laboratories for remote locations and real-time turnaround requirements.
Financially stable and fully insured laboratories.
Quick response to need for capacity gained only from independent ownership.
Electronic Data Deliverables: accurate, accessible report data available in a variety of formats.
PROFICIENCY TESTING
HiAdvance Philippines Incorporated analyzes Proficiency Test samples as required for accreditation and as outlined in the Department of Environmental and Natural Resources-Administrative Order (DAO) and National Environmental Accreditation Conference (NELAC). Our laboratory participates in the Proficiency Test Program whenever needed.
DOUBLE BLIND PERFORMANCE EVALUATION
An extensive double-blind performance program is conducted annually at each HiAdvance Network. It is administered by the Corporate Quality Assurance/Quality Control Officer. An external vendor is contracted to submit double blind samples to each HiAdvance Analytical Laboratory Network Group. The contractor objectively evaluates the performance of both customer service and test result accuracy. Findings are reported to the Corporate Quality Assurance/Quality Control Officer and the HiAdvance Senior Management Team.
QUALITY ASSURANCE
HiAdvance- Pace Analytical is united under a comprehensive Quality Assurance Program documented in the Quality Assurance Manual (QAM) that guides all operations and management of the laboratories. Our QAM meets the requirements of the National Environmental Laboratory Accreditation Conference (NELAC), the American Association for Laboratory Accreditation (A2LA) and the International Standard ISO/IEC 17025. A copy of our current QAM can be made available for review.
DELIVERABLES
All unit pricing in this document is based on the standard HiAdvance report. Our standard deliverable definitive data including batch QC. HiAdvance offers many different deliverables options-both hardcopy and electronic.
CONFIDENTIALITY
All information regarding our clients, their projects and associated data are considered confidential and will not be released without direct authorization from our client. Written permission for any third party reporting must be provided prior to the release of any data unless compelled by order of a court or regulatory body of competent jurisdiction.
Services
Water Sampling and Analysis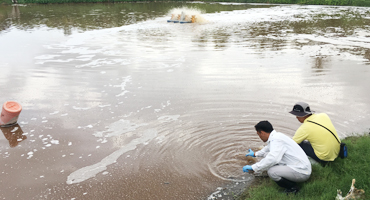 Our Laboratory is capable of determining water characteristics from its Physical, Organic, and Microbiological Parameters, Metals, and Speciation that will determine its quality. Results are compared against water quality standards in PNSDW (Philippine Drinking National Standards for Drinking Water) and RA 9275 (Philippine Clean Water Act) regulations and guidelines to determine its use and/or the treatment required to make the water suitable for its intended usage.
Ambient Air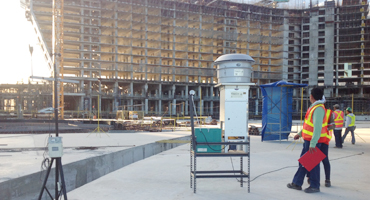 Some human activities can cause changes in the chemical composition of the air through the release of chemical and industrial pollutants into the atmosphere. Air pollutants may include gases or particulate matter, which are small particles of dust, smoke, ash, pollen, and other substances. Most of these pollutants are known to be harmful to human health.
Ambient Air Sampling & Analysis is a way to determine the quality of air within a specific area. In our country, Ambient Air Monitoring Analysis is regularly required for Environmental Impact Assessment of a firm, or for Environmental Baseline Studies.
Stack Air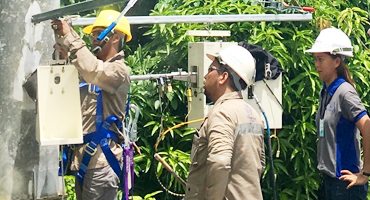 Stack monitoring is a process to measure emission of industrial waste or pollutants emitted into atmosphere. The pollutants emitted from stack can be solid, gaseous, liquid organic or inorganic.
We offer Stack emission testing services to check on industrial waste stream that being released into the atmosphere. Whether on field testing or in Laboratory Analysis, a designated QA/QC Personnel is assigned to check if Standard Operating Procedures are properly done by the team. Our Air Team ensures the calibration of equipments to keep the precision and accuracy of results of our client's environmental needs.
Asbestos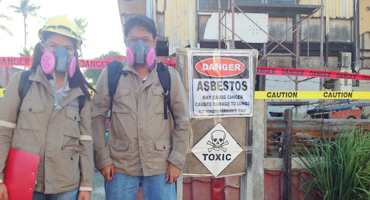 Asbestos are extremely durable and resistant to fire and most chemical reactions and breakdowns that's why it is considered as an "ideal substance". But nowadays, this material has being banned all over the countries for its hazardous effect on human health. Even a small particle of asbestos when inhaled can cause asbestosis and scarring of the lungs.
In the Philippines, HiAdvance is one of the pioneer Laboratories that is capable of technical expertise for Asbestos Building Survey, Fiber Identification, Air Quality Monitoring, and Bulk Sampling. You may leave dealing asbestos with us, to ensure the safety of your health.
Biota Testing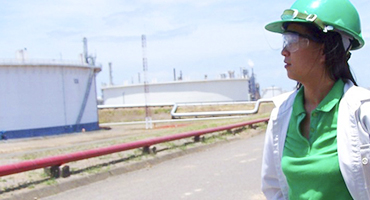 Several adverse health effects of heavy metals have been known for a long time, exposure to heavy metals continues, and is even increasing.
HiAdvance provides responsive trace metals testing services that allow detection and identification of levels of metals in a sample. Determining trace levels of metals in samples can also help to identify contaminants that can be critical to living organisms, especially to the human health.
Contact Us
HiAdvance Philippines Inc.
Address: 3F Maga Centre Building, San Antonio St., Paseo de Magallanes, Makati
Phone: +63 2 854 8365
Mobile: +63917 557 9507
Skype: skype.HiAdvancePh
E-mail: info@hiadvance.com.ph
Find us on Google Maps
sponsored links
SIMILAR COMPANIES/PRODUCTS/SERVICES
Terms of Use/Privacy Policy Advertise Buy me coffee
HiAdvance Philippines Inc.