1. About Us
Established in 1993, GY Industrial Mill Supply Corp. and GYH Industrial Sales Corp. is one of the largest distributor of industrial and mill supply products.
We are the distributor of many brands that are industry leaders. We have a dedicated and competent team with decades of experience to help you with your needs. Our reliability in providing high quality products at reasonable costs makes us the preferred choice of many of the biggest companies in the country.
Brands We Carry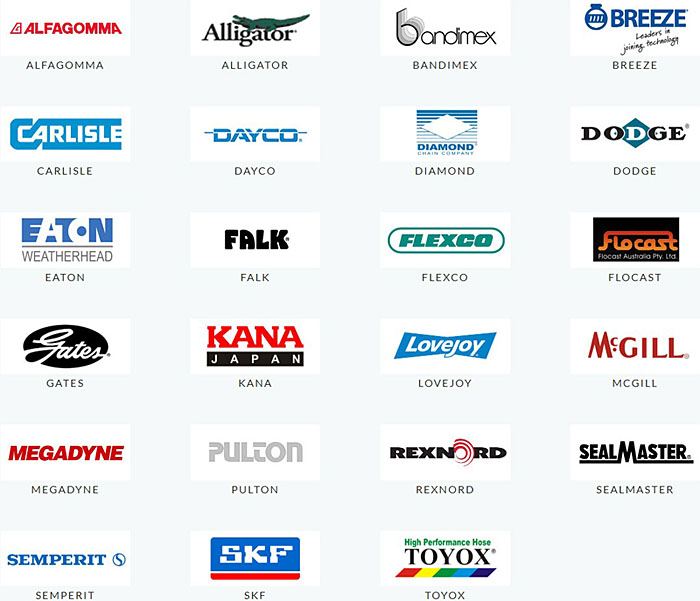 Product List
Belts: GATES, DAYCO, MEGADYNE & ROLAND
V-Belt & Molded Notch V-Belt (A,AX,B,BX,C,CX,D,E)
Super HC & Molded Notch Super HC (3V,3VX,5V,5VX,8V)
Raw Edge Molded Notch Narrow V-Belt (SPZ,XPZ,SPA,XPA,SPB,XPB,SPC)
Hexagonal V-Belt (AA,BB,CC,DD)
Truflex Belt (2L,3L,4L,5L) & Micro V-Belt (J ,L,M Series)
PowerBand Belt (A,B,C,D,3V,3VX,5V,5VX,8V)
Poly-Urethane Timing Belt (T2.5,T5,T10,AT5,AT10)
Twin Power Double Sided Poly-Urethane Timing Belt (TP-T5,TP-T10)
HTD Belt (3M,5M,5MR,8M,8MR,8YU,S8M,14M,14MR)
Twin Power HTD Belt (5M,8M, 14M)
PolyChain GT Belt (8M,14M)
Timing Belt (MXL,XL,L,H,XH,XXH)
Twin Power Timing Belt (XL,L,H)
PolyFlex (3M,5M,7M,11M)
PowerBand PolyFlex (5M,7M,11M)
Liang Chi Cooling Tower (11M)
Variable Speed Belt
Hoses
Industrial Hose & Assembly: ALFAGOMMA & GATES
Air Hose
Food Grade Hose
Concrete Hose
Water Hose
Sandblast Hose
Radiator Hose
Steam Hose
Oil & Fuel Hose
Mine Spray Hose
Petroleum Hose
Gas Station Refueling Hose
Acid & Chemical Hose
Butane Propane (LPG) Hose
Hydraulic Hose and Fitting Assembly: ALFAGOMMA, SEMPERIT, BALFLEX & GATES
1 Wire Braided Hose
2 Wire Braided Hose
4 Wire Braided Hose
6 Wire Braided Hose
Hydraulic Fittings
Textile Braided Hose
Quick Release Coupler
Thermo Plastic Hose
Crimping Machine
Other Hoses & Tubes: TOYOX, HANFLEX, KLASFLEX, SUPERFLEX, UNIVERSAL, NITTO, BEST YEAR, JE FLEX, TOKYOFLEX, WEATHERHEAD, TPU
PVC Hose
Teflon Hose
Rubber Hose
Twin Hose
Fire Hose & Nozzle (11/2, 2, 21/2)
Spray Hose
Air Duct Hose
Rubber Expansion Joint
Tarpulin Hose
Poly-Ethylene Tube
Aluminum Hose
Poly-Urethane Tube & Fitting
Layflat Sunny hose
Poly-Urethane Recoil Tube
Stainless Hose (Expansion Joint)
Poly-Urethane Round Belt
White Suction Hose
Nylon Tube
Hose Clamps & Accessories
Stainless Hose Clamp
2 Bolt & 4 Bolt Clamp
Fuel Dispensing Nozzle
T-Bolt Clamp
Camlock
PU Tube Fitting
Band it Clamp
Universal Hose End
Chain: KANA, PULTON, NIPPON, NK, STAR, REXNORD, DIAMOND, MORSE, MAGRIS & MARBETT
Roller Chain
Double Pitch Roller Chain & Attachment
Heavy Duty Roller Chain
Detachable Chain
British Standard Roller Chain
Pintle Chain
Stainless & Plastic Table Top Chain
Combination Chain
PIV Chain
Malleable Roller Chain
Side Bow Roller Chain
Drag Chain
Ramsey Silent Chain
Steel Thimble Chain
Leaf Chain Etc...
Chain Sprocket: KANA
Power Transmission Coupling: KANA, NIPPON, NKC, STAR, LOVEJOY, SUREFLEX, FALK, WRAPFLEX, REX OMEGA & PARAFLEX
Chain Coupling
Grid Coupling
Rubber Coupling
Gear Coupling
Bearings: SKF, FKD, LDK, SEALMASTER, MCGILL, DODGE & AURORA
Pillow Block Bearing
Angular Contact Bearing
Flange Bearing
Thrust Ball Bearing
Take Up Bearing
Spherical Roller Bearing
Plummer Block Bearing
Tapered Roller Bearing
Ball Bearing
Cylindrical Roller Bearing
Double ROW Ball Bearing
Rod End Bearing
Self Aligning Ball Bearing
Conveyor Belt, Roughtop Belt, Neoprene Rubber Sheet & Flat Belt
Belt Accessories:
FLEXCO Belt Fastener
ALLIGATOR Belt Lacing (steel and stainless)
CLIPPER CLINCHA Belt Hooks
Tiger Bronze Bushings: FLOCAST
Taper Lock Bushings, Gravity Roller
sponsored links
SIMILAR COMPANIES/PRODUCTS/SERVICES
Terms of Use/Privacy Policy Advertise Buy me coffee