Established in 1991, Guill-Bern Corporation is a reputable distributor of innovative equipment for the quality control laboratory, hospital, life science, microbiology, biotechnology, environmental and other various industrial applications. We offer solutions with the most advanced, quality, hi-tech equipment for various industries. We cater even to the most specific applications. We provide reliable and efficient after-sales service and consultations for total customer satisfaction.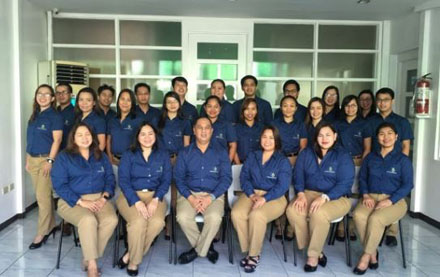 Our product range is complete from A to Z. Ranging from general laboratory instruments up to analytical laboratory instruments. We have extended our product range from laboratory testing solutions to on line process monitoring systems and even on site and portable instrumentation.
Industries we serve
Food and Feed
Research and Academe
BioMedical
Life Sciences
Pharmaceutical and Cosmetics
Mining, Petroleum, Rubber, Cement/Others
Environmental
Product Brands
Perten Instruments
Randox Food Diagnostics
Milestone SRL
Fritsch
Rigaku
Hanna
Sakura
Milestone Helping Patients
NETZSCH
GRIMM AEROSOL TECHNIK
Thermo Scientific
Skalar
Erlab
Micromeritics
Integra
Chopin Technologies
In-Situ Inc.
Randox Toxicology
SOTAX
Katanax
SPEX SamplePrep
Velp Scientifica
Uvitec
Wallace Instruments
Actini
Taitec
Services
Installation
We ensure that all equipment delivered by our company is fully installed at the customer site. All installations are completed by our After Sales Team comprising of competent Service Engineers and Application Specialists. Our full installation service includes Operation and maintenance training, Calibration and Method Development if required.
Calibration
We offer calibration services performed by our Service Engineers or Applications Specialists tokeep your instruments accurate and precise, thus giving you full confidence in your laboratory results.
Repairs and Service Contracts
Our Service Engineers conduct repairs to privileged end users of our systems and we offer Preventive Maintenance Service Packages to customers beyond the warranty period to keep your instruments in good performance and reliable, thus giving you a worry free laboratory.
Application Assistance
Our reliable Application Specialists are reachable for our valued end users to assist you in further application concerns such as calibration ad method development and Product Managers are reachable for our valued customers to provide you with solutions to answer your specific application requirements.
Contact Us
Guill-Bern Corporation
Address: #14 San Francisco corner San Rafael St., Bo. Kapitolyo, Pasig City 1603
Phone: (632) 632-9326 | 746-1470 | 633-9589 | 746-0886
E-mail: info@guill-bern.com.ph
Find us on Google Maps
sponsored links
SIMILAR COMPANIES/PRODUCTS/SERVICES
Terms of Use/Privacy Policy Advertise Buy me coffee