Geotechnics Philippines, Inc. was organized on October 18, 1966 by a group of professionals; F.F. Cruz, A.L. Juinio, P.C. Reyes, J.M. De Castro and S.F. Reyes and this was formed to provide professional services on Geotechnical, Geological and Foundation Engineering Services.
The company has established database nationwide and has developed standards and systems in conformance with F.F. Cruz & Co. Inc., Philips Technical Consultant, Inc. DCCD Engineering and U.P. Building Research Service.
Be it on-land and off-shore investigation, the company can provide technical and logistical support for land survey, marine survey and aerial survey.
We are proud to introduce our state-of the art instruments for measuring load and deformations as well as characterization of sub-surface using applied physics and best quality core sampling.
Our research and development group, together with the quality management and experienced has given us the edge on this field of services.
ACCREDITATION AND MEMBERSHIP
Philippine Constructors Association (PCA member)
PCAB - Department of Trade and Industry (DTI)
Accredited testing laboratory - Bureau of Research and Standard (DPWH)
Accredited Driller - National Water Resources Board (NWRB)
Council of Engineering Consultants of the Philippines – (CECOPHIL) - Member
Geotechnical Investigation
DRILLING RIGS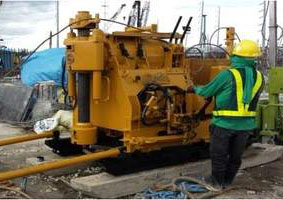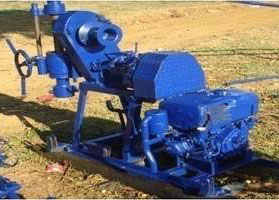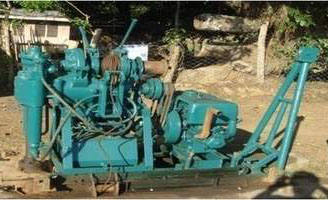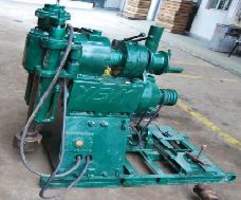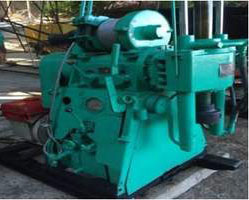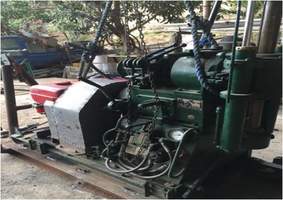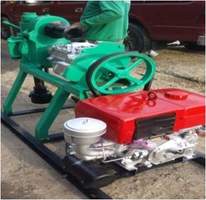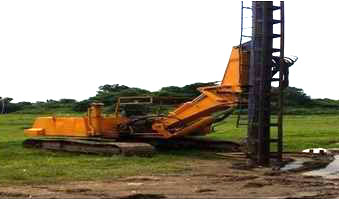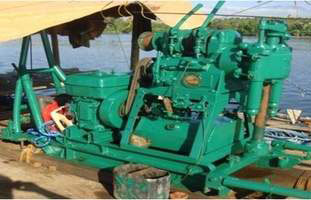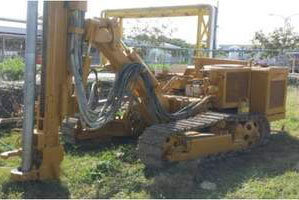 DRILLING PUMPS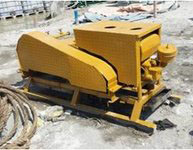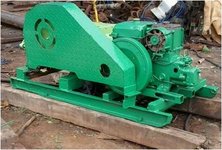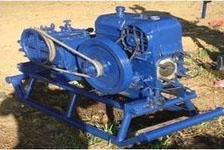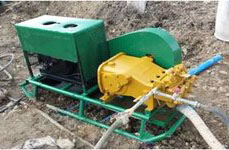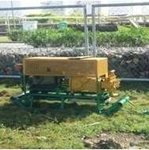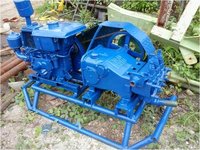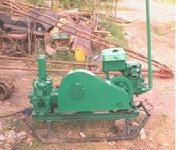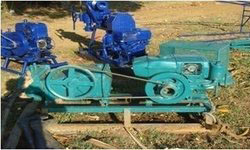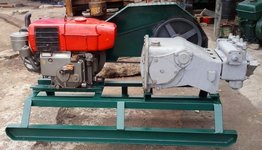 Laboratory Services
TEXTURE, PLASTICITY & DENSITY CHARACTERISTICS
Laboratory Determination of Water Content of soil and rock
Liquid Limit, Plastic Limit and Plasticity Index of Soils (Atterberg Limit)
Particle Size Analysis of Soils
Specific gravity of Soils
Shrinkage Factors of Soils by Mercury Method
Unit Weight of Soils
Laboratory Compaction Characteristics of Soils using Standard Effort

[12,400 ft-lb/ft (600 kN-m/m)]

Laboratory Compaction characteristics of Soil using Modified effort

[56,0000 ft-lb/ft (2,700 kN-m/m)]

Moisture, Ash and Organic Matter of Peat and other organic soils
STRUCTURAL PROPERTIES
Laboratory miniature Vane Shear test for Saturated fine grained clayey soil
Unconfined Compressive Strength of Cohesive Soils
Direct Shear Test of Soils under Consolidated Drained Conditions
One Dimensional Consolidation properties of soils
Unconsolidated Undrained Compressive Strength of Cohesive Soils in Triaxial Compression
Consolidated Undrained Triaxial Compression Test on Cohesive Soils
Consolidated Drained Triaxial Compression on Cohesive Soils
HYDROLOGIC PROPERTIES
Permeability of Granular Soils-Constant Head Method
Permeability of fine-grained Soils- Falling Head Method
ROCK DEFORMATION AND STRENGTH
Slake Durability of Shale and Similar Weak Rock
Splitting Tensile Strength of Intact Rock Core Specimen
Unconfined Compressive Strength of Intact Rock Core Specimen
Point Load Strength Index of Rock
Uni-axial Compression Test
AGGREGATES
Specific gravity and Absorption of Fine Aggregates
Specific gravity and Absorption of Coarse Aggregates
Clay Lumps and Friable Particles in Aggregates
Resistance to Degradation of Small-size coarse aggregates by Abrasion and Impact in the Los Angeles Machine

Total Moisture Content of Aggregate by Drying
Material Finer than 0.75mm (No. 200) sieve in mineral aggregates by washing
Sieve Analysis of Fine & Coarse Aggregates
Soundness of Aggregates by use of Sodium Sulfate or Magnesium Sulfate
Surface Moisture Content in Fine Aggregates
Unit Weight and Voids in Aggregate
Lightweight pieces in aggregates
CONCRETE MIXTURES
Slump of Portland Cement Concrete
Making and Curing Concrete Test Specimen
Capping Cylindrical Concrete Specimen
Compressive Strength of Beam Concrete Specimen
Flexural Strength of Beam Concrete Specimen using third point loading
Specific Gravity and Adsorption and Voids in Hardened Concrete
Obtaining and Testing Cores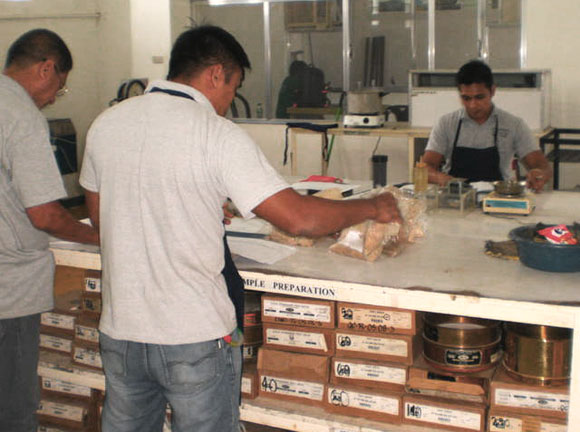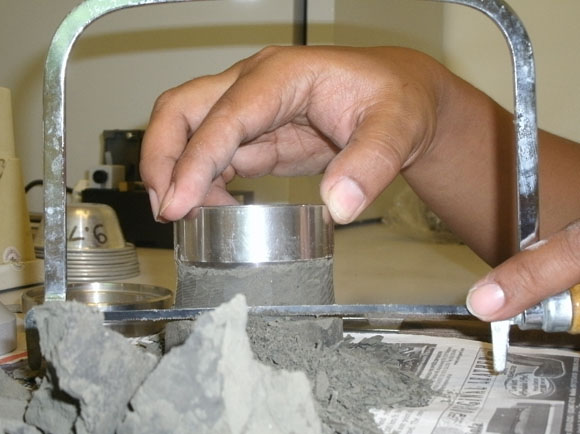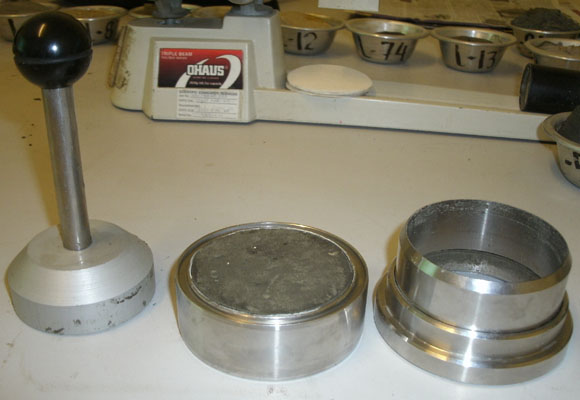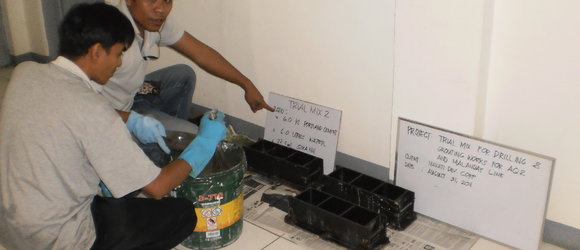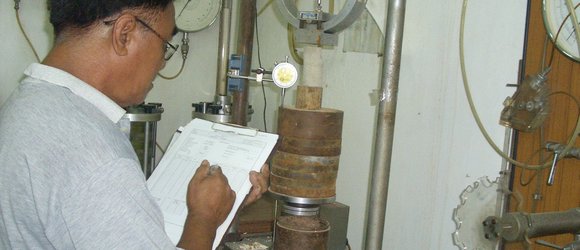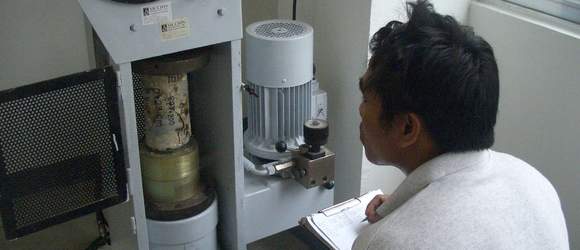 Geophysical Survey
GROUND PENETRATING RADAR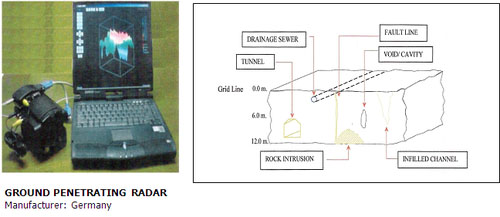 Ground Penetrating Radar (GPR) is a Geophysical method that uses radar pulses to image the subsurface. For Engineering application, it locates Buried structures, Utility lines and Studying soils and bedrock. For Environmental remediation, It is use to define Landfill, Contaminant plumes and other remediation sites.
RESISTIVITY SURVEY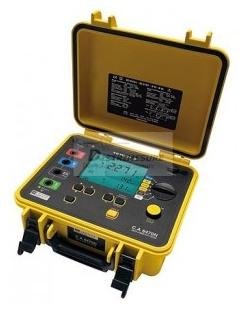 Soil Resistivity is a measure of how much the soil resists the flow of electricity, soil resistivity measurements have a three fold purpose.
Data is used to make sub-surface Geophysical Surveys as an Aid in identifying Depth to Bedrock and other geological phenomena.
Resistivity relates to an increase in corrosion activity.
Soil Resistivity directly affects the design of grounding system.
SEISMIC REFRACTION SURVEY (ASTM D5777)
The seismic refraction method is based on the measurement of the travel time of seismic compression waves refracted at the interfaces between subsurface layers of different velocity.

850 meters Seismic Refraction Survey - Limay, Bataan
MULTICHANNEL ANALYSIS OF SURFACE WAVE (MASW)
One of the seismic survey methods evaluating the elastic condition (stiffness) of the ground for geotechnical engineering purposes which utilized Shear wave in the process.

2D MASW active survey Cement Plant - Norzagaray, Bulacan

1D MASW Active and Microtremor (Passive) survey Power plant, Toril Davao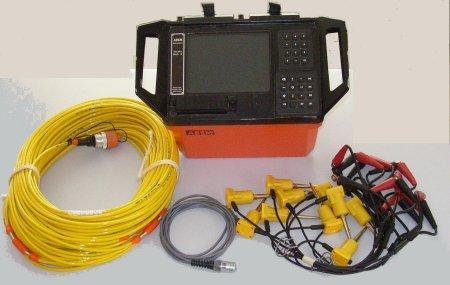 Equipments: ABEM, Sweden; 4.5 Hz, 10Hz Gisco geophone, USA
CROSSHOLE SEISMIC (ASTM D4428)
The seismic cross hole method provides a designer with information pertinent to the seismic wave velocities of the materials in question. This data maybe used as input into static/dynamic analyses, as a means for computing shear modulus, young's modulus, and Poisson's ratio, or simply for the determination of anomalies.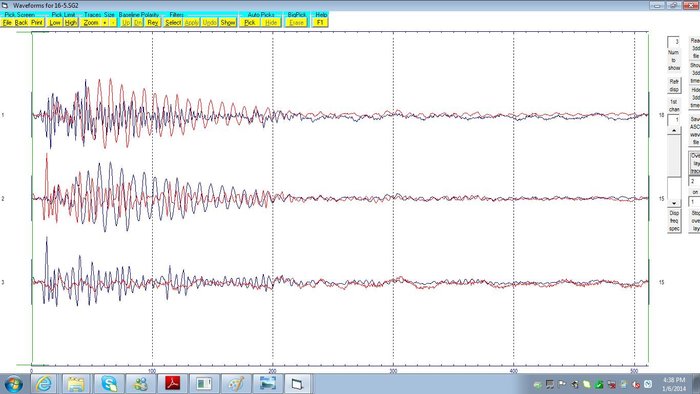 Crosshole test power plant Cagayan
DOWN HOLE SEISMIC TEST (ASTM D7400)
The method provides in-situ P and S wave velocities essential for use in geotechnical foundation designs. The results are used in analyses of soil behavior in both static and dynamic. Another use is to estimated shear wave velocities in geotechnical designs in liquefaction assessment of soils.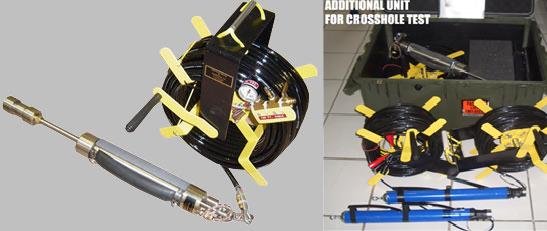 Manufacturer: Soils Engineering & Geophysics, Inc. – Mississippi, USA
Special Tests
FALLING WEIGHT DEFLECTOMETER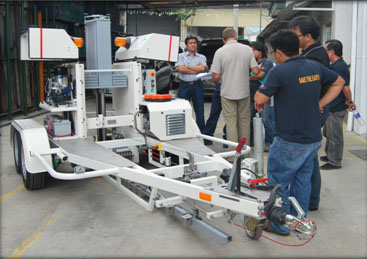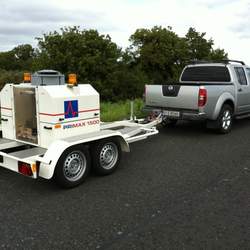 Manufacturer: GRONTMIJ, Denmark
Applies a load to the pavement inducing a deflection bowl similar to the one of a passing truck.
APAGEO PRESSUREMETER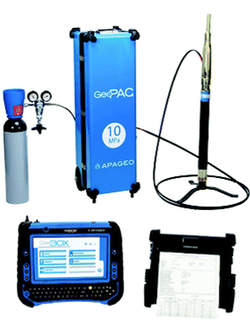 A Pressuremeter test is an in-situ stress controlled loading test performed on the wall of a borehole using a cylindrical probe which can expand radially.
From the test readings (volume variation based on controlled pressure), a stress-strain curve can be obtained, in the case of plane deformation, which yields:
the Ménard Pressuremeter modulus Em
the creep pressure Pf
the Menard limit pressure PL
THERMAL RESISTIVITY

The KD Pro Thermal Unit using the single probe method.
This method employs a heat source inserted into the soil whereby heat energy is applied continuously at a given rate. The thermal properties of the soil can be determined by analyzing the temperature response adjacent to the heat source via a thermal sensor. This method reflects the rate at which heat is conducted away from the probe.
TEMPERATURE, LEVEL, CONDUCTIVITY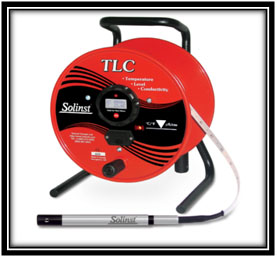 The TLC Meter operates in a range from –15°C to +50°C (23°F to 122°F). You may choose to have the readings displayed on the LCD screen in °C or °F. Accuracy is +/- 0.3°C in Celsius, or +/-0.5°F in Fahrenheit. Conductivity measurements are temperature sensitive. The 'smart' TLC probe automatically adjusts the measured conductivity values to display as specific conductance. This provides standardized repeatably comparable measurements. When the probe is turned on, the LCD screen displays both conductivity and temperature. A short wait of 20 seconds per degree Celsius of temperature change is required for the measurements to stabilize at each desired depth, before recording the three measurements.
MENARD PRESSUREMETER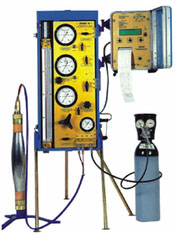 Manufacturer: Germany
A PRESSURE-METER TEST is an In-Situ Stress Controlled Loading Test Performed on the wall of a borehole using cylindrical probe which can expand radially.
From the test readings a Stress-Strain can be obtained which yields:
The Menard Pressure meter Modules
The Creep Pressure
The Menard Limit Pressure
The Volume and Pressure Calibration
CPT MACHINE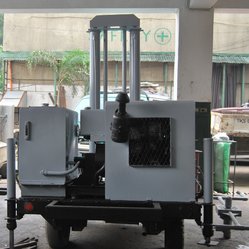 Special Projects
GROUTING
Injecting cementitious material into a soil mass tends to reduce permeability, cause swelling and may increase strength.
Grouting is a technique whereby a slow flowing water/sand/cement mix is injected under pressure. Grouting is a good option if the foundation of an existing building requires improvement, sine it is possible to inject the grout from the side or at an inclined angle.
SOIL NAILING
The fundamental concept of soil nailing consists of reinforcing the ground by passive inclusions, closely spaced, to create in-situ a coherent gravity structure and thereby to increase the overall shear strength of the in-situ soil and restrain its displacements.
In soil nailing, similarly to ground anchors, the load transfer mechanism and the ultimate pull-out resistance of the nails depends primarily upon soil type and strength characteristics, installation technique, drilling method size and shape of the drilled hole, as well as grouting method and pressure used.
Applications:

Stabilization of railroad and highway cut slopes
Excavation retaining structures in urban areas for high rise building and underground facilities
Tunnel poratals in steep and unstable stratified slopes
Pile Testing
PILE DYNAMICS & INTEGRITY
PILE DRIVING ANALYZER

The High Strain Dynamic Testing is widely used in the lieu of the conventional static load. Additional parameters on pile driving performance and stresses on pile (both compression and tension) are measured by means of sensor attached on the pile during driving.

Automatically plotted summary of data are viewed from the screen during testing.

Quick and cost efficient test for measuring bearing capacity, skin resistant and check hammer performance.

PILE INTEGRITY TESTER

The low straining test can quickly evaluate the shaft integrity using P.I.T. collector attached to a sensitive accelerometer superimposed on top of the pile.

Low strain compressive impact waves are then generated by tapping the pile top with hammer.

When the downward travelling compression wave encounters a change in cross section or quality of concrete, it generates an upward travelling tension wave which is observed at the pile top.
Contact Us
Geotechnics Philippines, Inc.
Address: 119 Sauyo Road, 119 Don Julio Gregorio, Novaliches, Quezon City, 1103 Metro Manila, Philippines
Phone: (632) 930-6555 | (632) 935-3730 | (632) 938-2124
Fax: (632) 456-1140
E-mail: jmcgpi@gmail.com | gpicustomerservice | soilmech@gmail.com
Find us on Google Maps
sponsored links
SIMILAR COMPANIES/PRODUCTS/SERVICES
Terms of Use/Privacy Policy Advertise Buy me coffee
Geotechnics Philippines, Inc.