Since its foundation in 1993, GEOS has grown to provide services in the areas of environmental management, water resource exploration, engineering geology, hazards assessment, and geographical information systems. Our knowledge of earth processes, and tools from advances in technology help us understand mining, energy and environmental problems.
Using a multidisciplinary approach in our investigations, we arrive at innovative and concrete solutions to the problems of our clients.
The company was formed in 1994 by selected faculty members of the National Institute of Geological Sciences, in response to the increasing demand for their professional expertise by the mining and energy industries.
Our goal is to continuously provide our technical services that bear a mark of quality, high-level professionalism, and scientific integrity.
Leader in Seismic Building Instrumentation
Geos Incorporated continues to provide their seismic instrumentation services using Kinemetrics products to iconic buildings in Metro Manila. Using accelerometers and seismometers from Kinemetrics, USA, the world leader in seismic instrumentation, Geos Inc provides their services to the largest developers and companies in the country, including Ayala Land Inc., BPI, BDO, Federaland and First Gas (Lopez Group). Geos also installed seismic instruments in the Zuellig building, the country's first premium-grade office tower noted for its environmentally conscious design, pre-certified by the U.S. Green Building Council at the LEED Gold level® and now LEED® Platinum certified.
If your concern in seismic building instrumentation is quality of service, reliability and dependability, you can't go wrong with GEOS Incorporated in providing this kind of specialist services with its impeccable track record. Many families, businessmen, celebrities, diplomats and expats live and hold office in skyscrapers we service, and building management chose a trusted brand for them. Best of all, GEOS does not overprice, because our commitment is on safety, above anything else.
List of some recently completed and ongoing projects:
Skyscrapers
One Legazpi Park, Rada Street, Makati
Regency at Salcedo, Tordesillas cor. Sanchez, Salcedo Village, Makati
Tower One & Exchange Plaza, Ayala Triangle, Ayala Avenue, Makati
Solaris One, Dela Rosa, Makati
One Roxas Triangle, Paseo de Roxas cor. Cruzada St., Makati
Ayala FGU Building, Ayala Avenue, 6811, Makati
Zuellig Building, Makati Avenue cor. Paseo de Roxas, Makati
Avignon Tower, H.V. Dela Costa, Makati
Vertex One, University Belt, Sta. Cruz Manila
Philippine Axa-Life Centre, Sen. Gil Puyat Ave. (cor. Tindalo St.), 1200 Makati
The Residences at Greenbelt - Laguna, Esperanza St., Makati
The Residences at Greenbelt - San Lorenzo, Esperanza St., Makati
The Residences at Greenbelt - Manila, Esperanza St., Makati
Park Terraces Tower 1, A. Arnaiz Avenue Cor. South Drive, San Lorenzo, Greenbelt, 1228 Makati City
The Columns at Legazpi Village Tower 1, 6821 Ayala Avenue, Bgy. Bel-Air 1226, Makati
The Columns at Legazpi Village Tower 2, 6821 Ayala Avenue, Bgy. Bel-Air 1226, Makati
6750 Office Tower, 6750, Ayala Avenue, Makati
BDO North Tower, Makati Ave., cor. H.V. Dela Costa
BDO South Tower, Makati Ave., cor. H.V. Dela Costa
BDO The Podium, 18 ADB Ave , Ortigas Center, Wack-wack Green hills, Mandaluyong
One Serendra, 32nd St., BGC, Taguig
Gercon Plaza, 7901 Makati Ave., Makati
Vertis North CBG BPO Tower 1, Quezon Ave., Diliman Quezon City
Vertis North CBG BPO Tower 2, Quezon Ave., Diliman Quezon City
Vertis North CBG BPO Tower 3, Quezon Ave., Diliman Quezon City
Senta Tower, Legazpi Street, Legazpi Village, Makati
The Red Oak at Two Serendra, McKinley Parkway and 11th Avenue, Bonifacio Global City, Taguig
Aston at Two Serendra, McKinley Parkway and 11th Avenue. Bonifacio Global City, Taguig
Hotels
Intercontinental Manila, No.1 Ayala Avenue, Makati
Holiday Inn & Suites Makati, Glorietta Mall, Palm Drive, Ayala Center, Makati
Makati Shangri-La, Makati Ave., cor. Ayala Ave., Makati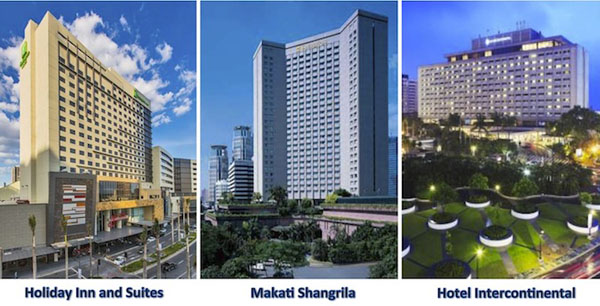 NOTEWORTHY PROJECTS OF KINEMETRICS WORLDWIDE
Over the past 40 years, Kinemetrics Inc. has evolved as the world leader in seismic instrumentation, supplying sturdy and dependable earthquake sensors and recorders to every corner of the world where it matters. in the country alone, there are more than 100 such instruments deployed in areas near volcanoes and earthquake faults.
Monuments
Giza Pyramids, Egypt
Great Wall of China
Hagia Sophia, Turkey
Parthenon, Greece
Statue of Liberty, USA
Golden Gate Bridge, USA
Taj Majal, India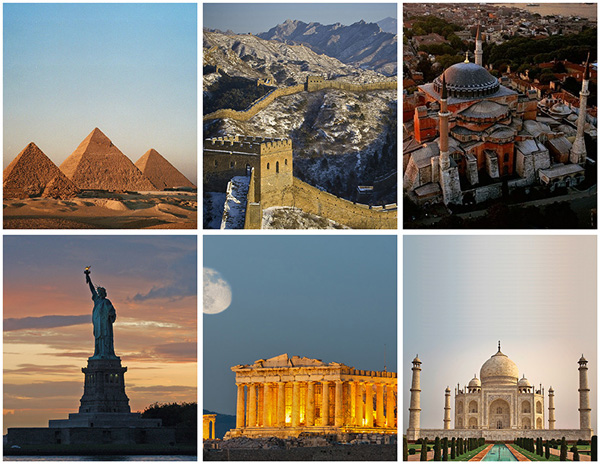 Famous Buildings
Without any doubt, Kinemetrics is the brand of choice for seismic instrumentation of buildings in the United States. Majority, if not all of privately-owned buildings that have seismic monitoring instruments as required by the Los Angeles Building code are equipped with Kinemterics accelerometers. Some of the famous buildings in the United States installed with Kinemetrics seismic monitoring instruments are: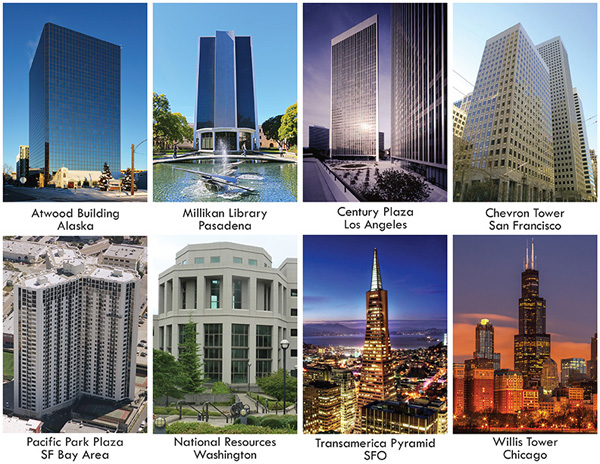 Services
Seismic
Geos installs earthquake instruments for clients in need of determining ground acceleration during earthquakes. These are required by companies that build/operate critical infrastructure such as powerplants (coal, natural gas, nuclear) and dams.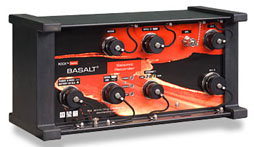 Geos is an official distributor of Kinemetrics, a leader in the earthquake instrumentation industry. For over thirty years, Kinemetrics has been creating products for monitoring bridges, dams, structures, seismic arrays and networks, as well as systems for the nuclear power industry. With a reputation for high-quality products and superior reliability Kinemetrics pays careful attention to customer service and satisfaction.
Geos has sold Kinemetrics instruments to multiple clients in the country. Among its prestigious clients are FG and SIEMENS power plants, Zuellig and Ayala Property Management Corporation (APMC) towers (see front page) for building instrumentation. The Zuellig building in Makati is a world class, green building. It was awarded a Platinum Level Award by the US green building council under its Leed Rating System for leadership in energy and environmental design (core and shell).
Kinemetrics presence in the country spans almost two decades. World renowned for its durability and accuracy, government agencies and private companies have Kinemetrics' products as its choice brand for monitoring volcanic and tectonic earthquakes and building performance. Kinemetrics are deployed all over the country, spanning the entire country from the northern Batanes Islands to Davao and General Santos cities in the south.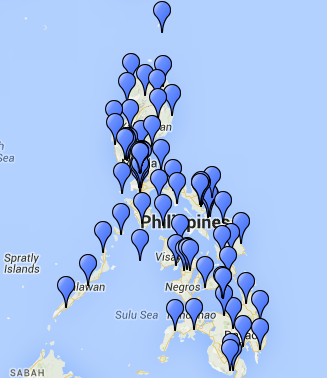 More information about Kinemetrics and its products are available here.
Engineering Geology
Engineering geology deals with the investigation and solution of engineering and environmental challenges as well as the prediction and development of measures for the prevention or remediation of geological hazards. Its purpose is to assure that the geologic factors affecting the location, design, construction, operation and maintenance of engineering works are recognized and adequately provided for.
Our expertise and experience in engineering geologic investigations include the following:
Remote sensing and aerial photograph interpretation
Detailed engineering geologic characterization
Logging and sampling of boreholes, test pits, trenches
Geophysical investigations: GPR, resistivity, seismic studies
Engineering Geology and Geohazards Assessment
Geohazard and risk assessment
Subsurface and groundwater investigation
Deformation monitoring: PS-Insar and differential GPS
Land and marine topographic surveys
Mineral Exploration
Mineral commodities are essential in maintaining and improving our standards of living. Identification of viable mineral deposits depends on the knowledge of geology, tectonics, mineralization styles as well as application of emerging technologies in mineral exploration.
In exploring for mineral commodities we offer the following services:
Remote sensing and aerial photo interpretation
Exploration program management: semi-detailed to detailed surface and underground mapping and sampling
Structural and sedimentological analysis and interpretation
Geophysical data acquisition and interpretation
Target generation and identification
Drilling program management
Drill core management: core logging and sampling
Exploration data management: data capture, compilation and validation
Processing and interpretation of exploration data
Energy Exploration
Energy exploration is key to the development of any functional society in this industrial world. Without energy, there is no consent for any modern civilization to exist.
in the country, our experience with energy exploration includes:
Geological survey of potential petroleum fields
Evaluation of the hydrocarbon potential
Burial history and maturity modeling
Interpretation of airborne gravity and aeromagnetic surveys
Depth conversion of seismic data
Sequence stratigraphy
Preparation of farmout brochures
Application for a Coal Operating Contract
Geological Investigation
Block Boundary Survey
Sub-surface investigation
Coal Analysis
Pre-feasibility studies
Water Resources
Water resource management deals with the timely supply of quality water for human consumption, irrigation, energy, environment, sanitation and domestic use. Effective management of this natural resource is critical for growing populations and economical development.
Our skills related to the effective management of water resources are listed as follows:
Remote sensing
Topographic mappig/Digital Photogrammetry
Field hydrogeological mapping
Resistivity surveys
Ground Penetrating Radar (GPR) surveys
Drilling and setup of groundwater monitoring wells
Numerical simulations of groundwater flow
Flood simulations
Persistent Scatterer Interferferometry for groundwater subsidence measurements
Flood probability and risk analysis
Contact Us
GEOS Inc.
Address: Unit 5, Ayala Technopark, C.P. Garcia St., U.P. Diliman, Quezon City
Phone: +(632) 434-4807
Mobile: 0917-816-8992 | 0935-182-2289
E-mail: inquire@geos-inc.com
Find us on Google Maps
sponsored links
SIMILAR COMPANIES/PRODUCTS/SERVICES
Terms of Use/Privacy Policy Advertise Buy me coffee
GEOS Inc.