Fulgar Architects is a pioneering meta-modern architecture and designs firm that explores unique architectural forms influenced by today's technology, new social circumstances, philosophical juxtapositions, and collaborative spaces. We implement the latest in parametric design technologies, integrated practices, art theories, and business sensibilities in creating fresh approaches and new angles to house designs, commercial property projects, hotels, museums, resorts, condominiums, shopping malls, and future diversified community developments in the Philippines.
Metamodern Architecture is for the NOW
Meta-modern architecture firm for new house design, commercial property, hotels, museum, and shopping malls designs.
Our Design Philosophy

The new architecture encourages collaborative stories. We look to what compels people and what motivates their every day to get to where they want to be. And we shape these hopes and dreams into new forms inspired by flexible architectural programs, culture of technologies, and interdisciplinary exchanges.

The Agenda

The postmodern era based solely on functional boxed spaces is quite limiting. Architecture for us now is about establishing lives. We want to secure aspirations that can grow and bridge for future generations. And with such, we value legacies that are built upon the confidence in one's architect and the opportunities for embracing uniqueness.
Services
Architectural Design And Engineering
We provide complete architectural design, engineering solutions, BIM and 3D visualizations, and construction service recommendations for improvements and new builds.
Projects (partial list)
Commercial And Specialty Buildings
Innovative and integrated design approach for residential, commercial, and special buildings like museums, resorts, mixed-use complex, shopping malls, hotel designs or condominium.
Rocca Estates
Inspired by the celebrations of fortified communities, Rocca Estates is a 14-door modern townhouse design located in a prime and security-focused 3,538 SQM subdivision development in the City of Imus, Cavite, Philippines. Snuggled beside an active lifestyle village development and only a few minutes away from De La Salle Santiago Zobel Vermosa Campus, this luscious modern townhouse design is ideal for growing families, where one can nurture memories, recharge, and feel ultimately safe. The property development has quick access to SM City Molino and Ayala Alabang areas as well as poised to connect to the envisioned Cavite Laguna Expressway. The architectural theme operates on rectilinear shapes with the use of natural materials such as steel, cut stones, double-glazed glass, and engineered wood. Each unit is a two-level residential dwelling with spacious bedrooms, light-filled bathrooms, usable kitchen layout, well-oriented living spaces, air-wells, and two-carport garage. A renowned Fulgar Architects design for the conveniences of a modern city dwelling while reveling in the pleasure of a private cove getaway with open and lush quality surroundings.
Project Name : Rocca Estates
Type : Subdivision Development
Size : 3,538 sqm lot
Height : Two Storey
Location : Imus, Cavite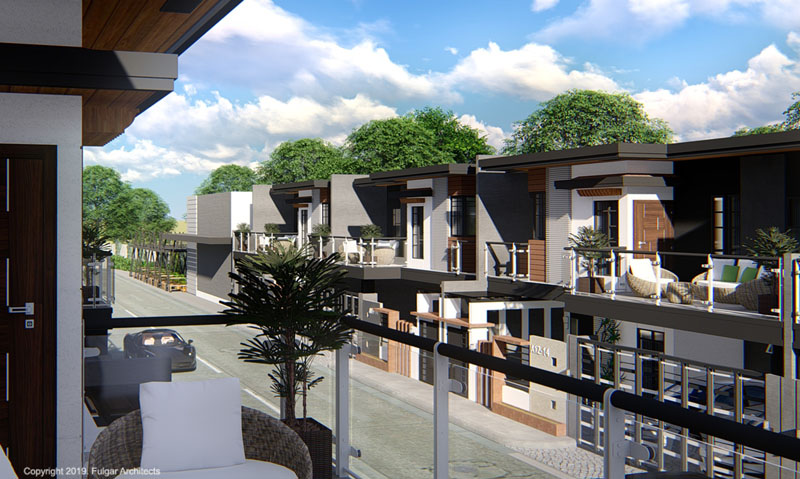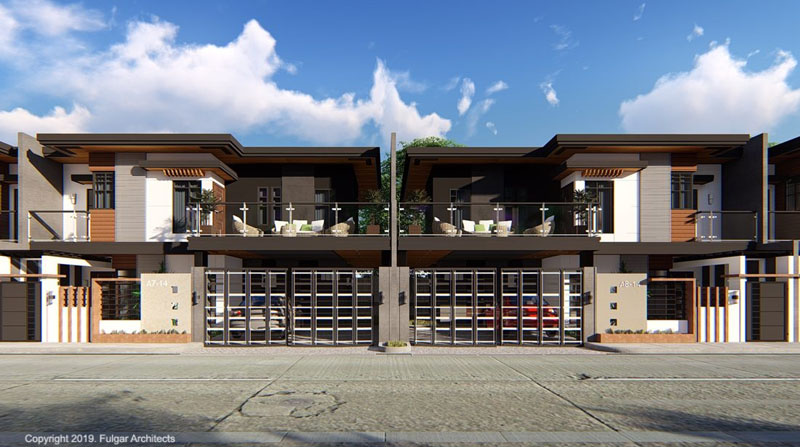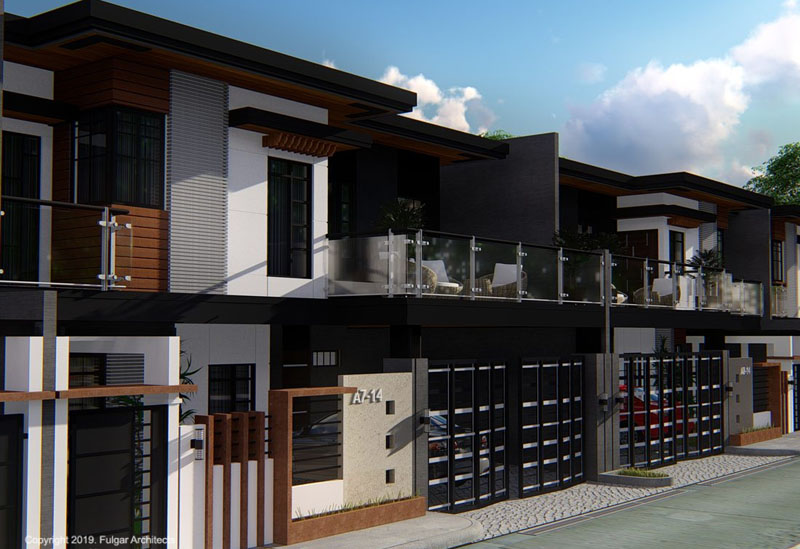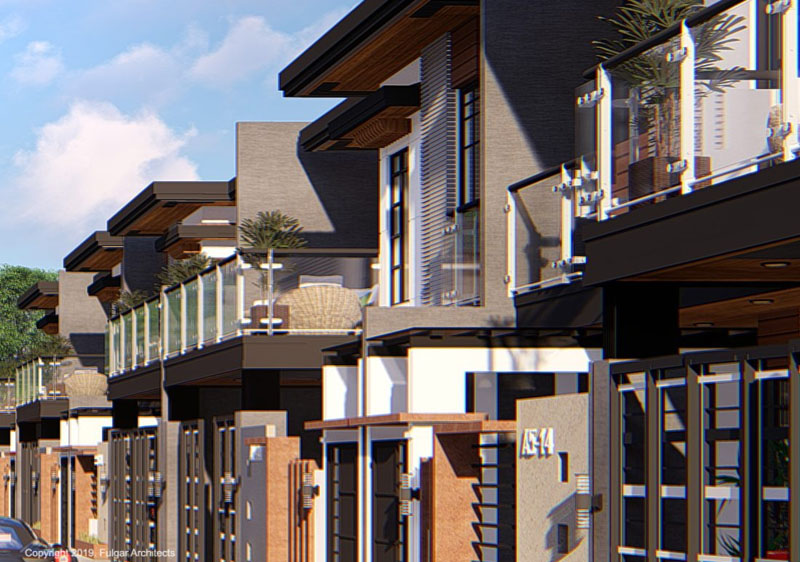 Isuzu Outlet Store
At the center of each of ISUZU's LCV is the unique ability to address challenging terrains. The proposed outlet store design initiation takes inspiration from the power and peak associated with Isuzu designed to overcome any of these challenging terrains. Our proposition for Isuzu Outlet Standardization Program is a break from the market's conventional box-type structure into a unique and recognizable symbolic architectural form. Something to represent this rise but most of all, to symbolize simple shelters. The outlet stores would be a transport haven for the visionaries, market achievers, and business owners on moving forward and confronting the rough roads of life. The idea is to create a form that invokes that sense of arrival on approach even from a distance. The structure's origami shape should lend unique visual experiences coming from each varying vantage points. We envision a well-ventilated layout that connects with the outdoors greeneries and generous amount of natural light. Inside would have grand use of digital displays and wall high interactive technologies.
Project Name : Isuzu Outlet Standardization
Type : Commercial and Warehouse
Size : 1,500 sqm lot
Height : Single Storey
Location : Nationwide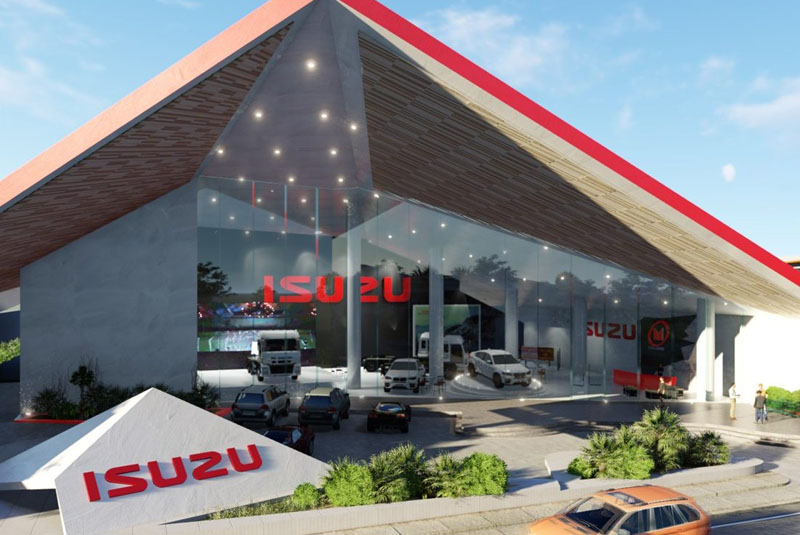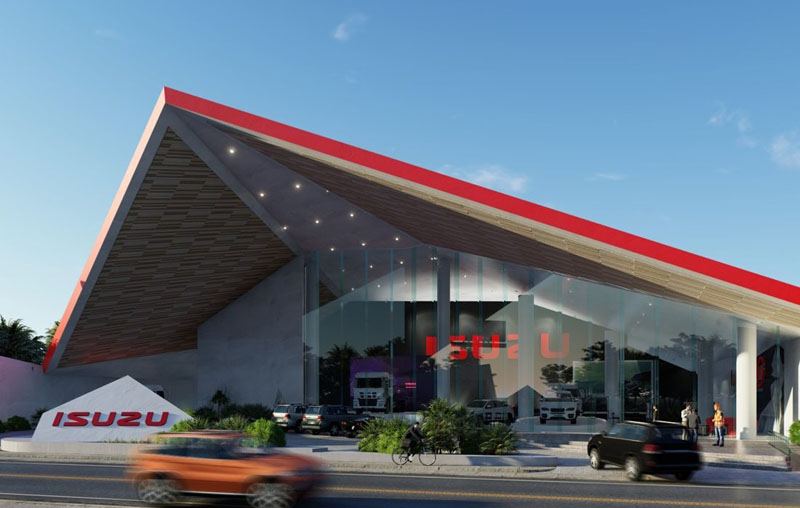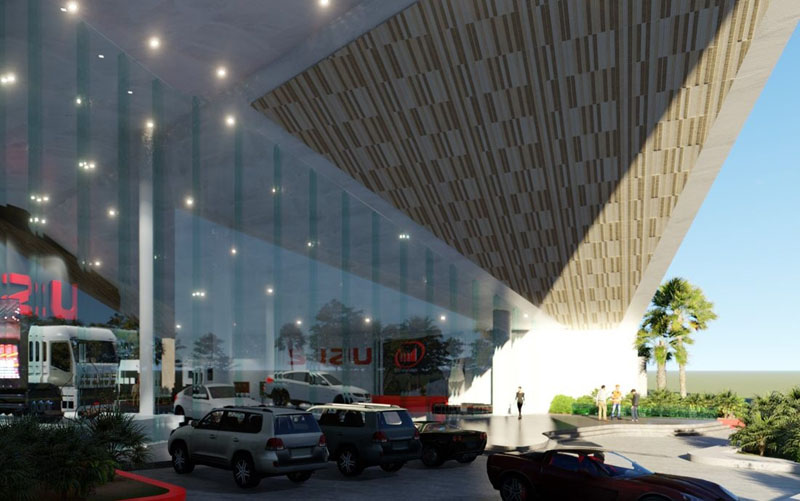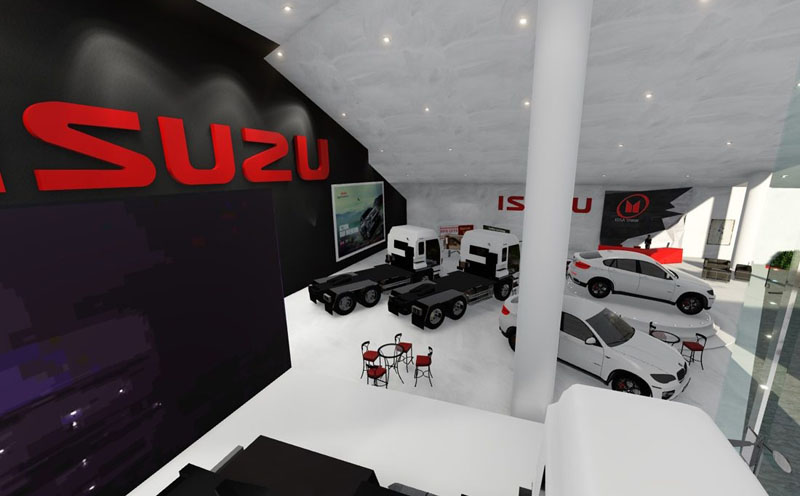 One East Commercial Hub
Two-storey commercial hub architecture design development by Fulgar Architects for retail and neighborhood shop markets rentals in Marikina City, Philippines. Owners wanted to develop their 890 sqm site in Marikina City as a real estate investments and property business venture. On our first arrival to the site, we were immediately inspired by the breezy atmosphere of the place. We proposed to follow the advantageous natural orientation of the property when we organized the spaces and sections into commercial or operational activities. Our goal was to maximize the rentable inventories with as much allowable parking slots as possible. A unique array of structural braced frames were introduced to prop up the character of the building. A common courtyard was then integrated to preserve the existing trees at the rear which will then connect the interior shops with open corridors with as much ventilation and sunlight into the place.
Project Name : One East Commercial Hub
Type : Commercial Development
Size : 1,200 sqm on 892 sqm lot
Height : Two Storeys
Location : Marikina City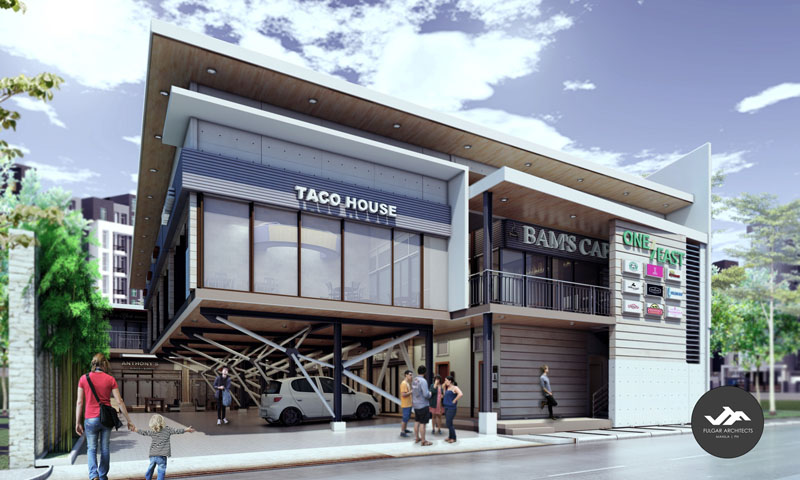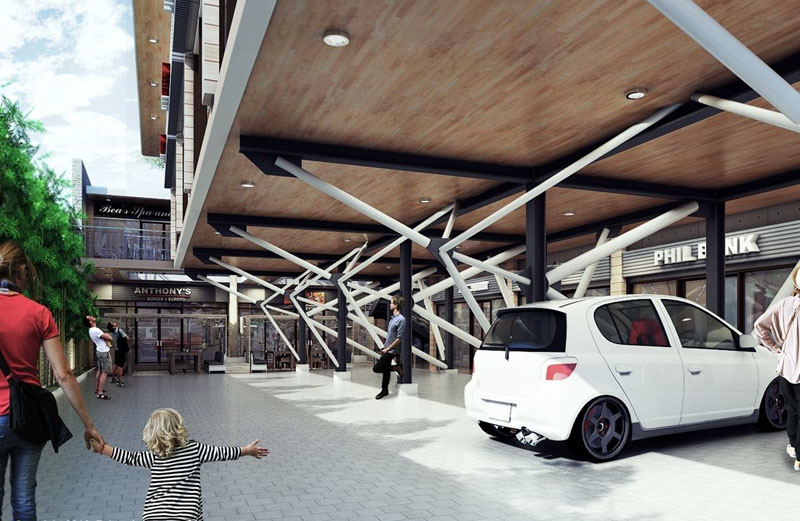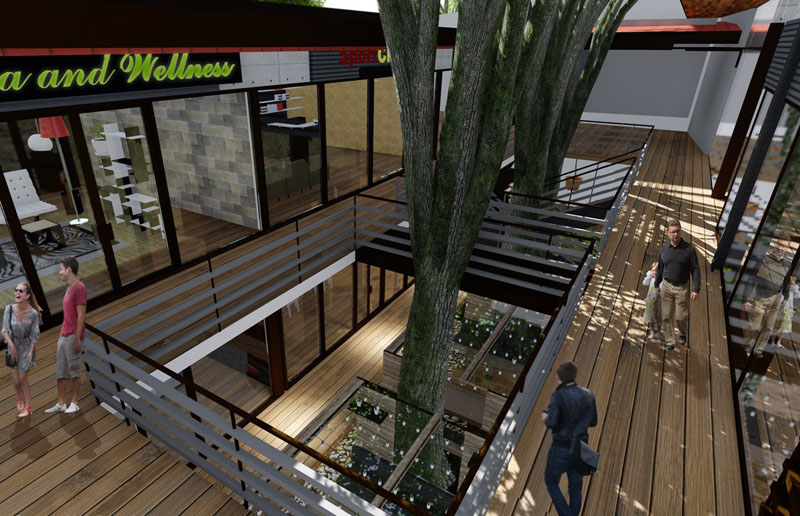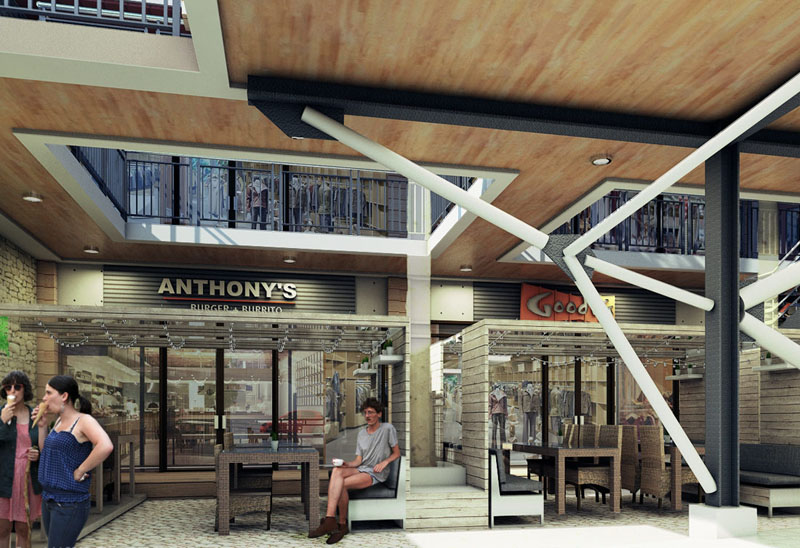 Maron Residences
Young, chic, and eclectic by character, the Maron residence is a 3-storey 4-unit townhouse located at Caloocan City. It takes on contemporary rustic design while revitalizing the site's context. Inspired by the ideas of a tropical house in the Philippines, this townhouse design manifests an impression of light and natural atmosphere. Having sleek lines and colors, and natural materials create a strong but refined appeal of the structure. The dominant use of wood, slate stone and a black & white color scheme integrated with simple geometries create a sense of style to the building.
The balconies and jalousies as its most noticeable feature allow for much-coveted outdoor space connection. The use of full-height jalousie windows maximizes the airflow within the spaces while admitting ambient light deeper into the rooms. In conclusion, this light and airy townhouse design show brilliant use of space with each unit having their own carports, kitchen, dining, living area, a generous master bedroom, two additional bedrooms, as well as four toilets and bathrooms.
Project Name : Maron Residences
Type : Townhouse Design
Size : 520 sqm lot
Height : Three Storey
Location : Caloocan City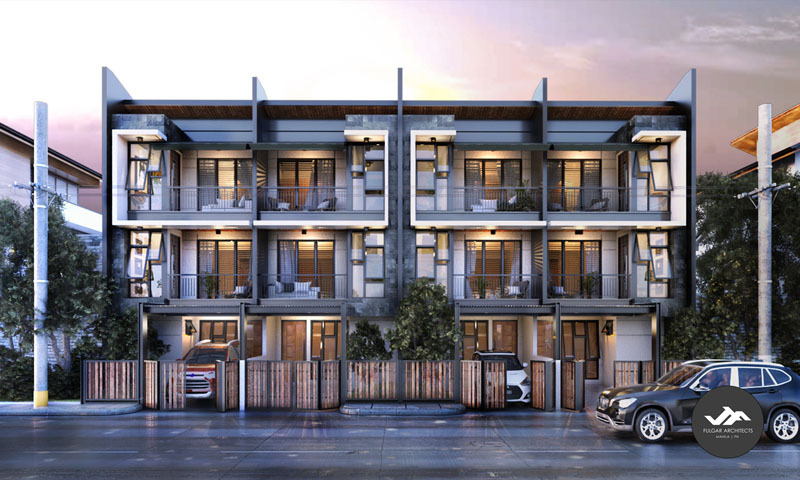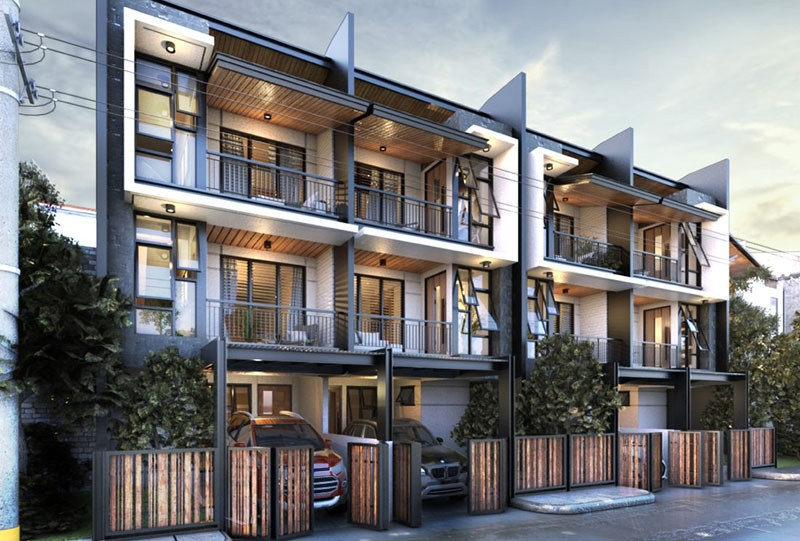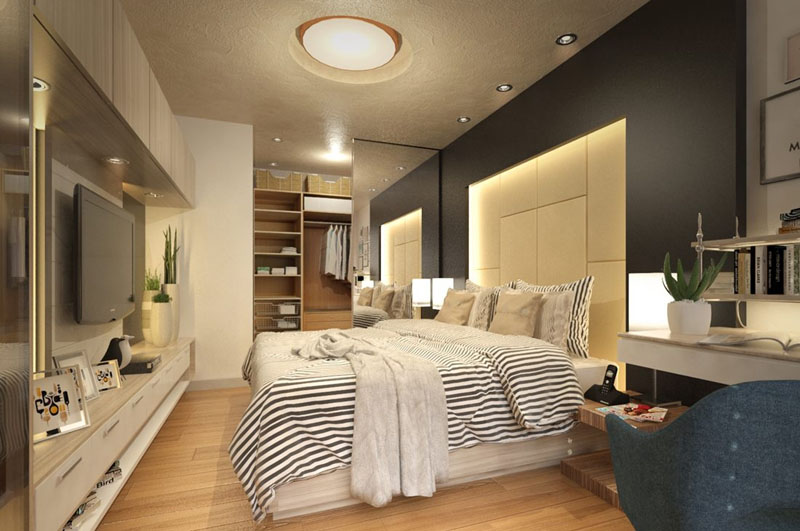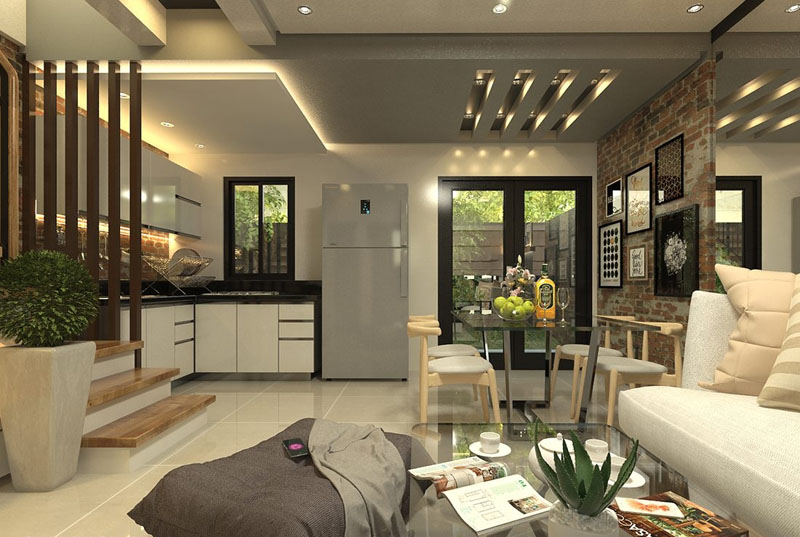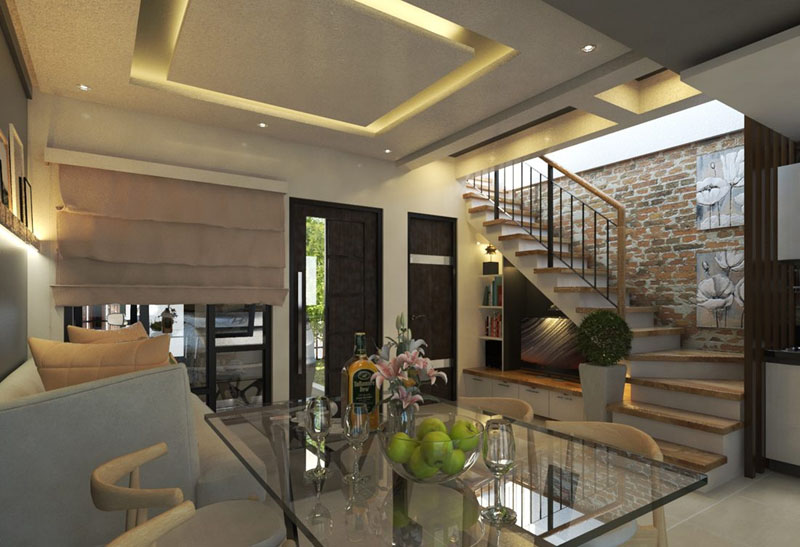 Mars Ravelo Komik Museum
One of Southeast Asia's first, the proposed iconic Mars Ravelo komik museum complex is poised to run and play at the undulating valley side of a 2.1 hectare site in Tagaytay City. The intent of the project is to promote for local arts and culture through comic appreciation and hoping to establish itself as one of the must-go destination spots and tourist attraction of the Philippines. Inspired by the versatility of paper, the structures are fragmented into several core units each comprising unique characteristics of folded planes and flipping sheets of insulated structural panels. With a cool climate and luscious landscape, the complex is designed to cultivate a variety of daytime and nighttime activities.
Project Name : Mars Ravelo Komik Museum
Type : Museum
Size : 21,000 sqm lot
Height : Single Storey Clusters
Location : Tagaytay City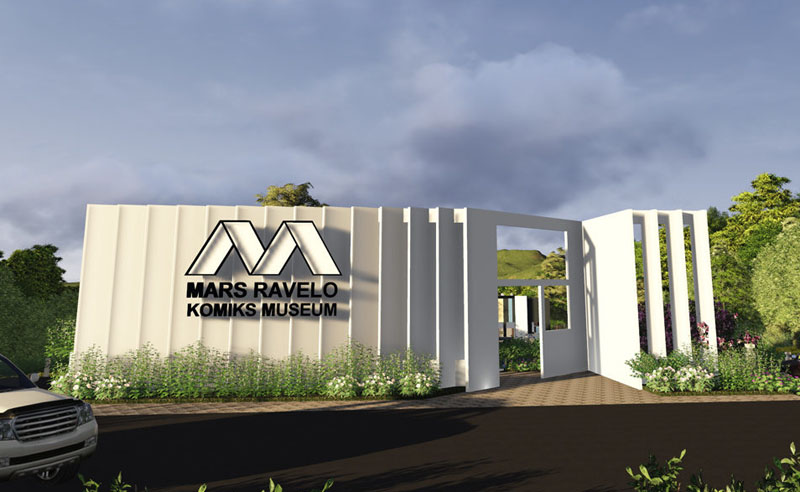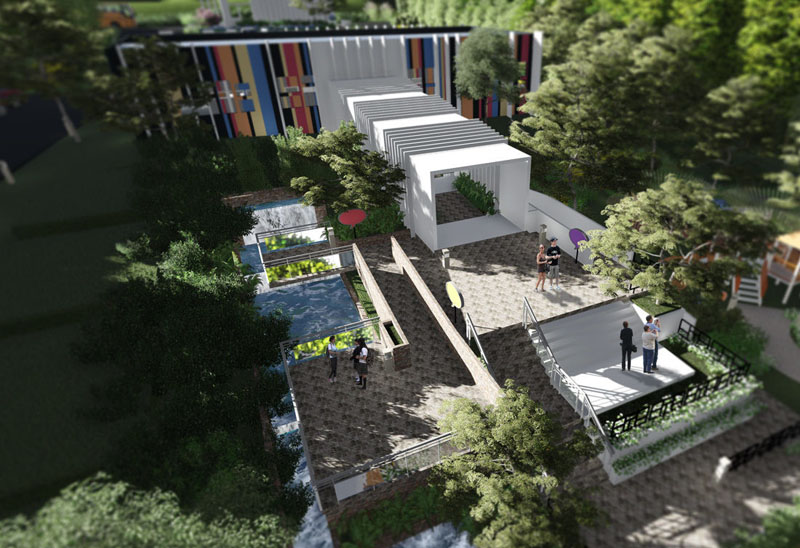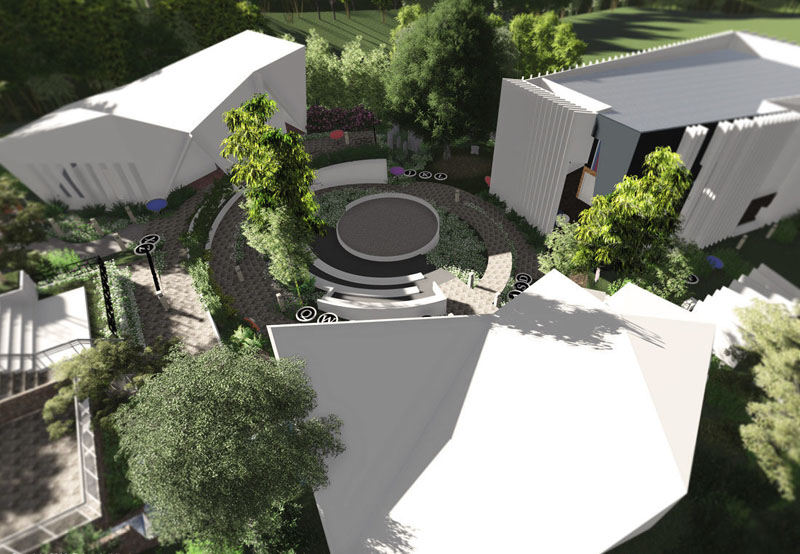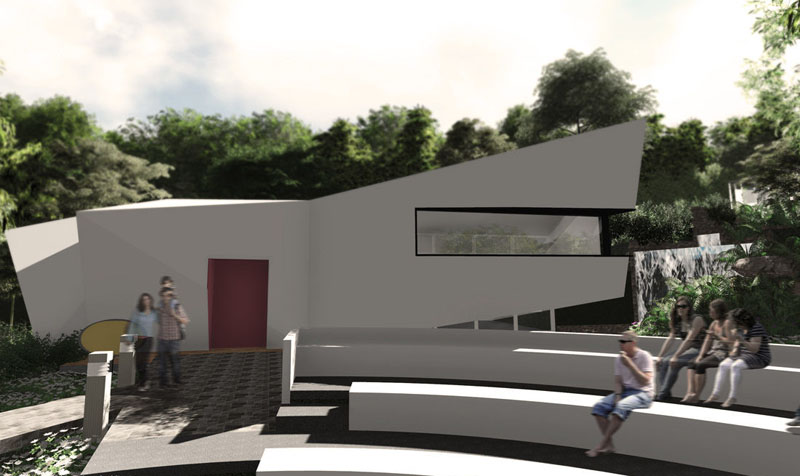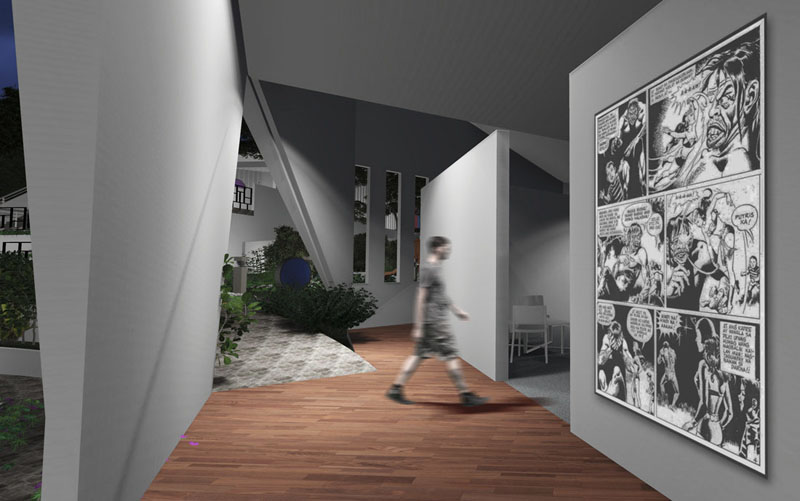 Building Industry Center
The Philippine Building Industry Center is proposed to rise on a 1.7 hectare lot located at the South Science and Technology Park of the University of the Philippines Diliman, Quezon City explores opportunities for a University and Industry Partnership for Builders, Contractors, Developers, Manufacturers, Investors, Trade Associations, Local Government and the likes. The project is equipped with Studio Laboratories, Simulators such as Wind Tunnels and Solar Studies, Workshop, Experimental Laboratories, and with support spaces such as Multi-media Center, Library and Research Department. A distinct form with solar fins guarding the building envelope from excessive tropical sun exposure, the project sits on a site that is maximized for vegetation and water feature on the west side as a way to provide for cooler air and foster bio-diversity.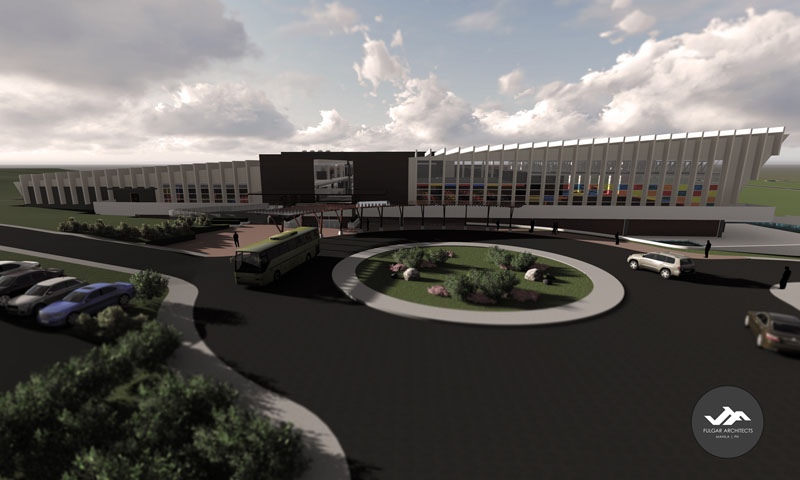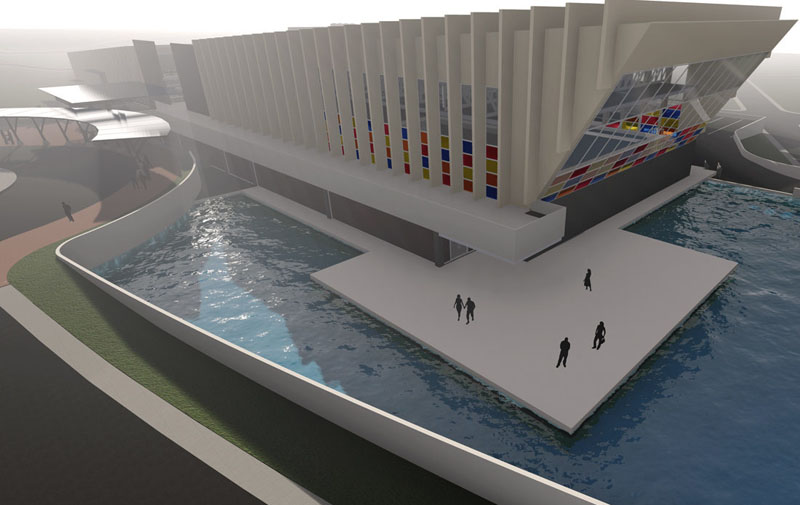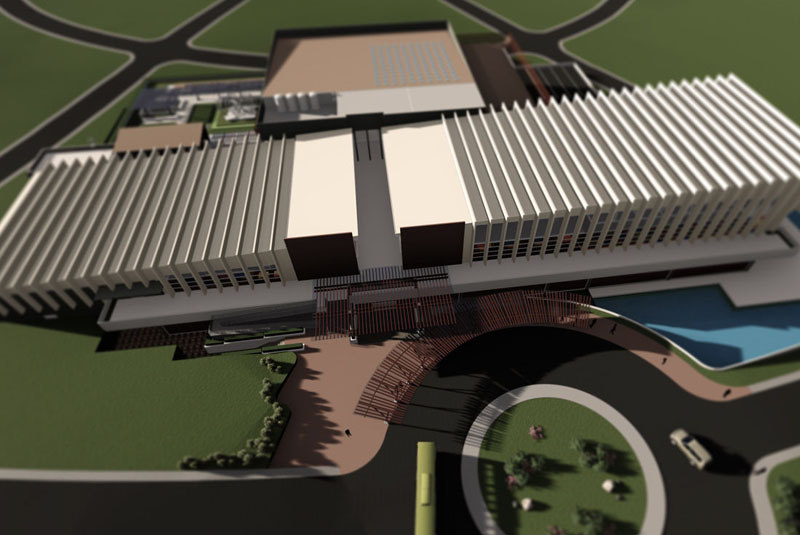 Cebu Light Industrial Park
The project consisted of 9 unit warehouses with total footprint area of 16,000 sqm on a conjoined total lot area of 24,000 sqm site inside the Cebu Light Industrial Park at Mactan, Cebu City. Each unit warehouse have their own secured loading areas and fronted by two level offices which can extend up to thee levels with ready to occupy facilities and expandable spaces. The warehouse units are structurally designed to withstand tropical storm conditions using long-span hip roofs to maximize deflection of winds with column clustering for battling environmental lateral forces. With proper planning and layout for economic viability of the project, the site development plan was able to secure maximum land-use efficiency with 96% coverage on the allowable maximum building footprint.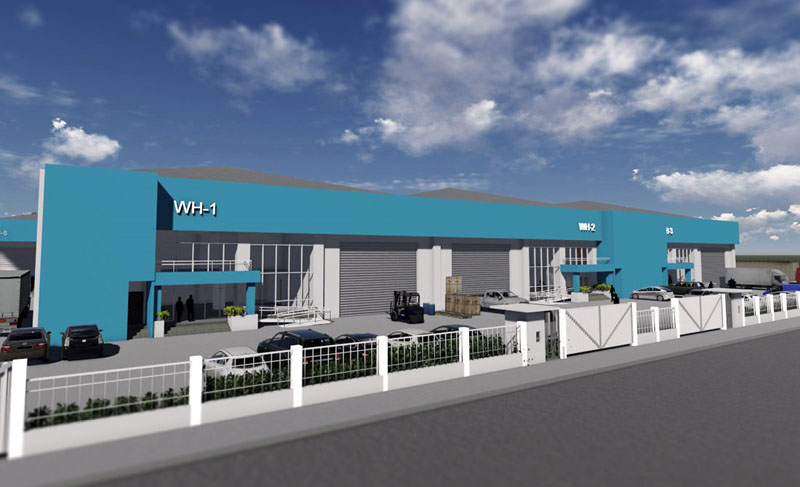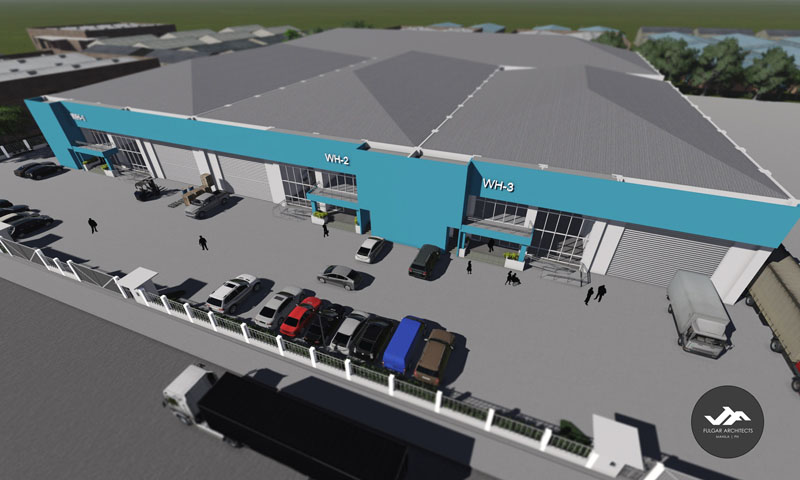 Red Sterling PEZA Industrial
Situated at an irregularly shaped site adjacent to the prime entrance location of the Carmelray Industrial Park II, a PEZA-registered eco-zone in Calamba City, Laguna, the project called for a 2,500 square meter commercial industrial facility with tropical sensitive forms and modern features. The uniquely shaped lot gave us an opportunity to open up a vegetated courtyard allowing better cross ventilation and light into the working spaces. The office facade in return creates utility pockets that provide generous parking spaces. As part of the sustainability goals, material recovery and water harvesting systems are integrated into the design of the building.
Project Name : Red Sterling PEZA Industrial
Type : Industrial Office and Warehouse
Size : 2,500 sqm lot
Height : Two Storey
Location : Calamba, Laguna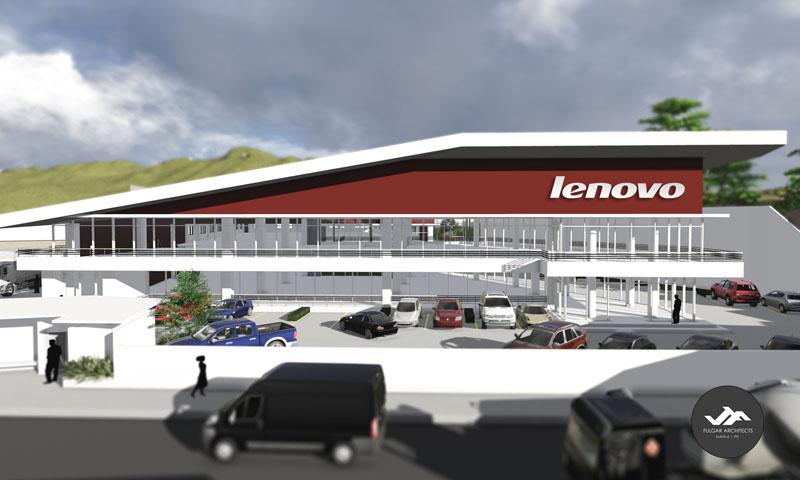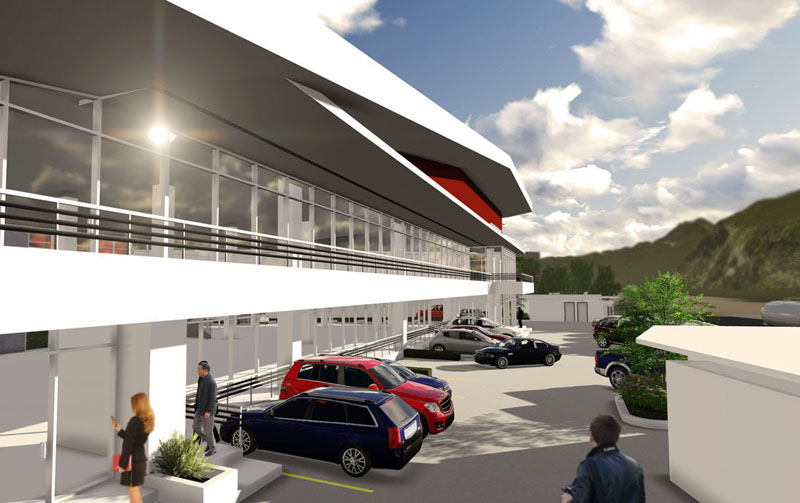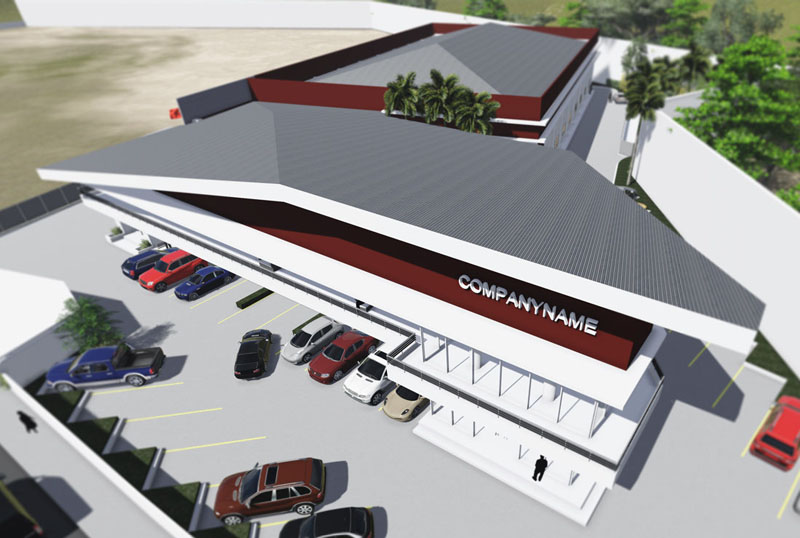 Contact Us
Fulgar Architects
Address: 2P Lee Gardens Commercial Center cor Lee Street, Shaw Blvd, Mandaluyong, 1552 Metro Manila, Philippines
Phone: +63 (2) 8661 0168
Mobile: +63 (917) 894 5646
E-mail: info@fulgararchitects.com
Find us on Google Maps
sponsored links
SIMILAR COMPANIES/PRODUCTS/SERVICES
Terms of Use/Privacy Policy Advertise