Firstsource is a leading provider of customised Business Process Management (BPM) services.
We specialise in helping clients stay ahead of the curve through transformational solutions in order to reimagine business processes and deliver increased efficiency, deeper insights and superior outcomes.
We are trusted brand custodians and long-term partners to 100+ leading brands with presence in the US, UK, Philippines and India.
Our 'rightshore' delivery model offers solutions covering complete customer lifecycle across Healthcare, Telecommunications & Media and Banking, Financial Services & Insurance verticals.
Clients | Milestones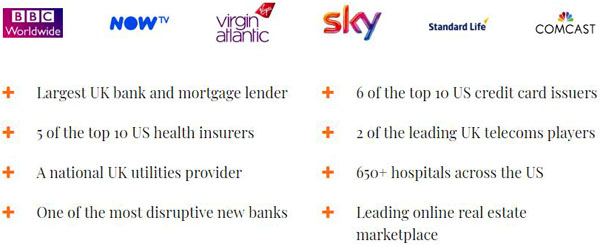 An introduction to Firstsource
Who we are, what we do, where and how we do it. Learn more about how we help our clients stay ahead of the curve.
Solutions
Robotic Process Automation
Firstsource leverages Cognitive Robotic Process Automation (RPA), Artificial Intelligence and Machine Learning tools to help our clients achieve accelerated business outcomes.
Firstsource leverages new age technologies such as Robotic Process Automation (RPA), Artificial Intelligence and Machine Learning tools to help our clients achieve accelerated business outcomes.
By delivering automation using process re-engineering and technology, Firstsource creates cost efficient, streamlined, compliant and simplified processes, allowing our clients to focus on driving customer experience through higher value activity, rather than being focused on transaction processing alone.
For each client, we devise a custom roadmap for automation
We then deliver this through our suite of market leading proprietary solutions. For example, our firstSmartomation solution provides simple, user-friendly interface and intuitive processes which transforms the way agents engage with customers.
We use third party technologies in artificial intelligence and machine learning to read semi-structured and unstructured data. By deploying automation behind the scenes, agents are able to concentrate on doing what they do best – delivering the best possible experience to your customers.
Robotic Process Automation delivers...
Cost efficiencies
Productivity improvements
Increased scalability and peak load handling
Simplified processes
Streamlined workflows
Improved accuracy and reduced handling times
Improved compliance
Customer Management
Customer management at Firstsource is driven by analytics, to uncover actionable insights that can increase revenue, reduce cost and deliver the right customer experience.
As the digitisation of services continues to accelerate, customer preferences globally have changed dramatically. Digital channels such as web, mobile and social are increasingly the preferred channels of choice for consumers. Getting it right in this new world requires a seamless approach to connect your customer journeys across telephone, web, mobile and social – customer experience has now become a compelling differentiator. The challenges of this new landscape include unpredictable transaction volumes, the need to reduce costs and the availability of a true multi-channel service.
The rise of digital in customer management
While traditional contact channels such as telephone are far from dead, the continued proliferation of new digital channels and rising customer expectations means that brands must evolve or risk falling behind. Today's customers want to be able to interact with brands using a single 'channel' – their smart phone or tablet, making concepts like 'multichannel' and 'Channel shift' increasingly irrelevant. Consumers can access every channel 24/7 through a single device, yet many brands continue to force their customers to interact on their terms.
Channels seldom operate in isolation and seamless escalation paths between channels mean that queries can be resolved quickly with minimal extra effort from the customer – think of an email or social media conversation moving to telephony – all with the same agent.
Business Analytics Services
Stay ahead with business analytics services that leverage deep data science capabilities to deliver actionable insights, resulting in positive business outcomes.
Analytics & Insights
Implementing actionable insights to deliver business outcomes
To enable growth, customer-focused organisations need to understand the importance of data that flows in and out through their systems. Analytics can help harness this data, driving change in internal operations and marketing efforts, and enhancing corporate strategies.
Firstsource's analytics solutions eliminate bias, replacing them with data driven customer insights to gain a clear advantage, while learning from experience, using the data to predict future behaviour of customers to facilitate better decisions.
Revenue Maximiser
Our Revenue Maximiser tool maximises revenues for our customers by pinpointing areas with potential to increase revenue while proactively managing collections and targeting customers that are likely to churn.
Firstsource can help you identify opportunities to increase revenues from your existing customer base. Our technology and analytics tools enable us to take a highly targeted approach which improves the customer experience and makes a real difference to your bottom line.
Firstsource's Revenue Maximiser tool pinpoints areas where you can increase revenues – through up-selling, cross-selling, proactively managing collections and targeting customers who are likely to leave. Our efficient, effective and targeted approach delivers a positive customer experience and enhances your reputation during a potentially time-consuming and costly process.
Sales through service to increase revenue
Apart from delivering great customer experiences, we identify areas where our clients can increase revenues from their customer base. Using our technology and analytics tools, our experienced experts deliver up-sell and cross-sell opportunities for clients to target customers.
Firstsource's approach differs vastly from the traditional telesales type services and ensures the right customer is targeted with the right products, based on their profile and behaviour. This is complemented by ensuring that the right sales agent is matched with the contact. For some of our clients, this approach has delivered a 35% increase in revenue per customer.
Workforce Management Solutions
Our workforce management solution enables enterprises to employ an effective workforce optimisation practice that works across delivery models and supports optimisation in a multi-channel environment.
We believe that investment in people is a key source of innovation, growth, competitive advantage and future leadership. Well-executed workforce management enhances efficiency, productivity and engagement and optimises costs without losing focus on the customer.
Firstsource is experienced in the management and optimal use of resource and assigns the right employees with the right skills for the right job at the right time. As an operations tool, workforce management monitors agent performance and customer response, while enabling forward-looking organisations to manage resources, forecast and plan staffing across channels.
Complaint Handling and Remediation Services
Stay ahead with our complaint handling and remediation services that ensures personalised interactions with your customers to deliver excellent customer experience.
Good customer service is essential for brand loyalty, therefore handling complaints effectively is vitally important for organisations in all industry sectors. Statistics show that 79% of consumers would be unlikely to shop with a brand again if a complaint they made was treated badly. This means that proactive management of complaining customers is key to preserving customer relationships.
Firstsource is experienced in managing complaints and remediation for clients across a variety of sectors, helping re-design processes to try and resolve customer complaints quickly and effectively. By identifying the root cause analysis of customers' issues through analytics, we are able to reduce the volume of complaints and often enable self-service resolutions for our clients' customers.
Firstchat: Web Chat Solutions
FirstChat integrates a web chat solution with expert customer service advisors to bring a human touch to the customer experience and improve customer satisfaction in a cost-effective way.
FirstChat leverages innovative webchat technology to deliver chats on a range of devices – desktop, mobile and tablet. It can combine multi-media such as text, graphics and video to provide easy-to-understand communications, and enables chat buttons and invitations to be positioned in optimum locations on the website to facilitate successful live chats.
Services
Banking & Financial Services BPO
Our banking and financial services clients stay ahead with cutting edge technology that delivers improved customer experiences
Firstsource offers a range of solutions for commercial and retail banking clients
The surge in digital banking represents a huge opportunity for banks to get closer to their customers and to understand and anticipate their needs. At the same time, many retail banks are struggling to adapt to the changing requirements of customers due to increasingly inefficient legacy systems.
In a challenging industry, tightened regulation and increased scrutiny is also forcing banks to overhaul processes, products and systems to ensure compliance.
Firstsource has helped a number of leading retail banks transform their business operations, ensuring that they remain at the cutting edge of the industry, whilst delivering improved customer experiences.
End-to-end solutions that deliver results
Firstsource operates as clients' 'bank within a bank', offering end-to-end solution for all their main support functions, while providing a range of services across the customer lifecycle, including acquisition, account servicing, collections and retentions.
Our flexible and cost-effective solutions can be rapidly scaled or downsized to adapt to the requirements of our clients.
Media & Telecom BPO Services
Our telecom & media BPO services help clients deliver exceptional customer experience, while driving efficiency and increasing market penetration to maximise revenues.
As digital continues to transform the broadcasting and pay TV industry, we help clients provide effective technical support and deliver exceptional customer experiences, while driving efficiency and increasing market penetration to maximise revenues.
Delivering results for ISPs
With our global broadband operational delivery expertise, we help clients navigate the industry's increasingly competitive environment and provide a range of contact centre and back-office processing services across the customer lifecycle, helping our clients stay ahead of the competition.
Helping mobile operators grow
Mobile operators today have huge opportunities for growth, but this is often hindered by falling customer retention rates and demand for instant service. Firstsource turns these challenges into opportunities by consolidating processes and managing the customer lifecycle effectively. With more than 10,000 of our people serving the mobile sector each day, we help our clients address the industry's unique challenges.
Insurance BPO Services
Our insurance BPO services help some of the largest insurance providers navigate the challenges of increased regulation and the growth of new technologies, transforming their processes and channels to deliver improved customer experience.
Changes in policy, increased regulation and the growth of new technologies have resulted in a significant shift in the way the insurance industry engages with its customers. Today's consumers expect immediate access to their insurance provider via a range of online and offline channels to find out information and advice about their insurance products.
Many companies have had to completely rethink their processes, products and systems to meet these changing customer requirements. Firstsource has helped some of the largest insurance providers navigate this landscape, helping providers transform their processes and develop new channels to ensure they continue to deliver the best possible customer experience.
Mortgage BPO Services
Our mortgage BPO services for originators, servicers and mortgage insurance companies focus on improving customer experience, simplifying business processes, increasing productivity and creating a positive revenue impact.
Whether you are an originator, servicer or any another provider to the mortgage industry, Firstsource has the right solution for you. We work with originators, servicers, mortgage insurance companies and other mortgage-focused businesses to deliver a wide range of services across the mortgages lifecycle including:
Mortgage fulfilment services
Retail, consumer direct, wholesale, correspondent and home equity originators optimise their business processes through our customised Business Process Outsourcing (BPO)/Business Process Management (BPM) services. Using our cutting-edge technology, we focus on improving customer experience, simplifying business processes, increasing productivity and creating a positive revenue impact.
Mortgages servicing & default services
Whether you are a fast-growing servicer looking to scale or an industry veteran looking to optimise your business, we have a BPO solution for you. Firstsource's solutions are designed to help scale operations, mitigate risk and reduce costs by leveraging our domain rich team and specialised capabilities.
Professional services
Our Professional Services Group offers comprehensive process and consulting solutions enabling mortgage lenders and servicers to optimise performance, reduce costs and execute on strategic initiatives.
Utilities BPO Services
We help utility clients reduce cost to serve, while maintaining customer centricity, addressing regulatory challenges and managing customers who demand better service and lower tariffs.
Organisations operating in the utilities sector face difficulties in maintaining and increasing market share in the face of regulatory challenges and customers who are demanding better service and lower tariffs. We work with utilities clients to address these challenges. Our intelligent and collaborative approach enables us to deliver transformational solutions that improve business outcomes.
In the UK, Office of Gas and Electricity Markets (OFGEM) have handed out significant fines in recent years, which has presented a substantial risk to suppliers who may be struggling with broken processes. This has become increasingly strained in the face of growing customer demand and cost pressures, driven by competition from new market entrants.
Firstsource understands that the core objective of utilities organisations is to reduce the cost to serve while maintaining customer centricity. Our approach is to work with clients to develop solutions that provide a seamless customer journey, optimising each experience a customer has with them to help improve loyalty.
Collections & Recoveries
As a global top 20 collections BPO service provider, our customer-centric approach and industry business intelligence, enables us to deliver exceptional results,while protecting our clients' brands.
Healthcare Collections
Firstsource has been providing healthcare collection services for more than 30 years, serving a wide range of healthcare providers including hospitals, physician groups, large national healthcare systems, small rural hospitals, and government facilities. We have a proven record in collection, default management, prevention services, and recovery solutions.
BFSI Collections
With more than 1,600 collection professionals in five service centres throughout the United States, we work with 8 of the top ten leading US credit card issuers and with the UK's largest financial institution. Our services include credit cards, bank cards, private label retail cards, automotive loans, personal loans, overdraft accounts, and mortgage collections.
Student Loan Collections
Firstsource partners with many leading global universities, who are dependent on our commitment to service excellence and compliance. Our mission is to maximise financial recovery output and deliver great service for our clients' customers. Our scalable, flexible delivery model offers clients a customised combination of on-shore and off-shore staffing models, which can be adapted to their requirements.
Business Process Consulting
Stay ahead with our business process consulting services that deliver cost optimisation, revenue growth and increased customer satisfaction.
Over time, inefficiencies creep into business systems, directly impacting profitability and customer experience. Although most companies are aware of this, many struggle to solve the problem. At Firstsource, we help organisations overcome these challenges in a range of industry sectors. With decades of deep, cross-industry experience, Firstsource has a proven track record of optimising processes and operating models to boost customer experience and increase competitive advantage.
How we help organisations grow
Our experienced consultants work collaboratively with clients, challenging them to think differently in order to transform the journeys of their customers. We provide a comprehensive suite of services focused on cost optimisation, revenue growth and customer experience enhancement.
We pride ourselves on intelligently pre-empting the challenges our clients face. This ensures that they are perfectly poised to meet changing customer needs, both now and in the future. Our framework is underpinned by our proprietary products and technologies such as customer analytics, Webchat and process automation.
Contact Us
Firstsource Solutions Ltd
Address: 6th Floor Plaza D, Northgate Cyberzone Filinvest, Alabang, Muntinlupa City 1770, Manila, Philippines
Phone: +632 858 2000
Find us on Google Maps
sponsored links
SIMILAR COMPANIES/PRODUCTS/SERVICES
Terms of Use/Privacy Policy Advertise Buy me coffee