We are a Cooperative dedicated to render quality analytical laboratory assistance to members, small-scale agri-based industries, entrepreneurs and corporations. Such services are anchored on international procedures and standards and on the cumulative disciplinary experiences of our members.
F.A.S.T. Laboratories, the trade name of The First Analytical Services And Technical Cooperative, is a primary service cooperative which provides laboratory testing and technical consultancy services. It was established by technical professionals with extensive training, experience and expertise in various fields of testing and operations - food, feed, beverage, drinking and industrial water, wastewater, air quality monitoring and the likes.
F.A.S.T. Laboratories strictly adheres to internationally-approved test methodologies and instrumentation, and has obtained the accreditation and recognition of several government agencies.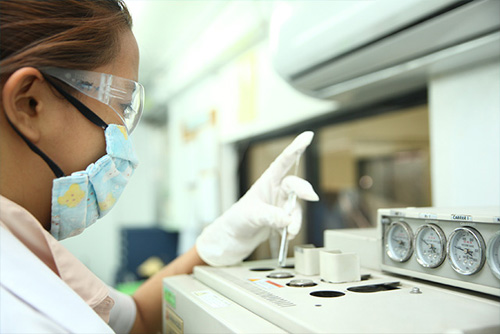 Services
ANALYTICAL INSTRUMENTATION
Atomic Absorption Spectrophotometry (AAS)
Gas Chromatography (GC)
Fluorometry
UV/Vis Spectrophotometry
High Performance Liquid Chromatography (HPLC)
Titrimetric and Colorimetric Methods
Microbiological Tests
CALIBRATION OF EQUIPMENT
Thermometry
Pressure
Mass
FOOD & PRODUCT TESTING
Raw Materials and Finished Goods Analyses
Nutritional labeling
Shelf-life Studies
Commercial Sterility Tests
Sensory Evaluation
WATER TESTING
Microbiological Analysis
Physico-Chemical Analysis - Inorganic & Organic Constituents & Heavy Metals
ENVIRONMENTAL TESTING
Air Quality Monitoring

Stack Sampling and Analysis
Ambient Air Sampling and Analysis
Work Environment Monitoring (WEM)

Wastewater Analysis
Solid Waste Analysis
Toxic Leachate in Sludge (TCLP)
Soil and Sediment Analysis
QUALITY ASSURANCE TECHNOLOGY
Standards Setting
ISO/IEC 17025 Accreditation Process
Good Manufacturing Practices / Good Feedmilling Practices
Laboratory Instrumentation, Calibration, Repair and Maintenance
OTHER TESTS
Raw Material Assay
Analysis of Ores
Analysis of Fashion Accessories
Human Exposure Tests (Heavy Metals & Swab Tests)
OTHER SERVICES
Technical Seminars and Workshops
3rd Party Quality Control
Contact Us
CUBAO LABORATORY
Main Branch
The laboratory is an ISO/IEC 17025:2015 accredited for the Testing of food and water samples for Physico-Chemical Analysis and Environmental and food samples for Microbiological Analysis.
Address: No. 62, 20th Avenue, Cubao, Quezon City, Philippines 1109
Phone: (02) 913-0240 | (02) 913-0241 | (02) 912-6319 (632) 913-0250
Mobile: 0917-562-6241
E-mail: info@fastlaboratories.com.ph
Find us on Google Maps
LAGUNA LABORATORY
Calamba City Branch
The laboratory is an ISO/IEC 17025:2005 accredited for the Tesqting of water and wastewater samples for Chemical Analysis.
Address: Allied Concrete Building, Km. 54, Brgy. Makiling, Calamba City, Laguna
Phone: (049) 502-6520 | (02) 584-4577 | (049) 502-6520
Mobile: 0917-562-6249
Find us on Google Maps
MISAMIS ORIENTAL LABORATORY
Cagayan de Oro City Branch
The laboratory is an ISO/IEC 17025:2005 accredited for the testing of food and water samples for Physico-Chemical Analysis and Environmental samples for Microbiological Analysis
Address: 2F Casino Building, C.M. Recto Avenue corner Camp Alagar Road, Brgy. Lapasan, Cagayan de Oro City, Misamis Oriental
Phone: (088) 880-8574 | (088) 852-4846
Mobile: 0917-612-2929
Find us on Google Maps
CEBU LABORATORY
Mandaue City Branch
Address: Hi-way Central Building, M.C. Briones Highway, Mandaue City, Cebu
Phone: (032) 346-2792 | (032) 343-3599
Mobile: 0917-562-6322
Find us on Google Maps
PAMPANGA LABORATORY
Clark-Angeles Branch
Address: Stall 5,6,7 SNB Bldg., 717 Magalang Rd., Pandan, Angeles City, Pampanga
Phone: (045) 304-4252 | (045) 304-4254
Mobile: 0927-645-1799
Find us on Google Maps
sponsored links
SIMILAR COMPANIES/PRODUCTS/SERVICES
Terms of Use/Privacy Policy Advertise Buy me coffee
F.A.S.T. Laboratories