Escotek, Inc. was initially a business unit of Hillsdale Marketing, Inc. established to support its Food Machine Products' after sales service requirements.
Premium Service Quality. Satisfaction Guaranteed.
Meat Saws
Meat Slicers
Tenderizers
Grinders
Mixed Bowls
Bread Slicers
Patty Machines
Vacuum Packaging Machines
In 2004, Escotek, Inc. officially became a separate company to give better attention and enhance support to its growing number of clientele. We are a full SERVICE company offering preventive maintenance programs, selling: food machine spare parts, used food equipment & stainless steel fabricated products. The following are our guiding principles in doing business:
We believe that what is best for our customer is best for all of us. Everyone at Escotek understands this concept. Our service people are trained to know our products, and to be friendly and helpful. They are urged to take all the time necessary to take care of you, the CUSTOMER.
We listen to and know our CUSTOMERS needs and expectations.
We price our products fairly and honestly. Integrity is the basic element of Escotek.
We are always working to keep costs under control. We strive to be a highly efficient, low overhead service provider for your food machines. Our people are hard working, intelligent and share in the success of the company.
We operate with honesty, trust, clear and open communication.
We continuously improve the quality of processes and products to increase value for our internal and external CUSTOMERS.
All of us at Escotek, Inc. are proud of our reputation for quality and service. To date, we're already serving clients from Luzon, Visayas and Mindanao.
Our Vision
To be the leading SERVICE PROVIDER of food processing equipment and other allied lines by meeting the challenging needs of the market place and providing the best value, highest quality products, and best customer service in the industry.
Our Mission
To be a major player and be well known in the country as a company, providing consistent, high quality products/parts and services that meet customer expectation with the primary focus on preventive maintenance programs and selling used food equipment and stainless steel fabricated products.
Our Guarantee
If for a valid reason, any part you bought from us should prove defective, return it to us and we will replace it without cost. Liability is limited to the repair or replacement of these parts.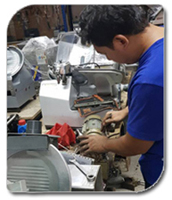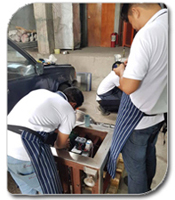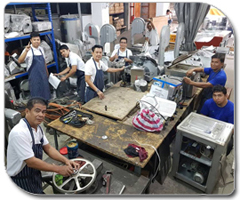 Brands we service
Medoc
Braher
Hobart
Tor-rey
Bird
Fujee
Sirman
Tower
Powerline
Berkel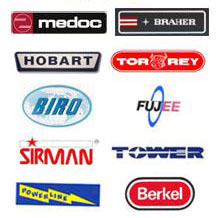 Services
Delivery and Installation
Single point coordination for equipment installers
Removal and disposal of any existing equipment
Free-post installation equipment performance check
Flexible scheduling for "non-peak" or "off-hours"
Service Repair
Specially trained service technicians
90-day service warranty on all repair work completed
Service Contracts
Allows customers to "budget" service costs
Covers standard repairs (parts and labor)
Special rates available for overtime and holiday calls
Flexible terms and customized coverage options
Preventive Maintenance
Lengthens equipment life and enhances operating efficiency
Includes regularly scheduled basic maintenance tasks
Formal checklist used with recommeded procedures
Any required repairs will be identified and can be performed on the spot (if required)
Flexible term-single call or ongoing contractual agreement available
Parts and Accessories
Locally stocked based on market demand
Provide genuine parts of Braher, Medoc, Biro, Hobart, and all other brands of food processing equipment
Contact Us
Escotek, Inc.
Address: #3 2nd Street, Brgy. Kapitolyo, Pasig City 1603
Phone: (632) 667-3280
E-mail: escotek_inc@yahoo.com.ph
Find us on Google Maps
sponsored links
SIMILAR COMPANIES/PRODUCTS/SERVICES
Terms of Use/Privacy Policy Advertise Buy me coffee
Escotek, Inc.