ENVIRONMENT AND GENERAL SERVICES, INC. (EGSI) was formed in the Philippines in 1984. We used to be known as Electrolux General Services Inc., a part of the Electrolux Group of Companies. EGSI is now wholly owned by the APC Group of Companies, one of the fastest growing conglomerates in the country today.
We are proud to say that from our modest beginnings in 1984, we have grown to be one among the top players in the cleaning industry, thanks to the highly motivated, dedicated men and women of the EGSI family of employees. The employees' commitments, their adherence to quality working standards and EGSI's uncompromising efforts to provide modern, top-quality cleaning equipment and environment-friendly cleaning supplies are the principal reasons that bring us to where we are now.
At present, EGSI is a proud member of ISSA, a worldwide organization of companies on Cleaning and Maintenance. It has recently obtained a certification from ISO 9001:2008 Quality Management System.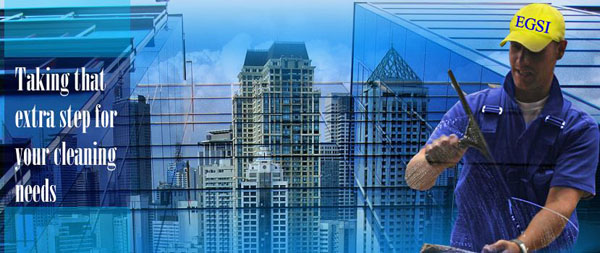 Working & Cleaning System
Working System
All of our employees go through a rigid selection process that determines their physical, mental and emotional fitness for the job.
They undergo a series of training on the practical, theoretical and behavioral aspects of the work. These are conducted in the classrooms and on the jobsite to give them hands-on experience prior to their actual assignment.
We have a constant re-training program that is aimed to keep our field personnel abreast with new cleaning techniques, and to reaffirm EGSI's cultural and behavioral values that shall further enhance their performance.
The requisites for their employment include a favorable barangay clearance, municipal clearance and NBI clearance. In addition, they are also required to pass a comprehensive medical examination administered by our authorized medical clinic. The medical tests include chest x-ray, laboratory examinations and drug tests, among others.
The employees' field performance is monitored through performance evaluation systems that are conducted at least every four (4) months. A review panel validates the appraisals conducted by the field supervisors in consultation with the client. In most cases, those employees who make the grade get the extension of their employment and those who fail either get an advice to improve on their performance or immediately get terminated if they fail to meet the qualifying marks.
Cleaning System
We are committed to maintaining an environment that enhances human health and promote sustainability through "GREEN CLEANING". Thus, we use only the best environment-friendly cleaning materials and supplies sourced from reputable manufacturers to ensure the high-quality standards that EGSI has always been known for. This holds true for our cleaning equipment as well. We continuously upgrade them to meet our client's needs.
"QUALITY IN EVERY WAY", an inherent part of the EGSI system. At EGSI we always strive to serve our customers/partners to their utmost satisfaction.
Services
Regular Cleaning Services
Regular cleaning of floors, walls, ceiling, windows, furniture, fixtures, carpets and etc., through the application of appropriate cleaning techniques, equipment and supplies according to your cleaning needs. We do this daily, weekly or monthly depending on your choice.
Professional Contract Cleaning
Housekeeping Services
Building Maintenance
Commercial Kitchen & Stewarding
Manpower Services
Special Cleaning Services
Carpet and Upholstery Cleaning and Shampooing
Floor Stripping / Floor Waxing / Floor Buffing
Exterior Windows, Walls, Lighting Fixtures and Façade Cleaning
Curtain and Drapery Cleaning
Garden Cleaning and Grass Cutting
Car park, Street and Pavement Sweeping and Cleaning
Pest Control and Fumigation
Commercial Kitchen Cleaning
Hospital Cleaning
Marble & Granite Crystallization
Facility Management Cleaning
General Contract Cleaning
Construction Clean-up
Frequently Asked Questions
Our goal is to give our clients satisfaction with all of the services that we provide. To better understand what we do and how we do it, we created a page that answers the most common questions we receive. Find the topic that you are interested in below. If this page does not answer all of your queries, please do not hesitate to contact us directly and we will be glad to help you with all your questions.
Janitorial Services
Why should we choose your company for cleaning our facility?
EGSI's cleaning program is designed based on the client's requirement. Our philosophy promotes the concept that everyone in our organization is responsible for quality. We focus on the continual improvements to the process.
What if we need cleaning services at some specific time or day of the week?
The cleaning schedule can be customized to your individual needs, whether you need a one time general cleaning, special event cleaning, or daily / weekly / biweekly / monthly cleaning.
Do you provide services for residential clients?
Yes, we do provide services for both residential and commercial clients. We create a cleaning program for each individual client, so the cleaning service meets all your needs.
How do you handle customer satisfaction?
Customer satisfaction is the most important aspect for our company. EGSI's representatives regularly call our clients to see if there is anything we should improve. We always welcome any feedbacks from our clients and if we get one, we address the issue immediately.
How do I pay for the service?
We accept payments by cash or checks.
What other cleaning services do you offer?
EGSI boasts a full line of residential and commercial services. We have special crews for: Carpet Cleaning, Upholstery Cleaning, Window Cleaning, Marble and Granite Cleaning and Sealing, Ceramic Tile Cleaning, Commercial Floor Strip and Wax, Exterior Pressure Wash, Cleaning of Gutters, Cleaning of Blinds, Office Cleaning.
Upholstery, Carpet & Rug Cleaning
Why should I use your company for upholstery cleaning?
Because we use unique equipment for upholstery cleaning that gives us the opportunity to provide the best cleaning. Low moisture foam, aided by counter-rotating brushes, completely deep cleans upholstery fabrics. Some of the advantages for your upholstery are:
Super-fast drying
No over-wetting dangers
Seating goes back in use almost immediately
No sticky, re-soiling residue remains.
How does your method of carpet/rug cleaning differ from others?
We are using Low Moisture Extraction method. This method is better for carpets and rugs because:
Uses dry foam - not gallons of water.
Cylindrical brush cleans down to the base of the carpet (unlike rotary brushes which merely cleans the surface.)
Vacuums immediately - powerful suction lifts out dirt laden foam in seconds.
How long will my upholstery dry?
Fabrics will dry extremely fast. Our unique system's cleaning agent is only 10% moisture when applied, with only minutes of drying time.
How long will my carpet/rug dry?
Because we are using dry foam your carpet or rug will dry very fast - in about an hour.
Is there any damage can be done to the carpet with your cleaning?
The equipment we use applies dirt-emulsifying low moisture foam, brushes it thoroughly into the carpet and removes both foam and dirt immediately before it can sink back down into the carpet. There is no danger of shrinkage, dry-rot, browning or mildew.
Remember: steam is just a lot of hot water, "rotary brushes" just take dirt for a joy ride, and bonnet methods only superficially clean the surface. Only the extraction methods cleans deeply with a low moisture foam and then removes dirt and foam immediately.
Do you remove stains?
We remove most of the stains. Sometimes, there are some stains that causes discoloration of the carpet. In this case we are unable to remove the stain.
Do you charge for the areas you don't clean?
No. We never measure areas that will not be cleaned. For example, if you have some furniture that will not be moved, we do not charge you for that space. Our prices are very reasonable and honest.
Walls and Ceilings Cleaning
Why should I call you to clean my walls or ceilings?
After cleaning, your walls will look freshly painted – spotless; makes your entire premises look more attractive and inviting.
What types of walls and ceilings do you clean?
EGSI cleans all types of wall and ceiling surfaces, like stucco, painted, unpainted, wallpaper, ceramic tile, stainless steel, acoustical tile, and more.
What chemical do you use?
We use non-toxic biodegradable detergents that act like cleaner/sanitizer and are perfect for hotels, hospitals, day care centers, health care institutions, businesses, etc.
Do you remove odors?
Yes, we can clean, sanitize, disinfect, and deodorize your walls and ceilings at the same time.
Air Duct Cleaning
Why should I clean my air ducts?
Indoor air pollutants such as dust mites, mold, mildew, animal dander, and smoke are just some of the irritants that are circulated through today's air tight buildings. Many of these contaminants are circulated through the central air systems and can aggravate asthma and allergies. What can you do about this? Clean your air ducts!
How can the contaminants be removed from my air duct system?
The advanced cleaning method we use is the only one available that brushes and vacuums at the point of contact, eliminating the use of harsh chemicals such sealers. You will be left with the assurance of fresh, clean and virtually contaminant-free air in your home and office.
Do you need to do sanitizing of the air ducts after cleaning?
We highly recommend to do air duct sanitizing. This procedure controls odors and air quality associated with bacteria, mold, mildew, animals, smoke, etc. After sanitizing your air quality is much better and free of bacteria.
House Cleaning
How much it would cost to clean my home?
We schedule free in-house quotes Monday through Friday 8:30 a.m. – 5:00 p.m. If you're unavailable during those hours and have a friend or neighbor that could open your home to us, we would be happy to view your home and leave a quote inside the home for you. Many times it is possible that we can collect enough information from you right over the phone to give a fairly accurate estimate of cost. If none of these options work for you contact us, we'll find a solution.
Who will be cleaning my home?
An assigned team of trained professionals will clean your home. Most of our employees have a long history with us. House cleaning is performed in teams of two or, most often, three. Each team works under the direction of a Team Leader. The team will arrive uniformed. All employees are insured.
What time will the team be at my home?
Our service hours are at 7:30 a.m. – 6:00 p.m. However, if you have a need for a particular time, or not able to have us arrive too early or too late, be sure to communicate your preference and we will make every effort to meet it.
Is there anything I need to do before cleaning?
It's to your advantage that your home be as picked up and put away as possible. However if you're having one of those mornings, just realize that the team will work around the clutter.
What if something was not cleaned properly?
Simply call within 24 hours. We'll return for a friendly redo. Satisfaction is always guaranteed. We'd have it no other way!
What cleaning supplies and or equipment do I need to supply?
None. EGSI provides all the necessary tools, equipment and cleaning solutions and comes ready to work.
What if I need to change a service day?
Not a problem, but please give us as much notice as possible so that we could advise our personnel accordingly.
What happens when my service day lands on a holiday?
EGSI observes Thanksgiving, Christmas and Easter. If your scheduled cleaning falls on one of those holidays, please call to reschedule.
Should I tip the cleaning team?
Of course tipping is entirely up to you, but most clients do not tip. The team will most certainly not expect it. EGSI is concerned that if a customer starts tipping it may become a "rut" for them, not knowing how to stop, so to speak. If you receive an exceptional service and have the time to call the office and or post it on the many user review websites, you can be sure the team will get praise for the job well done.
Contact Us
Environment and General Services, Inc.
Address: 738 LN Building,  Shaw Boulevard, Mandaluyong City
Phone: (+632) 637-5348 / 638-3069 
Fax: (+632) 633-2413
E-mail: operations@egsiclean.com
Find us on Google Maps
sponsored links
back to business directory home page
Environment and General Services, Inc.