We are a Euro-Filipino Knowledge Process Outsourcing (KPO) company providing business solutions to global companies. With close to a decade in operations, we have helped several large companies and SMEs tap into the rich and highly-skilled Philippines labor pool to address cost-efficiency and strategic growth measures.
Based in the premier business district in the Philippines, we have access to the best infrastructure and talent -- the perfect elements to create and grow your team and your business.
Eastvantage brings a wealth of global insight and local knowledge that makes the transition from onshore to offshore simple and seamless.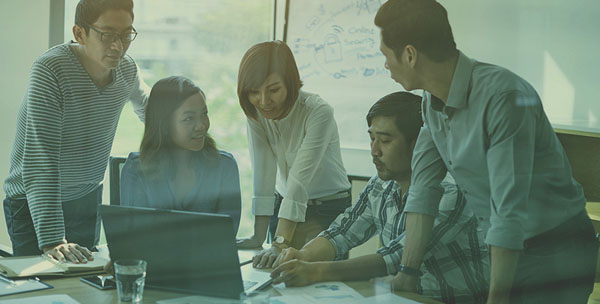 Technology
Remote Software Developer and IT Support Teams
Having a strong outsourced technology team to support your core in-house technology team can be the game changer that elevates your business into the major leagues.
Eastvantage has a wide range of experience in managing outsourced technology teams for some of the most innovative global companies. From startups to established companies, we provide full-blown and operations-ready offshore software development or outsourced ICT services that are needed to tackle tight timelines and colossal ongoing tasks that keeps projects and budget on track.
Offshore technology support as a strategy for growth
Outsourcing what you're not prepared to support in-house is a strategic move that lets you concentrate on innovation, product development & enhancement, and efficiency.
Eastvantage supports businesses in the areas of:
Software Design and Development
Software Configuration & Maintenance
IT Service Desk
Enterprise Application Development
Web and Mobile Development
The Philippines provides you with a strong pool of outsourced IT resources that are skilled in multiple disciplines and programming languages (for software development outsourcing) including SQL, Java, Javascript, C#, C++, Python, PHP, and iOS. Eastvantage has the capability to attract these talents specializing in ICT outsourcing and software outsourcing in smaller or larger numbers, scaling up or down depending on your strategy and timeline.
Software Design & Development
Does it seem like your software design and development team is continuously overwhelmed with their responsibilities? Outsourcing software design and software development is the solution for you, and you will reap more benefits than you think.
Whether or not you've already set up your business, here are a few more questions to ask yourself:
Are you winning those pitches but find that your resources are too scarce to produce your desired output?
Are your development costs always increasing?
Do you wonder why most of your competitors are able to bid their services for a cheaper cost?
Are you considering a 24/7 maintenance program, but have no developers for both Asia Pacific and US time zones?
Do you want to offer clients something more reliable than the work of freelance staff you've hired from oDesk or UpWork?
Ease all your worries and more
Take a step back and take advantage of Eastvantage's custom software design and development services. Our recruitment team handpicks the best developers to work on your project. A comfortable and efficient working space awaits your team, completely equipped with the necessary tools to ensure maximum productivity.
Software Configuration & Maintenance
If you are looking for a team of engineers that focus solely on keeping your software up and running at optimal efficiency, Software Configuration & Maintenance is the service for you.
Optimize your operations at any software life cycle
Eastvantage can scout for support professionals that will help you optimize your operations. We can provide a dedicated team of engineers that specialise exclusively in software maintenance and support — all based on your precise requirements. Long-term and reliable cooperation, as well as cost and time efficiency are the main assets of our working model.
IT Service Desk
Nothing is more frustrating for a customer when they receive poor technical support in their time of need. You need an IT Service Desk solution that can take a significant workload off your in-house IT staff.
Focus on your complex business tasks
Avoid the constant fire-fighting mode and dealing with the daily distractions from running your service desk. Our IT Service Desk allows you to gain access to the industry's best practice tools and processes to reduce incidents and increase customer satisfaction. Eastvantage service desk solution provides the technology, expertise, and people to deliver the IT support that your employees and customers need. Check the benefits below:
Providing 24/7 support cost effectively
Proactively identifying and addressing recurring problems
Empowering your end users to help themselves
Assessing the full impact of a change to your environment
Communicating more effectively with business stakeholders
Running your operations more efficiently
Enterprise Application Development
Are you looking for a team that can build a solid software foundation for your business? Does uncoordinated apps and software stress out your employees and impede your productivity? What if you can get this at a lower cost?
Designed to meet your specific requirements
Enhance your performance and profitability with our Enterprise Application Development outsourcing. Eastvantage will enable a smooth and effective management of various business activities through proven development practices, expert resources, and latest technologies. We have designed our enterprise application development services to help clients with content management, workflow enhancement, document management, business intelligence, and mobility requirements.
Talent pool of seasoned experts
Eastvantage has the capacity and a running record of sourcing talents that produce highly robust, functional and cost effective enterprise applications. Our experts are not only skilled in enterprise software development, but also API integration, modernising legacy systems, and consolidating app portfolios. Once they're on board, we provide them with a comfortable and efficient working space, equipping them with the necessary tools to help them ace their tasks.
Web and Mobile Development
Your website or mobile app is vital to the identity of your business. Entrust it to our expert developers who can execute your vision and design, while looping you in on every stage of the development process.
Creating a professional and welcoming platform
Bringing your business online is every bit as tangible as setting up a physical shop to sell your products and services in. It needs to be both professional and welcoming, as well as intuitive and well-built. Not only does it need to make sense to visiting users, but most of all, it needs to make sense to you, the business owner.
Web Development
Translate your online vision into a cohesive, fully-functioning website
Give your users the information they need through the most efficient channel. A website has the power to give your users a great and lasting first impression. It is how you market the brand to attract potential customers or clients.
Transform your online space for the better
Outsource web development from Eastvantage and our expert developers will work with you every step of the way. Our goal is to transform your online space into something that will encourage visitors to take the action you want them to take.
Our service comes in a variety of platforms including:
PHP Development
.NET Development
Python Programming
Drupal Sites
iOS Apps
Android Apps
Business Management
Business Management or more commonly known as back office is the beating heart of an organization. Back office work is rarely seen but hugely felt if it misses a beat. A company's growth is directly proportional to back-office work output and in this scenario, administration often takes the backseat. When this happens, customer satisfaction inevitably dips.
Administrative functions are internal functions that are largely procedural and can benefit from being supported by an offshore back office service provider.
Supporting your critical back-office functions through our Business Management solution
Eastvantage provides back office outsourcing solutions that support a company's day-to-day administration. We have 8 years of experience in employing and managing teams for SMEs and large organizations in the areas of:
Accounting Services
Recruitment Process Outsourcing
Finance Administration
We build dedicated teams for our clients and carefully guide the transition from onshore to offshore back-office. For the past 8 years, we have consistently delivered A+ service to clients allowing them to concentrate on core business functions.
Accounting Services
Finance and Accounting Remote Staffing in the Philippines
Accounting is a complex process that requires expertise and a whole lot of attention. Budget constraints might push you to try and take on your accounting by yourself, but this can lead to errors that may cost you more in the end.
Reliability of an in-house office staff at reasonable rates
Eastvantage accounting services provide the perfect balance between professional experience and affordable accounting fees. We have a fully functioning team that will take care of this so you can concentrate on your bottom line — the profit. Outsourcing accounting services to Eastvantage is the step in the right direction. Get the best of both worlds with our team.
Strategic accounting services for your business
In fact, Eastvantage does more than record your financial transactions; our accountant services provide a full suite of outsourced derivative accounting management services from preparation of financial reports to analysis and interpretation.
Our 24/7 facility located at The Fort BGC in Taguig puts us in a strategic position to offer accounting outsourcing for small business both here and abroad, serving clients in the following:
Accounts Receivables
Accounts Payables
Bank Reconciliation
Payroll Management
Bookkeeping
Income Statement (P&L)
Financial Report
Philippines Taxation & Consultancy
Eastvantage offers full-time or part-time accounting services for small businesses (or big ones). Whether you need a dedicated accountant handling your finances on a 360-degree model or a project-based/part-time accountant, we are here to partner you with the right person for the job. Our accountants and CPAs are meticulously screened for the right skills and the right attitude, ensuring accuracy and due diligence in our accounting services.
Recruitment Process Outsourcing
Build your own team of dedicated Human Resources staff through our Recruitment Process Outsourcing services.
The remote staffing solution you need
Eastvantage can lighten your load and reduce variable costs by taking on Philippine recruitment services at a flat rate. Our professional recruiters profile, screen, and match the right applicants with the right skills to your company. Unlike traditional executive search firms, our recruitment services model does not work on commission, allowing you to save as much as 70% off traditional headhunter rates.
Our RPO includes:
Applicant sourcing or job posting
Pre-screening
Initial interview
Candidate endorsement
Hire the right people with confidence
We will only recommend only those who meet your requirements, allowing you to hand-pick the best candidates for your team. Well-trained, intuitive and their broad range of understanding varied industries, our recruitment team will assist you in terms of defining your hiring objects and identifying the right profiles that you're looking for. In fact, we have executive search experience for the following sectors:
Marketing
E-commerce
Finance and Accounting
Customer Care
Technology (systems administration, web development, app development, software development, IT helpdesk)
Human Resource
Analytics
Finance Administration
Too often, businesses end up with a dilemma: having to pay high bookkeeper salaries or take a risk on unreliable freelance bookkeepers. However, the latter tend to go by their own timeline, and having reliability issues is inevitable especially when their work hours is based on their personal plans.
Save yourself from tremendous headaches down the road
Eastvantage provides outsourced finance administration for small to medium companies. Our professional bookkeepers record your daily, monthly, and annual transactions with great accuracy, diligence and organisation, leaving little to no room for human error.
Our professional finance administration include:
Accounts Receivable Management
Accounts Payable Management
Bank Reconciliation
Our bookkeepers are full-time employees working in-office in one of the major business and financial capitals of the Philippines, Bonifacio Global City. Our 24/7 operations ensures that our outsourced bookkeepers can service you anywhere you may be in the world.
Customer Relationship Management
You work hard to bring customers on-board, we'll match your dedication. Our Customer Relationship Management outsourcing services is designed to foster life-long loyalty and to create a strengthened brand. We deliver this through our multi-channel engagement that works to create meaningful customer experience.
Our 8 years of customer support outsourcing experience blended with training, quality and technology supports your customer's journey every step of the way. We provide clear, customized interactions that provide value in the areas of:
Customer Service
Technical Support
Concierge Services
Lead Generation Services
Data Entry & Processing
In-house contact centers can be labor intensive to set up, challenging to design and cumbersome to implement. Customer service outsourcing is steadily on the rise for global companies as a turnkey solution addressing cost savings, talent demands, and operations support that allows scaling up possible.
Customer Service
Remote Staffing for Customer Service
As your business attracts more customers and more users, there will inevitably be a larger number of inquiries coming in. Round the clock customer service is an integral part of businesses providing goods and services, especially those in the scale-up phase.
Eastvantage provides customer service support to companies through multi-channel engagement:
Email support
Chat support
Phone support
Eastvantage helps you scale up
Let Eastvantage handle your front line support with our outsourced customer service and we'll keep your customers happy. Whether you need a team of 5 or 50, we can match your growth pace and set you up with scalability and cost-efficiency in mind.
Choose between our Managed Delivery Services model or Staff Extension model
Depending on your preferred operational involvement. Our scope of work for your offshore customer service team include:
Recruitment and retention
KPI and metrics establishment
Operations support
Performance management
24/7 IT support
HR support
Payroll
Whether you are augmenting your existing customer service team onshore or establishing a completely fresh customer service team offshore, Eastvantage has the agility to ensure a plug & play approach to your operations. We can assist you in establishing systems or in simply mirroring your tried and tested setup for a disruption-free transition.
Technical Support and Helpdesk Outsourcing
Multi tiered Technical Support and Helpdesk Outsourcing
Eastvantage provides multi-tiered IT Technical Support to companies requiring a team of Technical Support Representatives or Technical Engineers. Set up your IT Helpdesk outsourcing or system maintenance through a remote team in the Philippines, handling:
Troubleshooting
Tech-related queries
System and network maintenance
System set up and installation
New product support
Whether novices or experts, technology users often inevitably get stuck when their gadgets or software malfunction. This leads to frustration, stress, and notable downtime for businesses. Outsourcing your Technical Support Helpdesk enables you to increase service availability and handle peak volumes.
We provide level 1 to level 3 technical support through multiple channels including chat, email and call support, with the capability of handling 24/7 support if needed.
Eastvantage's technical recruiters hire qualified top talent so you can rest assured that knowledgeable specialists will be assisting your customers with technical support issues as they arise. Our proven recruiting and retention processes mean we can cost-effectively and quickly scale up and down to better absorb the impact of new product releases or seasonal fluctuations.
Concierge Services
You need a round-the-clock, 24/7 support for your customers via email, chat, or voice channels if you want to enjoy a white-glove customer service.
Eastvantage provides bespoke customer support solutions supporting various industries. Several online travel agencies, boutique e-commerce sites and concierge services have enjoyed our white-glove customer services.
We are able to set-up round-the-clock 24/7 support for your customers via email, chat, or voice channels. Our varied portfolio, coupled with our strong account management and operational framework ensure the success of our partnership.
Several areas of your business can be covered:
Online travel reservations
Online ticketing support
Cancellations/rebooking support
Itinerary bookings for luxury travel
On-demand personal assistant services
Virtual concierge hotel service
In travel customer experience management
Lead Generation Services
In this age of technological developments, businesses no longer have to rely on cold-calling and purchased lists to generate what were often considered ineffective leads. It is easier and more efficient to identify potential customers who match your target demographic through digital databases, reach out to them and finally qualify them as leads. This is where outsourced Lead Generation Services come into play.
Providing varied skill sets and varying organizational setups
To meet your different needs, Eastvantage offers comprehensive services encompassing lead nurturing, lead management and more in order to maximise your marketing leads. We specialize in recruiting professionals who are trained in the most effective lead generation strategies, those who are able to autonomously find and supply your business with a large volume of sales leads and strong potential to convert.
Data Entry & Processing
Our data entry service is committed to reliable account management, quality assurance processes, data security, and meeting SLAs and deadlines.
Build your data entry services in the Philippines with confidence. We make it uncomplicated for companies to establish a data entry team in the Philippines with the right tools, software, connectivity and office environment that provides security and attendance tracking. Our data entry outsourcing model makes it easy to transition to the offshore model with minimal to zero downtime.
Big data serve as a major factor that drive your business into greatness. Every decision you make results to data that may, directly and indirectly, affect your business operations in the long run. However, the stressful part comes in the process of organizing the increasing volume of data gathered. It may consume most of your time that you could have used in meeting clients and other core functions. Also, one step behind in data processing can cost you a lot of money and opportunities.
Eastvantage puts up with its name as an excellent data entry service provider. Our team operates 24/7 to ensure that all data are covered from end to end. You'll enjoy full support from our data entry assistants anytime you need one. Outsourcing your data services with us allows you to take advantage of our large resource of local English speaking data encoders.
You can expect that your team of data entry specialists will be exclusive to your account and will be on call to address data entry tasks within your organization.
Database management
Survey data entry
Market research data input
Paper based conversion / digitization
Medical data entry
Legal data entry
Finance and accounting data entry
Bulk order processing
PDF conversion / PDF data entry
Online data entry
Photograph data entry
Catalog conversion
Invoice & receipts data entry
Field services data entry
Custom services
Manual data entry
E-commerce
Remote Staffing for Ecommerce Support
A fast-paced sales channel needs an equally robust support system. Our E-commerce outsourcing services provides businesses a comprehensive array of solutions that tackle simple to complex deliverables in the areas of:
Amazon & Ebay listing
Product Data Entry
SEO & SEM
Virtual Assistants
Copywriting
Digital Marketing
Increase efficiency through outsourcing to Manila
Work around time-consuming and repetitive work through our e-commerce outsourcing support services. Assigning rote tasks and non-core functions to your Manila staff saves time and increases efficiency that lets you focus on strategic projects to grow your bottom line.
Amazon & eBay Listing Management
Amazon sellers and eBay sellers who want to expand their reach, increase orders and most importantly, grow revenue can trust Eastvantage.
We can help you with comprehensive online marketplace management through store creation, design and optimization, product listings, opportunity analysis as well as order and inventory management.
Eastvantage puts up with its name as an excellent Amazon & eBay Listing Management. We can get you a team that operates 24/7 to ensure that all data are covered from end to end. You'll enjoy full support from the listing assistants anytime you need one.
Product Data Entry
Outsourcing inventory management and order fulfillment tasks is a smart decision if there's not enough work to warrant a full-time employee or you're skeptical of automation.
E-commerce industry is expanding across the world, with both established players and new startups looking to boost their revenue through this important online channel. Effective Product Information Management (PIM) is of utmost importance for running a successful business online. As each product across the category spread must showcase the right specifications, images, description, testimonials and other information, the tasks of product data entry and bulk product data upload require a constant, dedicated effort.
Eastvantage can provide robust support to your e-commerce business when you outsource Product Data Entry Services. We will be able to source for well-trained professionals that are capable of completing data entry for large volumes of products, within a short turnaround time.
With significant experience in the e-commerce data entry space, we have experts across numerous shopping carts and platforms including Magento, Shopify, WooComerce, Amazon and eBay listing management.
By outsourcing Product Data Entry Services, your e-commerce store will display the most up-to-date, unique and relevant information for all products, which will create a positive impression in the minds of shoppers and persuade them to proceed to checkout.
SEO & SEM Services
Search Engine Optimisation (SEO) and Search Engine Marketing (SEM) is essential to connect your website to the millions of people on the web who may potentially be searching for your products or services. These strategies are not rocket science, however it does require time investment and an ongoing commitment to updating your web pages -- time which you as a business owner, may not necessarily have.
Approximately 62% of all search users will click only on page 1 results, while 23% will go as far as page 2 results. Only a few of the remaining will bother with page 3 and beyond, while most of the remaining 15% will conduct a fresh search if they do not find what they are looking for.
How outsourcing SEO & SEM can save you time and resources
Outsourcing SEO and SEM to experts saves you the time on learning the multiple processes involved in crafting a sound digital marketing strategy. Our SEO, SEM and PPC specialists can diagnose your website's performance and give advice on the on-page and off-page factors affecting your website's search performance, allowing you to zero in on quick wins and minimising time wasted on unachievable goals.
Our digital marketing specialists can help you in the following disciplines:
Keyword research and strategy
Website back-end analysis for search engine friendliness
Link building
Directory links
Content creation
PPC strategy
Ad testing and deployment
Analytics
Virtual Assistant
Would you like more hours in your day to work on higher-value business activities?
We all know it, the key to growing a business is through focus and increased productivity. But at the end of the day, there never seems to be enough time left to do everything. Scheduling appointments or appointment setting, research for upcoming presentations, managing social media all takes time. The answer to this problem is easier than you think: hire virtual assistant in the Philippines!
What is your time worth?
Even if you do take action in finding some administration support, there comes the added headaches of recruiting, training, purchasing additional equipment --- the list goes on!
What if there was a simpler way?
A way that gives you all of the benefits of administration support without any of the headaches...Welcome to the world of virtual assistants! You may have tried outsourcing virtual assistant services in the past, but often when someone has tried a VA before, they have some common complaints such as:
They take too much time to train
They don't have all of the systems I need them to have
Communication is challenging
I found a great VA but then they 'disappeared'
At Eastvantage, we have listened and found the solution.
All of our virtual assistants work from a 24/7 modern, professional office right in the heart of the premier business district in Manila. They are highly trained and dedicated team members recruited not just for their professional acumen but also for cultural fit, team attitude, and a proactive work ethic. We ensure to help you hire virtual assistants that are competent to address your needs.
How do we recruit the best VA for you?
The onsite recruitment team employ a stringent hiring process seeking the best graduates from leading Philippine universities and putting candidates through rigorous skills and behaviour profiling before an offer of employment is made.
Successful candidates are then fully inducted with all hardware, software and connectivity requirements to enable them to work efficiently and effectively for you without you having to make any costly capital investment. They are also assured in terms of their virtual assistant salary. One thing's for sure: when you hire virtual assistants in the Philippines, you're guaranteed to get your money's worth.
To ensure a conducive and productive working environment, all of our virtual assistants are then further trained in the latest communication and business collaboration tools to make remote project management simple.
Take advantage of securing your very own virtual assistants in the Philippines to support in any or all of these key areas in your business:
Email management
Calendar management
Task management
Research
Social media
Presentations
Sales management
Content management
Copywriting Services
Good content is something that a reader doesn't really notice, but rather feel. Well-written information inspires confidence, convinces, and ultimately elicits action. In terms of pushing your online content, you need effective website copywriting services.
Whether it's content for your website, your company profile, press releases or internal communication, it's important to speak in a clear, concise and convincing voice. The words on any of your business pages is the voice of your company, so you need to be sure that your b2b copywriter gets it right. For instance, availing SEO copywriting services can bring a lot of traffic to your website.
Copywriting for websites can make or break your business.
Eastvantage offers outsourced copywriting services for small and medium sized businesses, helping business owners come up with fresh, well-written and original content for company communication. We can offer professional copywriting services like business, website, SEO or traditional composition, with writing styles that adapt to fit different audience types.
Our copywriters are on hand for full-time or part-time work, or project-based services.
Digital Marketing
Boost brand awareness and customer engagement with digital marketing services
Having the best looking website is of little use if your target market can't find you online. The online platform is a dynamic, fast-growing marketing channel that offers a wealth of opportunities. But it also poses different challenges, including fierce competition and quickly-evolving technology. For most companies, digital marketing has become a critical component in both attracting new customers and communicating with existing customers. The pressure is greater than ever for these companies to get their digital marketing strategy right by making the most of their resources to develop campaigns that will yield consistent results.
Eastvantage offers a full range of digital marketing services to help boost customer engagement through highly relevant marketing campaigns. Create the right strategy for your digital channel by taking the first step - outsource digital marketing services.
Our digital marketing solutions include display and banner advertising, SEO and SEM, email marketing and social media marketing & management - all designed to target your specific audience and get the highest goal conversions.
Contact Us
Eastvantage
Address: 15th Floor Fort Legend Tower, 3rd Avenue cor. 31st Street, Bonifacio Global City, Taguig, 1634 Metro Manila, Philippines
Phone: +63 2 491 7378
E-mail: info@eastvantage.com
Find us on Google Maps
sponsored links
SIMILAR COMPANIES/PRODUCTS/SERVICES
Terms of Use/Privacy Policy Advertise Buy me coffee