Digiscript Philippines Inc. (Digiscript) is a Filipino owned company established in 2006 that helps customers visualize, design, measure, and manage the built environment in 3-Dimensions (3D). It is the pioneer and leading service provider for 3D Digital Reality Capture Technology Solutions industry in the Philippines.
Since introducing 3D High Definition Surveying (HDS) to the Philippines in 2009, it has provided customised technology solutions for both government and private institutions across several industries such as oil & gas, power generation, architecture engineering & construction (AEC), heritage conservation, safety & security, infrastructure, and irrigation. Digiscript has also built a small but growing clientele of surveying, architectural, and engineering firms in Australia, US, UK, Asia Pacific and the Middle East. Digiscript has built a wealth of specialized knowledge, which it has applied to providing custom tailored 3D solutions for its clients, with the goal of always striving to fulfill its brand statement of "Delivering Value".
Solutions
Services
Utilizing proven state-of-the-art 3D Digital Reality Capture and Surveying solutions such as 3D Laser Scanning, Unmanned Aerial Vehicles (UAVs), and Ground Penetrating Radars (GPR), we are able to rapidly obtain accurate baseline data of your built environment as the starting point in bringing clarity to your complex projects.
We believe we are able to help our customers maximize the potential of their spaces by helping them Visualize, Design, Measure, & Manage in 3D.
We are committed to help you discover the various applications and multiple uses of 3D Reality capture data beyond the initial capture in order to build a safer, sustainable, and progressive tomorrow.
We allow our customers to leverage our experience in 3D Reality Capture technology by providing affordable solutions across multiple industries and applications.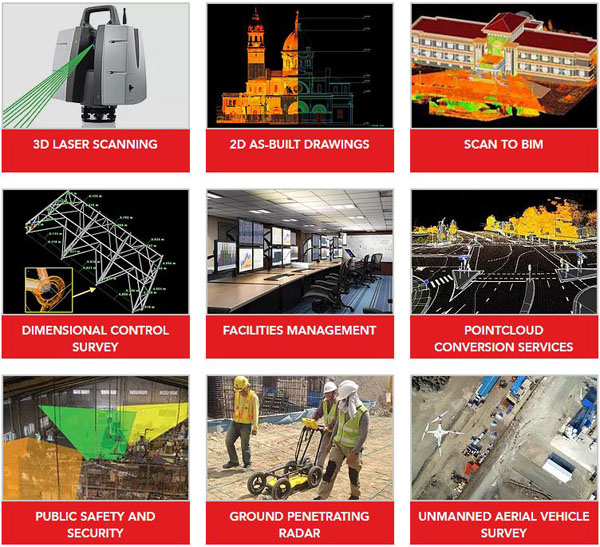 Equipment
Leica ScanStation P-Series 3D laser scanners are your perfect partner when capturing 3D geometry of civil infrastructure, creating an as-built representation of a large industry complex, reconstructing a crime scene or generating 3D data for integration into Building Information Modelling (BIM).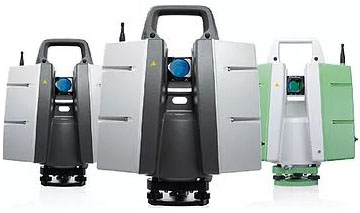 Delivering highest quality 3D data and HDR imaging at an extremely fast scan rate of 1 million points per second at ranges of up to 270 m. Unsurpassed range and angular accuracy paired with low range noise and survey-grade dual-axis compensation form the foundation for highly detailed 3D colour point clouds mapped in realistic clarity.
Leica Geosystems 3D laser scanners deliver:
Highest quality 3D data and HDR imaging
Extremely high speed scan rate of 1 million points per second
Ranges of up to 270 m
Low range noise
Survey-grade dual-axis compensation
Highly detailed 3D colour point clouds mapped in realistic clarity​
3D Visualization and Virtual Reality
Digiscript maintains its reputation for creating high quality engaging visuals for future developments, existing facilities, and any other environment that is best appreciated in 3-Dimensions. Using a combination of industry standard 3D processing software and 3D reality capture technologies such as 3D laser scanning, photogrammetry, 360 photography / video, we help visually communicate your ideas to your customers in a more meaningful, memorable, visual, experiential, and immersive way.
These can be in a form of walkthroughs, animations, flybys, interactive mobile applications, marketing and promotional video content, immersive safety training/simulation videos, and intuitive VR applications. We work with a team of programmers, game developers, digital artists, creative directors, video editing/production specialists that can help customize your desired content and push the boundaries of how 3D technology can be used for various industry applications as the starting point transforming your vision to into reality.
Virtual Reality (VR) Showreel
3D Process Animation Video
3D Animation Showreel
Case Studies
The Ayala Bridge Rehabilitation Project
The historic Ayala Bridge is the first steel bridge in the Philippines that was completed in the 1930s. It was closed to the public in 2015 to undergo major rehabilitation and repairs to improve its structural integrity to withstand future earthquakes.
Digiscript was awarded the contract to conduct the as-built of the bridge that would serve as critical baseline data required by the structural engineers and designers in preparation for its rehabilitation. Digiscript utilized the Leica C10 Scanstation to capture the approaches, steel trusses / plates, beams, frames, roadway, bridge underside, and piers. There were no road closures required since the survey team could safely capture all required dimensional information from the sidewalk or center island. The actual survey was completed in about 8 days and a complete set of 2D As-built drawings were provided as well as a BIM (Building Information Model).
The Fort Bonifacio War Tunnel
In 2013, a symbolic memorandum of understanding were signed by BCDA, AFP, National Museum of the Philippines and the National Historical Commission of the Philippines as a recognition of its profound history and significance to finally restore, rehabilitate and war museum design the tunnel as the FORT BONIFACIO WAR TUNNEL for the 21st century.
Digiscript was awarded the project to conduct the as-built survey of the tunnel network and generate the baseline data for the design engineering and analysis to be used by the interdisciplinary team of structural engineers, conservation architect, and geologists. Digiscript produced several deliverables such as plans, sections, topography, elevations, and volume computions of each of the chambers. This data serves as a digital historic record of the tunnel as well as used to produce engaging animations and virtual fly throughs.
Damage assessment of heritage structures after the 2013 earthquake
Bohol is the 10th largest land mass in the Philippine archipelago and is particularly important for housing a collection of colonial architecture from the 17th century until the early 20th, the focus of which has been the ensemble of monumental church architecture from the Spanish and American periods.
Some of these churches have been declared by the National Museum as National Cultural Treasures (NCTs), and Important Cultural Properties (ICPs) for their Cultural treasure for its cultural, historical and architectural value.
On October 15, 2013, Bohol was devastated by a 7.2 magnitude earthquake. The earthquake destroyed or severely damaged a number of Bohol's heritage churches including the churches of in the city of Baclayon, Loboc, Loon, Maribojoc, Loay, Dimiao, and Dauis and some of its watchtowers.
On February 10, 2015 the National Museum worked with Digiscript for the Detailed Engineering Studies of Heritage Structures Declared as NCTs/ICPs in Bohol and Samar Affected by Calamities project to assess and evaluate the present condition of the buildings, churches and other structures in Bohol which were damaged by the earthquake.
In order to rapidly document and assess the damage, Digiscript utilized several methods of reality capture technology such as 3D Laser scanning, Unmanned Aerial Survey, and Ground Penetrating Radar. This data was used to provide baseline information in the form of measured drawings and surface condition maps to understand the degree of structural damage. The rapid and detailed information from 3D Laser scanning was able to document areas of collapse and show the extent cracks, fissures, deterioration, and plumbness of walls to show degree of tilt. This data became an integral part for Digiscript's team comprised of structural engineers, conservation architect, and researchers. Data from other material tests, soil investigation were consolidated and further analyzed to formulate and design the initial recommendations for the structures using conservation principles.
Contact Us
Digiscript Philippines Inc.
Address: 4F BT&T Center No. 20 E. Rodriguez Jr. Ave., Bagumbayan, Quezon City
Phone: +632 709-2014
Mobile: +63 949-889-4719 | +63 917-507-0338
E-mail: info@digiscriptinc.com
Find us on Google Maps
sponsored links
SIMILAR COMPANIES/PRODUCTS/SERVICES
Terms of Use/Privacy Policy Advertise Buy me coffee
Digiscript Philippines Inc.