DECO Machine Shop Inc. started its operation in 1969 and was incorporated in 1984. The company is engaged primarily in precision machining, engine rebuilding, vibratory stress-relieving, heat treatment, computerized oxy-acetylene cutting, resurfacing of bedways, exhaust valves stellite rebuilding, blade sharpening, Computerized Dynamic Balancing of Centrifugal Baskets, Turbine Rotors, Generator Rotors and on-site machining and repairs. It employs the most advanced CNC machine tools, the latest measuring instruments and a pool of highly-skilled machinists.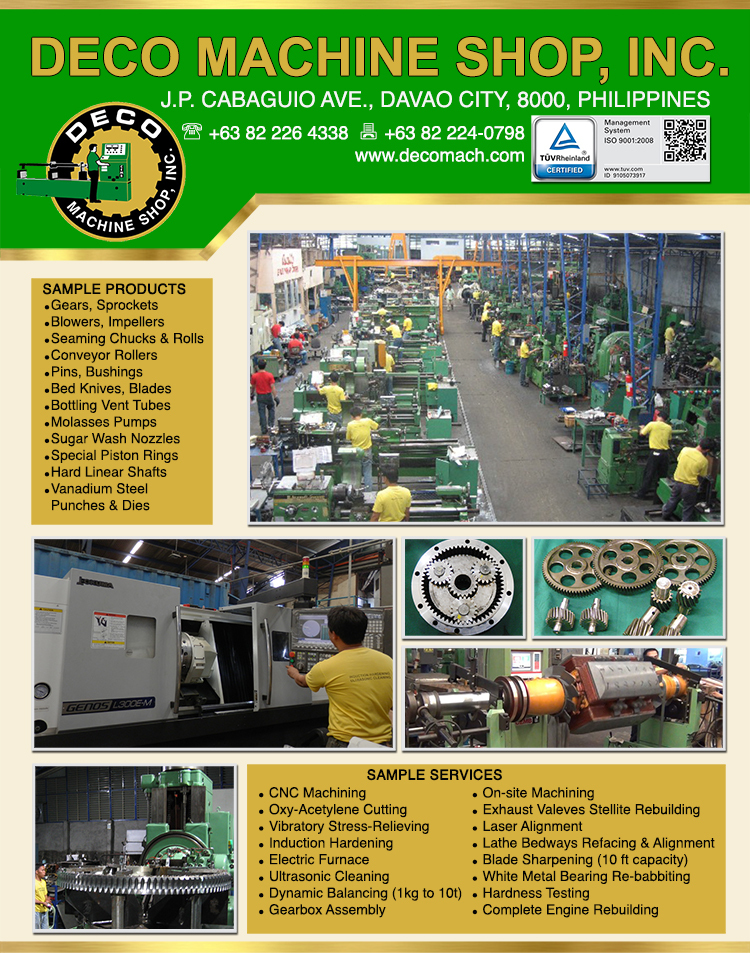 Our conventional lathe machines, horizontal boring machines, crankshaft grinders, Plano-Millers, etc., have digital readouts (DRO) or electronic measuring devices for faster and more precise work. Our TIG welding machine has crater current control for crater–free welding.
Contact Us
DECO Machine Shop Inc.
Address: JP Cabaguio Ave., Agdao, Davao City, 8000 Davao del Sur
Phone: +63 82 226 4338
Fax: +63 82 226 4339
E-mail: info@decomach.com
Find us on Google Maps
sponsored links
SIMILAR COMPANIES/PRODUCTS/SERVICES
Terms of Use/Privacy Policy Advertise Buy me coffee
DECO Machine Shop Inc.