From business registration to accounting, payroll, and visa processing in the Philippines, Dayanan Business Consultancy will assist you. Dayanan has a pool of professionals who studied and mastered all areas of managing a business so you are sure that you are in good and excellent hands.
Dayanan International Business Consultancy Services is an independent member firm of Moores-Rowland Philippines & Co. (MRP & Co.).
Some of our clients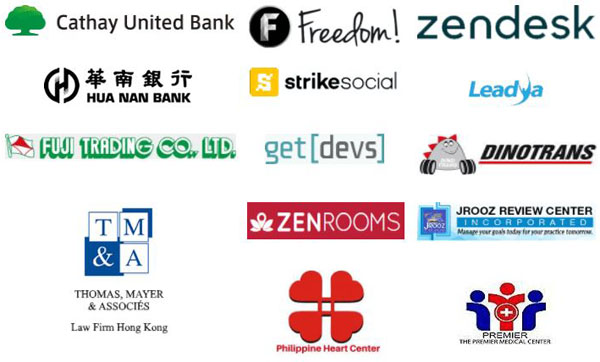 Services
General Business Consultancy
Business Registration
Third party Philippines FDA Representation for Cosmetics, Medical Devices, Food, and Pharmaceuticals.

Registration of Products
Interact with government agencies on regulatory requirements
Notify government agencies upon changes to your products
Tracking of alerts and recalls
FDA Representation
Formation
Business Planning and Management
Business Investment Planning and Management
Marketing Consultancy
PEZA, BOI Registrations
VISA Processing with Bureau of Immigration, and PRA
Software & Hardware
Distribution of software and hardware to hospitals, hotels, schools, and government agencies.
ENADOC is an innovative, cloud-based enterprise document imaging system. The System allows tagging, collaboration, and with the required Security of use.
An on-line Enterprise Resource Plan ("ERP") Solution for automating campus management, online enrollment, grades, admission, financial accounting, purchasing, asset management, library, laboratory and payment support management.
We are a marketing partner and distributor of WSI products in the Philippines. Products includes Microsoft Solutions, Polycom, Citrix, HP, Lenovo, Macfee, Nuance, Samsung, Tintri, Veritas, and other software and hardware solutions.
Accounting, Bookkeeping and Other Financial Services
Accounting Services
Bookkeeping
Payroll Services Outsourcing
Business Fraud and other special Audits
Tax preparations, filling and planning
Tax Treaty Relief Applications
Transfer Pricing Analysis
Accounting System Implementation
Computerized Accounting Set-up and Registrations
Business Liquidations and dissolutions
Payroll Outsourcing, Manpower Outsourcing and other human resource outsourcing needs.
Contact Us
Dayanan Business Consultancy
Address: Cityland III, Rufino cor Esteban Sts., Legaspi Village, Makati City 1229
Phone: +63 2 576 8476
Mobile: +63 917 812 5014
Find us on Google Maps
sponsored links
back to business directory home page