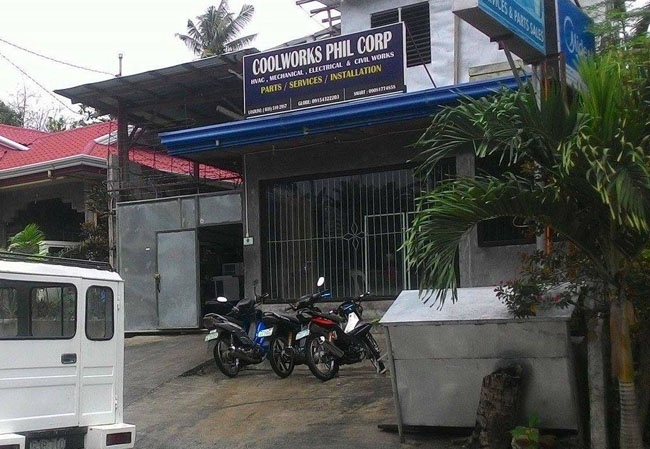 Coolworks Phil. Corp. is a family based Corporation especializing in HVAC equipments. It was founded last August 2004 more than a decade ago and has long established itself in the Installation, Service and Sales of aircon and refrigerator parts. We also do civil, electrical, air duct & other ventilation works.
Products & Services
Carrier Authorized Installer
Air Con Repair & Maintenance
Electrical Installation, Repair & Maintenance
Air Duct Fabrication & Installation
Steel Fabrication
Civil Works / Carpentry / Masonry
Aircon FAQ
My air conditioner isn't working?
Check fuses or circuit breakers. Also check that it is plugged in.
My air conditioner isn't cooling properly?
When the outdoor temperature is too hot or when there are too many people inside the room, the air conditioner will appear not to be cooling properly due to the "higher than normal" heat load. In this case set the thermostat to the coldest setting and the fan setting to high speed.

Dirty or clogged air filters is the most common cause of poor cooling performance. Check, inspect and wash air filters on a weekly basis whenever possible.
Do some of your air conditioning units use CFC?
Carrier's air conditioning units use the refrigerant, R-22, which is HCFC, not CFC.
What should I do if refrigerant is leaking out of my air conditioner?
Turn OFF your air conditioner immediately and call your service dealer.
Do I have to cover my air conditioner when it rains?
No. Your air conditioner is designed to be exposed to rain and sunshine.
At what temperature should I set my air conditioner?
Set at the temperature at which you feel most comfortable. In general use "coldest setting" during the afternoon and avoid "coldest setting" during nighttime to save on electricity costs.
What should I do in preparation for summer?
Join the maintenance program and have your unit checked each year before the summer. Remember to keep the air filters clean.
How often should I change the air filter?
Examine the filter on a monthly basis. Replace it when the dirt can no longer be washed/brushed off or when there is already visible damage on the filter screen.
What is BTU?
It is a professional term rating an air conditioner. BTU stands for British Thermal Unit - the quantity of heat required to raise the temperature of one pound of water one degrees Fahrenheit.
What is a window-split type air conditioner?
A window-split unit is similar to a regular split unit except for the size of the outdoor unit. The size and outlook of the window split outdoor unit is similar to asmall window type air conditioner. It can be easily fitted and installed on the pre-built concrete slab of any window bay.
What is EER?
Energy Efficiency Rating (EER) is used to measure the efficiency of room air conditioner. The higher the rating, the higher the efficiency.
Why is my aircon noisy?
There are different reasons as to why your air conditioner is noisy. You should first check the kind of noise emanating from your air conditioner to troubleshoot the problem area.

Refrigerant hissing sound – this is the sound of refrigerant expanding. This is normal.
Cracking sound – this is the plastic parts of the unit expanding due to the change off temperature. This is also normal.
Scraping sound – this is the sound of vibration resulting from the aircon not properly installed in the wrapper. You must turn off the unit immediately, and ask your technician to reinstall the aircon to its proper place to reduce noise.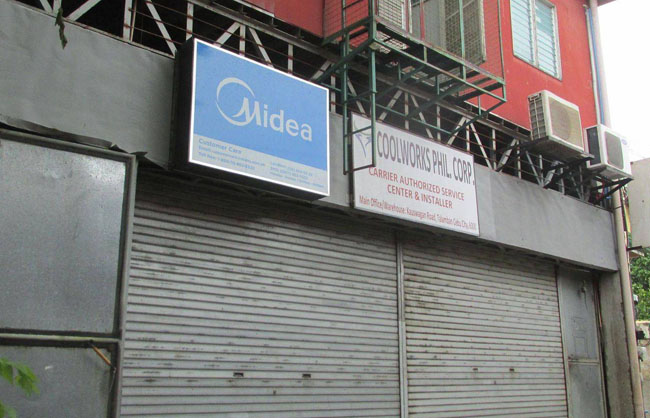 Contact Us
Coolworks Phil. Corp.
Address: Kauswagan Rd., Talamban, Cebu City 6000
Phone: (032) 345-5148 | 345-0349 | 401-1309
Mobile: (+63) 0915-802-6964 | (+63) 0932-518-7449 | (+63) 0908-175-1254
Fax: (032) 345-0349 | 401-1309
E-mail: coolworks_philcorp@yahoo.com
Find us on Google Maps
Bohol Branch
Address: Union, Dauis, Bohol
Phone: (038) 427-3504
Mobile: (+63) 0915-432-2203 | (+63) 0908-177-4858
E-mail: coolworksphilcorpbohol@gmail.com
Find us on Google Maps
Sibulan (Dumaguete) Branch
Address: Km 22 Pondol, Amlan, Negros Oriental (back of Transco/NGCP)
telefax: (032) 345-5148 | 345-0349 | 401-1309
sponsored links
SIMILAR COMPANIES/PRODUCTS/SERVICES
Terms of Use/Privacy Policy Advertise Buy me coffee
Coolworks Phil. Corp.