Founded in January 1994, Cherimel Philippines Inc. (CPI) has been specializing in sheet metal fabrication.
Our company mainly produces sheet metal fabricated products such as ATM Kiosks, Customized Metal Cladding, Interactive Steel Kiosks, Data Cabinets, Server Racks, Steel Lockers, Steel and Stainless Cabinets, Tools Cabinet, Stainless Kitchen Tables, Electrical Enclosure, and customized sheet metal products.
Other services include CNC Fiber Laser Cutting, CNC Turret Punching, CNC Bending, CNC Shearing, CNC plasma Cutting, Robot Welding, Assembly and Metal Stamping.
Products
We accept job orders for all sheet metal works such as Equipment Racks, Steel Cabinets, Lockers, Racks, Clamps, Brackets, Metal Enclosures, Kiosks, Stainless Furniture, Kitchen Furniture, Cable Trays, Cable Ladders, Electrical Panel Enclosures and other custom design requirements. Other Services include Precision Laser Cutting, Precision Turret Punching, Precision Bending, Precision Plasma Cutting and Welding (Spot/Mig/Tig).
No minimum quantity (prototype or volume)
Variety of material options from Mild Steel, Cold Rolled, Stainless, Aluminum
Based on your design
Fast Delivery
Price match
Using state of the art German and Japanese Machines, we can produce customized kiosks, Self Service Kiosks, Point of Sale (POS) for Malls and other custom designed consoles. We also fabricate ATM Cladding for the Banking Industry, customized counter for Hospitals.

We also fabricate customized cabinets from entertainment cabinet and display cabinets for Malls, Restaurants, Corporate Events and Exhibition.

Services
Sheet Metal Fabrication CNC Fiber Laser Cutting CNC Precision Turret Punching CNC Precision Bending CNC Shearing CNC Plasma / OxyFuel ​Robot Welding Assembly Metal Stamping
Sheet Metal Fabrication
We accept job order for our standard products or customized sheet metal fabrication.

CNC Fiber Laser Cutting
Our CNC cutting machine can process sheet formats of 1500mm x 3000mm (5' x 10'). Thickness for Mild Steel (MS) materials we can cut upto 20mmt, Stainless upto 15mmt, Aluminum Alloy upto 15mmt, Copper and Brass upto 6mmt.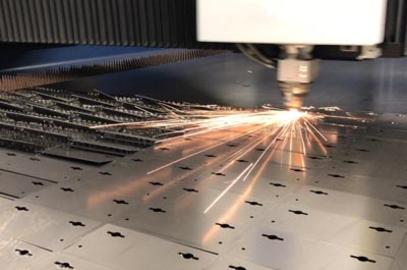 We can cut intricate and complex architectural designs, decorative panels, wall cladding, customized steel partitions.
The TruLaser 3030 fiber fiber boasts of high flexibility and profitability: In particular it cuts mild steel with profitably at all sheet thicknesses. The TruDisk solid-state laser enables the processing of non-ferrous metals and, in addition, provides you with an extra productivity benefit when it comes to thin sheets.



CNC Precision Turret Punching
Our Amada AE2510NT machine utilizes an AC servo motor to drive the ram (eliminating the hydraulic power supply and chiller. Electrical consumption is less than one-half of comparable hydraulic machines which makes it ECO-Friendly. Higher positioning speed improves productivity and offers significantly faster punching speeds than mechanical turrets.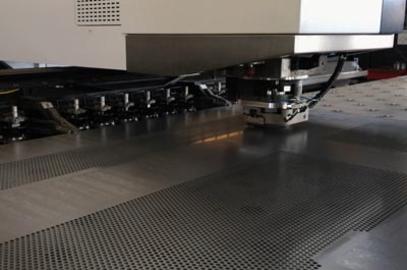 Punching capacity of 2.4 meters length without reposition and upto 4.8m with reposition. MS plates up to 8mm thick plates and 4mm on Stainless Plates.
Accurate and precise punching of holes can be achieved by programming on our offline software. After programming, we will then feed the converted NC file to our punching machine.
Our punching machine enables us to process a diverse range of parts with flexibility. We can also form extrusions, louvers, hinges, beading, offsets and marking on our machine.

CNC Precision Bending
Bending capacity of 3 meters length upto 5mm thick MS plates and upto 3mm thick Stainless Plates. For thin gauges, maximum bending length is 4.2 meters.
Precise bends are possible using our machines CNC back gauges. No more time consuming layout on the materials are required.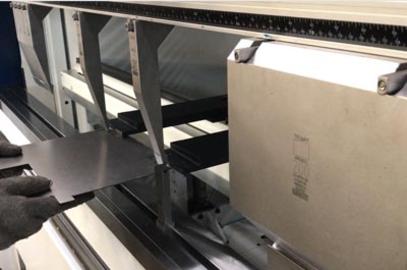 In die bending or edge bending processes, the sheet metal is bent through a controlled downward movement of the press beam. The flat sheet is pressed by an upper tool into a V-shaped lower tool (die) and reshaped in a straight line. The backgauges ensure that the workpiece is positioned accurately.

CNC Precision Plasma & OxyFuel Cutting
Our CNC Cutting machine can process sheet formats up to 2.5 meters Width x 6 meters Lengths (8' x 20').
​Robot Welding Assembly
We use robotic welding for precise and accurate welding. For mass production, we can guarantee the same welding for all parts delivered.
Better Quality can also be achieved by programming the power, speed and angle of welding on the control. This will ensure all parts will be consistent.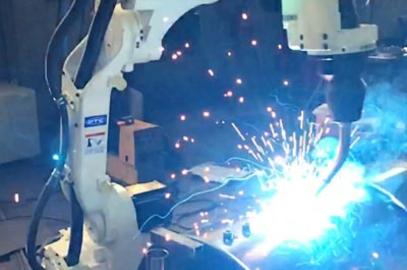 Metal Stamping
We have in-house tool and die production for mass production of small parts.
Programming
We've got years of experience to help you determine how to tackle all of your design ideas.
First Boost user in Southeast Asia. With TruTops Boost, designing and programming for sheet metal processing becomes easier.
We are able to run complex parts through the Trumpf TruTops Boost Software bending simulation program. This will immediately give the designer an idea if the part is possible to bend or if modification on the parts are required to complete the required product.
Contact Us
Cherimel Philippines, Inc.
Address: 269 A Cabatuhan Road, Deparo District 168, Caloocan City, Metro Manila 1420, Philippines
Phone: +63 2 983 9596
E-mail: info@cherimel.com
Find us on Google Maps
sponsored links
SIMILAR COMPANIES/PRODUCTS/SERVICES
Terms of Use/Privacy Policy Advertise Buy me coffee