EMB-DENR Accredited Hazardous Waste Treater and Transporter of Used Oil-Bunker Sludge, Used Cooking Oil and Oil-Contaminated Materials
Cebu Megalube is one of the largest DENR EMB accredited transporters and treaters of hazardous wastes such as waste oils, used industrial oil, used cooking oil and fuels in the Philippines.
Together with Gulf Oil Petroleum Products (based in Pandi, Bulacan) and Northsea Petroleum (based in Davao City), the three companies have more than 30 years experience in providing reliable & client-focused environmental management solutions to various industries & companies.
The company helps businesses that generate hazardous waste comply with Philippine environmental laws and other policies set by the Department of Natural Resources (DENR) as well as meet international standards on management, handling, transporting and disposal of hazardous wastes.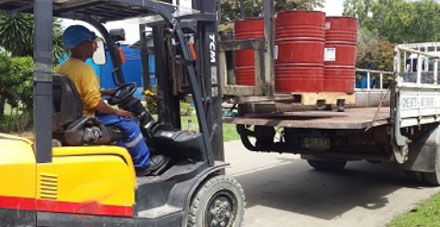 Services
Hazardous Waste Treatment
I-101 Classification: Waste Oil & Bunker Sludge
I-102 Classification: Used Cooking Oil
I- 104 Classification: Contaminated Rags, Sawdust, Soil etc.
Transport
Cebu Megalube and its sister companies own and operate a fleet of over 20 DENR certified hazardous waste trucks and lorries. All vehicle operators & crew are Hazchem-trained by the DENR-EMB on a regular basis.
Wastes covered by our Transporter Certificate of Registration No. TP=R7-22-000164
Classification: I-101

Used Oil (Engine, Hyrdraulic, Etc.)
Bunker Sludge

Classification: I-102: Used Cooking Oil

Classification: I-104

Oil Contaminated Rags
Oil Contaminated Saw Dust
Oil Contaminated Soil
Oil Contaminated Paper/Wood
Marine Vessel Oily Water And Sludge Waste Disposal
Cebu Megalube helps domestic and foreign marine vessels calling on the Port of Cebu with their oily waste disposal requirements. As a certified waste oil collector of the Philippine Coast Guard (PCG), our company follows the strictest standards with regards to collection, storage and disposal of marine oily wastes as described in Marpol 73/78, Annex 1 (Prevention of Pollution By Oil of the International Convention for the Prevention of Pollution from Ships).
How It Works
Step One – Documentation / Request for Disposal

Once we receive a signed written request for oily waste disposal from your company representative or vessel captain or chief engineer, our staff will coordinate and secure the necessary waste oil disposal permits from the Cebu Port Authority (CPA), the Philippine Coast Guard, Bureau of Customs, the Department of Environment & Natural Resources (DENR) and other agencies. To ensure the prompt release of the documents authorizing the hazardous waste & oily water disposal, we recommend a minimum of five (5) working days from date of requested date of servicing advance notice from the vessel.

Step Two – Marine Oily Waste Disposal At Cebu Port

Once the permits for the oily waste disposal are secured, our waste oil collection teams will be at the pier on the agreed date & time with our tanker lorry trucks. We will coordinate with your safety and technical crew members to ensure that procedures for proper waste oil collection is followed and the entire process is done in a speedy, efficient fashion.

Step Three – Documentation / Completion

Once the entire disposal service is completed, Cebu Megalube will issue documentation certifying that the vessel has disposed of its oily wastes. The said certification will also include: the volume of waste oil collected, the location/port of call where the disposal was conducted and other pertinent data as may be required.
Final Disposal Of Oily Waste and Oil Slop
The collected waste oil and slop will be brought to Cebu Megalube's DENR-certified Treatment, Storage and Disposal (TSD) plant located in Consolacion, Cebu for proper treatment.
The plant's facilities include but not limited to:
Storage tanks with large volume capacity
Oil-water separators
Treatment facilities for effluent water
Proprietary equipment and technology for oil recovery
Laboratory
Permits and Licenses
Cebu Megalube has the following updated permits and license to operate a Category D Hazardous Waste Treatment, Storage, and Disposal (TSD) facility and DENR-EMB certified waste transports:
Treatment, Storage, and Disposal (TSD) Certificate No. TR-R7-22-00092

Transporter Registration Certificate (TRC) Certificate No. TP-R7-00164

Environmental Compliance Certificate (ECC) No. ECC-RO7-0909-0052

Discharge Permit No. DP-15-B-072218-003-RENEWAL

Permit To Operate Certificate No. RENEWAL-14-B-072218-038
In addition, we are also accredited by the Philippine Coast Guard (PCG) as one of its Oil Waste Collectors with Certificate of Accreditation No. PCG-18-10-2-016 and authorized by Philippine Economic Zone Authority (PEZA) to operate in all economic zones located all over the country with Business Permit No. 180628076.
Contact Us
Cebu Megalube
Address: Corner Mina-Borces St., Mabolo, Cebu City
Phone: +63 (32) 268-3043 | 266-1268
Fax: +63 (32) 268-3043
E-mail: admin@cebumegalube.com
Find us on Google Maps
sponsored links
SIMILAR COMPANIES/PRODUCTS/SERVICES
Terms of Use/Privacy Policy Advertise Buy me coffee