Building Dreams Inc. is a specialized home designer and builder based in Quezon City, Philippines. We have been designing and building residential homes since 1992 and our vision is to provide our clients with a full suite of "end to end" home building services.
We aim to design and build homes of the highest quality and value knowing that the customer is the ultimate judge of our product.
Building Dreams Inc. started as a designer and builder of single-detached residential homes. Over the years, it has expanded it's scope of services that now includes the design and construction of townhouses and medium storey commercial buildings. We offer 'end to end' home building solutions from site selection, architectural design, detailed engineering, construction and interior works.
ARCHITECTURE
You choose and decide the style of your house. Our in-house architectural design and engineering team will ensure that you get a variety of design options and solutions that match your needs, lifestyle and budget. We use the latest computer imaging software program so that you will be able to visualize your future home from floor plans to 3-D rendered images.

ENGINEERING
Our engineers go through a detailed design process that will ensure the quality of your investment. The strict guidelines of the structural code and the latest computer technology is applied for structural analysis. In terms of structural framing for your home, reinforced concrete construction is our method of choice because the system is time-proven and cost-efficient.

CONSTRUCTION
To ensure the maximum quality of your home, we build a limited number of homes each year. We personally supervise the construction of your home and you deal directly with us. Our construction team is equipped with up-to-date equipment and power tools and they are regularly re-trained by our engineers so that your dream home will be built in the safest and most efficient way.
The Building Dreams Advantage
Having us build your home gives you these advantages:
COMPLETE ARCHITECTURAL DESIGN
We have a dedicated Team of Architects that designs your home.

CONSTRUCTION SUPERVISION
Our engineers personally supervise the construction of your home and you deal directly with us.

COMPLETE CONSTRUCTION TEAM SUPPORT
We are a complete construction company with highly trained professionals and skilled workers. We have specialists in all trades of construction, from steel works and glass, to granite and sash, to permit the unique and personalized design of our Architectural details. This also assures you of on time delivery of plant manufactured components.

MANUFACTURER'S SUPPORT
We buy construction materials directly and in bulk from manufacturers in order to avail of volume discounts. We get the best prices so that we can pass on the savings to you.

FINANCIAL ASSISTANCE THRU BANKS
Should you desire to finance your home through bank financing, we will assist you in preparing all the necessary documents and help you follow up on your application.

GUARANTEE OF WORKMANSHIP
We guarantee the quality of our work from structural integrity, electrical works, plumbing works, tile works and painting. Our engineers, architects, and construction crew follow the quality control guidelines in our in house Construction Manual.

REGULAR UPDATE ON WORK PROGRESS
We give you a regular progress report to update you of the construction activities at the site. The progress report includes pictures of activities and developments in the project.

1-YEAR WARRANTY
In your first year upon moving-in, we will repair any defects in your new home.
Services
THE BUILDING DREAMS TEAM
The Building Dreams Team is an integration of different groups of professionals with different expertise that contribute to the realization of your Dream Home. Close interaction and coordination with the different expertise of work come with a product that is structurally and aesthetically sound, practical, hassle free, and most importantly, something that you and your family will appreciate everyday for the rest of your life.
ARCHITECTURAL DESIGN
Designs from Mediterranean, Japanese, Asian, Modern Design and everything in between. All carefully planned with the efficient use of space and natural resources, customized according to your taste and lifestyle and designed to look good for a long time.

DETAILED ENGINEERING DESIGN
Strict structural design codes integrated with software technology and time-proven techniques utilized by Building Dreams Engineers to provide structural design that is both sound and cost effective. Structures that withstand the worst natural conditions, and at the same time economical, are what makes up the structural frame that holds and keeps your house standing steady, without the unnecessary burden and the additional cost of over design.

PROJECT MANAGEMENT
Building Dreams coordinates all aspects of construction. Building Dreams Project Managers execute construction management techniques to ensure the smooth integration of all plans, details, materials, decisions, and procedures. Project management is implemented through the duration of construction projects to keep costs within budget and quality up, which benefits the homeowner the most.

CONSTRUCTION SUPERVISION
Careful and exact implementation of the detailed plans, design standards, and efficient construction methods. All are keys to successful construction, all of which are handled by Building Dreams Project Engineers.

HOUSE CONSTRUCTION
Expert workers and effective management working for a common goal, Building Dreams constructs a house according to plan, schedule, and budget. Highly trained workers and Building Dreams Quality Control Engineers and Supervisors make sure of the highest quality output in workmanship and all materials are being installed into the construction project, while keeping costs within the targeted budget.

INTERIOR DESIGN
We do the mixing and matching of different materials and finishes to achieve the desired appearance of your home working within the given space and budget. From wall treatment to lighting fixtures to furniture to drapery and curtains, everything is planned and coordinated to produce comfortable, practical, and unique spaces for your house.

LANDSCAPE DESIGN
We ensure a beautiful and coordinated combination of gardening and architecture to produce a relaxing oasis pleasing to both the mind and body of whoever experiences the space. Expertise in horticulture, Zen design, pool and water feature systems, and landscape architecture are applied by Building Dreams Architects in different combinations to achieve the desired effect and aesthetics.

PERMIT PROCESSING
We provide hassle and worry-free processing of all required documents necessary for construction and occupancy of your residence. Well trained Building dreams Liaisons coordinate and process the permits and interact with the different government and subdivision offices to ensure the smooth and timely release of all documents from Building Permit to Occupancy Permits to subdivision and barangay clearances.

BANK FINANCING ASSISTANCE
Building Dreams helps in providing the documents needed for the processing of your bank loans. From acquiring your lot to financing the construction of your house, you are assisted every step of the way.
Technology
Quality beyond the naked eye. Every Building Dreams home is well-studied, planned, engineered, and designed from the smallest detail to the most delicate space and component, which makes each home unique and distinct. With the help of our professional team and advanced engineering technology, your home is fully-equipped with features that will make you have a place called home.
FOUNDATION ENGINEERING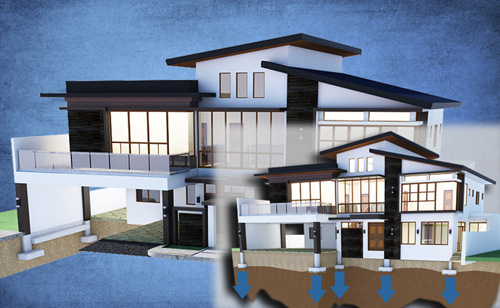 We assess and evaluate the soil condition of your property prior to construction and incorporate the findings in Foundation Design. This ensures that there is no guesswork in estimating the strength of the ground. Any observations during foundation excavation are verified with the foundation design parameters to ensure safe and sound foundation supports.
EARTHQUAKE RESISTANT DESIGN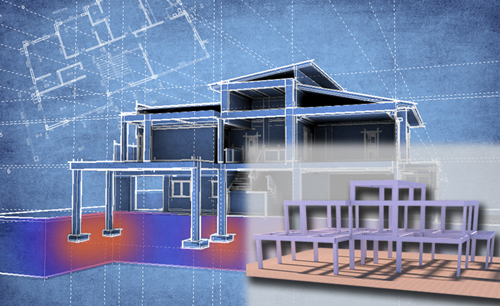 The Philippines is located along the Circum-Pacific Seismic Belt wherein most of the world's earthquakes occur every year. Your home is carefully designed for all seismic forces. We design your home according to the strict requirements of the National Structure Code of the Philippines.
TEMPERATURE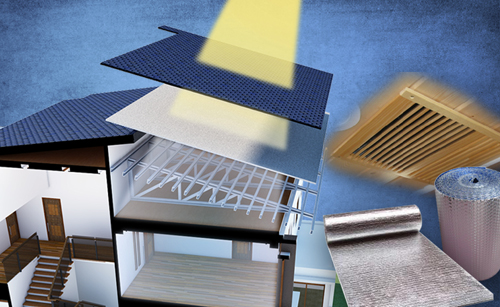 Our roof design solutions serve as an air cushion for absorbing heat gain from the sun and eventually moves the hot air out through the ceiling vents. In addition, the use of double-sided roofing insulation further limits the penetration of heat, keeping all rooms in a cool and stable temperature.
WIND AND NATURAL VENTILATION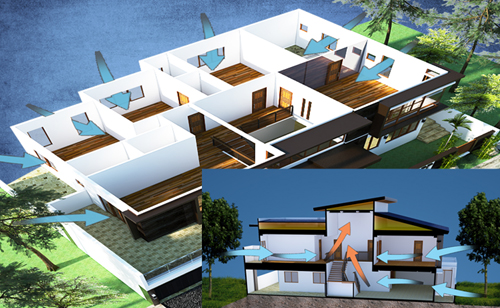 Your home is properly oriented towards the direction of the wind. Bedrooms have strategically located windows so that air circulates freely in and out of the rooms giving you a fresh supply of oxygen all the time. A floor to floor vertical distance of 3.5 meters allows hot air to rise giving you additional comfort during the summer season.
SOUND BARRIER AND NOISE CONTROL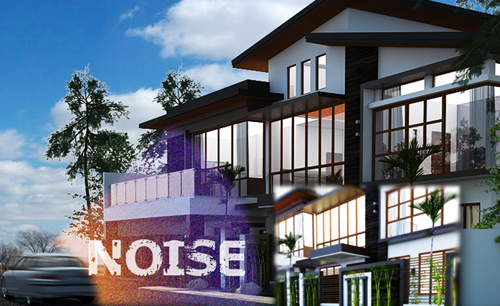 To reduce active noise from outside sources, your home is designed with carefully located walls as well as proper positioning of landscaping treatment. We have in house acoustics specialists to make sure sound stays where you want it in (or out) of your house.
LIGHTING AND NATURAL DAYLIGHT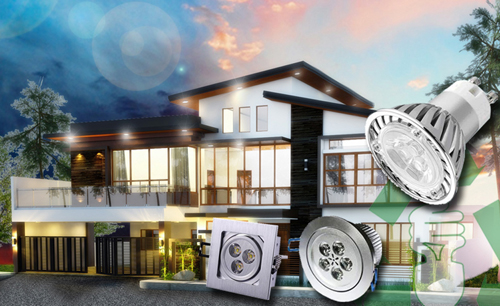 We use Energy Saving Lamps for all downlight requirements. Sunlight that is available for most of the day is a major consideration in the design your home's windows. Custom-built windows provide sufficient supply of natural light in all rooms. As such, you gain a regular dosage of important nutrients from the sun and savings in energy consumption.
ELECTRICAL SYSTEM AND EARTH GROUNDING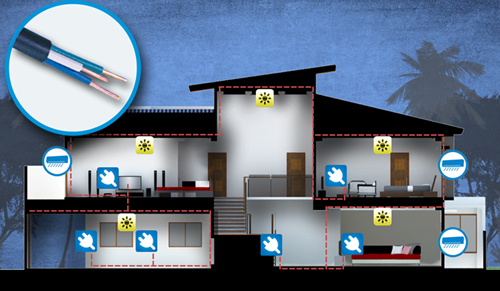 In order to protect your appliances and electronic equipment from excessive power surge from either lightning or from an electrical power distributor, each home comes equipped with a Soft Drawn Copper Conductor, which directs excess current to the ground.
FLEXIBILITY AND EXPANDABILITY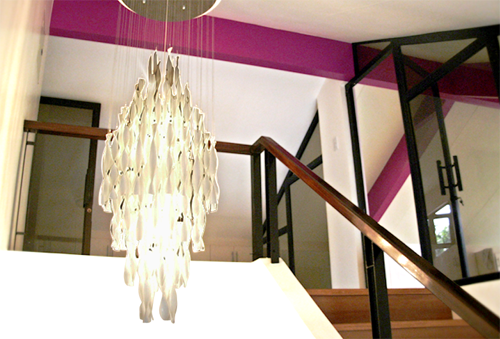 We offer unique design solutions for your space requirements. For expansion purposes, our roof area is easily convertible into an additional space for your growing family. Our structural loading analysis incorporates this in every home. Our truss fasteners and roof clips are made of the finest quality.
TERMITE PROOFING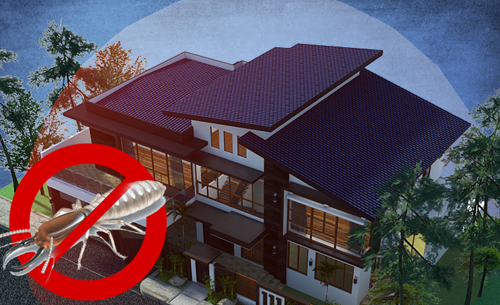 Natural and non-toxic solutions are used to eliminate termite colonies and prevent them from entering your home, even before construction begins. All wood components used in your home are pre-treated and re-applied with additional termite proofing solution to make sure no termites colonize your house.
SMART HOME ACCESSORIES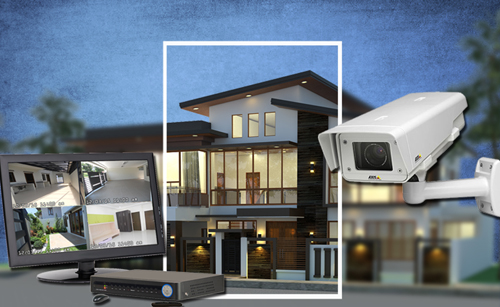 Your home is fully-featured with provisions for multi-point water heating system, split type air conditioning units, closed-circuit television (CCTV) cameras, high-quality private automatic branch exchange (PABX) telephone system, piped-in music and speakers, wireless local area network connection, as well as cable television, telephone outlets, automatic gates, generator set, and a continuous water supply system.
WASTE DISPOSAL SYSTEM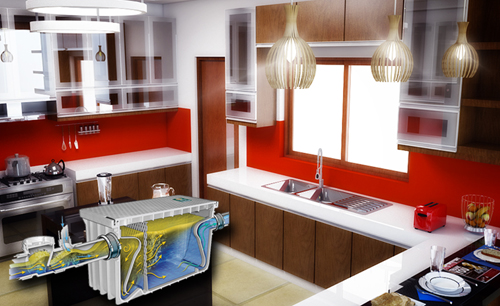 Your kitchen is equipped with a high-grade commercial grease trap often used in restaurants. Along with a standard septic tank, we have allocated a waste disposal area so that your home would always have a clean and sanitized environment.
Process
Let us help you build your dream home. All you have to do is sit back, relax and wait for your house to be completed. Let us do everything with these 8 easy steps:
SITE EVALUATION

Upon contacting us our Architects and Engineers, and other parties involved visit the site of your property to collect information and visualize the possibilities of positioning and constructing your home. All these information will be considered in the initial and final design of your home.

PLANNING MEETING

After we visit the site of your dream home, we will sit down together at our office and start with sketches of the possible layout of your home. This process usually takes a few hours and it is best that all family members are present. The items for discussion include important details such as total floor area, number of rooms, number of bathrooms, size of kitchen, number of cars in the garage, maid's quarters, attic, pool or any other special requirements.

CONTRACT

We then agree on the total project cost and we review the detailed specifications of your house. After the final scheme and sketch is completed, and before we finalize the detailed plans of your home, a down payment will be required. This amount would cover the cost of architectural planning and blueprints only. However, should you decide to let us construct your dream home, this amount is fully deductible from the construction contract.

ARCHITECTURE AND ENGINEERING DESIGN

Modern and economical design solutions tailored to your needs will be discussed. Items for this include important details such as wall and ceiling finishes, bathroom accessories and other equipment that you may want to be installed in your home.

Aside from aesthetics, an engineering, design and procurement process will be developed and implemented for your home requirements.

PERMIT PROCESSING

We then submit to the City Building Official all requirements for the approval of the Building Permit. After the building permit is released, we may now proceed with construction phase for your home.

CONSTRUCTION

We then start the construction of your dream home. Regular updates on construction activities are given to you so you will be aware of real time construction activities. The whole construction process is open to you for further inputs and appreciation of what goes into your home.

TURN OVER

Upon turn-over of your property, we will hand over to you the keys to your house.

AFTER SALES

Our partnership does not end after you move in into your new home. Aside from our one year warranty on materials and workmanship, you can always come back to us whenever you have other construction needs such as extension, renovation, repair, repainting, or any other construction work you may require. Should you ever have a need to expand your home for your growing family, we can always repeat the process all over again.
Gallery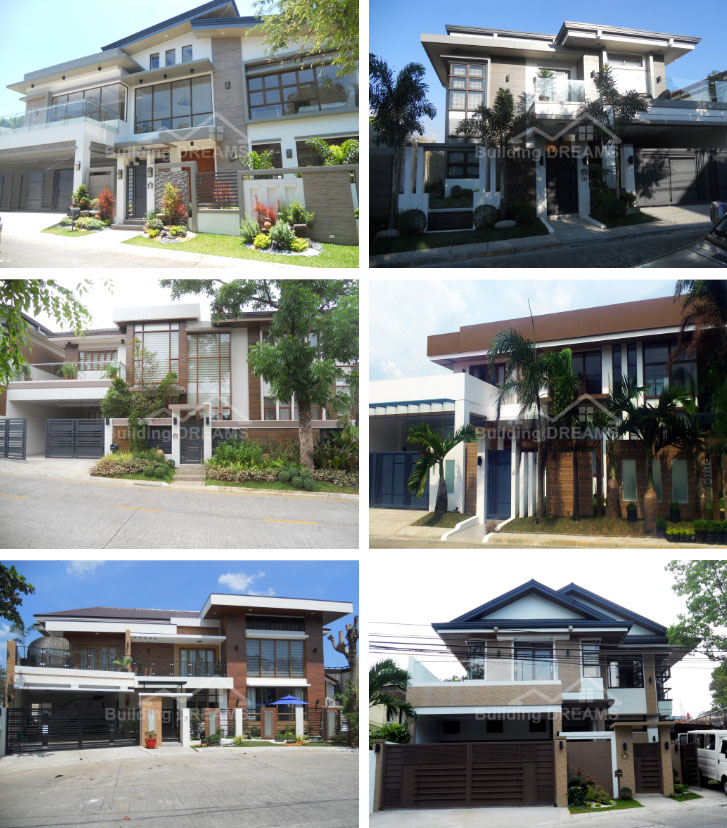 Contact Us
Building Dreams Inc.
Address: 12 Guijo St., Northview 2, Filinvest 2, Batasan Hills, Quezon City, Philippines
Phone: (02) 8952 0684 | (02) 8932 6989
Fax: (02) 8932 6986
E-mail: bdimarketingdept@gmail.com | buildingdreamsinc@gmail.com
Find us on Google Maps
sponsored links
SIMILAR COMPANIES/PRODUCTS/SERVICES
Terms of Use/Privacy Policy Advertise
Building Dreams Inc.