In August, 2004, Boustead Technologies Inc., (BTI) a Philippine Subsidiary of Boustead Salcon Pte Ltd. (a Singapore based Company), was registered in the Security and Exchange Commission and continued the business left by Salcon Philippines Inc. Salcon Philippines had been serving the water and wastewater treatment needs of a wide spectrum of industries in the Philippines since 1984 before the Salcon Group of Companies was acquired by Boustead Singapore Ltd in 2003. For about a year, Salcon Philippines ceased its operation in the Philippines, and made its re-entry thru Boustead Technologies Inc. in 2004.
With the restructuring of shareholdings of BTI in 2014, the company is re-named BT Enviro Projects, Inc. (BTE).
BTE continues to specialize in the design & build or turnkey construction of Water and Wastewater Treatment Plants and industrial projects, utilizing the most advanced proven technologies available in the global market today. Hence, our engineering capabilities revolve around "revitalizing" the world's water resources and eco-friendly projects.
BT Enviro Projects Inc. envisions to contribute and improve the Water and Environmental Engineering for the industrial, commercial, and infrastructure sectors in the Philippines in the following categories:
Municipal/Commercial Water and Wastewater Treatment
Industrial Water and Wastewater Treatment
Ultra Pure Water Purification
Water Recycling and Reuse
New Biogas Generation Technology for Powerplants
Solvent Extraction Technology
Palm Oil Mills, Machinery and Spare Parts Supply
Services
Industrial, Commercial, and Domestic Water Treatment
Filtration: Sand Filters, Multi-Media & Activated Carbon Filters, Automatic & Self Cleaning Filters
Ion Exchange: Softener, Dealkalizer, Demineralizer, Mixed Bed Polisher, Electro-deionization (EDI / CDI)
Disinfection: Chlorinator, UV Sterilizer, Ozonator
Membrane Filtration System
Microfiltration
Ultrafiltration
Nanofiltration
Reverse Osmosis
Ultra-Pure Water Systems
Microfiltration
Ultrafiltration
Nanofiltration
Reverse Osmosis c/w CDI or EDI
Demineralizer
Industrial & Domestic Wastewater Treatment
Biological Aerobic & Anaerobic Systems
Chemical Precipitation
Clarification
Microfiltration & Ultrafiltration
DAF System
AeroSal Modular STP Packages
Sequential Batch Reactor (SBR)
Membrane BioReactor (MBR)
Effluent Recycling & Reuse
Commercial Water & Wastewater Treatment
Water Treatment
Mechanical Screening
Chemical Precipitation & Clarification
Sand Filtration & Microfiltration
Post Chlorination
DAF Systems
Wastewater Treatment
Chemical Precipitation
Activated Sludge Treatment
Extended Aeration
RBC & SBR Technologies
Sludge Treatment
Water Recycling & Reuse
Some projects for reference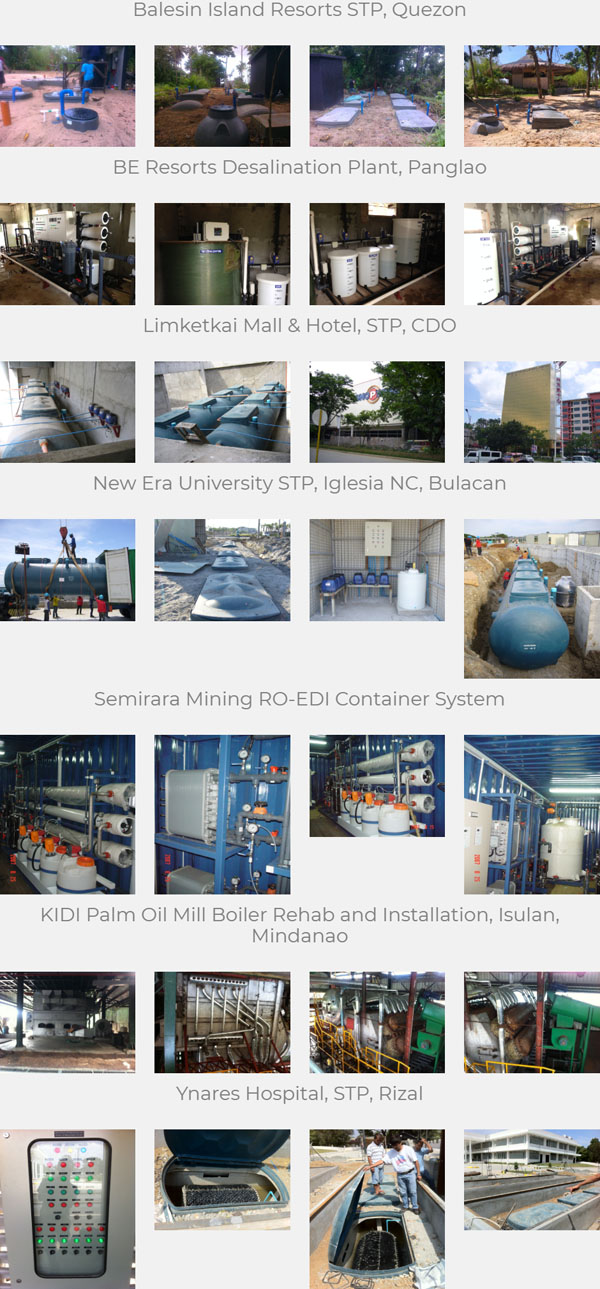 Contact Us
BT Enviro Projects, Inc.
Address: Unit 2406 Prestige Tower, F. Ortigas Jr. Road, Ortigas Center, Pasig City 1605
Phone: (632) 636 6346 to 47
Fax: (632) 621 5337
E-mail: enquiry@btenviro.com
Find us on Google Maps
sponsored links
SIMILAR COMPANIES/PRODUCTS/SERVICES
Terms of Use/Privacy Policy Advertise Buy me coffee
BT Enviro Projects, Inc.