BSI is a one-stop environmental management, monitoring, and consultancy service firm that provide a holistic and timely response to our client's environmental concerns and requirements.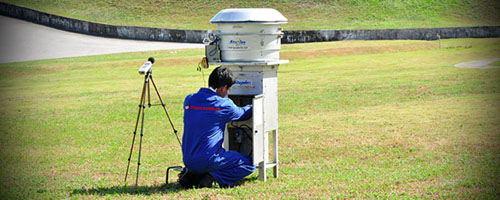 BSI takes pride in being awarded as one of the first source emission testing firms accredited by the Department of Environmental and Natural Resources-Environmental Management Bureau.
BSI complies with the following standards:
US Environmental Protection Agency (US-EPA)
Occupational Safety and Health Administration (OSHA)
American Society for Testing and Materials (ASTM)
National Emission Standards for Stationary Air Pollutants (NESSAP)
Department of Environmental and Natural Resources-Environmental Management Bureau (DENR-EMB)

Partners in Sustainable Development
BSI has not only helped various industries in environmental management and compliance but has also developed value-added partnership with the various sectors. Our partners and clients span the following sector:
Semiconductor and Electronics
Food and Beverage
Oil and Gas
Automotive
Land Development/Construction
Mining and Cement
Energy
Laboratory, Chemical, and Hospital
Consulting
Manufacturing
Commercial
Government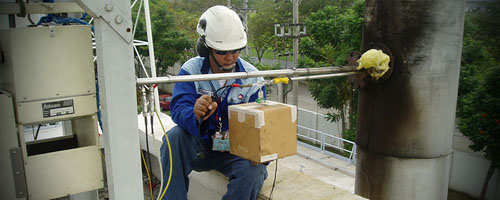 History
Berkman Systems, Inc. (BSI) was established in 2000 with the aim of becoming a leading environmental management and consultancy services company in Asia, serving government and various industrial sectors such as energy, semiconductors & electronics, cement plants, food processing, steel, textiles, petrochemical, and industrial estates among others. Over the years, we have formulated proactive and customized approaches to our clients' simple to complex environmental concerns providing them solutions and the needed technical capacity to meet the ever-changing demands of sustainable environmental management. With an ever-growing list of clients coupled with numerous environmental undertakings, BSI has evolved and continues to in order to be more responsive and cost-effective to its clients. BSI takes pride in being awarded as one of the first source emission testing firm accredited by the Department of Environment and Natural Resources - Environmental Management Bureau.
The core team of Berkman Systems, Inc. started in environmental consulting by organizing Environmental Primemovers of Asia, Inc. (EPAI) in 1989, which was then acquired by the well-known American firm Woodward-Clyde in 1994. In 1998, URS – the leading engineering and environmental firm in the world, acquired Woodward-Clyde Philippines. DARUMA Technologies, Inc. acquired the environmental management and monitoring practice of URS in 2000 and provided the team its new home with the establishment of Berkman Systems, Inc. Today, BSI offers the widest range of environmental management and monitoring services nationwide. We, at BSI, prides in our ability in providing the most relevant and cost-effective environmental solutions. One notable initiative is BSI's efforts early on is taking a lead role in waste minimization and utilization as an approach in meeting the goals of sustainable development, and this, among others, have helped us become well-rounded experts in all aspects of environmental management, from on-site plant inspection, to feasibility studies preparation and environmental monitoring execution. Today, BSI offers a one-stop service center for environmental management, environmental monitoring, environmental consulting and pollution control that provides a holistic and timely response to its client's environmental concerns and requirements. Another affirmation of our strength and expertise is that of BSI being the only local environmental monitoring firm capable of performing Dioxin and Furan testing and analysis in the country. All these services established our unbeatable track record in environmental management and monitoring service industry making us the environmental service provider of choice of several industries and corporations operating in the region. This is a strong endorsement of the company's proven dependability and technical professionalism.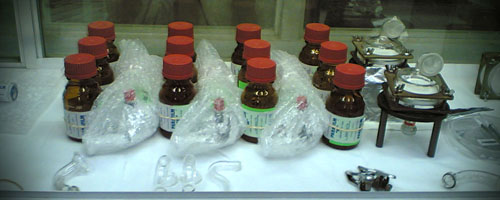 THE BSI DIFFERENCE
Multi-disciplined Professionals. We are the preferred environmental management service provider with over 120 highly experienced consultants, environmental specialists and technicians providing a sustained, focused approach in addressing our clients' different environmental and permitting requirements. Fully equipped to process multiple jobs and deliver results on time. Our fully calibrated environmental monitoring equipment ensures that our operations are reliable, efficient, and consistent with our client's desired schedules.
Hands-on Approach. It is our commitment to work hand in hand with our clients to ensure timely and successful completion of all environmental projects. We work closely with our clients, complementing their expertise with ours. In fact, this is the difference that has made BSI a by-word in the industry.
Strong Government Linkages and Partnerships. Given numerous projects we have undertaken with the government as well as the recruitment of some senior staffs, BSI has developed strong linkages and a proactive working relationship with the government. Our healthy relationship with the government keeps BSI abreast with the latest in government permitting and compliance processes and environmental laws and regulations. This translates to compliance and efficiency in the permitting process for our clients.
Synchronized with local and International Standards. BSI complies with USEPA, OSHA, ASTM, and DENR standards ensuring that our services are at par with local and international standards. In order to comply with the standards the following laws must be covered to abide by the rules and regulations set up by the government.

R.A. 8749 - otherwise known as the Phil Clean Air Act of 1999 for DAO 2000-81
RA 9275 - Philippine Clean Water Act of 2004
RA 9003 – Ecological Solid Waste Management Act of 2000
RA 6969 – Toxic Substances and Hazardous & Nuclear Wastes Control Act of 1990
PD 1586 – Establishing an EIS System including other environmental management related measures and for other purposes.
Services
Wastewater and Sewerage Treatment Facilities

Berkman offers a broad range of wastewater treatment systems to client's specific wastewater requirements. Our team commits to deliver the most appropriate wastewater treatment facilities to address waste pollution issues and meet the effluent quality guidelines both at low cost and with minimal operational and maintenance requirement.
Berkman adopts a flexible strategy to intensify partnerships with technology providers, operating companies, and engineering consultants. The Berkman Team provides total wastewater engineering and design services for project execution.
Design, Installation and Commissioning
Survey and Audit of Wastewater Treatment Efficiency
Operation, Maintenance and Monitoring
Upgrade & Rehabilitation of existing Wastewater Treatment Facilities (WTFs)
Air Pollution Control Facility

Berkman has devoted to provide complete air solutions to our clients. Driven by our clients' regulatory compliances and by our commitment to support pollution control, BSI has developed design and installation of Air Pollution Control Facilities (APCF).
An APCF is any structure or installation that facilitates air pollution control and promotes cleaner source emissions. Berkman offers solutions to air pollution control problems associated with particulars, fumes, mist, VOCs, and other gaseous pollutants. We have forged international partnerships with the most reliable and trustworthy turnkey solution provider in Asia to supply scrubber systems, dust collectors, selective catalytic reactors, DeNox and De SOx systems and other cutom-made gas treatment systems.
Design, Installation & Commissioning of Air Pollution Control Facilities (APCF)
Operation, Maintenance and Monitoring
Environmental Management Services
With the diversity and depth of Berkman's environmental scope of services, Berkman is your one-stop shop for environmental services. Under our Environmental Management Program, we provide our clients up to 24/7 office-enabled environmental services, including regulatory compliance and liaison to allow business clients to focus on their core operations, Our services encompass the entire environmental service spectrum from planning to management, to implementation, to monitoring, and to permitting. We also anchor our services on the provision of an information management system to enhance efficiency in our service and the client's operations.
Our technical and regulatory staff are also trained and experienced to handle all types of health, safety and environmental concerns of a firm and can quickly respond to emergency requirements. With Berkman, our clients have efficient access to a whole range of environmental services anytime.
Overall Management of Environmental Issues and Concerns
Assistance to PCOs in matters of Environmental Regulatory Compliance
Applications and Renewals of Environmental Permits (Permit to Operate, Discharge Permits, Hazardous Waste Generator's ID, Chemical Control Order)
Self-Monitoring Reports (SMR) Preparation
Representation with DENR/LLDA technical conferences and meetings
Attendance to company environmental-related meetings
Environmental Monitoring

Berkman has built a legacy in the provision of environmental monitoring services. Our profound understanding of the regulatory requirements and standards has allowed Berkman to provide our clients with environmental monitoring services that that help our clients understand better than efficiency of their operations to better comply with the legal requirements and standards.
Working with Berkman is a partnership in regulatory compliance and business growth. Understanding our clients' value of time, Berkman has multiple and complete sets of environmental monitoring equipment to fully meet our clients' desired schedules and deliver the results on the time needed
Air Quality Monitoring

Stack Emission Sampling
Ambient Air Quality Monitoring
Relative Accuracy Test Audit (RATA)
Continuous Opacity Monitoring System Audit (COMS)

Water Quality Monitoring

Wastewater
Groundwater
Deep well water
Potable water
Surface water
Marine water

Noise Level Measurement
Workplace Environment Measurement (WEM)

Temperature/Pressure/Relative Humidity
Illumination
Ventilation
Concentration of chemical substances (particulates and gaseous)
Dust

Soil Monitoring and Analysis
Environmental Impact Assessment (EIA) Studies
Conduct of EIA studies and preparation of the following reports:

Initial Environmental Examination (IEE)
Environmental Impact Statement (EIS)
Environmental Performance Report & Management Plan (EPRMP)
Programmatic EPRMP (PEPRMP)
Programmatic IEE
EPRMP and/or IEE Checklist(s)

Assistance in the application for & facilitation of the processing of Environmental Compliance Certificate (ECC)
Environmental Studies & Consulting

Whether the need is for a special environmental study that requires modeling, impact assessment, technology development, or a resource inventory, or for an advisory or trouble shooting services, or for a training module to build client capacity, Berkman's consulting staff makes sure that the client drives sustainable value from the services given or from the studies performed.
Marine Studies
Water Modeling
Noise Modeling
Air Dispersion Modeling
Oceanographic Studies
Aquatic Biota Monitoring
Waste Minimization Studies
Environmental Health and Risk Assessment
Pollution Management Appraisals
Waste Amount & Characterization Studies
Hydrological Studies
Bathymetrical Studies
Farmland and Fishpond Productivity
Environmental Due Diligence
Abandonment Plan / Decommissioning Plan
Geotechnical Services
Other Special Studies
Environmental Site Assessment

Phase I Environmental Site Assessment
Phase II Environmental Site Assessment
Groundwater Quality Monitoring
Soil Contamination Monitoring
Contact Us
Berkman Systems, Inc.
Address: Suite 207-209 VAG Building, Ortigas Ave., Greenhills, San Juan City, Metro Manila, Philippines 1502
Phone: (632) 863-6129
Fax: (632) 727-9831
E-mail: info@bsienv.com
Find us on Google Maps
sponsored links
SIMILAR COMPANIES/PRODUCTS/SERVICES
Terms of Use/Privacy Policy Advertise Buy me coffee
Berkman Systems, Inc.