We are one of the leading pest management companies in the Philippines
With over 25 years of experience in urban pest management, Bio-Tech Environmental Services Phils., Inc. has been providing Quality Termite and General pest control services to:
Private residences
Restaurants
Food Manufacturing and processing plants
Office Buildings
Hotels
Malls
and Other Commercial establishment in Greater Manila Area and other key cities in the country
We are your solution provider
We are engaged in providing services for the control of pests such as cockroaches, mosquitoes, flies, ants, bed bugs, stored-product insects, rodents and other pests of public health and commercial importance.
We also provide services to protect homes, buildings and other structures against subterranean termites using the traditional method and the revolutionary Sentricon® Termite Colony Elimination System – a baiting system proven to eliminate colony of subterranean termite species, the "greener" way.
Our programs are aligned with the principles of the Integrated Pest Management (IPM) Through IPM, we can achieve long-term control of pests.
We are your pest management professional
A team of Pest Management Professionals with years of solid and extensive experience in the industry manage Bio-Tech's operation. We are composed of highly competent individuals ready to serve and deliver services with utmost commitment to quality, integrity and support.
Furthermore, we adopt and use the latest technologies, equipment, application techniques, and environment-friendly products, giving our clients the convenience of modern pest control methodologies.
We are ISO 14001:2015 (Environmental Management System) Certified
A first in the Philippine pest control industry. Bio-Tech recognizes its role in environmental stewardship in the industry by establishing systems that would further improve its environmental, social and competitive stance.
We are the "Defender of the Modern Lifestyle"
Urbanization is the trend in today's globalized world. Wherever humans exist, pests exist. Thus, pests have become an integral part of urban living.
As the "Defender of the Modern Lifestyle", Bio-Tech is committed to safety and protection of our clients and the environment. With the P.E.S.T (Prevention. Exclusion. Sanitation. Treatment) Approach and our partnership and cooperation, we can achieve safe and effective solution to pest problems.
Our History
Bio-Tech Environmental Services Philippines, Inc. was started in 1993 by Mr. James P. Rynne, a British National who was operating his pest control business based in Hongkong. Mr. Hector Binwek, a Filipino joined the company as operations manager on that same year.
Since 1993, Bio-Tech has been providing services for the control of public health pests such as cockroaches, rodents, mosquitoes, flies, ants and other pests and became known in the hotel industry in Metro Manila for its quality services. It later offered its services to restaurants, commercial and industrial establishments, and even to residential clients.
As a Professional Pest Control Service Provider, Bio-Tech is committed to make pest control more environment-friendly. This is consistent with the vision of its founders to do no harm to the environment while providing excellent pest control services with focus on gaining and maintaining customer trust.
In 1999, Bio-Tech ventured into termite control services with the introduction of the revolutionary Sentricon Termite Colony Elimination System to the Philippines by the US-based leader Dow AgroScience. Sentricon offered an effective "green solution" to termite problems, which went well with the company's vision of keeping the environment unharmed. The company also provides fumigation services for the control of stored product pests.
Bio-Tech is proud that it has grown over the years and has expanded its operation to the south with its branch in Cebu City. Its main office is strategically located in Kapitolyo, Pasig City to cater to clients in Metro Manila and surrounding provinces.
Integrated Pest Management (IPM)
Our programs and services are more than just pesticide application.
We believe that modern pest management approach must be based on scientific principles, environmental sensitivity, sound and holistic decision, and good judgement. In other words, an Integrated Pest Management (IPM) strategy is seen as the most effective, safest, and systematic way in managing pests.
IPM considers all available control tactics (cultural, physical, biological, chemical), but utilizes the most appropriate for the situation. It integrates economic, ecological, safety and other concerns in deciding and customizing programs depending on the customer's needs.
More importantly, this will not only address current pest problem but it also anticipates and prevent future problems by continuous inspection, monitoring, and follow-up.
Bio-Tech Environmental uses its own version of IPM known as the P.E.S.T. approach in all its services and programs: (P)revention, (E)xclusion, (S)anitation, (T)reatment.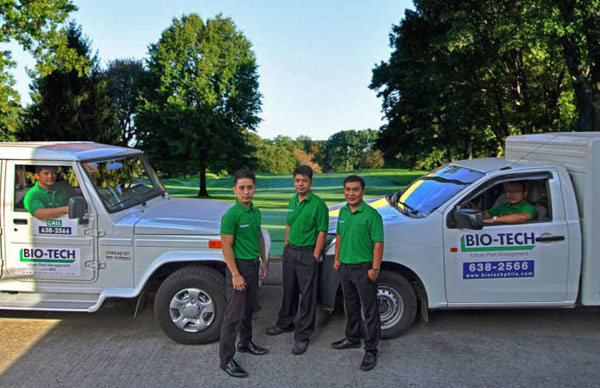 It's Good to Check!
We only use pesticides registered with Food and Drug Administration (FDA).
Most of these insecticides are green-labelled and belong to Toxicity Category IV Pesticides (based on U.S. EPA classification), meaning these chemicals are relatively less toxic to humans and non-persistent in the environment.
We use the latest techniques, equipment and machineries in applying chemical treatments.
Our Pest Management Technicians are well-equipped with knowledge in basic biology and control of major urban pests.
We follow strict safety measures and proper pesticide handling in every operation.


Services
GENERAL PEST CONTROL against
Cockroaches (American, German, Oriental, Brown-banded)
Mosquitoes (Aedes, Anopheles, Culex)
True flies (house fly, flesh fly, blow fly, drain fly, phorid fly, vinegar fly, gnats and midges)
Rodents (rats and mice)
Bedbugs
Miscellaneous pests (ants, fleas, ticks, millipedes, centipede, etc.)
WE GO THE EXTRA MILE
We believe that education and awareness is the most essential tool in any pest management program. As your partner, Bio-Tech Environmental offers PEST AWARENESS SEMINAR as per request of the clients. Through this, we can achieve a common understanding towards our goal in pest management.
Moreover, the PEST DIAGNOSTIC LABORATORY, provides entomological identification service and gives advice to clients on how to control a particular pest.
COMPREHENSIVE TERMITE CONTROL against
Philippine milk termite (Coptotermes gestroi)
Mound-building termite (Macrotermes gilvus)
Los Baños Termite (Microcerotermes losbañosensis)
Luzon Point Headed Termite (Nasutitermes luzonicus)
FUMIGATION SERVICES for stored-product pests
ECO2FUME® fumigant gas is a non-flammable pre-mixed cylinderized mixture of phosphine and carbon dioxide, which provides highly effective fumigation in both sealed and unsealed storage facilities to control a variety of stored product pests. This breakthrough fumigation management system is available to professional applicators who seek an environmentally friendly alternative that is easy to use with improved worker safety.
Contact Us
Bio-Tech Environmental Services Philippines, Inc.
Address: 10 Sta. Fe St., Bo. Kapitolyo, Pasig City
Phone: +632 638 2566 | +632 638 3350
Fax: +632 633 6088
E-mail: inquiry@biotechphils.com
Find us on Google Maps
Cebu Branch
Address: M.L. Quezon National Highway, Poblacion, Brgy. Pajo, Lapu-lapu City
Phone: +6332 236 9323
TeleFax: +6332 238 3051
sponsored links
SIMILAR COMPANIES/PRODUCTS/SERVICES
Terms of Use/Privacy Policy Advertise Buy me coffee
Bio-Tech Environmental Services Philippines, Inc.