Pioneer in Scientific Glass Manufacturing in the Philippines
Established in 1973, B.E. Scientific Glass Instruments (BESGI) is the pioneer in scientific glass manufacturing in the Philippines.
Chief Glassblower and Founder Carlito Montenegro trained under a French glassblowing expert in the 1960's at the National Institute of Science and Technology (NIST) under a UNESCO scholarship grant. Since the 1970's, BESGI has been providing scientific glass products to various Philippine industries and medical and educational institutions.
It is our aim to become a world-class provider of scientific products to aid education and scientific research and development in the Philippines.
Having been serving the Philippine market for over 30 years now, we continually strive for total customer satisfaction through friendly and excellent service while maintaining product excellence and competitive pricing.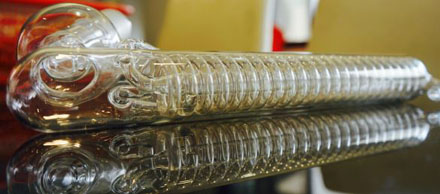 Products
WATER STILLS
There are 2 BESTILL models - BESTILL 1941 and BESTILL 1942. Both have 4SD (Single distillation with an output of 4L/hour) with two 1.5kw Silica heaters /unit that provide good quality distilled water which is ideal, efficient and economical for use in general laboratories.
FEATURES:

Efficient Coil Condenser
Boiler with two 1.5kw Silica heaters
Automatic float switch for low water pressure, mounted on stills
Master Constant Level Device mounted on Stills case
Heaters are protected by high temperature cut-off
Solenoid valve for water supply to distilling unit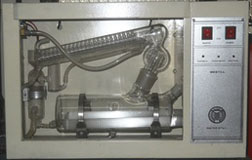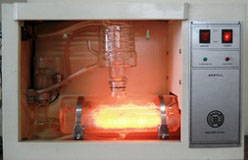 SCIENTIFIC GLASSWARE
All products are made of borosilicate glass.
CUSTOM GLASSWARE
Our experienced glassblowers can fabricate borosilicate glassware per customer requirement.
Services
Fabrication of Custom-Made Scientific Glass Apparatus
We use first-rate borosilicate glass tubing to provide the Philippine market with locally manufactured scientific glass apparatus at a fraction of the cost of established brands.
Our experienced glassblowers fabricate scientific glass equipment based on specifications ranging from small to large, simple to complex.
Repair of Scientific Glass Products
Scientific glass products are costly and any means to maximize its usage is always sought by end-users. Based on the extent and nature of damage, broken glass apparatus are assessed for the possibility of repair.
Laboratory Supplies and Scientific Glass Products from Foreign Brands
We offer a range of laboratory and scientific glass products from Pyrex, VWR, Fisher, Cole Parmer, Arthur Thomas for your specific needs.
Set-up of New Laboratories
We assist in designing, furnishing and setting up new laboratories.
Major Clients
San Miguel Corporation
Dasmarinas Water District
University of the Philippines
De La Salle University
Universal Robina Corporation
Philippine Nuclear Research Institute
Department of Agriculture
G.E. Water
International Rice Research Institute
Holcim Philippines
D & L Industries
Bicol University
Mariano Marcos State University
Central Azucarera de Tarlac
Ateneo de Manila University
Chevron Geothermal Philippine Holdings
Philippine Foremost Milling Corporation
Ostrea Mineral Laboratory
SCC Innovasia
Contact Us
B.E. Scientific Glass Instruments
Address: Stall #2 Bldg. 1 Albarracin Hall, Kamagong Centennial Dormitory, UP Diliman, Quezon City, Metro Manila, Philippines
Phone: (02) 697-4761
E-mail: be_sgi@yahoo.com
Find us on Google Maps
sponsored links
SIMILAR COMPANIES/PRODUCTS/SERVICES
Terms of Use/Privacy Policy Advertise Buy me coffee
B.E. Scientific Glass Instruments