Asian Security & Investigation Agency, Inc. is engaged in security services capable to provide the security and protection needs of your Company. With the continued security operations of Asian Security & Investigation Agency, Inc. within 33 years of expertise, it had gained much knowledge and experience in the security business by continuously providing quality security services to its numerous and valued clients.
Asian Security & Investigation Agency, Inc. provides security services for banks, commercial establishments and buildings, transmission & communications, industrial plants, food manufacturing, constructions, perimeter areas, etc. It conducts physical security survey, personal security investigation, security education program, and security escort services for your Company.

Membership
Philippine Association of Detective and Protective Agency Operators, Inc. (PADPAO)
Philippine Society for Industrial Security (PSIS)
Some of our clients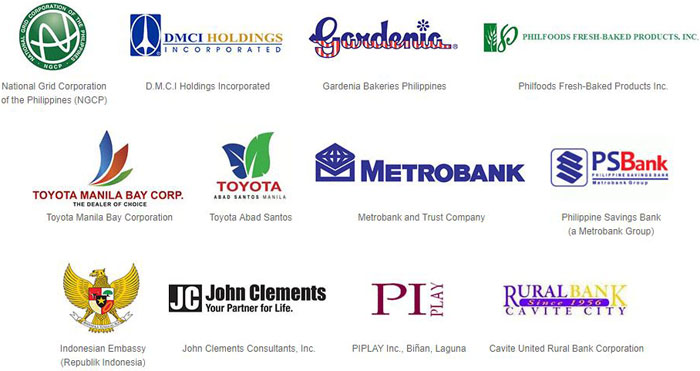 About Us
Asian Security & Investigation Agency, Inc. was registered with the Securities and Exchange Commission on June 25, 1968. On July 16, 1981, it began operating with the present management under the Antonio L Cabangon Group of Companies (ALCGC) owned by Ambassador Antonio L. Cabangon-Chua. Like any other corporation, ASIAN was faced with problems peculiar to its operations which management solved by bringing in personnel of integrity, experience and competence to run the business in order to satisfy the clients' needs for reliable way since it started operations in 1981, starting with only 65 security guards and three (3) clients. Today, it has over 400 security personnel in its roster and provides institutional clients from Metro Manila and some provinces in northern and southern part of Luzon and also in Visayas. From 1983 to 1985, ASIAN was adjudged "Most Outstanding Security Agency" and in 1990, it was the recipient of the "Most Outstanding Award for Investigative Work" by the Consumers Union of the Philippines (CUP). In 1993, 1994 and 1996, it received the "Most Outstanding Security & Reliable Agency Award" in 1999 & 2003 it was awarded the "Hall of Fame Award for Outstanding Security & Reliable Agency" also by CUP.
The Agency conforms strictly to the laws and regulations set by the government to regulate the security services industry. In particular, it is guided by Republic Act No. 5487, otherwise known as "The Private Security Agency Law". P.D. 1919 and the corresponding implementing rules and regulations of the Philippine National Police or PNP, the government entity tasked to supervise and monitor the activities of all security agencies in the Philippines. The Agency adheres to the New Labor Code of the Philippines and the implementing rules of the Department of Labor & Employment (DOLE) in its relationship with its security personnel. All its guards are duly licensed by the PNP and are carefully selected and trained before they are posted and once posted, they are closely monitored, inspected and supervised.

Services
BASIC SERVICE
INSTALLATION SECURITY
The deployment of highly trained and well equipped guardsmen and security personnel to provide security and protection to person and property from harm, loss or destruction.
EXECUTIVE PROTECTION
Designed for businessmen, professionals and corporate executives whose lives and property are threatened offering 24-hour protection to the subject at home, in transit at work and at pleasure.
The executive protection team has been trained in close quarter combat, marksmanship, and defensive driving as well as site and vehicle security.
FAMILY PROTECTION SERVICES
The deployment of protection officers in and around your home, workplaces, during the conduct of public or private functions or when traveling.
PUBLIC SAFETY
For conventions, concerts and other public events and exhibits where crowd control function are deemed to be essential.
SECURITY CONSULTANCY
Conduct of security risk assessment and expert advise.
SPECIALIZED SERVICE
Beyond the mere deployment of security personnel as deterrent to crime, Asian Security Services likewise provides the following ancillary security and protection services to its clientele:
PHYSICAL SECURITY SURVEY
An investigative study on a person, residence, office or installation in order to determine the appropriate security measure that will effectively deter any possible crime against person or property.
PERSONNEL SECURITY INVESTIGATION
An investigative study on the background of a person for purposes of determining said person's security or risk quotient and perceived level of trustworthiness.
SECURITY EDUCATION PROGRAM
A program continuing education for individuals, families and employees that will provide updates on new security regulations, criminal trends and modus operandi.
SECURITY ESCORT SERVICES
The provision of security escorts to clients, including but not limited to business and political luminaries, high net worth individuals, company executives including their spouses and children for purposes of deterrence and protection.
INTELLIGENCE OPERATIONS
The conduct of surveillance activities or undercover operations for purposes of gathering pertinent information relevant or of compelling interest to the client.
Asian Security & Investigation Agency, Inc. has under its employ, licensed and experienced security personnel who have been specially trained to respond to a wide range of emergencies, including among others, fire and disaster control, vehicle and visitor/crowd control as well as the monitoring of company assets and inventories.
The security agency maintains close rapport and coordination with vital security and law enforcement agencies and instrumentalities of the government which includes the National Bureau of Investigation, the Criminal Investigation and the Group of the Philippine National Police, the NAKTAF and the Intelligence Services of the Armed Forces of the Philippines.
FREIGHT SECURITY
The provision of security escort services during the transport of merchandise, currency or other valuables either through:
Security escort during transhipment
Ancillary security for company / personal couriers
INDIVIDUAL SECURITY TRAINING
In addition to the traditional services being offered by Asian Security & Investigation Agency, Inc. as a private security agency, the company has on its roll a pool of competent professionals that provides the following security and protection training programs to the general public:
FIREARM TRAINING COURSE
Provide individuals with the basic gun safety and firearm handling skills ranging from fundamental, intermediate and tactical.
FAMILY PROTECTION AND DEFENSE
The course offers individuals with the skills necessary for home and self defense including firearm proficiency and marksmanship training.

Contact Us
Asian Security & Investigation Agency, Inc.
Address: 2nd Floor, Health Protect Building, Chino Roces cor. Dela Rosa St., Makati City
Phone: (02) 817-5065 | 817-4969 | (02) 817-5062
E-mail: info@asiansecurity.com
Find us on Google Maps
sponsored links
back to business directory home page
Asian Security & Investigation Agency, Inc.