We are an employee-owned, academe-linked engineering consulting company. We currently have nineteen (19) shareholders, eleven (11) of which have involvement as Professors or Senior Lecturers with the UP Institute of Civil Engineering and the UP National Engineering Center. As of December 2017, eight (8) Principals have doctorate degrees, and seven (7) have graduate degrees.
The synergy of advanced academic training and professional industry experience has enabled us to undertake almost eight hundred (800) projects, in the past 5 years alone, of various scales across a wide range of civil engineering disciplines, including Technical Due Diligence (TDD) studies, traditional services such as building systems design, civil works/land development design and construction management, and specialized services such as modeling and assessment work for coastal environments and slopes. These projects have also brought key and support staff to many locations within the Philippine archipelago.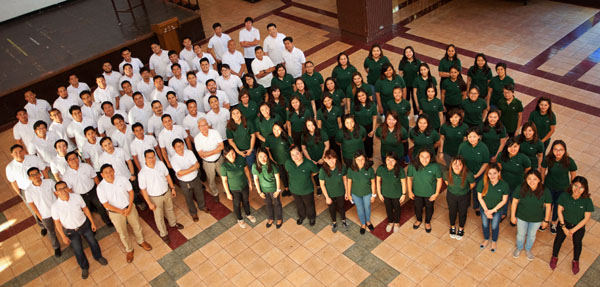 ISO 9001:2015 Certification and Quality Policy
AMH earned its ISO 9001:2008 Certificate in 2014, and continues to be assessed and audited by Société Générale de Surveillance (SGS) since then. The certificate was upgraded to ISO 9001:2015 in 2017, which means that all areas of AMH's business processes, Core, Support, and Mandatory, have adopted the risk based thinking approach to its existing Quality Management System.
Its quality policy states that: "AMH is an academe-linked engineering consultancy firm. We shall provide clients with the most responsive engineering solutions by adhering to statutory and regulatory requirements; and by continuously improving our people, systems, and structure."
Services
Geotechnical Engineering and Geohazard Assessment

The Geotechnical Engineering Group takes care of slope stability analysis, detailed slope protection designs, and geotechnical investigations. Our work involves analysis of soil liquefaction and settlement, and an idealization of soil profile which is necessary in defining the geotechnical parameters as input to a variety of engineering design calculations. We also provide geotechnical services during the Technical Due Diligence stage of the project, which is the feasibility assessment prior to the acquisition of a property for future developments.
Our team also provides a comprehensive engineering geological and geohazard assessment to assess possible risks in the project site. The site evaluation results shall serve as input in defining the safest and most cost efficient mitigation measure to be applied on-site. We also provide excavation protection designs prior to the construction stage of a structure. Moreover, we make use of recent technologies to perform geo-resistivity surveys to investigate physical characteristics of the subsurface earth layers using vertical electrical soundings.
Services:
geotechnical engineering
geologic and geohazard assessment
seismic hazard assessment
Structural Engineering

The Structural Engineering Group focuses on the full analysis and design of high-rise and low-rise buildings, bridges, piers, and underground structures. In doing our work, we utilize design codes and standards that are acknowledged locally and internationally to ensure safe, economical, and high quality of structures. We also conduct peer review of structures with partner companies to guarantee that all designs are in conformance with the National Structural Code of the Philippines. Furthermore, we provide review services for international clients with Philippine-based projects to ensure that their designs are compliant with Philippine codes and standards. Our group specializes in the structural analysis and design of prominent gas stations in the country, liquid retaining structures, condominiums, amenity core facilities, and bridges, among others.
Services:
structural assessment

vertical structures
horizontal structures
liquid-containing structures
design of retrofitting

structural design review
Civil Works

The Civil Works group focuses on land development projects that deals on detailed engineering design of various horizontal structures and community amenity core including the works like subdivision, commercial, and industrial sites. Our group of engineers are well experienced to undertake planning, analysis and design such as, site grading & earthworks, roads & bridges, water distribution, sewage collection, storm drainage, and power distribution systems.
Moreover, we support our clients on their future development projects by means of Technical Due Diligence (TDD). Our group of engineers conduct a comprehensive survey to provide our clients an overview of the existing site condition and availability of different site utilities and infrastructure.
Services:
detailed civil and structural design
architectural and engineering design
site development planning
Water, Environmental, and Coastal Engineering

The Water sub-group focuses on the hydrology and flood hazard assessment, which is used as input to ensure developments are not inundated by adjacent rivers. For built-up areas, we also analyze and design underground drainage networks to ensure rainwater is effectively collected and conveyed away from the surface of the development to avoid localized ponding, while minimizing the development's effects on downstream properties via the use of detention ponds. Collaborating with the Civil Works Group, we also conduct the analysis and design of potable water distribution networks.
Our Environmental sub-group focuses on the environmental analyses and designs of projects. This includes the design of an sewage treatment facilities to meet the DENR effluent requirements, analysis of groundwater contaminant transport, third-party review of Environmental Impact Assessments (EIA's), and conducting rapid environmental assessments of sites.
The Coastal sub-group focuses on the analyses and design of coastal structures and developments. As input to the in-land planning of coastal developments we can provide storm surge and tsunami incursion maps based on historical data. We can also recommend the most viable horizontal location of an unloading pier, along with the required vertical elevation to ensure the structural members are not impinged on by extreme waves during typhoons. Together with the Structural group, we can provide a full analysis and design team for coastal structures. We can also analyze the effects of reclamation on the wave climate and circulation of the area; and, coupled with the Water sub-group, can determine the effects of the reclamation site on the flooding hazards of upstream areas.
Services:
hydrology and hydraulics
coastal engineering study
Environmental Impact Assessment (EIA) / Environmental Impact Statement (EIS) third party reviews
Other Services
AMH provides a variety of other consultancy and design services that involve surveying, architectural, plumbing, mechanical, electrical, electromechanical, and construction management. It is our end-goal to provide complete expert technical services to our valued clients as part of our commitment. Our licensed geodetic engineers are trained to provide quality surveying services and release topographic maps and relocation surveys. We have a pool of architects who specialize in layout and design of structures and master plumbers who provide assistance in plumbing design and schematics. Our Project Management Professionals take over management services of various constructions such as those involving school buildings and coal-fired power plant employee housing facilities. We also tie-up with sub-consultants to provide expert mechanical, electrical, and electromechanical analyses and designs.
Some of our projects
Engineering Geologic and Geohazard Assessment for Solenad 4
Scope: Geologic and Geohazard Assessment
Client: Makati Development Corporation
Location: Sta. Rosa, Laguna
Geotechnical Assessment for the Cavite-Laguna Expressway
Scope: Geotechnical Assessment
Client: DCCD Engineering Corporation
Location: Cavite-Laguna Expressway (Cavite Section)
Geotechnical Assessment of Putatan Water Treatment Plant Phase 2
Scope: Geotechnical Assessment
Client: Frey-Fil Corporation
Location: Putatan, Muntinlupa
Seismic Hazard Assessment for the SEPCC Mariveles Power Plant 2
Scope: Seismic Hazard Assessment
Client: Shanghai Electric Power Construction Co. Ltd.
Location: Mariveles, Bataan
Review of the PMC Tailing Storage and Coffer Dam Facilities
Scope: Geotechnical Engineering, Hydrology, and Hydraulics
Client: Philsaga Mining Corporation
Location: Agusan del Sur
Feasibility Study for the Davao City Coastline and Port Development Project
Scope: Geotechnical Assessment, Hydrologic Study, Coastal Engineering
Client: Mega Harbour Port and Development, Inc.
Location: Davao City
Flood Study and Geotechnical Assessment for the Proposed MRT-7
Scope: Hydrologic Study and Geotechnical Assessment
Client: EEI Corporation / Geotechnics Philippines, Inc.
Location: Quezon City to San Jose del Monte, Bulacan
Rizal Province Water Supply Improvement Project
Scope: Structural Analysis
Client: Sta. Clara International Corporation
Location: Cardona, Rizal
Construction Management of Masinloc Employee Housing Facilities
Scope: Construction Management
Client: AES Philippines
Location: Masinloc, Zambales
Siana Gold Tailings Storage System Project
Scope: Geotechnical Engineering, Hydrology, and Hydraulics
Client: Knight Piesold Pty Ltd.
Location: Brgy. Tubod, Surigao del Norte
Site Development of San Francisco Heights and San Francisco Place
Scope: Site Development Detailed Engineering
Client: Stateland, Inc.
Location: Calamba, Laguna
Detailed Engineering Design for MNTC SCTEx High Risk Slopes
Scope: Detailed Structural Design
Client: Manila North Tollways Corporation
Location: Subic-Clark-Tarlac Expressway
Planning and Detailed Engineering Design for the MES-MWTS Water Facilities
Scope: Detailed Civil and Structural Design
Client: M.E. Sicat Construction, Inc.
Location: Sta. Rosa, Laguna
Architectural and Detailed Engineering Design for Shell Service Stations
Scope: Architectural and Engineering Design
Client: Pilipinas Shell Corporation
Location: Various Sites
Geotechnical Assessment for the PNR-NSCR
Scope: Geotechnical Assessment
Client: Geotechnics Philippines, Inc.
Location: Bulacan to Manila
Contact Us
AMH Philippines, Inc.
Address: Rm. 207 Ang Bahay ng Alumni Building, University of the Philippines - Diliman, Quezon City 1101
Phone: +632 922 0897 | +632 927 0665
Fax: +632 424 7431
E-mail: info@amhphil.com
Find us on Google Maps
sponsored links
SIMILAR COMPANIES/PRODUCTS/SERVICES
Terms of Use/Privacy Policy Advertise Buy me coffee
AMH Phils, Inc.