Founded in 1996, ALPS Maintaineering Services, Inc (ALPS MSI) is a family-owned corporation. With state-of-the-art repair facility located in San Pedro, Laguna to cater Luzon and Visayas. We branched out to Davao City, Mindanao to cater Mindanao Island. ALPS MSI is an industry leader as the premiere full-line electrical/mechanical apparatus sales and service company.
Whether a large motor breaks down and halts a critical process in your facility, or you need a reliable option for routine overhauls, we provide expert help. ALPS MSI offers you the the most extensive diagnostic and repair services in the country.
We offer more than simple repairs of an electric motor. We deliver complete solutions to complex problems. Our state-of-the-art facility along with our expertise will provide you with the services you need to get and keep your operations up and running.
Services
Blower Repair
Blower is critical to manufacturing operations as there will be a severe impact to production in case of breakdown. ALPS MSI has the expertise in the repair and maintenance of blowers since 1996 utilizing the technology of vibration analysis to diagnose any mechanical problems. Such as; Bearing or lubrication problems, resonance, unbalance, or misalignment.
ALPS MSI had maintained all major blowers of San Miguel Yamamura Asia Corporation in Imus, Cavite since 1998.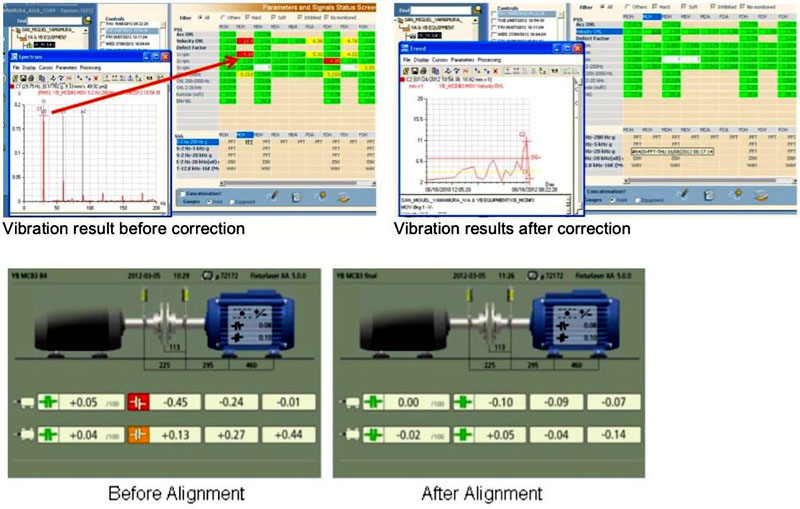 Computerize Motor Rewinding
When your motors need repair, count on ALPS MSI for efficiency improvement, quality, precision, and expert service – all backed by a 100% satisfaction guarantee.
We have the experienced & capabilities to restore motor efficiency, provide repair on-site or at our facility. We understand the complexities of AC and DC motor repair and will take the necessary steps to return your equipment to optimum working condition. Further, we offer testing of repaired motors to ensure the electrical and mechanical operation exceeds your expectations.
Fabrication & Machining Works
To ensure best quality of workmanship and reliability of motor mechanical aspects and its drives, we invested on machines shown in the picture to maintain a complete machining and fabrication facility to repair and manufacture parts for the electric motor industry. Metalizing and Hard Surfacing.
We understand our customers' need for quality, which is why we place a precedent on delivering each project in compliance with individual customer standards.
Our team provides the highest caliber custom metal fabrication and machining services across a variety of industries, including OEM, heavy industry, and infrastructure construction companies.
ENGINEERING AND DESIGN SERVICES
Because of our strong background in machining and fabrication, we are also able to provide technical advice on product design and material selection to improve manufacturability, while maintaining a solid emphasis on quality. We offer engineering and design services to compliment your efforts, from creating shop drawings from concept sketches to full design/build services.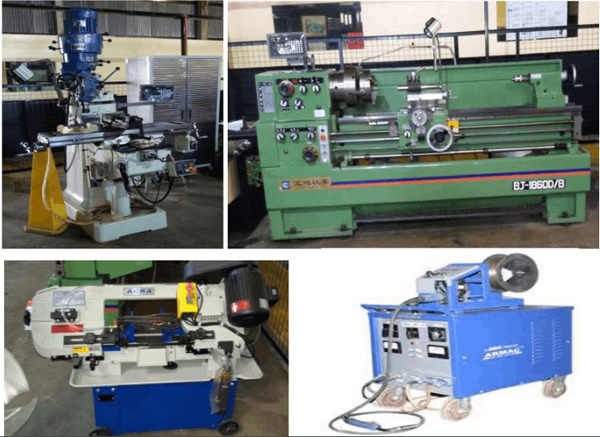 Gearbox Repair Maintenance
Gearboxes are essential devices found everywhere in industrial manufacturing facilities, providing even distribution of power and torque wherever needed to fuel manufacturing productivity and profits. Despite how ubiquitous gearboxes may be, it's easy to overlook their repair needs. Forgoing routine maintenance on any gearbox could spell disaster for the entire production system. In order to keep everything running smoothly, be sure to take the time to perform basic upkeep and repairs on gearboxes to get the most out of their lifespan.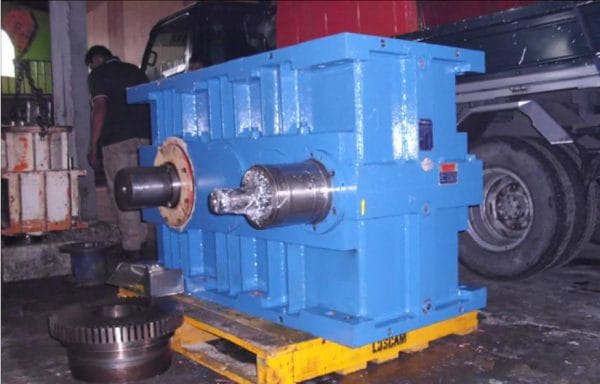 In order to prevent the need for any costly repairs or downtime, the first and most important part of any maintenance plan is diagnosing problems before they happen using vibration analysis.
It can assess what and where the damage has occurred simply by analyzing the frequency of the vibration being produced by the gearbox. Each gear mesh and bearing, depending on its size and shape, creates a certain frequency. Spikes in these frequencies can give an engineer insight into what is happening inside the gearbox – data that can be used to diagnose the problem.
Another tool is oil analysis, a key indicator of gearbox health and can prolong gearbox life span.
The gearbox's oil should be regularly changed according to the needs of the specific system. Just like in a car's engine, oil lubricates the gears and prevents them from grinding against each other.
In the process of changing oil, a sample of the old oil can be collected and sent to a lab, where an analysis of particles inside it can reveal potential underlying issues in the gearbox.
Even without this analysis, taking note of any excessive surface heat, odd vibrations or unusual noises coming from a gearbox can help identify most issues that may need a closer look.
ALPS MSI offers comprehensive solutions to keep your rebuilt gearbox work reliably. It's possible to schedule proactive repairs ahead of time, as well as keep an inventory of spare parts stocked and ready for quick fixes.
MV Motor Repair and Maintenance
Scope of Work
Mechanical Inspection
Electrical off-line testing in accordance to EASA AR100
Form coils (resin-rich VPI coil) and other electrical insulating materials is sourced out from Elin Motor Works, Austria.
Rotor balancing in accordance to ISO 1940 – 1 & 2.
Check and correct shaft and bearing housing interference fits in accordance to ANSI/ABMA Standard 7-1995.
Testing and commissioning in accordance to Table 4-5 EASA AR-100.

Plant Turn-Around Services
Reliability Maintenance
Electric Motor Maintenance
Laser Alignment
Gear Maintenance
Thermal Scanning
LV & MV Switchgear Maintenance
Blower Maintenance In-Situ Balancing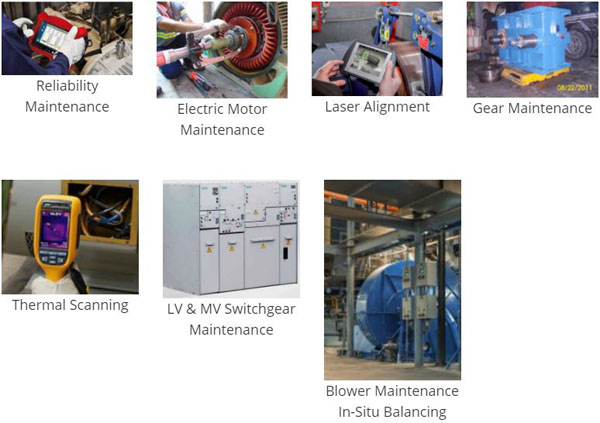 Pump Repair
Refurbishing pumps is one of our expertise. In the repair, we focus on improving pump efficiency thereby reduce energy cost.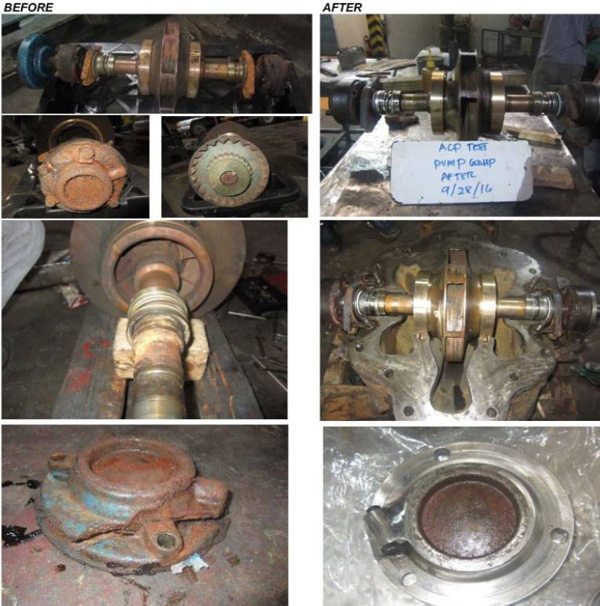 Reliability Maintenance
Vibration Analysis
Unscheduled downtime may cost millions of pesos per hour. Fortunately, modern vibration analysis equipment and software predict developing problems so that repair happens before disaster strikes.
ALPS MSI has the expertise and license to conduct vibration analysis with end result of providing Reliability Improvement, Condition Monitoring and Precision Maintenance.
Motor Circuit Analysis
(MCA) is the most powerful condition monitoring technology for evaluating the health of your electrical motor using the following parameters according to EASA AR100-2015 Recommended Practice Section 4 – Testing, particularly the following parameters:
Insulation Resistance Test, AKA ‗Megger' detects grounded lines between winding and motor body; Non-destructive Test, DC – Hipot test detects conditions between slot insulation and stator core; Surge Comparison Test – detects integrity of winding between turn-to-turn, phase-tophase, coil-to-coil, open winding or wrong connections; Winding Resistance Test –applies an AC voltage to the two leads of a coil and the voltage and current are measured. Using Ohm's Law the impedance is calculated. The impedance of the individual coils is then compared for relative equality among coils that are intended to have equal electromagnetic qualities.
Contact Us
ALPS Maintaineering Services, Inc.
Head Office Address: Gate no.5 Isateram Bldg. Holiday Homes Brgy. San Antonio, San Pedro, Laguna
Mindanao Branch Address: KM. 7 Eversure, C.P. Garcia Highway, Brgy Cabantian, Buhangin, Davao City, Davao del Sur (Landmark: Behind Star Oil / Purple Bean Coffee Shop & Resto Bar)
Engineering department
Email: technical@alpsmsi.com
Phone: 736 7465 | 401 2025 | 736 5403
Mobile No.: 0905 527 5540 | 0908 966 9678 | 0915 468 8669
Services / Products
Email: sales@alpsmsi.com
Telefax No. +63 (02) 808 7495
Mobile Landlines: 401 2025 | 736 7465 | 736 5403
Mobile No.: 0905 527 5540 | 0917 886 4603
Human Resources Department
Email: hr@alpsmsi.com
Telefax No.+63 (02) 808 7495
Mobile Landlines: 736 5403
Find us on Google Maps (Laguna)
sponsored links
SIMILAR COMPANIES/PRODUCTS/SERVICES
Terms of Use/Privacy Policy Advertise Buy me coffee
ALPS Maintaineering Services, Inc.