This Philippine partnership of CPA professionals for accounting, external auditing and consultancy services was organized in 1988 and registered with the Securities and Exchange Commission and Professional Regulation Commission. It is an institutional member of the Philippine Association of CPAs in Public Practice (ACPAPP).
Considered as one of the country's leading medium-sized accounting/external auditing firms – it is accredited by the Board of Accountancy Professional Regulation Commission, Securities and Exchange Commission, Insurance Commission, National Electrification Administration, and Bangko Sentral ng Pilipinas. The firm and its partners are BIR (IRS) -accredited Tax Practitioner.
The firm is Philippine independent member of DFK International – Accountants and Consultants . It has affiliate CPA and consultancy firms in most countries in the US-Europe and Asia-Pacific . With the international stature of its Chairman (vice chair of the Phils. Auditing & Assurance Standards Council - AASC), and its partners, the firm receives professional service referrals of global accounting affiliates, including those from International Group of Accounting Firms (IGAF).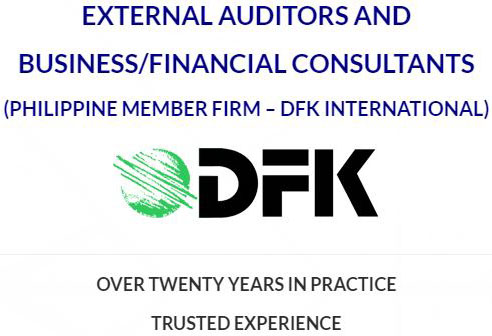 Industries we serve
Our firm has been privileged to work with varied private and public sector companies and organizations. This has enabled us to develop expertise in the following sectors:
Financing and Banking
Technology & Advanced Technology
Media & Telecommunications
Manufacturing & Processing
Heavy & Light Industrial
Wholesale, Retail & Distribution
Health & Human Services
Agriculture & Agribusiness
Real Estate & Land Development
Amusement & Entertainment
Educational Institutions
Restaurants & Food Chains
Multi-Purpose Cooperative
Pharmaceuticals
Pre-Need & Insurance
Foundations and Associations Assurance and Business Advisory
Annual/Periodical auditing on Financial Statements
Accounting compilations and reviews
Statutory and other audits
Management accounting
Services
Tax Consulting
Income tax planning and management for individuals, partnerships, and corporations, including complex matters such as reorganizations, liquidations, mergers and acquisitions
Income tax compliance for individuals, partnerships, corporations, and fiduciaries
Estate duty planning, valuation and compliance
Goods and Services Tax
Corporate Finance
Business planning and financial analysis
Capital sourcing services
Budget and cash flow projections
Due diligence and other investigations
Mergers and acquisitions
Management Consulting
Strategic business planning
Management Decision-Making Consultation
Accounting Management Consultation
Budget and budgetary control
Pricing and cost analysis
Internal control and operationa review
Financial modelling and performance measurement
Financial Planning
Corporate financial planning
Personal financial planning
Retirement planning
Information Technology
Accounting system evaluation and design
Financial reporting system design and implementation
Installation, training and ongoing support of computerized accounting software
Procedures for evaluation, design, and implementation
Project design and management
Contact Us
Acyatan & Co., CPAs
Address: 12th Floor, The Columbia Tower, Ortigas Avenue, Mandaluyong City 1550
Phone: (02) 726 7961
Find us on Google Maps
sponsored links
back to business directory home page