Products
Fabricators who offer a wide choice of products to their customers are more likely to be successful than those who offer only one product.
"VIGNET offers a Choice in Styling and a Choice in Pricing. All of our Profiles come with a 10 year Warranty on most Profiles and our windows offer customers the following benefits:"
| | | | | |
| --- | --- | --- | --- | --- |
| Energy Efficient | | No Maintenance or Painting | | No Leaks & Draughts |
| Tough & Durable | | Termite Proof | | Good Sound Proofing |
| Rot & Corrosion Free | | Fire Retardant | | High Thermal Insulation |
| Welded Construction | | Good Color Retention | | The Best Investment |
SL 2000

This Mini Series opens up vast new market
Being small is just one of the many benefits of SL 2000 as it can be used to compete on price with windows as simple as Jalouise (up to 1.25M high) and can be used to produce a wide range of items such as Shower & Bath Enclosures, Room Dividers, Kitchens, Closets, Cupboards, Wardrobes and many others giving/offering lots of new opportunities for Fabricators.
"SL 2000 is just perfect for making Retrofit Insect Screens and Secondary Glazing - a whole business by itself."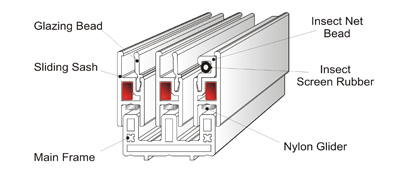 MANY PRODUCTION OPPORTUNITIES:
Sliding Windows: For Lower Budget Windows not Exceeding 1.25M in Height.
Retrofit Insect Screens: To suit any type of existing window, wood, steel or Aluminum.
Secondary Glazing: Fitted behind existing windows acting as sound - proofing & better protection from the elements.
In the Bedroom: Ideal for Sliding Door Wardrobes, Closets, Cupboards.
In the Bathroom: Ideal for Shower and Bath Enclosures, Cabinets.
In General: Ideal for Room Dividers, Screens, Patio or Sun Shades.
GENERAL TECHNICAL DETAILS:
The Ultra Slim System, Fast & Easy to Assemble
Wide Choice of Products you can produce from very few Profiles
2, 3, 4, 5 or even 6 panel designs
All available with an effective Insect Screen System as an optional extra
Choice of Panel Sizes - 4mm, 5mm or 6mm Glass or Plywood Panels
No Brushes or Gaskets Required - Glass is secured using the bead and a little amount of Silicone Sealant
Easy fit Nylon Gliders ensure that the panels slide effortlessly year after year
Simple Lock and handle
SL 3000

The New High Performance Low to Mid Priced Product
One of the most comprehensive and versatile PVC profile systems on the market today,being used to produce all types of Sliding, Casement, Vertical Sliding Windows and Doors. Accompanied by a full range of high quality hardware. An effective and affordable alternative to wood, steel or aluminum windows.

| | |
| --- | --- |
| Sliding Windows | Awning Windows |
| Casement Windows | Vertical Sliding Windows |
| Kitchens and Closets | Doors |
"SL 3000 will be the market leader in the Mass Market as it is competitive in price with Aluminum but is way ahead when it comes to looks and performance."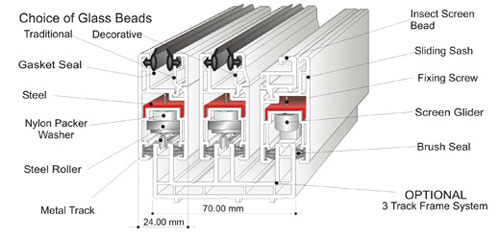 SL 4000

The Elegant and the Elite
Sleek Italian look, Beautiful, Stylish and Elegant are all words that have been used to describe this truly unique product range. The combination of British Design Technology and the hint of Italian Styling in the flowing contoured lines of this range will surely make the SL 4000 the Architects favourite choice. A full specification range of products to make all types of windows and doors.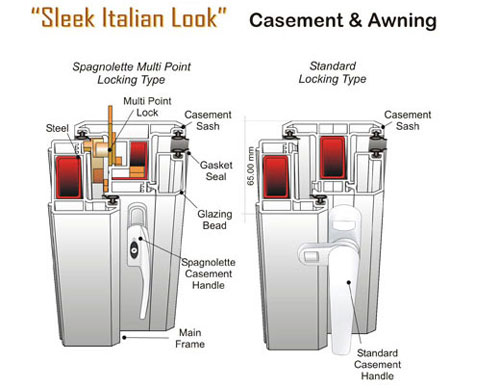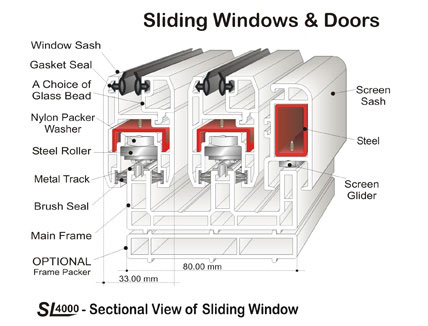 The Architect's Preferred Choice
SL systems were designed after consultations with leading Architects. Due to their slim design SL Series windows appear larger and more attractive to the eye.
Slim line Design Mean...
Beautiful Looking Windows
More Light Inside the Home
A Balanced and Elegant Look
High Performance
No Leaks
No Draughts
Energy Efficient
Good Sound Proofing
No Termite Attacks
No Corrosion
Durable Construction with Fusion Welded Joints
About Us
DATE STARTED: 1994
CORE BUSINESS: Design & Extrusion of uPVC Profile Systems
OTHER SERVICES: Supplier of Hardware, Gaskets, Machinery and Equipment
MANAGEMENT: British Management Team in the Philippines
CAPACITY: 500 metric tons per month
NO. OF EMPLOYEES: 80
Contact Us
Vignet
Vignet Centre, E. Rodriguez Jr. Avenue
Libis, Quezon City 1110, Philippines
Tel: +63 2 631 2476
Email: info@vignet.net