Our Product
UCO Supertex Woodgrain wall panels. The building material with durable timber appeal.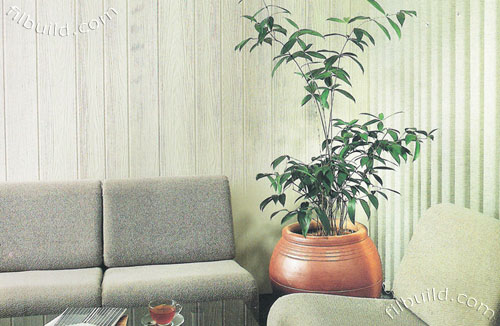 Its natural timber texture finish will enliven any wall with rustic warmth. Be it a feature wall, gable end, screen partition, infill panel or cladding. Strike the right note by painting it over with the colour of your choice.
Non-combustible and asbestos-free, UCO Supertex Woodgrain panels are made of cement, refined sand and specially treated cellulose fibre. UCO Supertex Woodgrain panels remove the problems of water damage, rot and termites.
Perfect for renovation work, installation is quick and easy, and it blends with almost any design UCO Supertex Woodgrain panels will give you a lifetime of beauty that is virtually maintenance-free.
Advantages
Durable - Not affected by sunlight or rain under normal weather conditions. Perfect for internal feature wall and external cladding.
Termite free - Not affected by termite attacks.
Free from decay - unlike timber products.
Resilient - unlikely to warp, crack or split.
Minimal maintenance - very cost effective.
Easily painted - suitable for emulsion and acrylic paint.
Permanently patterned - beautiful woodgrain texture does not wane.
Product Specifications
Basic Composition
Portland cement, refined sand and cellulose fibre.
Durability
UCO Supertex Woodgrain panels are autoclaved. They remove problems of water damage, rot and termites.
Within the normal range of applications, the life-span of the product is limited only by the durability of the supporting structure and the materials used in the fixing.
Any special conditions or unusual applications should be referred to the technical staff of UAC Berhad for advice.
Fire Resistance
UCO Supertex Woodgrain panels are noncombustible as proven by the following tests:
'Early Fire Hazard Indices' as tested to AS 1530
Part 3 - 1982
Ignition Index: 0
Flame Spread Index: 0
Heat Evolved Index: 0
Smoke Developed Index: 0
Uniform Buildinq By Laws 1984
Class'0'
BS 476 Part 6 (fire propagation)
Index of performance (I) = 1.1 to 2.8
Sub-index (i) = 0.2 to 1.6
BS 476 Part 7 (surface spread of flame)
Characteristics - Class (1)
Effects of Heat
Physical properties are not degraded by exposure to temperatures ranging from 0° C to 105° C.
Handling and Storage
Sheets should always be stacked flat on a level surface under cover and kept dry prior to fixing. Edges, corners and embossed patterns should be protected from chipping. When sheets are removed from the stack, they should be lifted clear and not dragged across the face of the next sheet so as to avoid damaging the embossed patterns.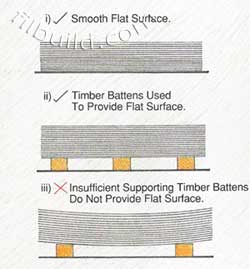 Handling and storage
Timber battens may be used as supporting surface provided a smooth flat surface is ensured as in diagram.
If the sheets become wet, allow to dry thoroughly before fixing.
Painting
For excellent results, UCO Supertex Woodgrain panels may be painted with water based acrylic paints. In all cases follow the paint manufacturer's instructions.
Site Cutting
UCO Supertex Woodgrain panels may be readily cut on-site with a 6 point hand saw, 'Kwikrip' brand hand-quillotine, score and snap knife or circular saw with tungsten carbon tips.
Hole Forming
Small rectangular or circular holes can be achieved by drilling a series of small holes around the perimeter of the hole then tapping out the waste piece from the sheet face. Tap carefully to avoid damage to panels. Ensure that sheet edges are properly supported.
Note: Do not form holes through sheets with cold chisels, heavy hammers or any other 'aggressive' methods. Such forceful methods will damage sheets and may cause other problems at a later date.
| | |
| --- | --- |
| Panel Size | Standard |
| Thickness | 6.0 mm |
| Width | 1216 mm |
| Length | 2440 mm |
| Weight (Per Sheet) | 28 kg |
| No. of Sheets (Per Tonne) | 37 |
Mass
The mass of UCO Supertex Woodgrain (based on Equilibrium Moisture Content) is approximately 9 kg/m2
Fasteners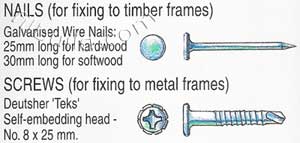 Framing Instructions
UCO Supertex Woodgrain panels are suitable for fixing to timber or metal framing. Framing should be constructed in accordance with local building regulations and acceptable building practice. Studs should be spaced at 605mm centres.
Maximum distance between noggings is 1220mm.
Metal Frames
Metal framing members should be fabricated from light gauge sheet metal 1.2 or 1.6mm thick.
UCO Supertex Woodgrain panels must not be fixed directly to drawn steel or hot rolled steel sections which should first be battened out with timber battens of suitable thickness.
Insulation
Where foil insulation is used as a climate control and moisture barrier, it should always be fixed to the outer side of the stud framework.
Frame Member Width At Joints
A minimum of 45mm finished plain timber is preferred for the face of a stud, or nogging under a joint to provide sufficient landing for nails or screws to be placed at the minimum recommended distance from the edge of the panel. Where necessary, pack out to provide additional landing.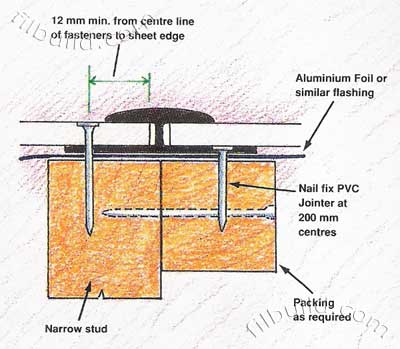 Framing - timber frame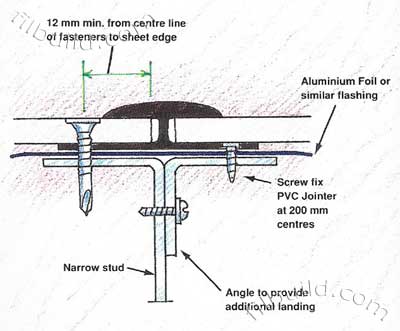 Framing - metal frame
Fixing Instructions
On Stud Jointing
Fix panels to studs, noggings and top and bottom plates with nails or screws at approximately 200mm centres. Do not fix nails or screws closer than 12mm from panel edge or closer than 50mm from corners.
Note: When using PVC jointers, only an edge of the sheet is fixed to stud.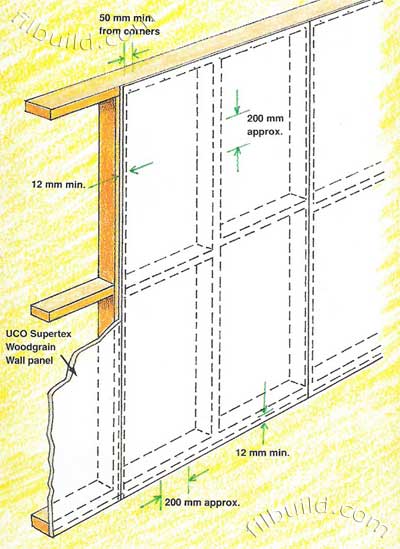 Fixing instructions
Jointing Methods
UCO Supertex Woodgrain panels can be jointed by a variety of methods, depending on the style of the structure and the desired appearance.
Vertical Joints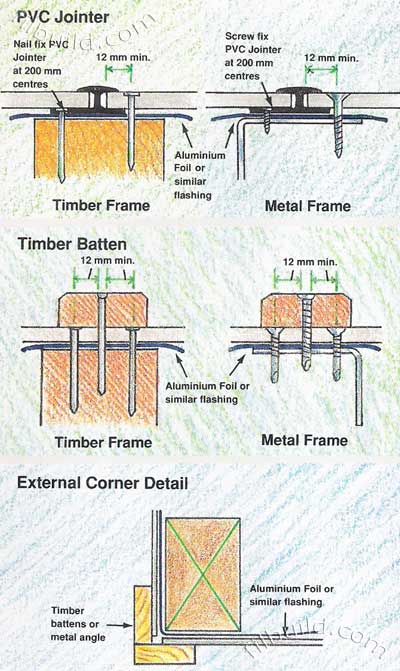 Horizontal Joints
Where more than one course of panels is required, horizontal joints may be flashed with a PVC Horizontal Flashing Mould as shown. Horizontal moulds must be supported by noggings.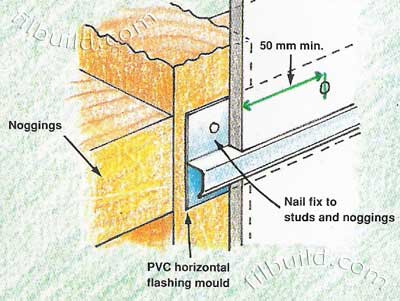 Aluminium Jointing System
UCO Supertex Woodgrain panels can be used as demountable partition systems with aluminium. Rock-wool may be used as fill-ins for additional sound absorption and fire retardency.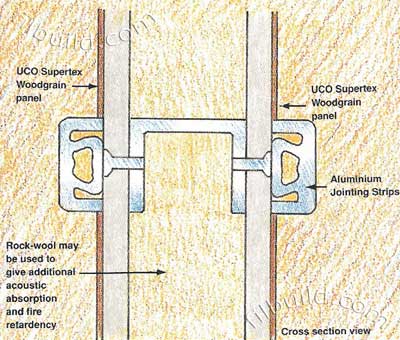 Note: The above system is mainly used for partitions in commercial buildings and is non-load bearing.
Lining On Existing Brick Walls
Softwood timber can be used to batten over the brick walls with screws and wall plugs. Line the walls with UCO Supertex Woodgrain panels and with joints battened or PVC sheetholders jointed as in the illustration.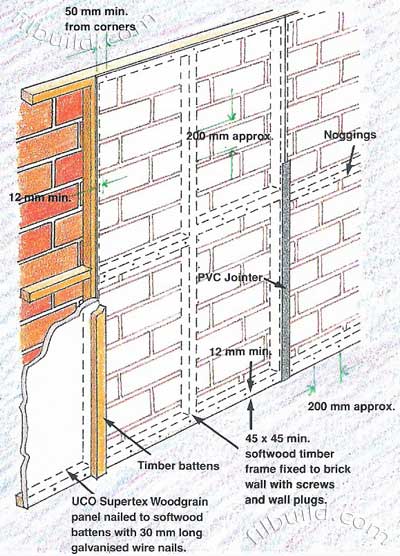 Applications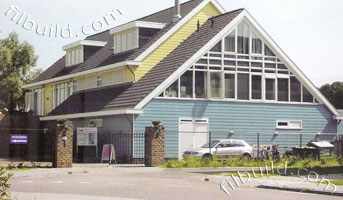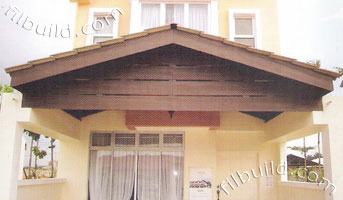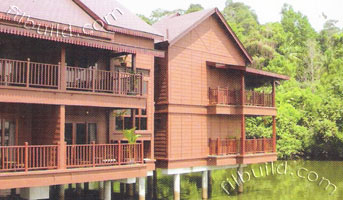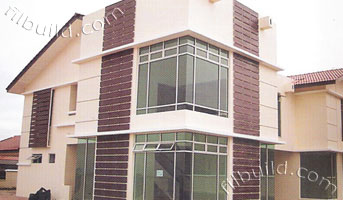 About Us
UAC Berhad (UAC) is a leading manufacturer of cellulose fibre cement boards. We have been established for more than 40 years, and export to over 50 countries in Asia, Europe, North America, Africa and the Pacific Islands.
Founded in 1963, UAC has been listed on the Main Board of Bursa Malaysia (the Malaysian Stock Exchange) since 1966.
Today, UAC has a highly skilled workforce, substantial financial resources, and a reputation based on our commitment to providing our customers with quality products, excellent value timely delivery, and outstanding service.
Leading the Market
We are Asia's pioneers of a comprehensive range of innovative cellulose fibre cement products including boards, corrugated roofing sheets, patterned flat boards, eave linings, woodgrained planks, perforated boards and flush-jointable flat boards.
These products are widely used by the residential, commercial, institutional, industrial and hospitality sectors in applications such as ceilings, partitioning, cladding, roofing and eave lining.
We also manufacture and supply steel roof trusses.
Contact Us
Philippine distributor:
ZETA International Trading Corporation
252 G. Araneta Avenue
San Francisco Del Monte, Quezon City
Telephone: +63 2 364 9696
Fax: +63 2 361 7088 / +63 2 415 0908
E-mail: info@zeta.com.ph