Our Products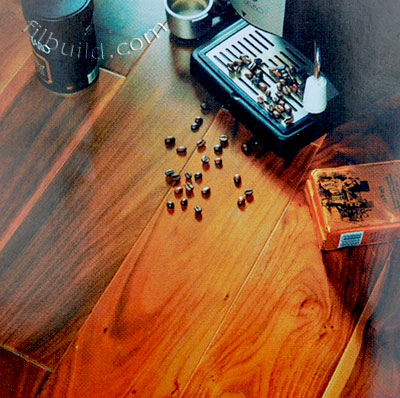 Kronotex floors make the difference. Not only in terms of quality but also when it comes to durability, design and ease of installation. But you expect more. Good, you are with the right people at Krontotex. After all, the choice of your individual flooring is your choice for living.
Kronotex laminates are innovative products of incrementally refined materials. The best of natural wood is its basic component, its classic quality is visible in every single panel. Laminate holds up brilliantly in comparison to traditional parquet flooring: no matter what form or decoration, its realistic wood appearance is almost more beautiful and lifelike, more dazzling than parquet. But Kronotex laminate floors offer further advantages over traditional wood flooring. They are harder, easier to handle and care for, more versatile, have ahigher load capacity, and are available in greater variety. And as Mega Clic large format tiles, also quicker and easier to install in large areas, and thus more economical.
One-Two-Three. Done.
The adhesive-free "Clic2Clic" installation system is simple and foolproof enough for anyone to manage. No toolbox necessary. The entire installation can be done with a hammer and any simple tapping block. "Clic2Clic" panels can be installed upon all dry and even subfloors and suitable underlays. If needed, they can be removed, reinstalled, and reused without harm or damage.
Panel Construction
Kronotex laminates consist of at least four stable layers which ensure the extraordinary durability and unique quality of Kronotex floors.
The top surface of the flooring consists of a specially resistant protective overlay film. This is fused with an attractive resinated decorative film into a practically abrasion-proof, hardwearing surface.
Extremely dense HDF fiberboard  forms the supportive core (HDF, E1).
On the undersurface of the core a dampness-impeding stabilization film ensures and preserves the high structural stability of Kronotex laminates.
All Exquisit and selected Dynamic floorings are fitted with an additional "Sound Design" underlay to minimise footstep and ambient noise.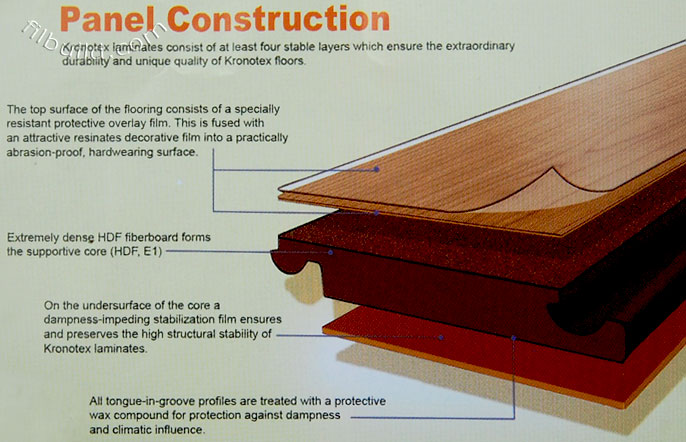 Why Choose Kronotex?
Kronotex floors are easy care and hard-wearing. Neither dirt nor harmful bacteria become lodged in them.
Kronotex floors are flame resistant.
Kronotex floors are largely resistant to cigarette embers.
Kronotex floors are non fading and retain their brilliance over many years.
Kronotex floors are rugged, load and impact resistant.
Kronotex floors are abrasion resistant and suitable for casters.
Kronotex floors are produced from natural sustainable raw materials and contain no harmful chemical substances.
Kronotex floors are comfortable underfoot, and of course also available with footfall sound insulation.
Kronotex floors are well suited for installation over subfloor heating.
Kronotex floors are stain resistant.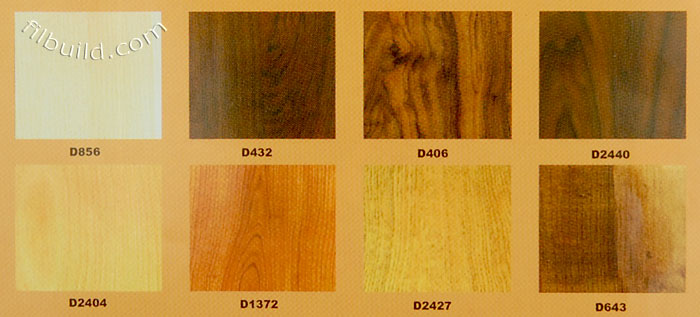 Sound Design
"Sound Design" - the silent step guarantee. Except for Basic Clic and Smart Clic, all the above laminate floorings are available with a fifth layer, "Sound Design" (footfall sound reduction). "Sound Design" makes a sensible choice into a sensual pleasure. It reduces the footstep impact, decreases noise generation and increases walking comfort. And it levels out small irregularities in the subfloor's surface. A floor can hardly offer more comfort or well-being.
About Us
Kronotex produces MDF since the foundation in 1992. The production range was continuously enlarged in its quality and quantity. For the covering of the raw panels there have been installed several short press systems. This was the precondition for the production of laminate flooring on a basis of HDF-mounting plates, that we started in 1995.
Two continually operating MDF systems, with an annual capacity of 450,000 m³, form the basis. According to customer-specific requirements, MDF panels for the furniture and panel industry or special HDF panels for laminated flooring production, are provided with a decorative laminate at eight short press systems.
The production capacity of 50,000,000 m² laminated floorings in one location is most certainly unique worldwide. It enables the fulfillment of customer requirements within extremely short deadlines.
Contact Us
Philippine distributor:
Ortigas Home Depot
1 Doña Julia Vargas Avenue near corner Meralco Avenue
Brgy. Ugong, Pasig City, Metro Manila
Tel. Nos.: (02) 683 0823; (02) 636 7454
Westgate Alabang Home Depot
Lot 103-117 Alabang-Zapote Road corner Filinvest Avenue
Westgate Alabang, Muntinlupa City, Metro Manila
Tel. Nos.: (02) 771 1627 to 29
Manila Bay Home Depot
Macapagal Boulevard corner Sen. Gil Puyat Avenue Ext.
Pasay City, Metro Manila
Tel. Nos.: (02) 833 5456; (02) 556 1464