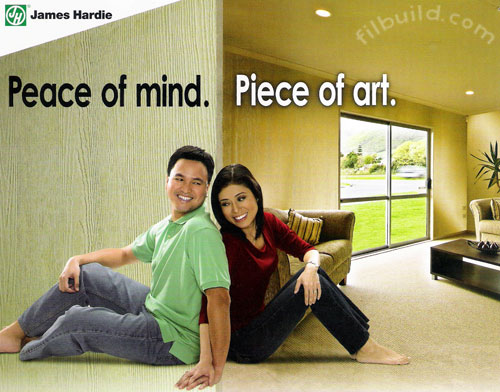 The look and feel of wood. The strength of HardiFlex durable fiber cement boards. Introducing, new HardiPattern Textured Wall Boards.
Say goodbye to plain walls. Now, your interior and exterior walls can have the rich, textured finish you've always wanted.
HardiPattern Textured Wall Boards capture the detail of wood, but none of its weaknesses. HardiPattern boards are resistant to damage caused by termites, fire and moisture when installed and maintained correctly. That's a rare combination of beauty and toughness, inside and out. After all, it's manufactured by James Hardie, a name trusted by construction experts for more than 10 years now.
HardiPattern Textured Wall Board: Worry-free durability with a touch of elegance.


External wall application


Internal wall application
Contact Us
James Hardie Philippines, Inc. Head Office
Brgy. San Isidro, Cabuyao, Laguna 4025
James Hardie Philippines, Inc. Satellite Office
15th Floor Commerce and Industry Building Campus
Ave. McKinley Hills, Taguig City MM
ASK James Hardie: (63) 918-8-HARDIE; (632) 859-5427
Distributors/Dealers/Sales Representatives:
Contact: Leo Llorin
Mobile: +63 918 818 5422
Email: leo_l@jameshardie.com.ph
Contact: Bobby Molina
Mobile: +63 918 818 3958
Email: bobby.molina@jameshardie.com.ph