Our Product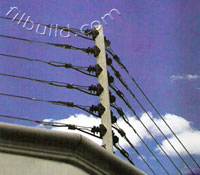 The GALLAGHER SECURITY MEDAL WALLTOP POWER FENCE provides a flexible, slimline perimeter security solution.
This security system is ideal for domestic and industrial sites. It is fast and simple to install and requires no special tools. The medal Walltop Power Fence is effective, providing an active deterrent and detection for any would-be intruder, keeping your property and your family safe. The Medal Energizer sends regulated electrical pulses around the Power Fence, which gives a short, sharp but safe shock. Remote monitoring through an alarm system is possible, which monitors pulses, and activates an alarm if intruders persist in climbing or cutting the fence.
Advantages
Cost Effective
Fast and simple to install - no special tool required
Effective - providing ACTIVE deterrent to any intruder
Flexible structure hampers any climb over attack, forcing the intruder to touch the wires
Hammer on cap locks the insulator and prevents removal
High voltage tracking distance reduces false alarm rate
Supplied in 2 meter lengths that can be cut to suit the application
UV Stable for longer life
Available in white and green to suit your environment
The electric fence solution for walls, roofs and fences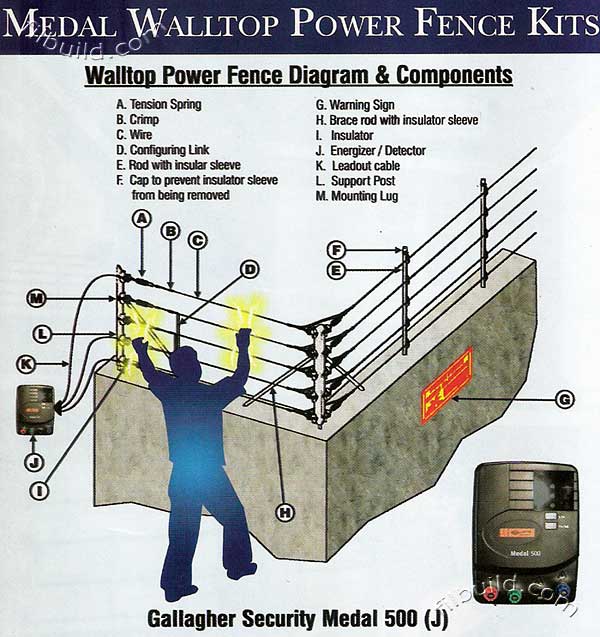 About Us
Gallagher Security Management Systems is a division of the privately owned, New Zealand based, Gallagher Group Ltd.
In addition to security systems, the Gallagher Group also develops and markets a wide range of animal management systems. The group is comprised of two divisions Gallagher Security Management Systems and Gallagher Animal Management Systems and several companies including:
PEC Fuel Pumps
Gallagher Plastics
Sunplas Engineering
Franklin
Greyson Gates
Established in 1938, the Group is the operating company for an integrated international organisation, which encompasses the development, manufacturing, and marketing of its solutions. Gallagher Group employs 650 staff in New Zealand and a further 300 globally.
Gallagher Group is a well-established global business group with distributors located in over 100 countries across Europe, North and South America, Asia, Africa and the Pacific.
Product Development
Product leadership is a significant cornerstone of our strategy to become a world leader in the provision and distribution of security systems. As such, Gallagher Security Management Systems is committed to ongoing product development and manufacturing quality product.
As a partner to both Microsoft® and Hewlett Packard®, Gallagher Security Management Systems is future focused and places major importance in integration platform, technologies and business drivers. One of the key drivers behind the Software Maintenance Agreements available from Gallagher Security Management Systems for Cardax customers is to enable them to keep up to date with the latest Microsoft® operating platforms.
New product development is championed by a dedicated product management team, working together with the Group's R&D team, channel partners and customers.
Our in-house R&D capability includes detailed knowledge of security requirements, data encryption, high security applications, networking and communications, integratable systems, and industrial design. All that comes from an R&D team comprising more than 60 people: hardware engineers, software engineers, testers, project managers, business analysts, and technical writers.
When it comes to production, Gallagher Security Management Systems has full support of Gallagher Group's in-house resources for tool making, plastics and electronics manufacturing and logistics management. Its success comes from manufacturing quality product.
Contact Us
Philippine distributor:
Best Automation Surveillance & Security Products
#262 Del Monte Avenue, Quezon City 1114, Philippines
Tel. Nos.: (02) 712-1652; (02) 712-3315; (02) 415-4296
Sun No.: +63 932-847-2277
Globe No.: +63 917-817-2277
Smart No.: +63 999-999-0277
Email 1: info@bestautomationcorp.com
Email 2: sales@bestautomationcorp.com
Email 3: bestautomationcorp@gmail.com