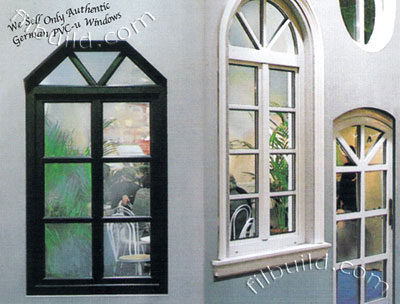 Thyssen System Profiles
Window frames made from PVC window profiles increase the value and improve the comfort of the property. No corrosion or rot, no painting, high heat and sound insulation, impermeable to driving rain, elegant constructions. Deutsche Fenster windows (as supervised by Thyssen Polymer) are windows which comply with the standards of window manufacture technique.
THYSSEN PVC window profiles are made in hollow sections (multiple chamber system) by an extrusion process. As plastic is a good heat insulator, an ideal heat compensation is achieved in the wall thickness.
The profiles have an advantage through the multi-chamber construction and through an optimal flexural and torsion strength. The required minimum values are exceeded by far.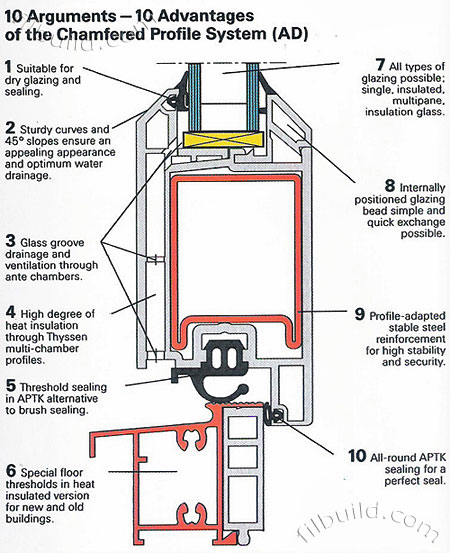 Our profiles are constantly tested for quality and color fastness, both in the laboratory and under extreme climactic conditions outside.
The Material: Thyssen Titanium Plus*
The PVC window profiles are made of highly impact-resistant PVC-u. With THYSSEN's 30 years in extrusion and the requirements of the quality and other test specifications, the optimal material composition has been developed and tested during long-term experiments.
Titanium Plus* is an additive which gives our PVC strength, and as everyone knows, titanium is a very tough and precious material.
Be sure you get the advantages of PVC:
Weather Resistance
Heat and Noise Insulation
Warranty against fading, warping, and discoloration
Easy Cleaning and Maintenance
Energy-saving
Environment-friendly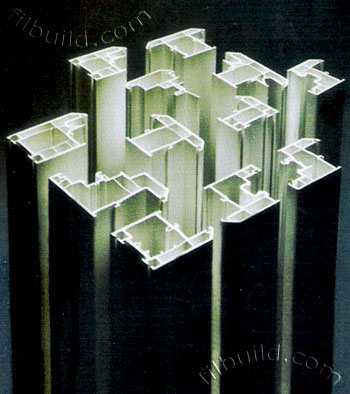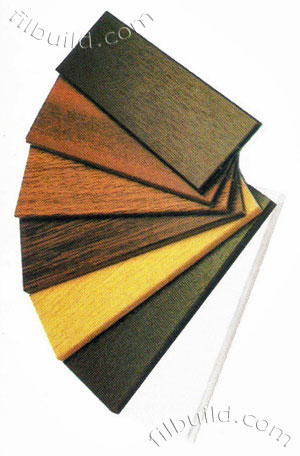 We design according to your specifications:
Awning windows
Casement Windows/Doors
Sliding Windows/Doors
French-type windows/Doors
Fixed Light Windows
Arch windows
Patio Doors*
Roll-up and Sliding Screens
*Patio Doors are sliding doors with larger sections with 2.30 m minimum height and 150 m maximum height.
Deutsche Fenster Corporation takes pride in offering our customers a wide range of choices for window design and colors as well. Our profiles are available in:
White, 9012
Light Oak, Wood Grain
Golden Oak, Wood Grain
Mahogany, Wood Grain
About Us
Deutsche Fenster Corporation is a sister company of Showeramic (makers of imported shower enclosures) and PMK Glass and Aluminum Supplies. In almost twenty years in the doors and windows business, we have learned that the decisive factors in choosing building materials—convenience, safety, economic, longevity, beauty and quality—were never met simultaneously until the emergence of PVC windows.
But for several years, we had been deceived that quality German PVC-u windows are extremely luxurious and expensive while in reality, it was not the window itself which is costly, but the monopoly made it so. Not long after Deutsche Fenster was established, builders and homeowners both realized that they need not spend too much to acquire superior quality windows.
With the most advanced technology, and highly commended German technology and materials, we founded the company which devotes itself to service and quality, but still keeping in mind that "The best windows need not be the most expensive".
We are committed to deliver only the finest quality with only the best service. With this objective, we corresponded with one of the biggest suppliers and accredited German extruders in Germany, Thyssen Polymer, and one of the most respected and purely all-European based hardware supplier in England, Mila Hardware, both of which assured us that they counterpart our goals in the business. Thus, as we are guaranteed by our suppliers, we offer it back to our valued customers for their own security.
Contact Us
Deutsche Fenster Corporation
145 JL Escoda Street, San Rafael Village
Navotas, Manila, Philippines
Telephone: +63 2 251 9002; +63 2 253 5981
Distributors/Dealers/Sales Representatives:
Contact: Norman Rabino
Mobile: +63 922 876 3080
Email: gkingsu@yahoo.com